Nothing is better than rolling large and in charge behind the wheel of a custom luxury SUV around town. You might not want to get anywhere fast, but you can definitely go in style and bring your entourage with you. Pop culture might lead you to believe the Cadillac Escalade is the epitome of ballin' SUVs, but before that there was another player that wore the crown – the Chevy Suburban. This massive 7-passenger has been around since the 30s if you can believe that! It didn't start taking a more familiar shape until the late 1960s. If you want to kick it about the details, the Escalade is just a re-skinned Suburban, so it gets all the credit as the original that started the craze.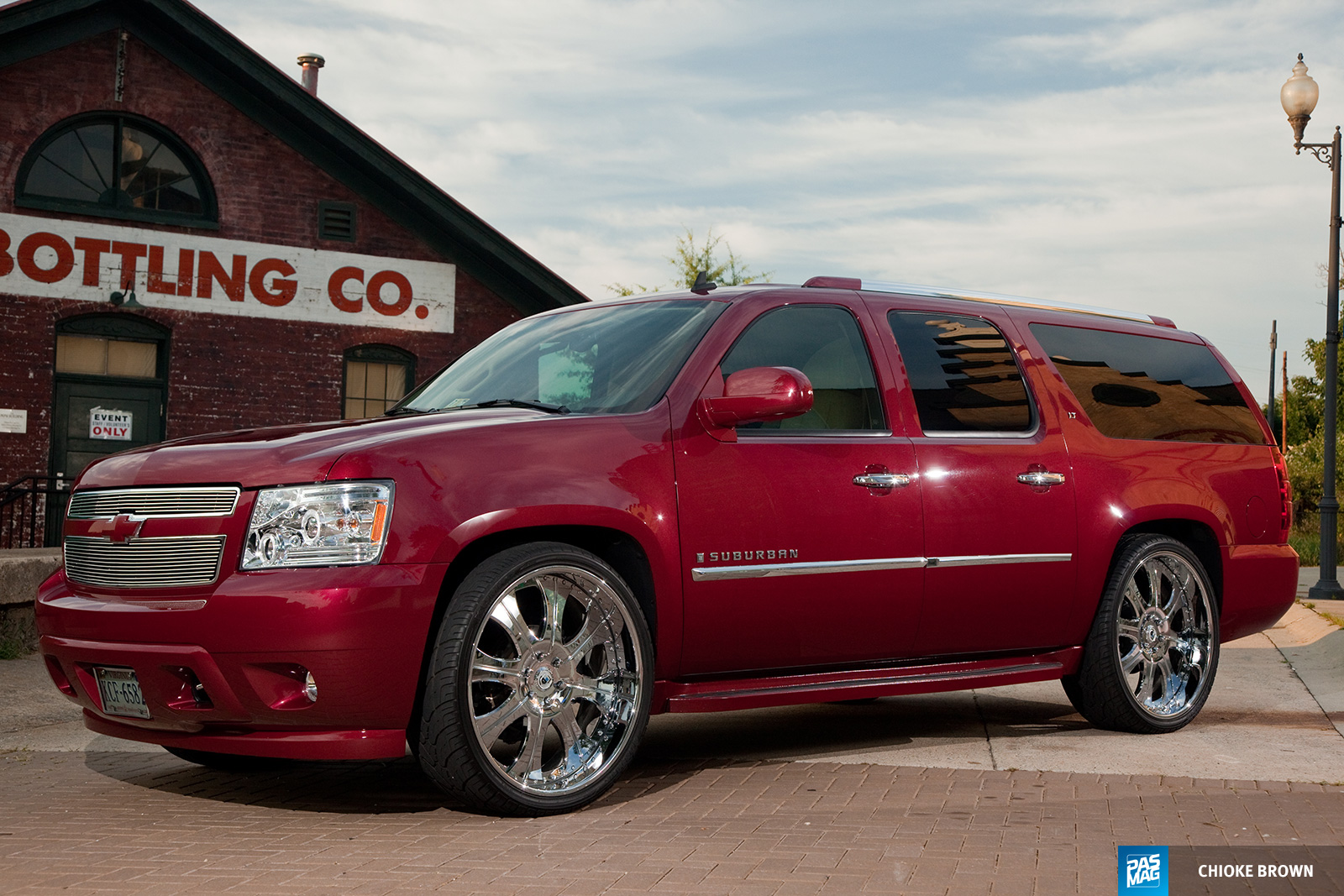 Owner Herbert Walters of Danville, VA was after an SUV and the 2007 Suburban fit the bill. Having previously done the import thing with an Eagle Talon TSi he was now after some comfort and space. His idea was to focus this build around a custom sound system. We're not just talking copious amounts of bass from vented enclosures, but a refined sound worthy of bagging some serious Sound Quality awards.
"When it came to creating the subwoofer enclosure I wanted, I spent a lot of time trying to figure out who I wanted to entrust with touching my truck," said Walters. "I attended many shows and had seen tons of different installations. But nothing really caught my eye until I saw a few Kyle Buckner Designs vehicles at an event. Buckner's attention to detail is amazing, unlike anything I have ever seen. There was no doubt as to who I'd trust and I ended up with an install even better than I had expected."
Kyle Buckner is a talented installer who has been responsible for a number of mind blowing installs and has even been entrusted by JL Audio to build some of their top notch demo vehicles. But before the Suburban went to Kyle Buckner Designs in Danville, VA it received a bit of a makeover.
First up were some new rims and we're not talking about some run-of-the-mill 22s you find on everyday Suburbans. Oh no! Walters opted for a monster set of Asanti AF131 wheels in a shocking 26x10-inch size. The massive rollers were wrapped in Kumho Ecsta STX 305/30R26 V-speed rated tires all around. The lower stance was achieved with McGaughy's lowering spindles and shock mounts and the exterior also received Eagle Eye Euro HIDs, a T-Rex grille and the body panels were color-matched by Harvey's Collision Center in Chatham, VA.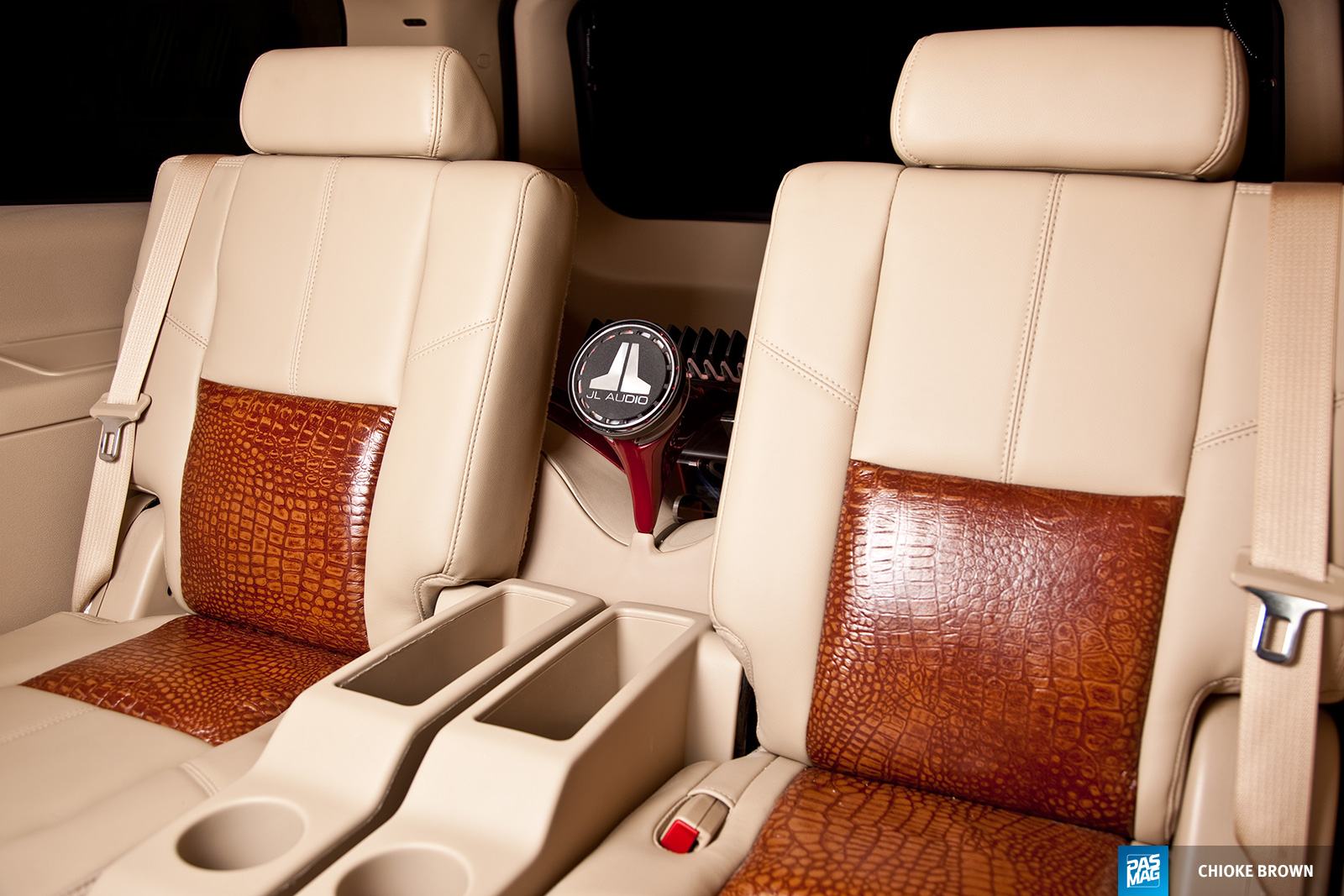 Inside, several pieces were completely redesigned but engineered to retain OEM-like style and quality at the same time. The car was taken to Buckners father's shop, Sounds Unlimited in Danville, VA where it would be transformed. The seats were pulled and reupholstered with a distinctive alligator print insert and the headliner and door cards were upgraded to suede material. The audio and multimedia assault then began and Buckner describes the entire experience best.
"I have been doing custom car audio installations for about six years now and I absolutely love it. When I start a car audio installation, I hardly ever sleep. I'll stay at the shop for days, working straight, going off of energy drinks. The last few days of this project Suburban I worked a solid 38 hours to meet the deadline."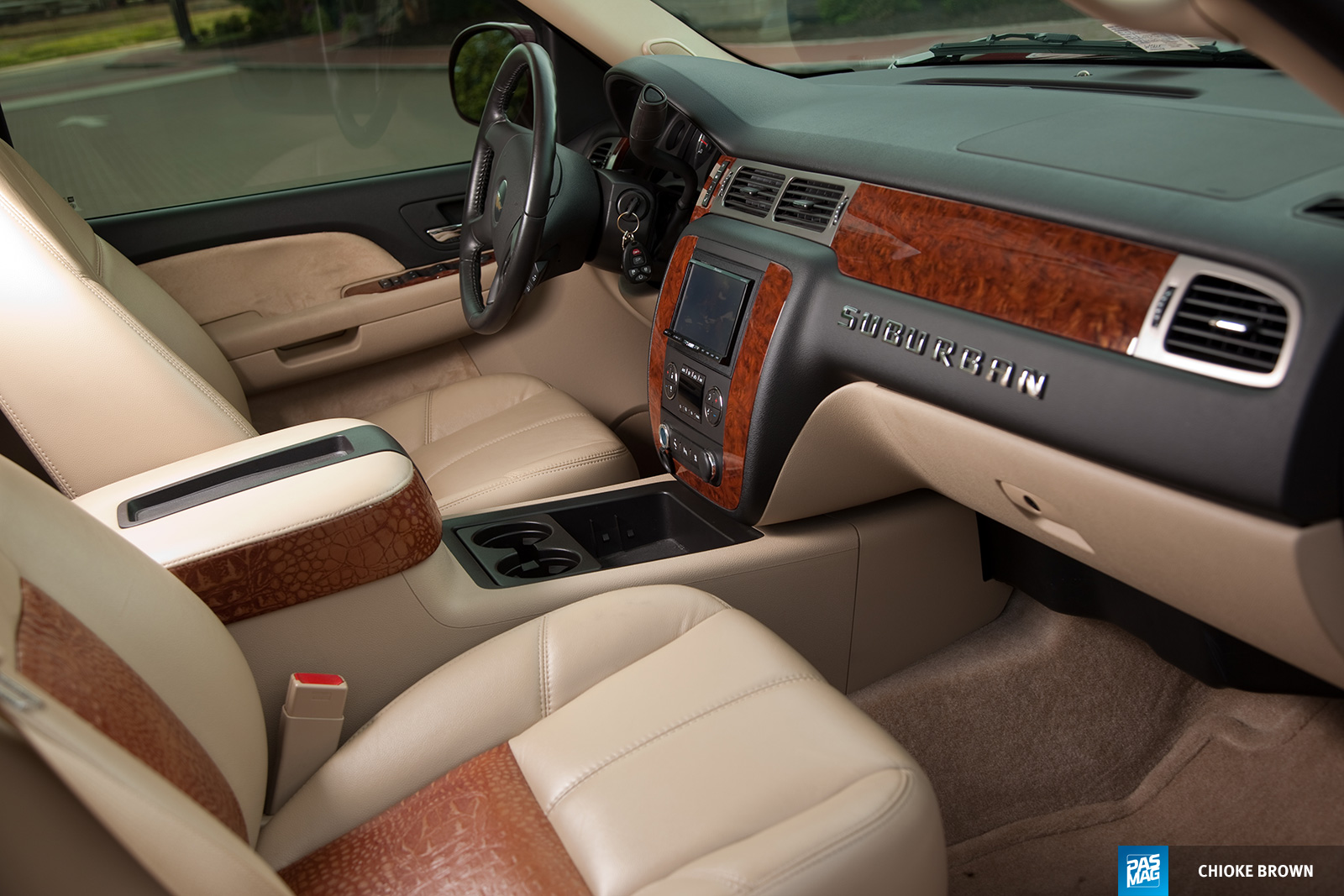 The head unit selected is a Pioneer AVH-P6800DVD to orchestrate the wealth of JL Audio and MB Quart gear. The sub amps are a pair of JL Audio 500.1 driving JL Audio W3V3 12-inch subs in a sealed enclosure. The mids and highs are delegated to a JL Audio 300.4 4-channel pushing signals to two pairs of MB Quart 6.5-inch reference components. All of the interconnects, fuses and 0ga power leads are by JL Audio as well providing clean sound and power. A single 17-inch flip down rear monitor and four 9-inch headrest monitors provide ample screens for the onboard Playstation and DVD video capabilities.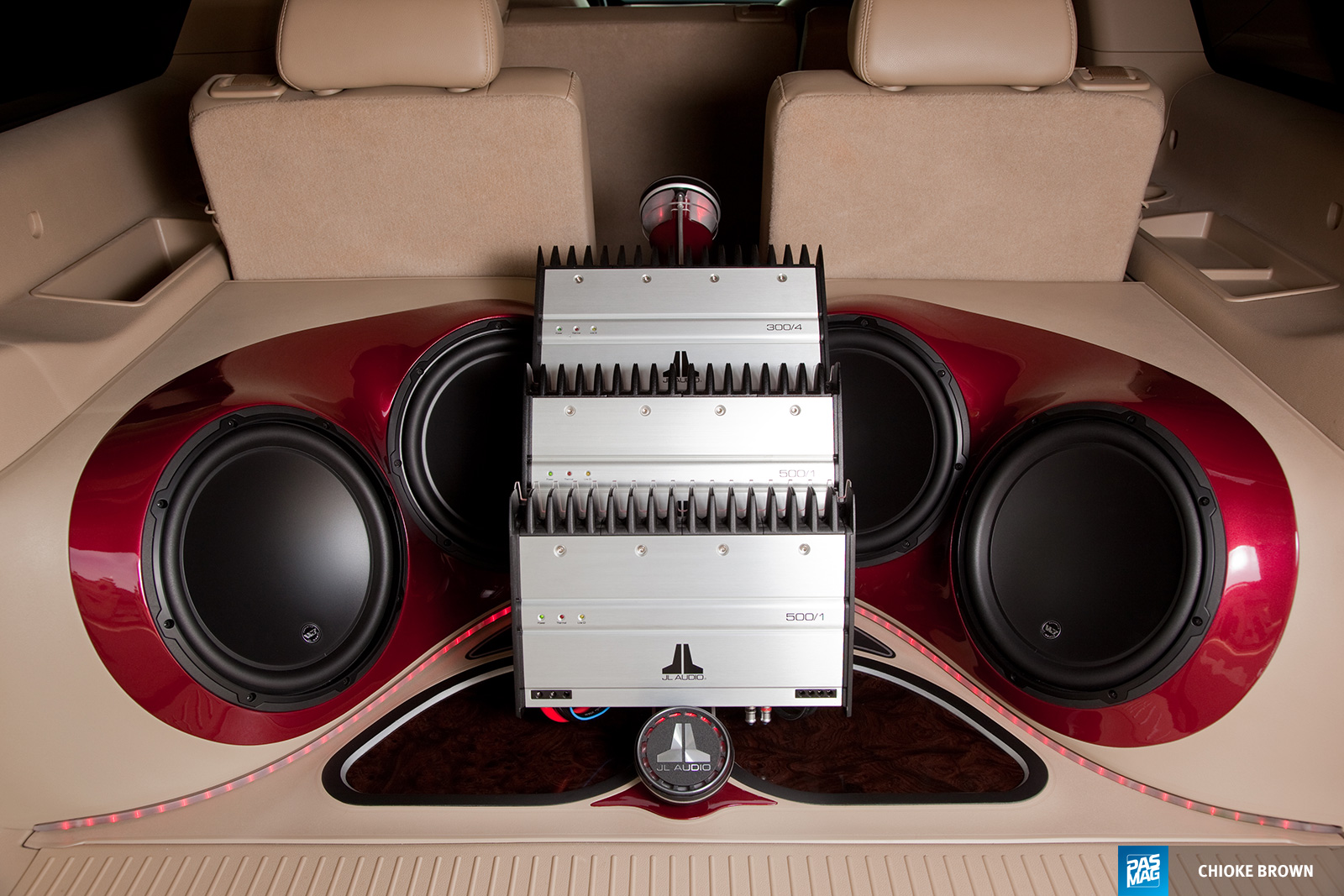 "I'm now attending the number one art school in the nation," says Buckner. "I'm majoring in Sculpture and find myself enjoying just about anything along the lines of art. I enjoy things from furniture design, wall murals, sculptures, and drawings that involve creativity because I love designing things and bringing ideas to life."
We think this Suburban clearly falls under that category of rolling art because Buckner couldn't be more right.
Photos by Chioke Brown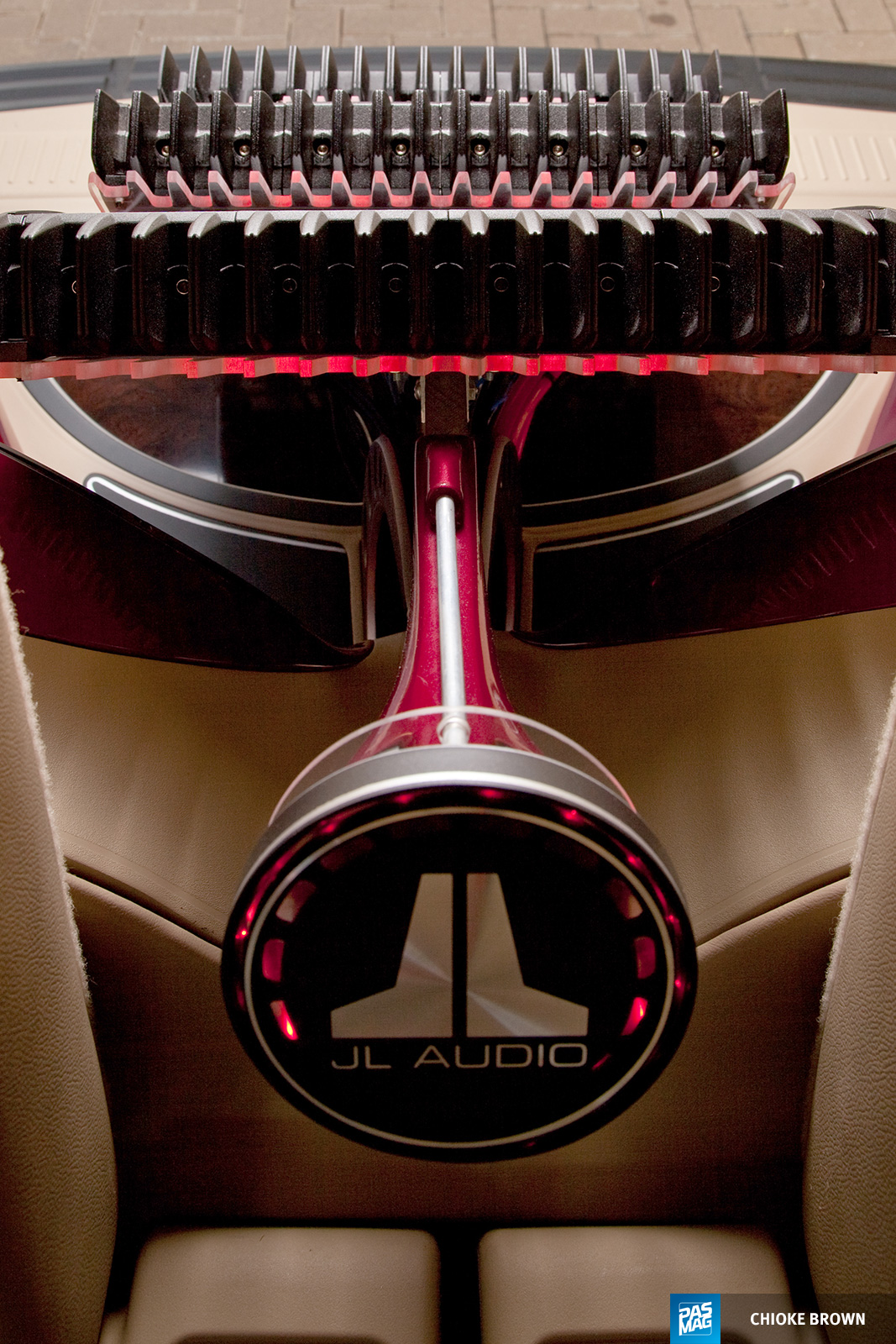 ---
ESSENTIALS
Owner: Herbert Walters
Location: Danville, VA
Vehicle: 2007 Chevy Suburban

WHEELS & TIRES
Asanti AF131 26x10-inch
Kumho Ecsta STX 305/30R26
INTERIOR
Alligator seat inserts
Suede: headliner & door cars
AUDIO / MULTIMEDIA
Pioneer AVH-P6800DVD
JL Audio 500.1 mono x2
JL Audio W3V3 12-inch subs x2
JL Audio 300.4 4-channel amps
MB Quart 6.5-inch reference components
JL Audio wiring & fuses
17-inch flip down rear monitor
9-inch headrest monitors x4
Sony Playstation 2
---
PHOTO GALLERY