Ricky Hofmann's Competition 240sx with a Toyota Heart
One look at Ricky Hofmann's 1997 Nissan 240sx is enough to know that this car is all business. Even if the awesome livery from Jokerthis Design and Taylor'd Wraps with Formula Drift Prospec vinyl didn't give it away, the carefully crafted roll cage and stance definitely would. What you're looking at is Hofmann's purpose-built professional drift car, and if you were standing nearby as this thing hit high revs, you might notice it doesn't quite sound like a Nissan.
Swapping a JZ engine into the 240sx platform isn't a new phenomenon, and when you're chasing the titles at Formula Drift in any capacity, one can certainly see the allure of the 2JZ. Big power with ease, reliability, awesome noises - the 2JZ does everything Hofmann needed. In fact, this 2JZ engine swap is merely a step up for Hofmann, coming from a 1JZ-powered S13 240sx for several years.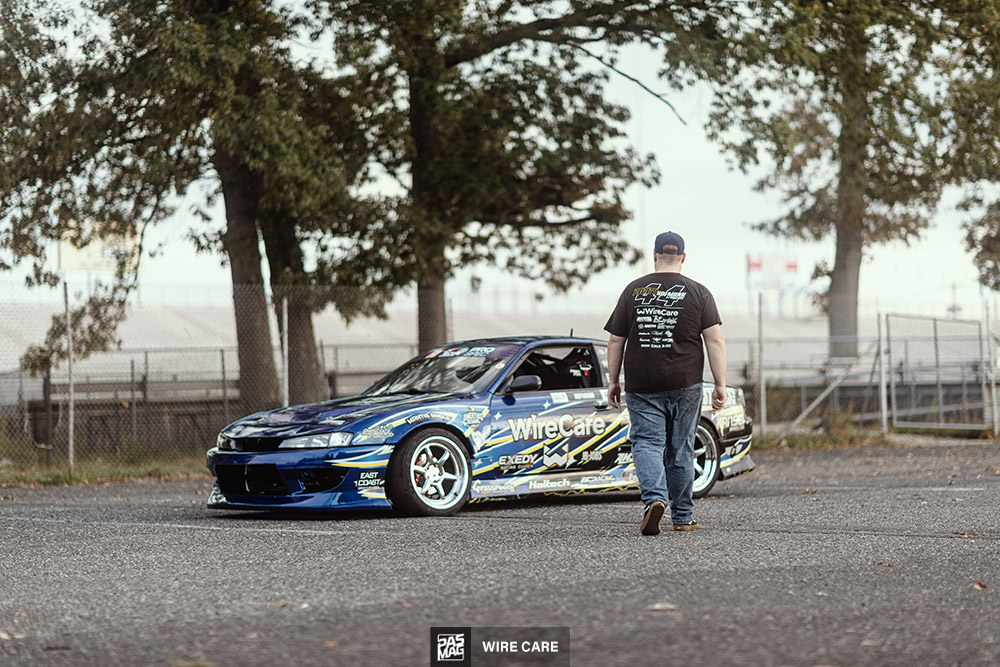 Knowing his intentions for the build right from the start, it was easy to make decisions on what had to be done. After speaking to some FD teams like Papadakis Racing, RTR, Forsberg Racing, and Rad Industries, he set his sights on the build. FDF Fab's angle kit, a quick-change rear end for adjustments to each track on the fly, and a dog-box transmission were among the first must-have parts for Hofmann to build his competition vehicle to his liking. Of course, all of these came second to the machine's heart - the 2JZ-GTE swap.
The 2J is an amalgamation of Brangers Racing's drift spec short block, combined with some of the highest quality parts the JZ aftermarket has to offer.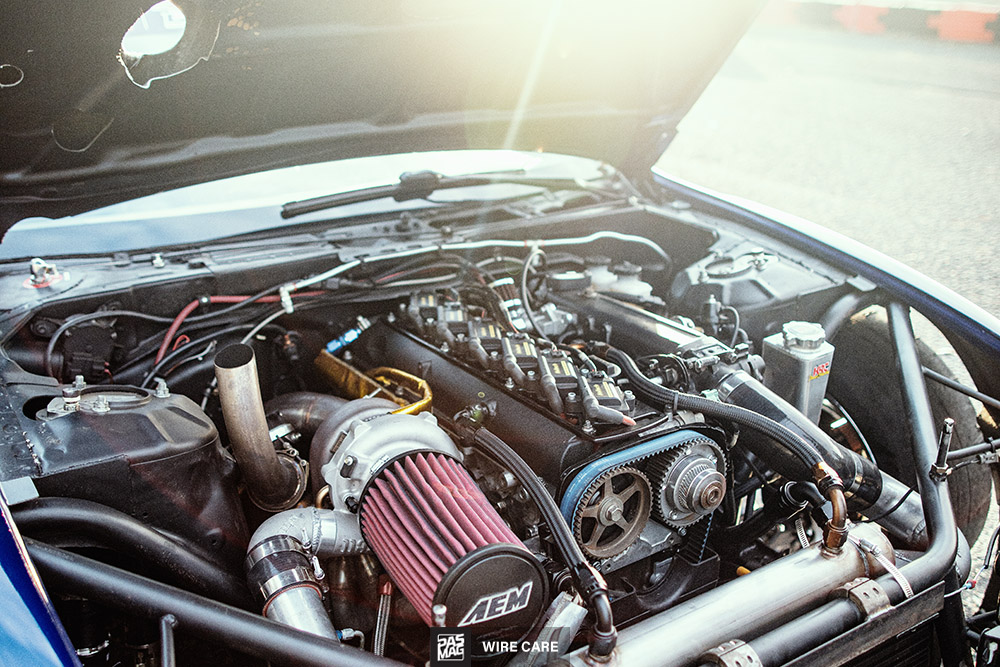 A Ferrea valvetrain, BC cams, and a state of the art Garrett G35-1050 turbocharger mounted to a Future Fab manifold all bolster the 2JZ's performance, all managed by a Haltech Elite 2500 ECU with a proper tune by CleoTuned. All in, with a beefed up fuel delivery system, the powerplant makes a healthy 830 whp and 720 lb-ft of torque at the rear wheels.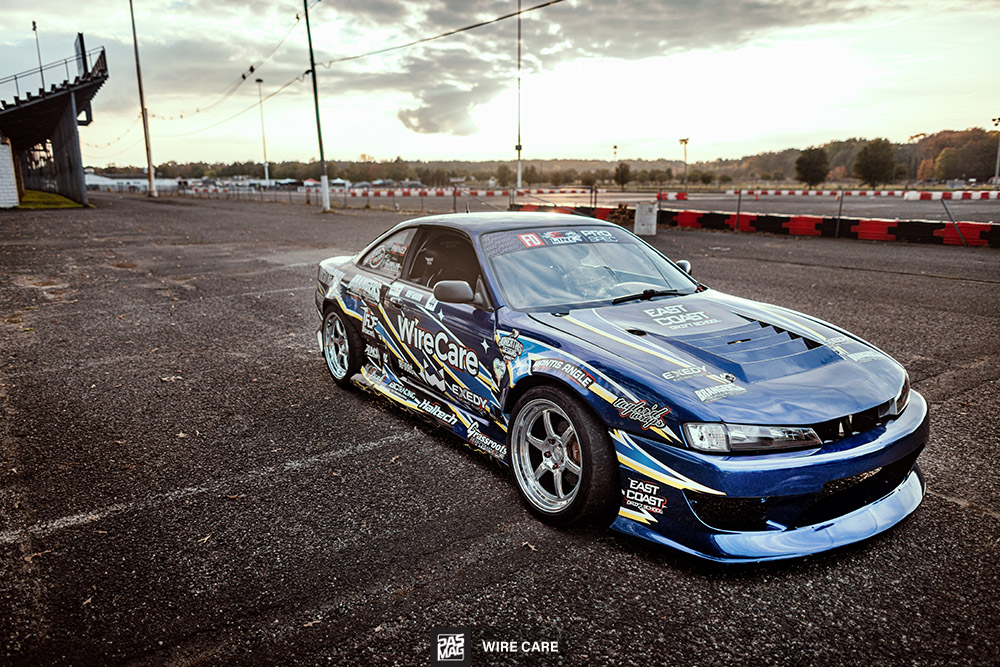 Part of Hofmann's consistency with the car can be attributed to the 2JZ's bulletproof build. "The engine from Brangers is built to handle far more power than I'm throwing at it," Hofmann tells us, "so having the confidence to just abuse it as needed is amazing." With the engine making so much power, and a dog-box transmission handling the gear-banging shifts, the drivetrain needed to hold up as well. Driveshaft Shop 1200HP axles and a custom driveshaft were employed here, but the real star of the show is the Exedy triple-disc clutch kit that keeps it all together. After experiencing clutch failures in past motorsport builds, Hofmann is thrilled to have Exedy on board with his program to handle all the abuse and keep on kicking.
"Although I get to pilot this car, and call it mine, I really couldn't do this without my team and sponsors," Hofmann says in closing. "Gary, Gio, and Chris are the real backbone to my car and program, and I just get to sit in the seat and go have fun. I'd like to thank all my sponsors also: Wire Care, AMSOIL, FDF Raceshop, Tire Stacks, Exedy Clutches, JbJobs, CleoTuned, 2F Performance, 9Nine2 Media, Be Weird Clothing, Kansei Wheels, Rowdys Garage, Bink Industries, East Coast Drift School, Haltech, Brangers Racing, Taylor D Wraps, BC Racing, Grassroots Performance, and Funk Motorsports"
If you want to catch Hofmannin action, be sure to keep your eyes on the ProSpec competition in Formula Drift as he battles his way up the leaderboards.
Ricky Hofman is featured in PASMAG #168. Click Here to order.
Photography by Wire Care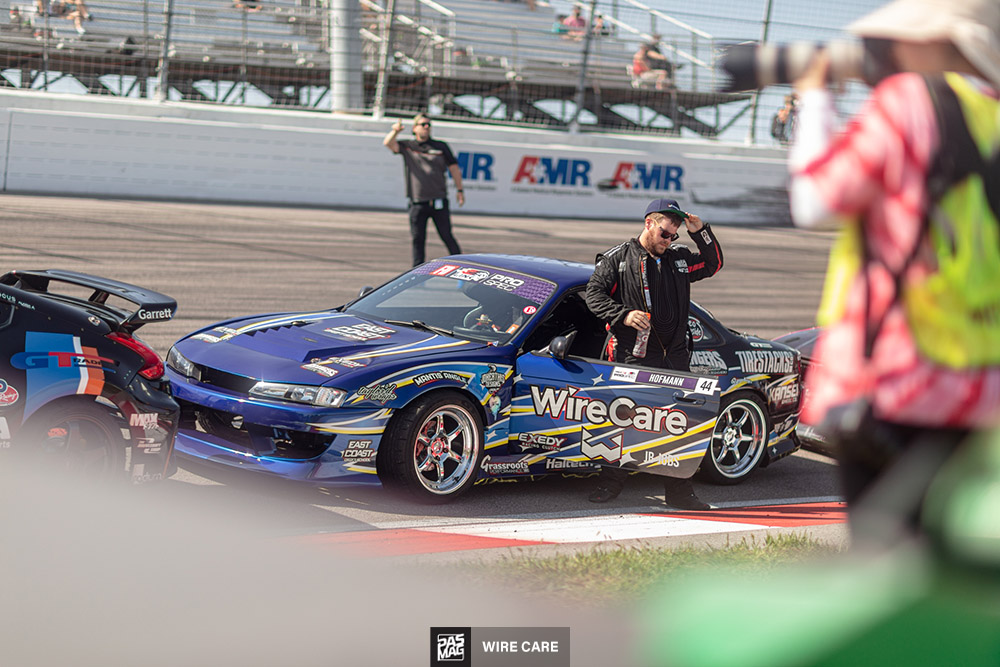 ---
ESSENTIALS
Driver: Ricky Hofmann
Vehicle: 1997 Nissan 240SX
Location: Millstone, New Jersey, USA
Engine: Toyota 2JZ-GTE 3.0L Turbocharged I6
Horsepower: 820 whp
Torque › 720 lb-ft
SOCIAL
Instagram: @ricky.hofmann
ENGINE
Toyota 2JZ-GTE engine swap + Brangers Racing full drift spec short block + BC 272 cams + Ferrea (valve springs w/ titanium retainers, inconel intake exhaust valves) + Fuel Injector Clinic 1750cc injectors + Garrett G35-1050 turbocharger + Future Fab custom exhaust manifold + Custom 4-inch downpipe + Precision Tuning intercooler + Rad Industries (water pump delete/water neck, power steering kit) + Haltech (Elite 2500 ECU, dash/data logger, 2JZ engine harness) + Tuned by CleoTuned
DRIVETRAIN
RTS G-Force 4-speed dogbox transmission + Exedy Triple Disc clutch kit + Custom driveshaft + MA Motorsport Spec Winters quick-change differential + DriveShaftShop 1200HP axles
WHEELS / TIRES / BRAKES
Kansei wheels + GT Radial tires
CHASSIS / SUSPENSION
BC Racing custom ER coilovers + FDF Fab (Mantis angle kit, billet rear grip kit) + Woodward steering column
EXTERIOR
2F Performance (Kouki body kit, S15 rear swap kit) + Custom livery by Jokerthis_design + Vinyl wrap by Taylor'd Wraps
INTERIOR
Hold Fast USA steering wheel + Pyrotec Full Containment racing seat + Pyrotec 10-gallon fuel cell + Nuke Performance surge tank
---
PHOTO GALLERY