Photography by Kyle St. Peter
---
One of the best parts of hunting down feature vehicles and getting them in the pages of PASMAG is receiving a filled-out questionnaire from the owner. Their responses tell their story and let us know why they built their vehicles the way they did – after all, everyone has some type of build plan in mind. Although, things can get a little same-y sometimes.
Even though I love those type of stories, we get a lot of tales that start with a show vehicle that becomes a purpose-built machine for the track or trails. That's why Travis Poirier's questionnaire stuck out to me a little. He went in the reverse direction. Having already owned a dedicated fun-haver in his 2004 Dodge Ram, which was converted from a low-slung, big-wheeled show truck to an off-road raider, when he bought his 2008 Ram 2500 Mega Cab, he expected to just go off the beaten path right away and pick up where he left off with his last Ram. On his first outing, he had a change of heart.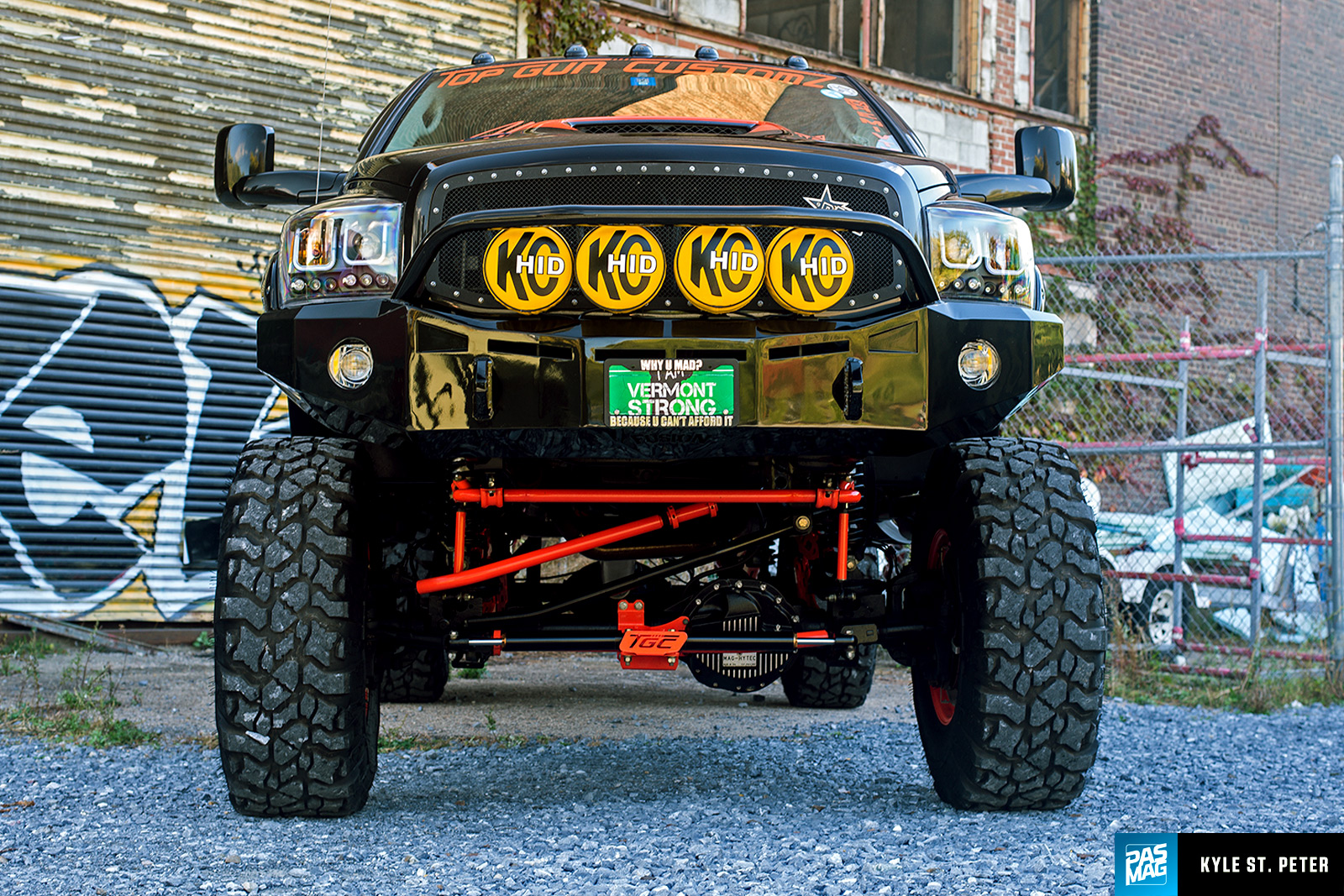 Travis Poirier and his Dodge Ram are featured in PASMAG Tuning Essentials: Trucks Vol. 7. Click here to order.
"I wanted to build an off-road rig that could fit the whole family, but on the first adventure out I did too much damage to want to go off-roading with it again," Poirier explains. "At that point is when I decided to start to turn it into a daily driven weekend show rig. I realized it was too nice to take off-roading."
Before anyone starts sneering and snarling, Poirier is no stranger to off-road capable vehicles and using them for their purpose. Previous to the Ram he took out on the dirt, he also owned a '94 Jeep Wrangler, which, when he was done with it, he says was "too fast for its own good," as well as Subaru Impreza STI that he used in SCCA competition. He deserves to have something nice, okay?
Poirier lists SEMA as one of his greatest influences when turning his Ram into a daily driven show truck, which we'd have to say Is very apparent, since It would fit in perfectly with the lifted crowds of trucks that line the outdoor portions of the big show in Vegas. With 14 inches of lift, powdercoated suspension components, and lighting galore, we're surprised it wasn't built exactly for SEMA.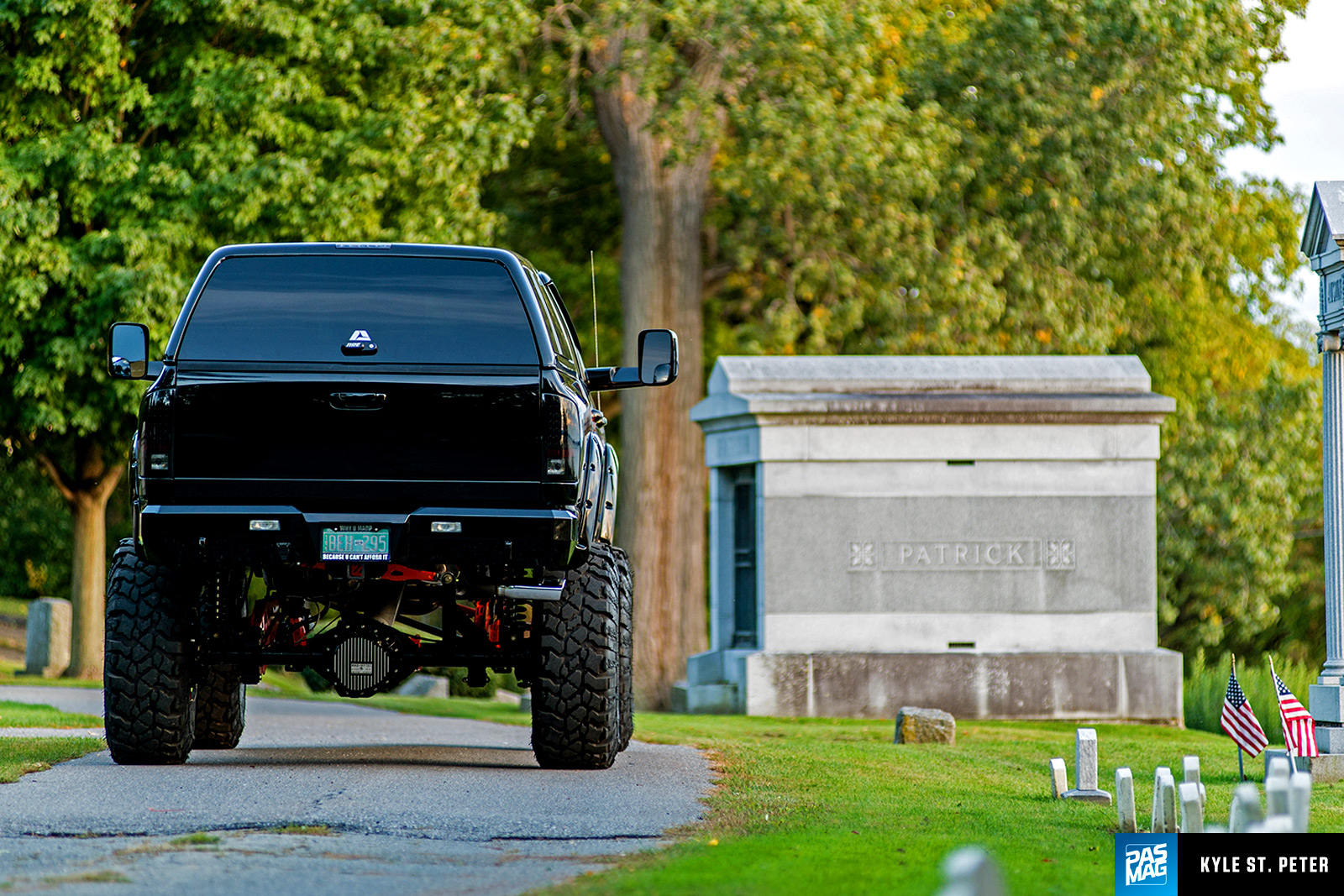 Travis Poirier and his Dodge Ram are featured in PASMAG Tuning Essentials: Trucks Vol. 7. Click here to order.
Providing that extra 14 inches of suspension travel is a full set of FOA's 2.5 coilovers paired with Viper Coils dual rate springs, rated at 350 and 450 pounds. Of course, Rams can't traditionally run coilover suspension all the way around, and that's because of those pesky leaf springs hanging out in the rear. They have their place and all, but not when you want to run coils, so Poirier tossed them and started masterminding a custom four-link setup – something that Top Gun Customz was able to put into motion, as well as the rest of the lift kit.
"I found Top Gun Customz online, and they didn't have your run of the mill lift system for the Dodge Ram," Poirier explains. "It was different and I wanted to stand out, so I chose to work with them. Since then, a lot of other companies have followed their designs."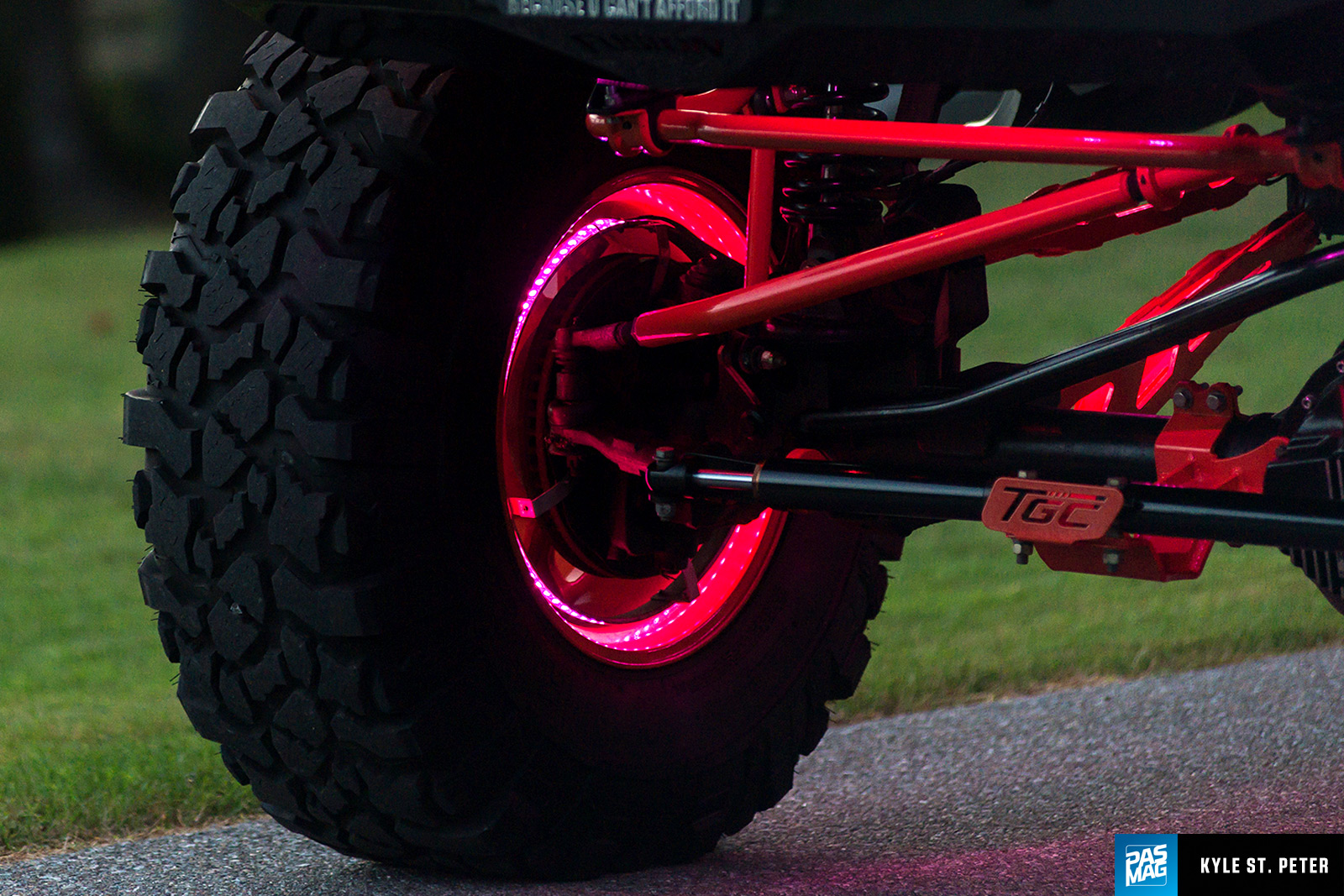 Travis Poirier and his Dodge Ram are featured in PASMAG Tuning Essentials: Trucks Vol. 7. Click here to order.
Top Gun Customs is responsible for the custom four-link setup, front adjustable traction bar, long arm kit, and a dual steering stabilizer and steering upgrade kit, which have all been done up in layers of either black or orange powdercoat. Supporting all of this work and rolling the Ram along are some AAM axles with 4.10 gearing, as well as a front driveshaft and high-angle double CV shafts from Full Throttle. It's all accounted for.
Jutting out from the bodywork is a set of Bushwacker flares that are necessary to run the larger and wider Anthem Offroad A711 Defender wheels in 20x12 sizing. The 12-wides are wrapped in capable 41.5x13.5 Pitbull Rocker off-road tires, and just behind the spinning faces are SSBC's Tri-Power three-piston brake upgrades with slotted rotors in the front.
Fusion Bumpers is another company that Poirier is happy to be involved with. In 2012, their products blew up at SEMA, and as someone who keeps a close eye on trends that come out of the show, Poirier jumped on board with the company to run their front and rear bumpers, adding an extra bit of Baja flare to his Ram. Further accenting this feel are some large, bumper-mounted KC Hilites HID fog lights, an N-Fab grille and N-Durastep side steps, and a plethora of underbody lighting options from LED Concepts - from wheel rings, to demon eyes, and 12-piece rock lighting.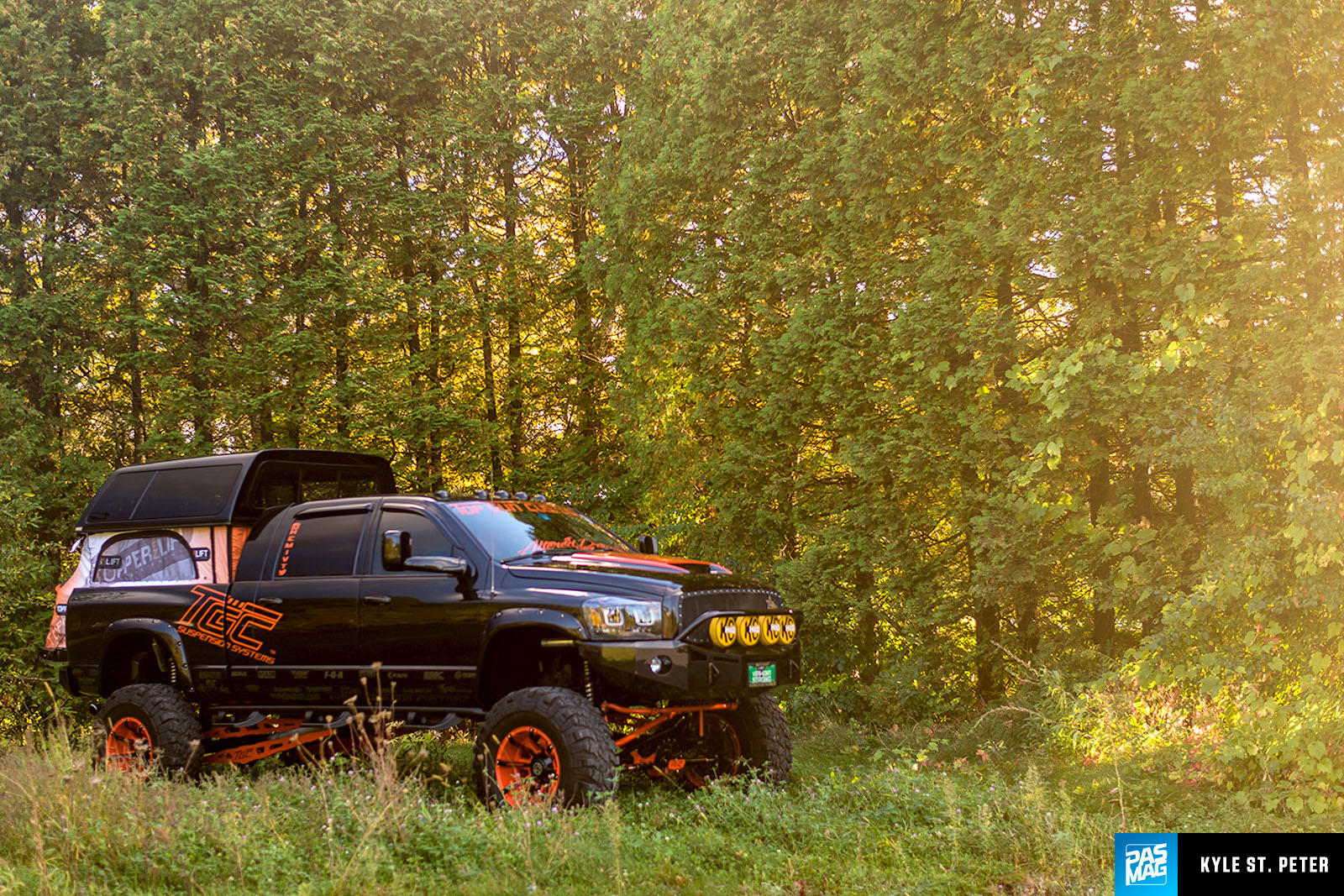 Travis Poirier and his Dodge Ram are featured in PASMAG Tuning Essentials: Trucks Vol. 7. Click here to order.
Topping the Ram's bed is an A.R.E. Z Series cap, which may seem like standard fare, until it expands into private sleeping quarters with the press of a button. Poirier went ahead and got himself a Topper EZ Lift tent system, which electronically lifts the cap up via a set of linear actuators and folds out a tent, all powered from the Ram's 12-volt system. Perfect for camping or multi-day truck shows.
The Mega Cab even sounds as mean as it looks, with a Magnaflow single-exit three-inch exhaust system that's further bolstered by American Racing Headers' header system and high-flow cats. The truck has a pretty good bellow on it for sure. For some more go and reliability, Poirier also installed a Moe's Performance 87-mm throttle body and an S&B intake under the hood, plus a Diablo Sport Trinity tuner and Snow Performance water meth kit.
When I say Poirier installed the parts, I mean it. He installed every bit himself, which can be a bit of a challenge for a truck that's your daily driver. Having built a few cars and trucks in his day, Poirier knew what to expect and planned accordingly – not that it made much of a difference.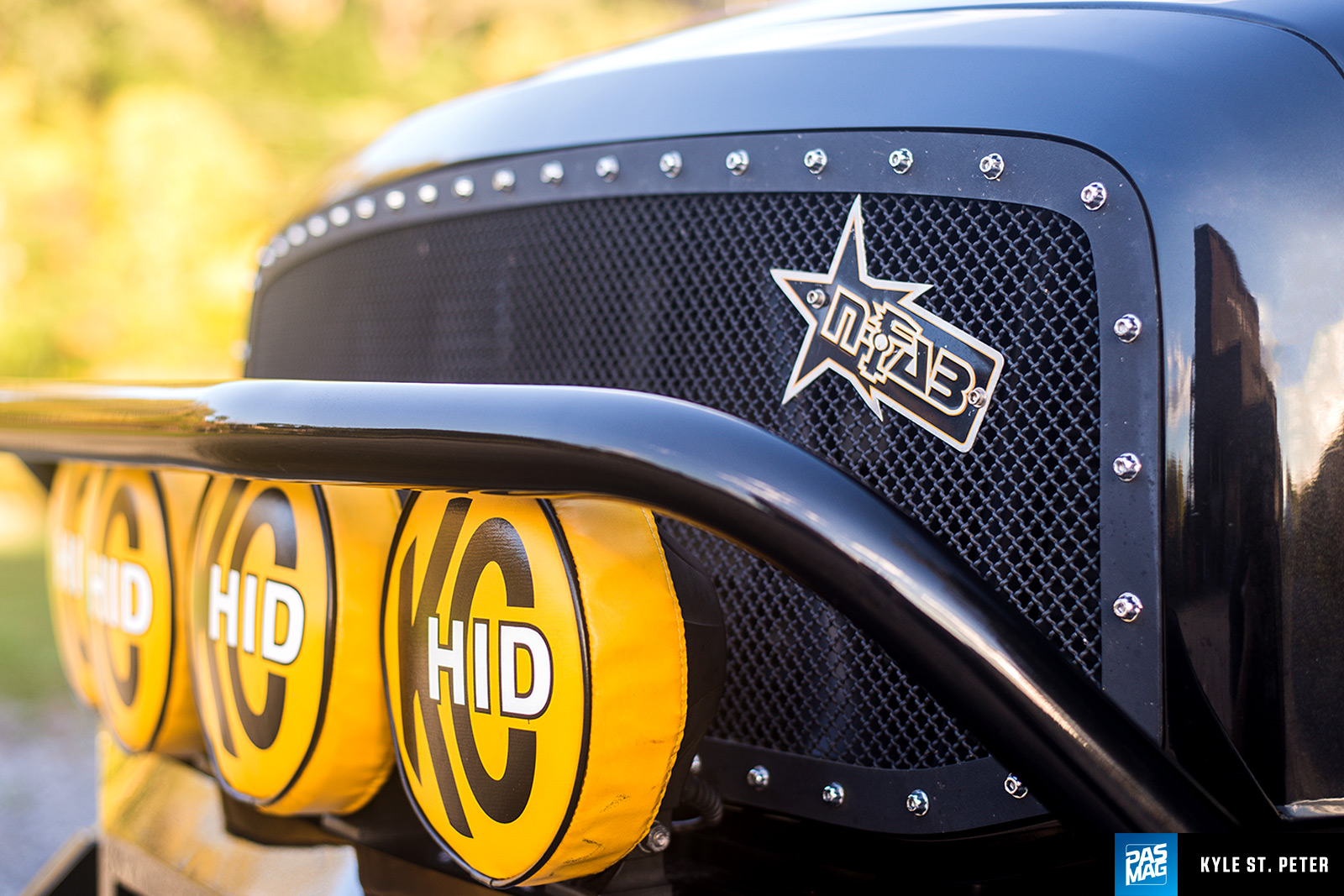 Travis Poirier and his Dodge Ram are featured in PASMAG Tuning Essentials: Trucks Vol. 7. Click here to order.
"One thing I've learned during this build is things take time and nothing ever goes as planned," he recalls, painfully. "The biggest issue with this build was that it was my daily, so when I started this build, I did my research, talked to my sponsors, and lined everything up to go as smoothly as possible. Unfortunately, I came to find out that not everything that's supposed to fit together always goes together, so I had a lot of down time with no driving anyway."
Persevering through the frustrations, Poirier brought his visions to life and built a successful show truck that rakes in awards and has made him many friends in the industry. Though it's never been to the big show, the influence is palpable, and the fact that it gets driven on the daily actually puts it above some of the rolling sculptures that line the Las Vegas Convention Center.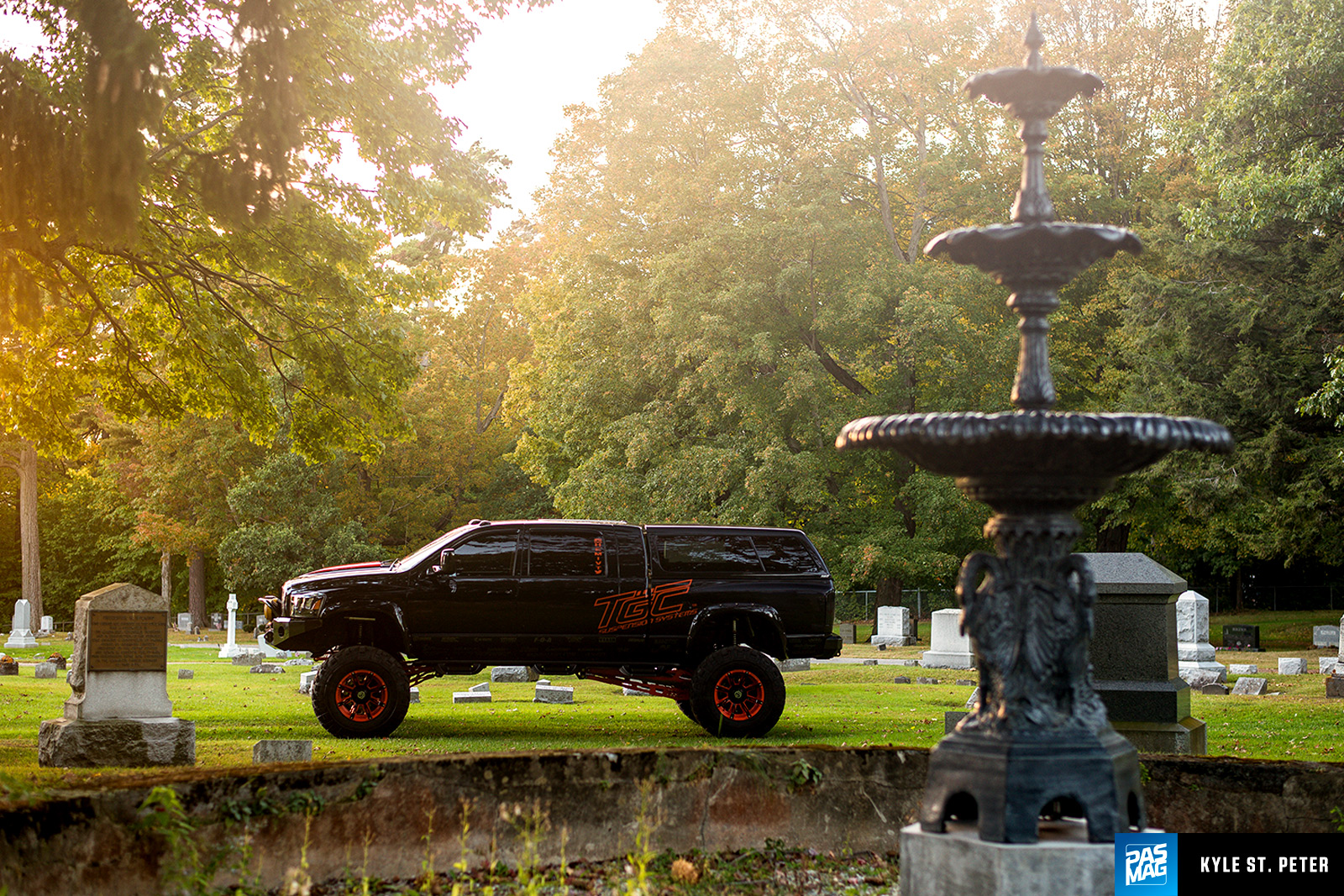 Travis Poirier and his Dodge Ram are featured in PASMAG Tuning Essentials: Trucks Vol. 7. Click here to order.