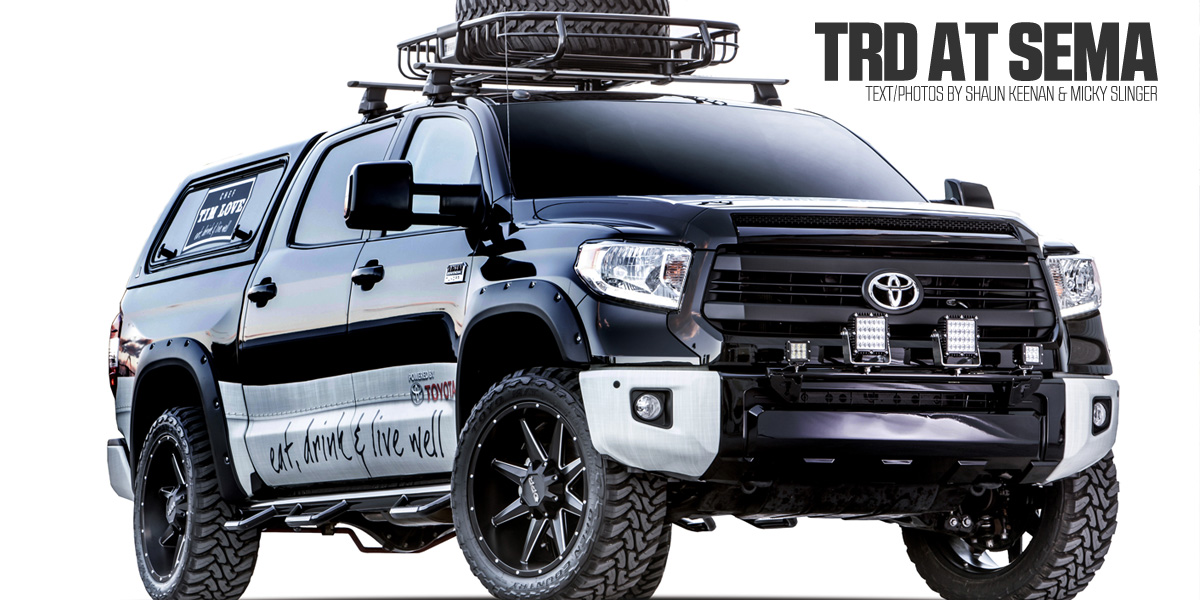 THE ULTIMATE T(R)AILGATER TIM LOVE TUNDRA
Toyota's pickups are usually rated for their off-road and towing prowess, but Divine 1 Customs partnered with celebrity chef Tim Love to create the ultimate party machine. Tacking a sliding 27-inch grill that flame throws 24,000 BTUs, three TVs, a Sony Playstation 4 and a fully-equipped Rockford Fosgate System (with two 600-watt P600X4 amps, two 10-inch subwoofers and three pairs of component speakers), the Tim Love Tundra instantly became the love of football fans and grown-up kids alike. With two beer/wine taps and cold storage coolers, the only thing missing from the build — and the only reason to part with such a glorious creation — is the lack of a porta-potty on deck.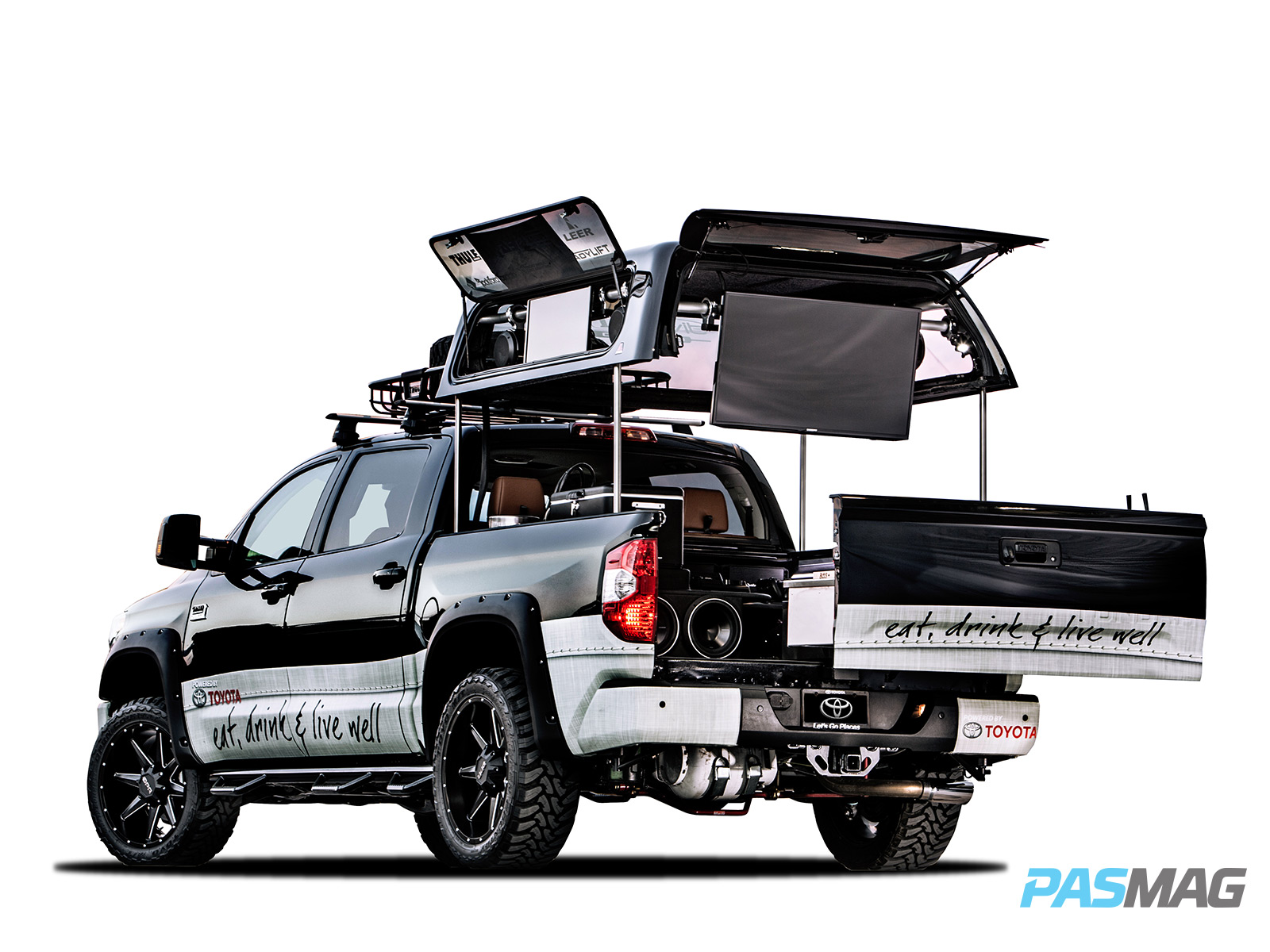 BIG BOY TOY TONKA TUNDRA
Designed as a dedication to emergency responders nationwide, the appropriately-colored red, black and yellow Tonka Tundra is the perfect transformation of toy truck done large. As fun as it appears, it's equally capable thanks to AMP Research automatic side steps, a Hi-Lift first-responder jack and bar mount, a Pro-Comp/Smittybilt winch, a CargoGlide bed slide, air compressor, axe and more. Performance comes via a TRD supercharger, dual exhaust setup and big brake kit, while its hulking stature is made possible by custom 10-inch Bulletproof Suspension and 20-inch Moto Metal Wheels.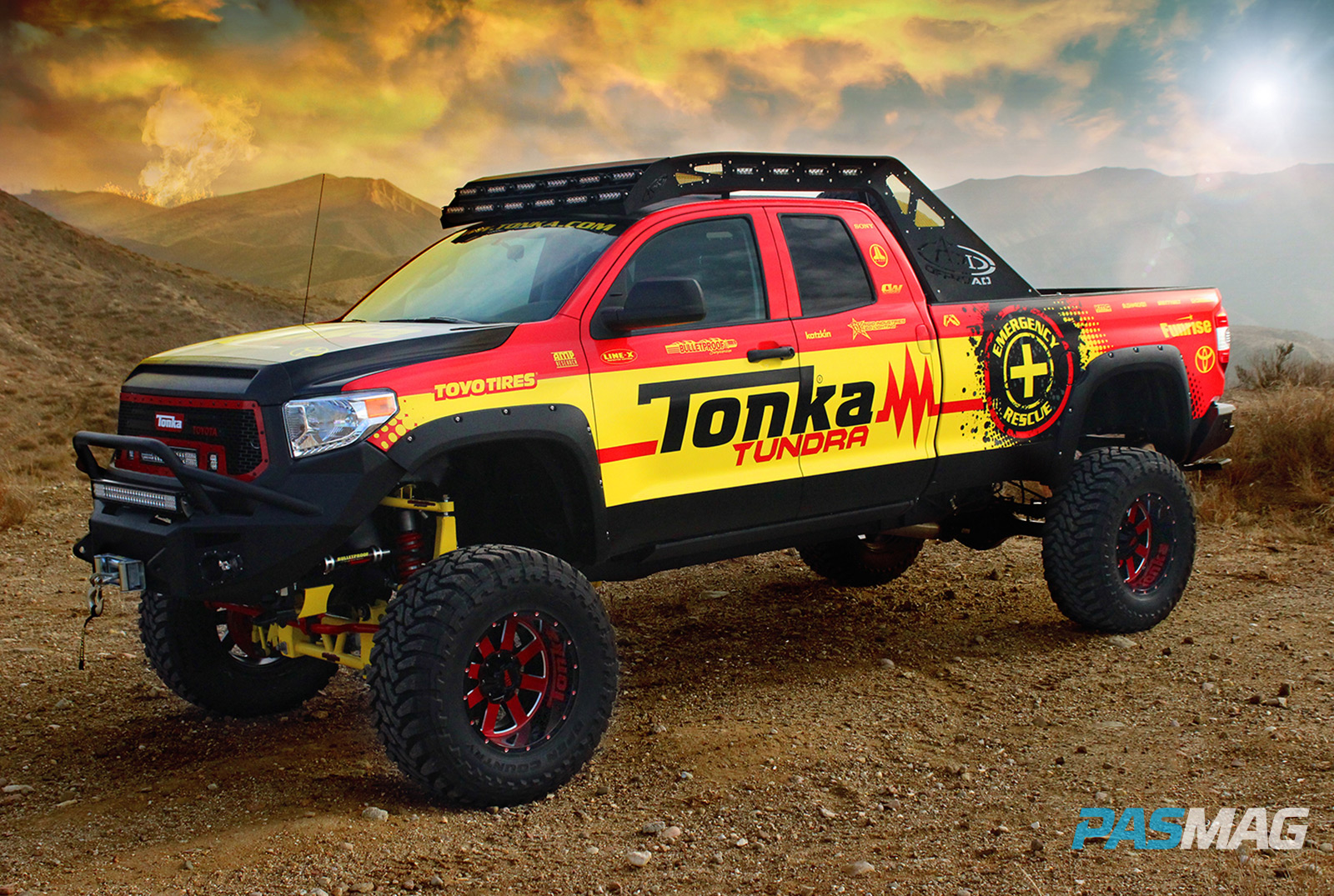 TRD 4RUNNER
HELPING THE TUNDRA TRD PRO WIN THE BAJA 1000 TITLE (AND JOINING IT AT SEMA PRIOR), TRD called on N-Fab to build a special 4Runner as one of three chase vehicles to aid in the notoriously difficult desert rally. The TRD 4Runner was equipped with the best in off-road componentry, communications and safety equipment to tackle and manage the most difficult situations in the barren land. Among the product highlights are: TRD Pro suspension and off-road wheels and tires, Rigid E-series light bars, Smittybilt steps, winches and racks, an N-Fab rockrail and tailgate step and DC Safety off-road emergency kit, Lowrance GPS and RCI chase radio. As evidence by the victory, N-Fab's product choices and build quality served the team well in capturing their 36-hour long title.
BAJA 1000 // FLYIN' DIRTY
TUNDRA TRD PRO DESERT RACE TRUCK
Dry heat. Sand. Mud. Suspension-crushing jumps. Gruelling desert conditions. That's what the Tundra TRD Pro Desert Race Truck was designed to handle — and for 1,000+ miles, no less. Once SEMA finished, the truck left for Ensenada, Mexico dressed in TRD Pro x Monster Energy livery to battle for top honors in the Full Size Stock Class of the 47th Baja 1000. Drivers Andy Bell, Jamie Bestwick, Ryan Millen, Ted Moncure and navigators Mike Sweers and Samantha Stone fought through one of the globe's most difficult rallies and did just that — capturing the class title in 36 hours.
BAJA 1000
The Tundra TRD Pro Desert Race Truck suffered a large gash out of the driver's side doors after getting caught on a stranded vehicle, tearing the sheet metal in knife-like fashion. Uninjured and still driveable, legendary off-road racer Ivan "Ironman" Stewart coached the team to Toyota's 304th off-road win. After the victory, the team proved its endurance again by driving the TRDs over 1,000 miles back to the start line.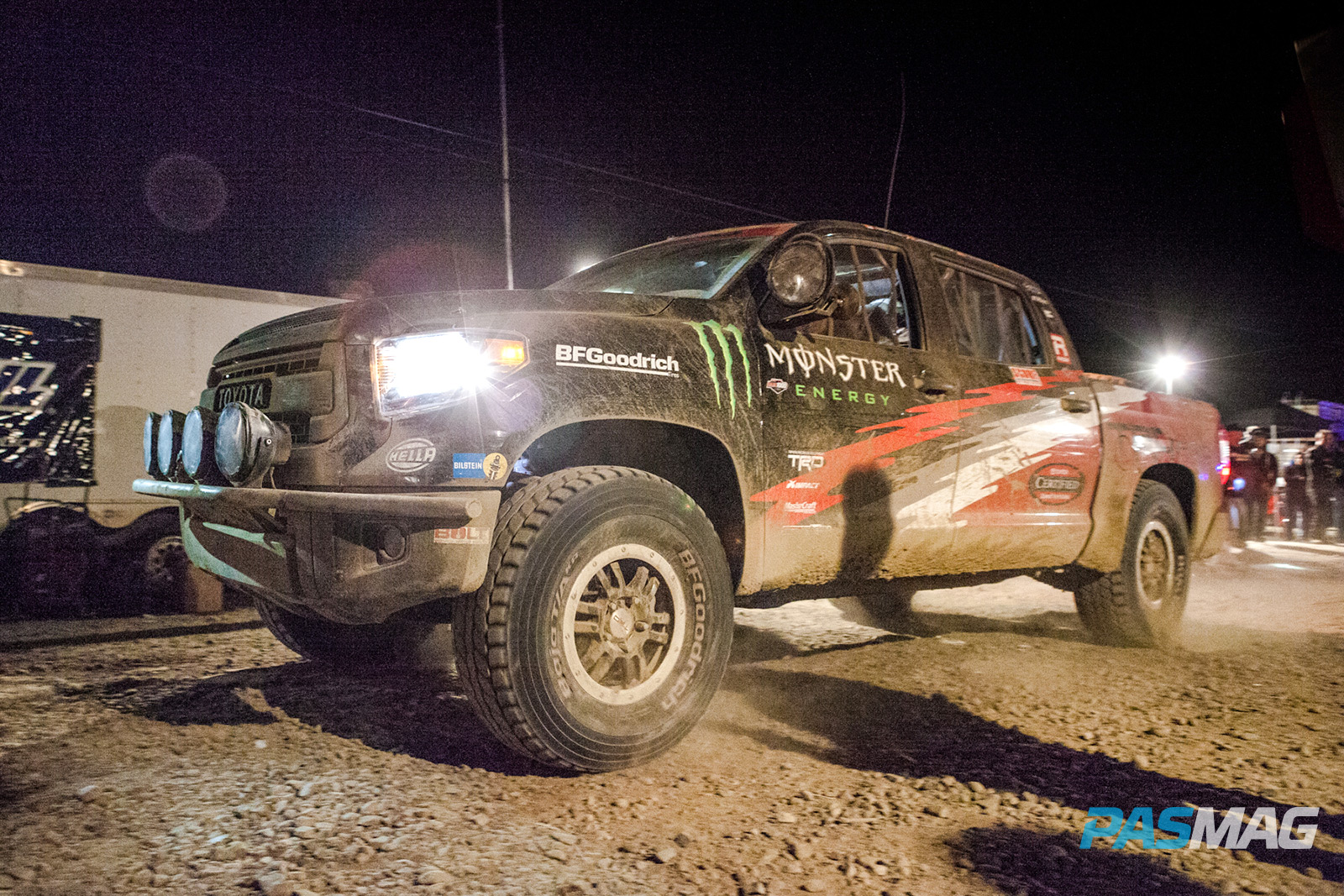 TUNDRA TROPHY TRUCK
PRIOR TO HIS COACHING VICTORY AT THE BAJA 1000, Ivan Stewart made a SEMA appearance alongside his Tundra Trophy truck. The more than 30-year partnership has contributed to a record number of victories in the MTEG stadium series, alongside his 10 driver titles and 84 off-road wins.
TRD TACOMA
TOWING POWER, 9.5K WINCHES, AIR TANKS AND JACKS – the TRD Tacoma support vehicle was built to get its racy Tundra TRD Pro sibling out of any pinches during the Baja 1000. Thankfully, aside from the standard crew support and the driver's side gash, the Tundra TRD Pro didn't require any of the major supports outfitted on the TRD Tacoma.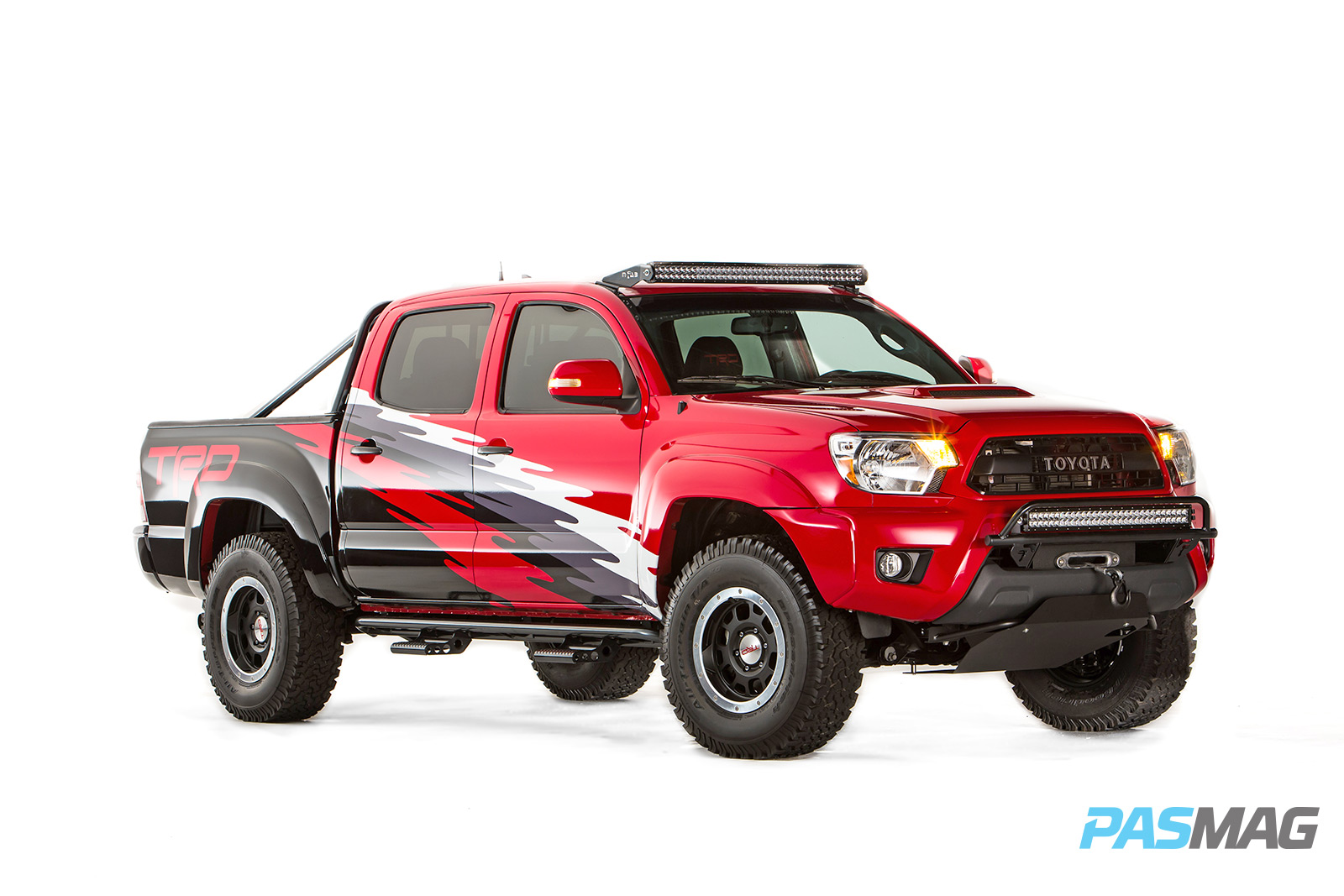 TRD TUNDRA
THE TRD TUNDRA CARRIED ALL THE SUPPLIES NECESSARY FOR THE TUNDRA TRD PRO DESERT RACE TRUCK. FUEL, TIRES, AIR TANKS, 12K WINCHES, A TWO-TON JACK AND OFF-ROAD EMERGENCY KIT – it's all here. Heck, with the TRD Pro suspension, wheels and tires, a Lowrance 7-inch GPS, light bars, N-Fab bed cage and Coleman cooler, this Tundra might as well have entered the competition itself! Proving the Tundra's capabilities twice over, it was a worthy adversary in keeping up and crossing the Baja 1000 finish line with its sibling, and a comfortable, spacious home for ride-along mechanics Zach Zwillinger, Matt Weal, Mike Jarboe and Mark Sasaki.