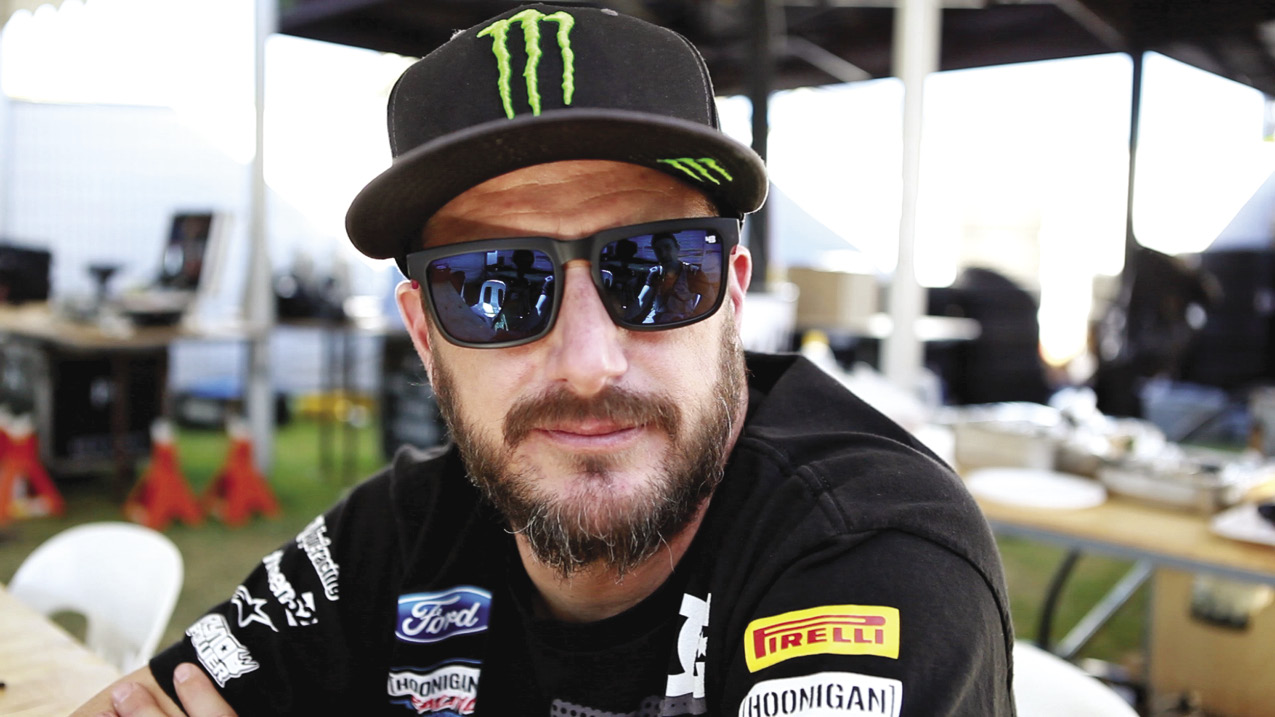 Ken Block is to Gymkhana YouTube videos what Paul Walker is to the Fast & Furious Hollywood movie franchise. We caught up with Paul one day while on his way to work at his own performance in California, but we literally had to go the end of the Earth to catch up with Ken. Well, at least about as far away from here as you can be. And thanks to the whole Hoonigan Racing Division, our man on the ground at the Clipsal 500 Australian V8 Supercars event in Adelaide was able to capture this 10-minute exclusive PASMAG one-on-one with one of the most influential action sports heroes of all time, and a not-so-bad driver to boot. Ladies and gentlemen, your Head of Hooning is in the house...
What gymkhana video was the most technically challenging?
The most technical one is really Gymkhana 4, because everything was so tight. You know, we were dealing with Universal Studios, which only had small areas to play in. And then I did stuff with like moving forklifts. So that was really difficult with the tight conditions and difficult tricks. On top of that is was my first event really doing something with that new car, what we call the H.F.H.V., and we only had one day of testing for that car before Gymkhana, before I actually made that video. It was really difficult getting adapted to a brand new car, but then driving it dangerously and driving it in tight and situation. It was fun definitely the most nerve-racking of all those videos.
So, was that also the scariest Gymkhana video to make?
Well, scary is a different question. (laughing) Gymkhana 3 was probably the scariest. You know, going up and playing on that wall (that banked oval) and, when you get the car on an angle, the car and g-forces are just so affected that it really kind of throws everything off and makes things difficult. Some of the stuff in Gymkhana 3 was actually the scariest.
Just how dangerous are making these videos?
… Going the speeds we go out in the forest rallying is much more dangerous. But the things that don't really get across on camera are things like, you know, if I hit a curb, like I hit a curb in (the last two videos), how it can just destroy the insides of the car because of all that force being transferred into the car. From just a curb, you know, it's like hitting a brick wall when you hit a curb. Sometimes it can be quite dangerous even though it doesn't look that bad. And that's what Gymkhana 4 was really all about.
What was the most expensive Gymkhana video to make?
That I actually don't know... I can tell you that, as far as filming goes, Gymkhana 3 was one of the most expensive one because it was at a remote location in France, it took a bit more time than we expected and it was just very difficult on the team and the car.
How many Gymkhanas are you going to do this year? What's you calendar like?
Well, this year is actually one of the busiest years I've ever had…
CHECK OUT THE ENTIRE INTERVIEW IN THE VIDEO BELOW