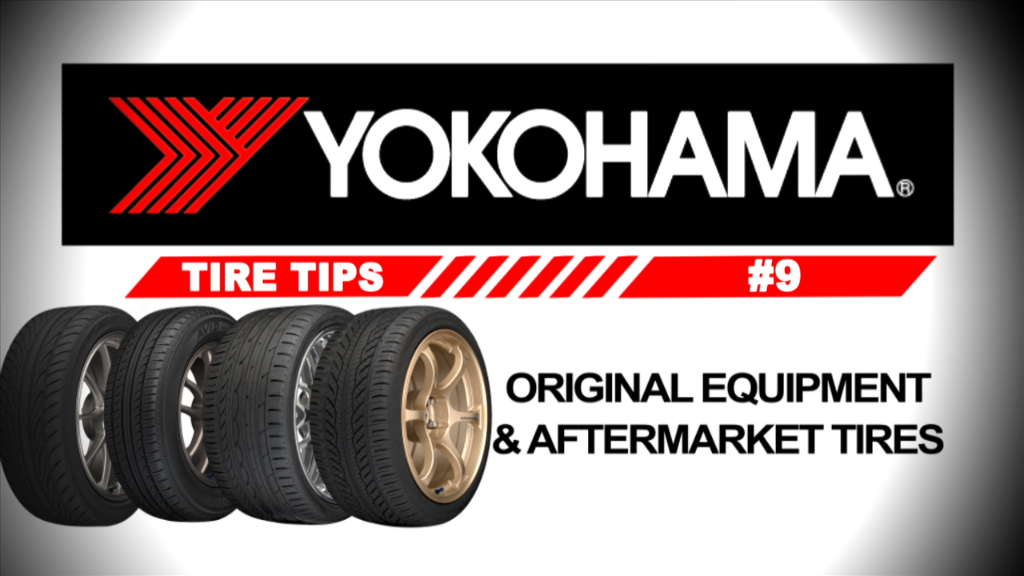 When it comes to replacing tires, consumers are often faced with a decision on whether to buy original equipment (OE) or aftermarket tires. How to choose between the two is the subject of the latest episode of "Tire Tips" from Yokohama Tire Corporation (YTC). The video can be found at LINK, and is the ninth edition in the consumer education-focused video series that began in 2010.
In the new presentation, Fred Koplin, YTC director of marketing communications, explains the various benefits OE and aftermarket tires present to the consumers. "OE tires are designed to work best with the vehicle so the tires, vehicle suspension and brakes are simultaneously optimized to perform together."
"OE tires are also designed with a specific performance in mind. This could be high-performance handling, for example, to complement a sports car. Other vehicles might have been originally built with a focus on fuel efficiency such as in the case of hybrids. Buying OE as a replacement tire means the consumer can stay true to what the OE manufacturer had in mind when they built the vehicle."
Aftermarket tires, said Koplin, offer the consumers a variety in performance, size and brand selection. "Consumers who want more stability and better handling at high speeds could use an ultra high-performance tire like the ADVAN Sport®. However, those who occasionally drive off-road might want the optimal traction provided by a Geolandar® tire. That's the benefit of aftermarket tires – consumers have an expanded choice."
"There is no single answer for what type of tire a consumer must buy. This video was made to help consumers learn that choosing the right tire means choosing what's right for them."
"We have OE fitments ranging from Mercedes Benz to Chrysler, Dodge and Toyota – as well as a broad spectrum of aftermarket replacement tires," said Jeremy Kahrs, YTC director of OE Sales. "Together with their local tire dealer, consumers can be sure to find the right tire for their vehicle."
Yokohama Tire Corporation is the North American manufacturing and marketing arm of Tokyo, Japan-based The Yokohama Rubber Co., Ltd., a global manufacturing and sales company of premium tires since 1917. Servicing a network of more than 4,500 points of sale in the U.S., Yokohama Tire Corporation is a leader in technology and innovation. The company's complete product line includes the all-new AVID Ascend® – the first mass-market tire using Yokohama's breakthrough orange oil technology – as well as tires for high-performance, light truck, passenger car, commercial truck and bus, and off-the-road mining and construction applications. For more information on Yokohama's extensive product line, visit www.yokohamatire.com.
Connect with Yokohama Tire Corporation:
www.facebook.com/yokohamatirecorp
www.youtube.com/user/yokohamamotorsports
Yokohama is a strong supporter of the tire care and safety guidelines established by the Rubber Manufacturers Association and the National Highway Transportation and Safety Administration. Details can be found at the "Tire Safety" section at www.yokohamatire.com.