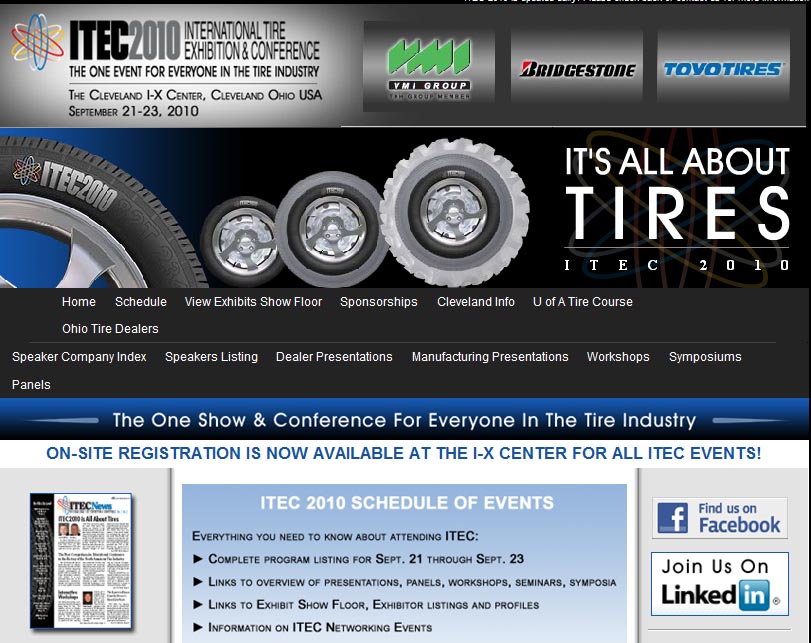 CLEVELAND, OHIO – Front and center at ITEC 2010 this week, Toyo Tire U.S.A Corp. will showcase a new eco-friendly tire and promote the company's green technology.
In a green-themed display will be Versado® Eco, a new luxury performance tire designed to maximize contact with the road while minimizing ones environmental footprint.  Coming in spring 2011, this all-season tire will be the perfect complement to today's popular hybrids and other environmentally–friendly vehicles.
For commercial applications, a commercial tire section will feature four U.S. EPA SmartWaysm verified tires.  With many of those products incorporating Toyo Tires' e-balance™ technology, these low-rolling resistance tires help line-haulers to save fuel while reducing greenhouse gases.
Continuing the focus of technology, the company will also introduce a maximum performance tire on Tuesday.  This new product showcases the technological capabilities of Toyo Tires, taking the UHP segment to a new level of performance and sophistication.
"Toyo Tires is excited to showcase our new technologies and products at ITEC 2010 in Cleveland," said Steve Hutchinson, vice president of marketing, Toyo Tire U.S.A. Corp.  "We feel this is an important show to reach our network of independent Toyo Tires dealers."
ITEC (International Tire Exhibition & Conference) is a gathering of the world's tire industry professionals, including manufacturers, dealers, retailers and distributors.  The show runs from September 21-23 at the Cleveland I-X Center in Cleveland, Ohio.  The Toyo Tires booth, number 910, will be located at the show entrance.
To learn more about ITEC 2010, log onto itec-tireshow.com.  To learn more about the brand voted #1 overall by independent tire dealers across North America*, log on to toyotires.com. Toyo Tires manufactures and distributes a complete line of replacement tires for high performance cars, luxury vehicles, light trucks and SUVs as well as tires for commercial trucks, buses and off-road and construction applications.