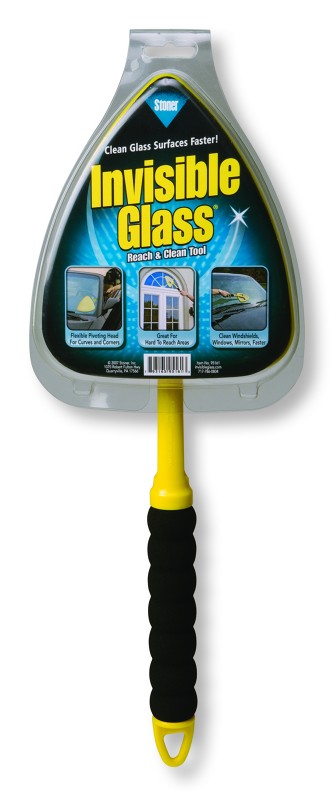 Just in time for summer cleaning, Stoner introduces its Invisible Glass "Reach & Clean Tool."  You won't find a faster or easier way to clean glass, especially in hard-to-reach areas.  It helps users achieve the superior results and "invisible" clarity they already count on from Invisible Glass aerosol and trigger cleaners.
This new versatile tool has a flexible pivoting head and a 14" extending foam handle that enables you to access hard-to-reach areas such as those corners and curves on the inside of your windshield, as well as glass and mirrors that are out of your arm span.  Reach & Clean is great for cars, trucks, RV's, boats, glass tables, windows, mirrors, and more at home, work, or play.  It easily and quickly tackles fingerprints, smudges, smears, fog, smoke film, haze, dust, water spots, and other grime that frustrates even professional cleaners.
The new Reach & Clean Kit includes:
Comfort grip handle
Pivoting triangular head
Microfiber cleaning bonnet
Terry multi-purpose bonnet
Nylon mesh bug bonnet
End cap with hanging loop
A thorough demonstration video is online at www.invisibleglass.com.  In minutes you will witness the true cleaning superiority the Reach & Clean Tool offers.  The three versatile cleaning bonnets are reversible, washable, and reusable.  The yellow microfiber bonnet works best for cleaning all glass and mirror surfaces.  The terry cloth bonnet is included that is great for multi-purpose cleaning, and a nylon mesh bonnet works wonders on hard-to-remove bugs and other grime.  In addition, the end cap of the handle unscrews if you need attach a standard extension pole.
The Reach & Clean Tool works best when used with Invisible Glass, which is the leading glass cleaner in the automotive industry.  Professionals and consumers have come to trust this premium cleaner which was developed with two simple objectives: superior cleaning power and "invisible" clarity.  When compared to ordinary "blue water" cleaners, you'll immediately see how quickly it removes the most difficult grime, making glass virtually disappear.   Teamed with the Reach & Clean tool, frustrating streaks are gone in a snap.
Visit www.invisibleglass.com to order the Invisible Glass Reach & Clean Tool for $14.95, order replacement heads and bonnets, or for information and well as video demonstration.  It is also available for purchase at retailers Checkers, Shucks, Kragen, and O'Reilly's.