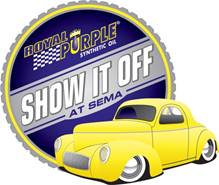 High Performance synthetic lubricant manufacturer Royal Purple announced today the return of its Show It Off at SEMA contest. Beginning July 2 and running through the month of July, the contest offers entrants a chance to win one of two opportunities to show their vehicles at the 2012 SEMA Show at the Las Vegas Convention Center as a featured vehicle as a guest of Royal Purple.
The contest will be hosted on the Royal Purple Inc. Facebook Fan Page and entries will be accepted for a two week period, July 2 – 18. Ten finalists will be determined via online popular vote from July 19 – 24.
"We had so many great entries and such a positive experience with the winners last year that we're bringing our most popular contest to date back for another year," said Royal Purple Communications Specialist Marlena Solomon. "We like to run our contest early to allow our winners to secure sponsors for their trip to cover costs like travel, accommodations and vehicle transportation," she added.
Once the ten finalists are selected, each will have the opportunity to submit a detailed spec list and additional photos of their vehicle for the judges to review. This year, the panel of five judges will include last year's winners, Joe Cherry (El Nomado) and Shawn Kaufman (Galvatron). The two winners for 2012 will be announced Friday, Aug. 3 on the Royal Purple Inc. Facebook fan page.
In addition to the opportunity to show their vehicles at the 2012 SEMA Show in Las Vegas, Royal Purple will cover car registration fees, provide two (2) badges for the show, Royal Purple swag, and host a dinner with each of the winners as guests of honor.
The SEMA Show is a trade only event and is not open to the public. It is the premier automotive specialty products trade event in the world, drawing the industry's brightest minds and hottest products to the Las Vegas Convention Center. In addition, the SEMA Show provides attendees with educational seminars, product demonstrations, special events and networking opportunities. In 2011, The SEMA Show drew more than 60,000 domestic and international buyers.