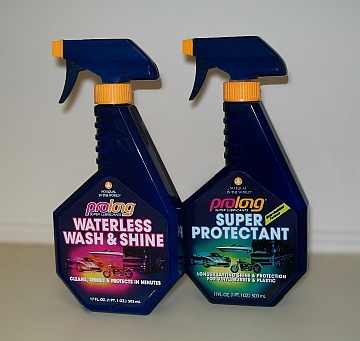 With Father's Day right around the corner, get dad the perfect gift to keep his car, boat or motorcycle in pristine condition with Prolong(r) Super Lubricants' Waterless Wash & Shine and Super Protectant.
Whether dad is working in his garage, going to a car show or preparing to take out his watercraft or vehicle for the day, Prolong offers products to give his favorite items a great appearance.
If dad is crunched on time and needs to wash his boat, car, motorcycle or RV, Prolong's Waterless Wash & Shine is available for $7.99 in a 17 oz. bottle and is an innovative way to wash your vehicle, in less than 15 minutes, without the need for water.
Waterless Wash & Shine's special lubricating agents encapsulate dirt, sap, tar, bugs and sea salt residue and can be removed with ease by simply spraying the product on and wiping it away to leave a just-waxed appearance.
Prolong's Super Protectant beautifies and protects leather, rubber and vinyl surfaces from cracking in hot or cold weather conditions. Super Protectant, available in a 17 oz bottle for $8.99, is water resistant, so it won't wash off, and it blocks out elements with a durable shine for a longer lasting protection. To use Super Protectant, spray it on the chosen surface and easily wipe it away with a terry cloth towel.
Prolong products can be found at Pep Boys, AutoZone, O'Reilly Auto Parts, Parts City Auto Parts and many other fine retailers. Prolong can also be purchased online.
To learn more about Prolong, visit www.Prolong.com. Find Prolong on Facebook and follow on Twitter for additional specials, product and race information.