Pro-Motion Distributing Presents
Motion Auto Show & Expo
Presented by: Falken Tire, NOS Energy Drink, Mobil 1, Nitto Tire & Shining Monkey Car Care Products
City of Industry, California – February 18, 2011 – Motion Auto Show & Expo is pleased to announce its 2011 Show Date
Motion Auto Show & Expo SUPER SHOW
Long Beach Convention Center
300 Ocean Blvd.
Long Beach, CA 90802
Sunday, August 21st, 2011
11:00am-6:00pm
Motion Auto Show & Expo is extremely excited to announce its 2011 show date.  Motion will bring their unique hardcore car show competition and automotive lifestyle entertainment to the Long Beach Convention Center.
Motion will be hosted indoors occupying the entire Long Beach Convention Center providing the best possible competition atmosphere for the serious car show participant.  A controlled indoor environment provides Vendors, Manufacturers, Consumers, and Models, a comfortable and enjoyable experience.
Motion will deliver the most competitive car competition in the Nation.  Car Show participants will now have the opportunity to compete for the most sought after trophy in the entire Industry.  Troy Sumitomo of 5-Axis designs is currently designing and constructing a new trophy design.  The new trophy will make its world premier debut at our Long Beach Show. Special care in the off season was dedicated to continually improve upon an already excellent car show format.
Motion has been and always focused on keeping its fans highly entertained.  The cars are guaranteed to be insane but everyone needs a little eye candy.  The Stage will be filled with various types of entertainment. Featuring an Urban Dance Competition, Bikini Contest, and much more.
Motion's goal is to elevate the expectations of both car show competitors and enthusiasts alike.  See what all the excitement is about at Motion 2011
For more information on the show contact:
Pro-Motion Distributing
(626) 333-1400
This email address is being protected from spambots. You need JavaScript enabled to view it.
About Motion:
The original concept of the show was simple:  Create one mega show that was a beacon of our lifestyle, culture, community, and Industry. From both a Trade and Consumer perspective no other show offers you the concentrated and focused attendees of Motion.
The Motion Auto Show & Expo is the definitive place for manufacturers, car show competitors, and automotive enthusiasts to meet, listen, learn, and share.  It is the place where man and machine unite and become one in an automotive nirvana.
For more information about the Motion Auto Show & Expo visit: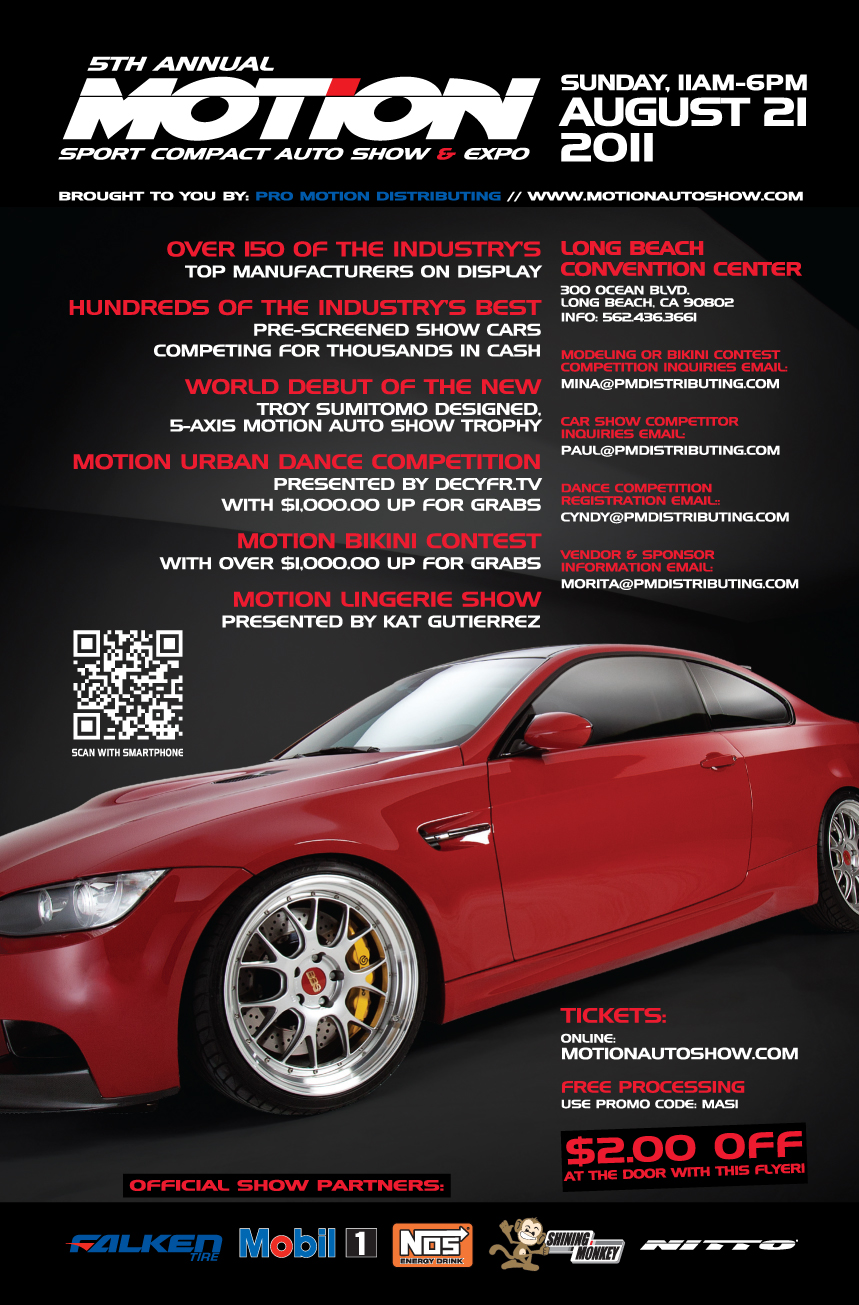 Pro-Motion Distributing Produces its 5th Annual Super Show
About Pro-Motion Distributing:
Established in 1989 Pro-Motion Distributing is the Industry's largest wholesale distributor of High Performance Aftermarket Products.  Pro-Motion now stocks and maintains an inventory on over 125 of top name after market manufactures like AEM, ACT, K&N, HKS, Eibach, PIAA, Sparco,
and more.
Pro-Motion Distributing owns and operates offices in both California and Tennessee. Pro-Motion Distributing services a global market of over 5000 independently owned and operated automotive retailers.  The Motion Auto Show & Expo and Motion Magazine are both wholly owned subsidiaries of Pro-Motion Distributing Inc.
For more information about Pro-Motion Distributing visit: