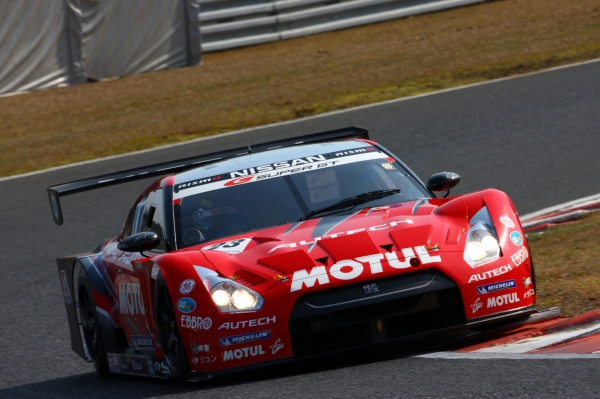 Nissan's iconic GT-R sportscar will contest in two of the world's premier racing championships in 2010 as part of the global motorsports plan unveiled today by Nissan Motor Co., Ltd. and Nissan Motorsports International Co., Ltd. (NISMO).
The racing programme, focused around the award winning GT-R, that in road trim claimed a fastest ever Nurburgring lap for a production car, aims to showcase Nissan's commitment to designing and delivering cars that embody passion for performance and the joy of driving.
Having already won the championship in it's debut season – 2008 - and scored 4 victories in the 2009 Japanese SUPER GT Series GT 500 class, Nissan will be back with a trio of these 500bhp GT-R racers to make a serious assault to reclaim the championship title.
In addition Nissan will also provide technical support to the private teams through NISMO, competing with a total of 4 Nissan GT-R's in the new FIA GT1 World Championship. Nissan will further support grassroots activities through scholarship program and support for private teams.
1. SUPER GT
The R35 model Nissan GT-R will take part in the GT500 class of the SUPER GT series. NISMO will develop the cars and provide technical support for participating teams. A newly developed 3.4 litre engine (VRH34A) will be installed to the 2010 NISSAN GT-R's specification.
Team Composition:
NISMO, TEAM IMPUL and KONDO RACING will deploy one car each, for a total of three Nissan GT-Rs competing across the Nissan teams. A new combination of top-class drivers will join this season. Additionally, the teams are collaborating with three tyre manufacturers to deal with the various racing environments and circuits. Kunihiko Kakimoto will continue as the general director of the teams driving Nissan cars.
| | | | | | |
| --- | --- | --- | --- | --- | --- |
| No. | Entrant | Team principal | Drivers | Vehicle name | Tyre brand |
| 23 | NISMO | Yutaka Suzuki | Satoshi Motoyama/Benoit Treluyer (F) | MOTUL AUTECH GT-R | Michelin |
| 12 | TEAM IMPUL | Kazuyoshi Hoshino | Tsugio Matsuda/Ronnie Quintarelli (I) | Calsonic IMPUL GT-R | Bridgestone |
| 24 | KONDO RACING | Masahiko Kondo | Joao Paolo de Oliveira (BR)/Hironobu Yasuda | HIS ADVAN KONDO GT-R | Yokohama |
2. FIA GT World Championship
Vehicles:
NISMO will supply four R35 model NISSAN GT-Rs for the private teams participating in the FIA GT1 World Championship, as well as provide technical support. Based on the data obtained last season from four races in the FIA GT Championship's GT1 class, Nissan reinforced GT-Rs' endurance reliability to the 2010 vehicle specification, in addition to improving aerodynamic performance and weight saving as well as increasing dynamic performance.
Team Composition:
In accordance with the rules of the FIA GT1 World Championship, no manufacturer teams will compete, though they are allowed to provide technical support. A total of four Nissan GT-Rs will compete in the championship, in accordance with the rules (two teams per manufacturer, each with two vehicles entered).
No.

Entrant

Team principal

Drivers

Tyre brand

TBC

SUMO POWER GT

James Rumsey

Michael Krumm (D)/  Peter Dumbreck (GB)

Michelin

TBC

TBA/TBA

Michelin

?

SWISS RACING TEAM

Othmar Welti

Karl Wendlinger (AT)/  Henri Moser (CH)

Michelin

?

Max Nilsson (SE)/TBA

Michelin
SUMO POWER GT: a new team established this year in the U.K. to participate in the FIA GT1 World Championship. The team principal is James Rumsey; team manager is Allen Orchard; and chief engineer is Nigel Stepney. (www.sumopowergt.com)
SWISS RACING TEAM: established in 2000 in Switzerland. Partnered with Jetalliance Racing and K plus K Motorsport, has won seven times in the GT1 class since 2007. Karl Wendlinger won the opening round of the FIA GT series last year with the team. The team principal is Othmar Welti; team manager is Eric Corbe.
China Touring Car Championship (CTCC)
Nissan will continue to give technical support to the Dongfeng Motor Company Ltd. for the Nissan Tiida competing in the 1600cc class. The CTCC is China's most competitive national championship for racing cars produced in China. The championship was won in 2006 and 2008.