Our latest addition to the Hybrid Shift Knob family; the Specter! Our heaviest hybrid shift knob weighing in at 400 grams. The most HARDCORE hybrid to date!
The Phantom's alter ego, the Spooky. Spawned as a white-colored variant of the Phantom hybrid, this knob weighs in at a hefty 275 grams. If the Phantom doesn't tickle your fancy, buy your Spooky TODAY!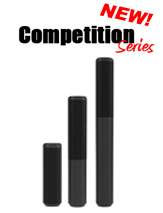 Competition Shift Knobs
Inspired by a generation of race cars and motorsport competition, the Competition Series Shift Knobs offer a wide variety of sizes and styles to suit your style. For use on street or track, for ULTIMATE shifting performance and efficiency.