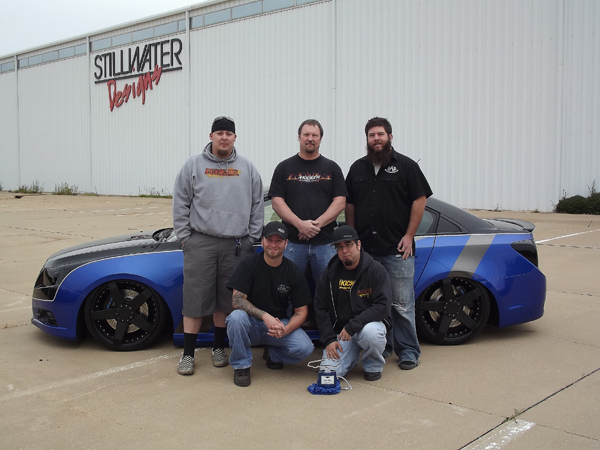 There was no greater satisfaction for the KICKER® Vehicle Design and Fabrication Team than seeing the 2011 GM® Design award for "Best New Chevrolet® Interior" atop the 2012 KICKER Cruze™ demo car during the annual SEMA Show in Las Vegas.
"The Cruze is a good looking car from the factory, but we wanted to give it that little something extra to put it over the top," KICKER Install Manager Sean Murphy said.  "From the stance with the Air Lift® kit, the interior accents and the stereo, it really grabs you visually and audibly." The team features Murphy and installers David Adams, Randy Botts, Josh Fletcher and Tim Smith.
With 14 different award categories, the Design Award program recognizes exhibitors who showcase "the most outstanding combinations of innovation, creativity, personalization and performance in their vehicle and product designs," according to GM.
The Cruze was highly recognized for its interior modifications, which included door panels featuring KICKER's outstanding QS Component speakers, a customized system in the trunk with six rumbling 10-inch Solo Classic™ subwoofers powered by four IX-Series amplifiers, a modified head unit and factory seats with custom inserts by Distinct Customs®.
Vibrant exterior paint graphics, a Viniati® Cruze RR body kit, Konig® wheels and a unibody chassis with custom air bags from Air Lift are a few of the other aftermarket products that made the Cruze the subject of a complete stop-look-and-listen session during SEMA.
"Not only is (SEMA) the best place to gauge industry reaction to the concept vehicles and accessory products we've been working on all year and to see what others are doing, it's also our opportunity to recognize and celebrate the individuals and companies whose efforts really stand out,"  GM Design Director Phil Zak said.