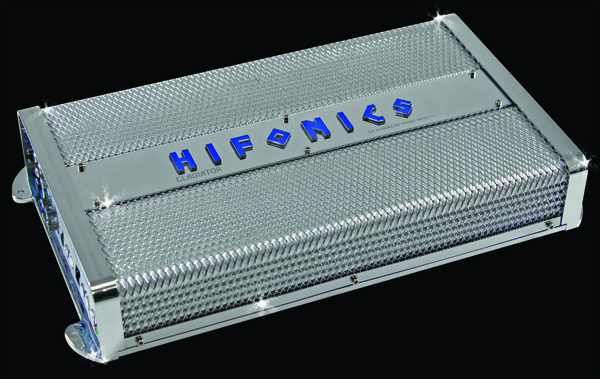 Hifonics proudly introduces the new series of Amplifiers named Gladiator. Gladiator encompasses everything the car audio enthusiast wants in an amplifier line, high performance, high stylings, astounding performance, and, the legendary Hifonics name to back it all up.
The Gladiator GLX series offers a complete line up. Four ground pounding mono blocks and two A/B soundstage amplifiers. Hifonics has put everything on the table with this series, one look at them and you will know why. Each heat sink is encased in a chrome mesh with the illuminated Hifonics badge. "These amplifiers will make you want to open your trunk and show them off", stated Alden Stiefel, Maxxsonics' CEO and President. The development team worked tirelessly to perfect the amps visual design. We all know if you pay a premium price for a premium product you don't want "me too" designs. We didn't stop there. We completed a re-design and enhancement of our patented "Super D" technology.  We have enhanced its efficiency including power draw and power output. This technology "SDNG" Super D Next Gen, already has Hifonics customers buzzing. We didn't want to rest on our laurels, concluded Stiefel.
The GLX Series features mono blocks at the 1000, 1400, 1800 and 2200 Watt RMS ranges. Each one provides a significant step in power that you can hear and feel. The two A/B soundstage amplifiers are comprised of a 2 x 60 RMS and a 4 x 60 RMS configurations. Additional features include complete tone and equalization management, varying degrees of circuitry protection.
Retail prices will range from $199 to $599. The GLX60.4, GLX1000.1D, and GLX1400.1D will be available in December 2011, and all products will be available in January of 2012.