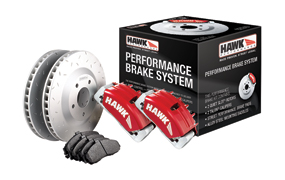 Hawk Perfromance announces the availability of the new Performance Brake System, including three-piston calipers, rotors and pads. This new system includes a matched set of precision components made to increase a vehicle's braking performance for substantially enhanced stopping power.
Featuring a fast, easy install utilizing OEM mounting points with no drilling, welding or fabricating required. This represents a significant cost savings over other "big-brake" kits. At the heart of the system is the new Talon™ three piston caliper constructed of billet-aluminum. This new three-piston Talon™ caliper is the key to upgrading your brakes while retaining stock mounting points and avoiding clearance issues.
Get up to 55% more clamping force than stock, depending on application with this matched set of components. The machined billet aluminum caliper body is anodized for durability and powder-coated for appearance and features durable stainless steel pistons machined from solid 303 bar stock (factory caliper uses aluminum piston). The high temperature internal dust seals are protected from direct heat and debris, and provide years of leak-free performance.
This system is designed to work with factory master cylinders and ABS systems. Designed for drivers and enthusiasts tired of the brake fade, increased stopping distances and imprecise feel of their stock brake system after upgrading their engine or suspension and want to balance that increased performance with greater stopping power. The Hawk Performance Brake System provides an easy, cost-effective way to substantially boost vehicle braking power and control.
HAWK PERFORMANCE is a leading supplier of high-performance products manufactured in ISO-certified facilities for the motorsports and performance automotive aftermarket. Hawk Performance products are engineered to allow users to control, command and conquer the terrain for which their vehicles are designed. Decades of experience in developing friction materials for aerospace, industrial, military, automotive and motorsports applications give Hawk an advantage over the competition: In the past decade, Hawk Performance friction products have won more motorsports championships than any other friction manufacturer.
Additional information on the Hawk Performance brake system can be found at, www.hawkperformance.com or on Facebook, www.facebook.com/hawkperformance.