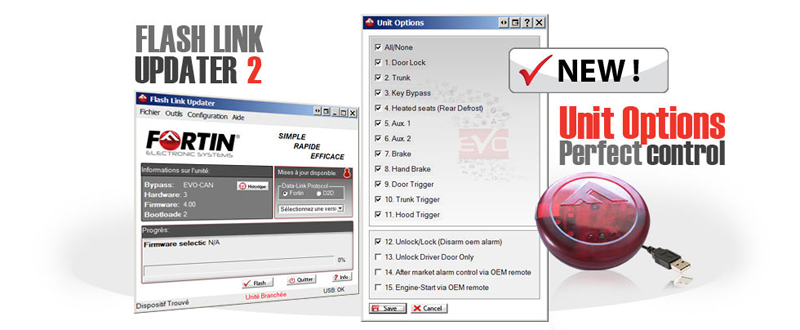 Performance is nothing without control
---
An enhanced version of the FLASH-LINK updater is now available and we're delivering a new updated version of the Windows FLASH-LINK Software to accompany it.

Several features and module options can now be customized with the FLASH-LINK menu. Simply point-and-click to enable or disable specific functionality preloaded in our data integration modules. This fine-grained control allows you to offer customized services to each of your customers, and provides you with the ability to up-sell a basic remote car starter or security installation with several different "add-on" features.

Disable any of the following features which are enabled by default:
Door Locks - Door lock & unlock control.
Trunk Release - Trunk / hatch release.
Key Bypass - Immobilizer bypass.
Heated Seats & Rear Defrost - Automatic low temperature heated seats & rear-defrost control.
Foot-Brake Output - Foot-brake output.
Hand-Brake Output - Hand-brake output.
Door Trigger - Door trigger output.
Trunk Trigger - Trunk / hatch trigger output.
Hood Trigger - Hood trigger output.
Auxiliary 1 - Vehicle specific function. (e.g. Right Sliding Door, Power Lift Gate)
Auxiliary 2 - Vehicle specific function. (e.g. Left Sliding Door, Gas Cap Release)
Enable any of the following features which are disabled by default:
Unlock/Lock (Disarm OEM Alarm) - Automatically unlock & disarm before remote-start and re-lock & re-arm after remote-start.
Unlock Drivers Door Only - Simulate the OEM key-fob with driver's door priority unlock on 1st unlock signal. All doors unlock on 2nd unlock signal.
Aftermarket alarm control via OEM remote - Monitor the vehicle's databus and synchronizes the remote car starter or security system with the OEM remote allowing the customer to use either remote.
Engine-Start via OEM remote - Remote start the vehicle when the OEM remote's lock button is pressed 3x times. An aftermarket remote-starter not required.

The EVO-ALL and EVO-CAN (Hardware 3+) supports customized options. No Internet connection is required to enable or disable an option. Customizing an option will enable or disable both the analog wire and the respective data-link code. All options depend on the vehicle's available features.

Visit the FLASH-LINK Updater
View the FLASH-LINK Updater Installation & User Guide - English (Adobe Flash)
Voir le Guide d'installation & d'utilisation du FLASH-LINK Updater - Français (Adobe Flash)

The Essentials
What you need to get started

FLASH-LINK (Hardware 2+, Firmware 2.00+) is required. "FLASH LINK" & "FLASH-LINK-2" with firmware version 1.xx can not be updated and will need to be exchanged*. All previous FLASH-LINK versions should be exchanged with your distributor for an upgrade. Please contact your distributor for more details.

Click here to see if your FLASH-LINK Updater needs to be upgraded.

* FLASH-LINK (Hardware 2+, Firmware 2.00+) is self update-able. Once you have obtained the latest version of FLASH-LINK any future firmware updates will no longer require an exchange.

Windows Software (Version 2.00) is required. Click on "Help" > "Flashlink Firmware Update" to update automatically, or follow the link below to install the latest version manually.

Download the latest FLASH-LINK Windows Software