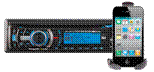 Three New CD Receivers Include Adjustable Portable Device Mount
Dual Electronics Corporation is showcasing its three new CD Receivers - models XDMA5280, XDMA6510 and XDMA6540 - at the MERA's KnowledgeFest, taking place August 28-30 in Dallas, Texas. Shipping now, the receivers are packed with performance and convenience features that will enhance the in-vehicle entertainment experience.
The full-featured XDMA6540 provides robust connectivity to many of today's popular mobile devices and offers built-in Bluetooth Wireless Technology with support for hands-free calling (HFP), audio-streaming (A2DP) and player control (AVRCP) profiles. The unit has a full graphic LCD with an RGB Custom Color feature, which allows users to choose from over 32,000 color combinations for the LCD and button illumination. The XDMA6540 is also Dual's first receiver to be SiriusXM-Ready. The unit features a SiriusXM Connect universal-tuner connector, which allows the SXV100 SiriusXM Vehicle Connect Tuner Kit (sold separately, XM subscription required) to beplugged in directly to the receiver without the need for special cables or adapters. The unit is also HD Radio Ready™ (XDM90 HD Radio tuner required, sold separately).
The XDMA6540 and XDMA6510 models boast a revamped, cutting-edge faceplate design with a unique red arrow Mode Indicator for ease of use. All three receivers include Dual's new Adjustable Portable Device Mount, which attaches to the front of the receiver and securely holds portable electronics in place, within the driver's reach.
"The Portable Device Mount provides added value for today's connected consumer," said Robb Groner, Vice President of Product Development, Dual Electronics Corp. "As consumers increasingly use their smartphones for navigation and music streaming, device integration into the head unit is not only a matter of convenience, but also safety," added Groner.
The new units also feature direct USB control for iPhone and iPod devices as well as front panel USB and 3.5mm inputs.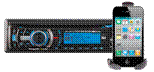 XDMA6540 CD Receiver
Built-in Bluetooth Wireless Technology supports HFP, A2DP and AVRCP profiles

Direct USB control for most iPod and iPhone devices

Full graphic LCD

RGB button and LCD illumination

Portable Device Mount included

SiriusXM-Ready (SXV100 SiriusXM Connect Vehicle Tuner Kit required, sold separately, XM subscription required)

HD Radio Ready (HDM90 sold separately)

Front panel 3.5mm input

Rear RCA auxiliary input

Front panel USB input

SD card input (behind face)

3 Pairs of RCA outputs (F/R/S)

MP3/WMA/CD-R/RW compatible

MOSFET powered amplifier

Wireless remote control

Steering wheel interface input (PAC SWI-PS sold separately)

240 Watts total power (60 x 4)

MSRP $199.00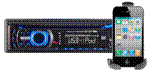 XDMA6510 CD Receiver
Direct USB control for most iPod and iPhone devices

Portable Device Mount included

Front panel 3.5mm input

Front panel USB input

Rear RCA auxiliary input

2 Pairs of RCA outputs (F+R/S selectable)

10-character black & white LCD

MP3/WMA/CD-R/RW compatible

MOSFET powered amplifier

Detachable front panel

Wireless remote control

Steering wheel interface input (PAC SWI-PS sold separately)

240 Watts total power (60 x 4)

MSRP $139.00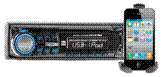 XDMA5280 CD Receiver
Direct USB control for most iPod and iPhone devices

Portable Device Mount included

Front panel 3.5mm input

Front panel USB input

1 Pair of RCA preamp outputs

10-character black & white LCD

MP3/WMA/CD-R/RW compatible

MOSFET powered amplifier

Wireless remote control

240 Watts total power (60 x 4)

MSRP $129.00