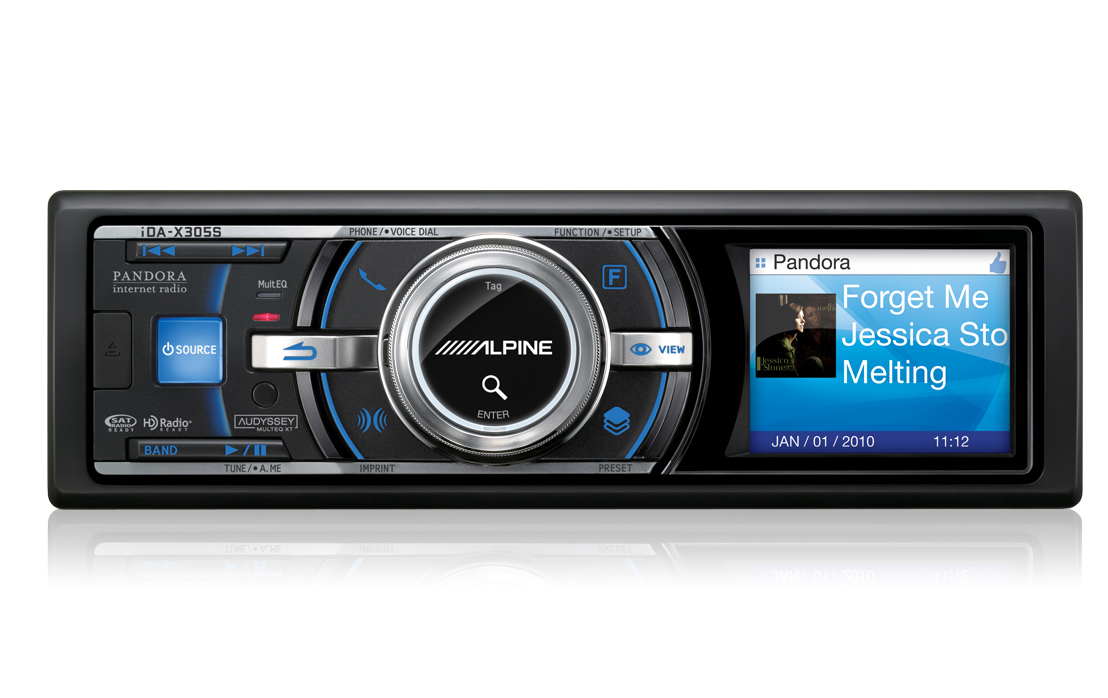 *Breaking News: The Alpine IDA-X305S works with Apple iPhone 4G available June 24, 2010
TORRANCE, Calif., March 31, 2010 – Fans of Pandora® Internet Radio now can enjoy an integrated Pandora experience in the car with the iDA-X305S Digital Media Receiver, currently shipping from Alpine Electronics of America, Inc.  The iDA-X305S is the world's first receiver to provide direct, in-dash control of Pandora Internet Radio for the in-vehicle environment.

Pandora is a free, personalized Internet radio service that allows users to create their own stations with music they like, based on musical characteristics from an artist or song.  The iDA-X305S gives users control of their Pandora stations via the iPhone®.

Pandora Control from the Dash

Stations previously created on a user's Pandora account can be played and further personalized through the iDA-X305S using the iPhone and the PandoraLink for Alpine App, which is available now as a free download from the App Store.  Pandora's thumbs up/down rating system is optimized in the dash by using the double-action rotary encoder knob on the iDA-X305S.  Pressing the exterior ring of the knob and turning it to the right activates the thumbs up command, indicating positive feedback for the song, which provides the feedback to Pandora to add similar songs to your station.  Pressing the ring and turning it to the left activates the thumbs down command.  Thumbs up/down icons are displayed on the iDA-X305S's high-resolution 2.2-inch color TFT screen, which also shows artist, album, song title information and album art.  Another convenient feature is the ability to bookmark songs for later purchase, through a simple press of the "Preset/Bookmark" button on the face of the iDA-X305S.  

"The iDA-X305S represents an expansion of a fully engaged Pandora experience into vehicles," said Mike Anderson, assistant vice president, sales, Alpine Electronics.  "Features such as song rating and bookmarking, combined with Alpine's legendary sound quality, make this an innovative, industry-leading product."

"With the explosion of Pandora mobile in the past 18 months, the message from our users has been clear: get Pandora into the car!" said Pandora's Founder, Tim Westergren.  "Nearly half of all radio listening happens in the car and we're extremely pleased that innovative products such as Alpine's iDA-X305S are going to fulfill consumer demand in an easy-to-use manner.  The car is an important arena to Pandora, and we're thrilled that Alpine is a part of enabling us to play in that space."

Digital USB Connection for Superior Sound Quality
The iDA-X305S has a digital USB connection for superb sound from the iPod®, iPhone or other digital media sources.  It also allows for connectivity to USB memory devices and other MTP-compatible portable MP3 players.  The iDA-X305S meets the specifications for "Made for iPod®" and "Works with iPhone®" and is compatible with an iPhone or any iPod with a 30-PIN dock connector.  Alpine's own Quick Search™ file navigation feature allows for fast and logical access to large iPod and iPhone playlists.

The iDA-X305S can serve as the starting point for building a system that includes other digital media sources and playback formats.  Add-on options include satellite radio, HD Radio™, and Bluetooth® wireless technology for hands-free phone calling.  (Separate tuners/adapters and subscriptions may be required.)

Specifications, Pricing and Availability
The iDA-X305S is available now for $400 SRI at authorized Alpine dealers in the U.S.  Please visit www.alpine-usa.com to locate a retailer.

Pandora and Pandora Internet Radio are registered trademarks of Pandora Media, Inc.  iPod, iPhone, Made for iPod, and Works with iPhone are trademarks of Apple, Inc.  The Bluetooth® word mark and logos are registered trademarks owned by Bluetooth SIG, Inc. and any use of such marks by Alpine Electronics, Inc. is under license.  Other trademarks and trade names are those of their respective owners.

About Alpine Electronics
Alpine Electronics is an automotive electronics manufacturer that supports drivers in over 60 countries and provides the world's leading auto makers with audio, video, navigation and driver assistance products.  The company specializes in system integration solutions with innovative vehicle entertainment and information technologies.

Alpine's R&D and manufacturing facilities in Japan, China, Europe and North America ensure that all products address the real world requirements of drivers in each market.  The company is committed to developing products that are safe, comfortable and eco-friendly for the automotive environment.

For more information about Alpine's aftermarket products, visit www.alpine-usa.com.  For more information about Alpine Electronics, visit www.alpine.com.