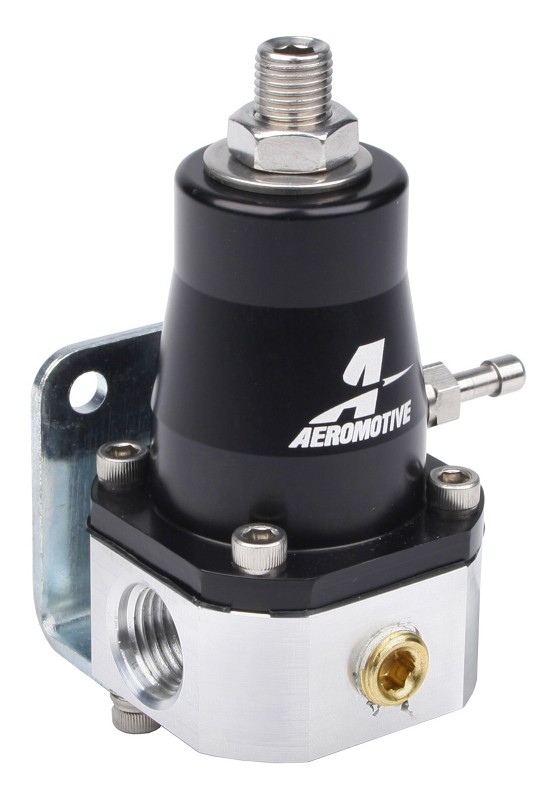 Lenexa, KS – July 2010 – Aeromotive is proud to announce the release of their newest EFI fuel pressure regulator. With a highly competitive price, the new P/N 13129 EFI Bypass Fuel Regulator is proof that you do not have to sacrifice performance and precision control for the sake of your budget. This regulator encompasses features and benefits found on all Aeromotive regulators, yet in a new smaller and lighter package. Capable of supporting applications up to 1000 HP, the 13129 EFI Bypass Regulator can handle the most aggressive street machines but is docile enough for your daily driver. Ideal for those looking for a cleaner, lighter solution where performance is critical and space is a premium.

Designed with EFI engines like the GM LS, Ford Mod Motor and Chrysler HEMI in mind, the 13129 is perfect for late model EFI transplants as well as most Sport Compact performance applications. The 13129 Regulator features a bypass design and provides (2) ORB-06 inlet/outlet ports, (1) ORB-06 return port, vacuum boost reference port and a 1/8'' NPT gauge port. Base pressure is adjustable from 30-70 PSI and fuel pressure rises on a 1:1 ratio with boost.

As with all Aeromotive regulators, the 13129 EFI Bypass Regulator incorporates CNC-Machined 6061 T6 billet aluminum construction and a convoluted diaphragm utilizing proprietary elastomer materials for precision pressure control. In addition, this regulator features a bright dip black anodized cap and stainless steel mounting bracket.

Aeromotive Inc. is a true high performance aftermarket manufacturer specializing in fuel delivery and fuel delivery components. Utilizing aerospace tolerances and procedures, 3 generations of track experience and a meticulous approach to engineering, Aeromotive Fuel Systems have become the absolute pinnacle of performance fuel delivery.

For more information on the 13129 EFI Bypass Regulator, Aeromotive Fuel Systems or their extensive line of components and the advantages they can provide, go to www.aeromotiveinc.com. Or to speak with one of the highly qualified technicians, call (913) 647-7300.