Pre-registration for World Cup Finals: Import vs Domestic (WCF) racers will once again open the week after Labor Day in two different stages!
Stage 1 Racer Pre-Registration Opens – Wed, Sept 9th
Stage 2 Racer Pre-Registration Opens – Fri, Sept 11th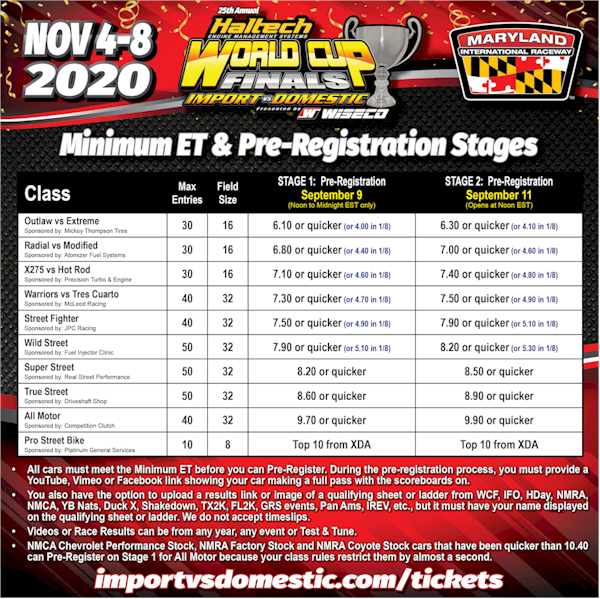 Stage 1 is for the fastest cars in the class and Stage 2 is for next fastest cars. Many classes last year sold out in just a few minutes. So make sure you stay current with news and updates so you are prepared.
At the time of Pre-Registration after Labor Day, competitors are required to post a YouTube or Facebook link showing video proof of their car running the Minimum ET with the scoreboards on. They may also upload a qualifying sheet or ladder with their name on it showing their car has passed the Minimum ET. WCF does not accept time slips as they can be from anyone's car. This Minimum ET process is done so WCF is able to weed out slower cars that try to pre-register for the event.
The 2020 WCF Rulebook will be posted by Aug 31st and Spectator Tickets and Pit Parking Passes will be sold on Sept 14th.
For more World Cup Finals news and info, visit www.importvsdomestic.com, and follow them on social media - Facebook, Instagram, Twitter.