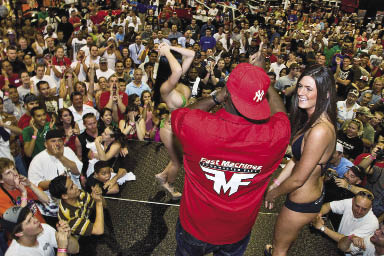 Written by George Dimitriadis and Mark Pereira | Photos by John Jackson and George Dimitriadis
The famous SBN (Spring Break Nationals)Custom Car Show and Soundoff party kicks off the start of the car audio season, attracting enthusiasts from across North America for a weekend of competition, entertainment and custom car madness. This year marked the 23rd annual SBN which packed the 200,000 sq. ft. of the newly expanded Ocean Center with manufacturers, dealer displays, show vehicles and more models than ever before!
Spring Break marks a pilgrimage for thousands of party crazed students who descend upon Daytona Beach for sun, fun and bit of mayhem 'til the wee hours of the morning. March 14-15, 2009 marked the return of SBN "The World's Most Famous Soundoff" to the coveted prime-time slot, mainly the hottest and most populated weekend of Spring Break. Hats off to SBN organizer Paul Papadeas and his team for pulling off an unbelievable event filled with some of the baddest competition vehicles on the planet, some of the craziest demo vehicles in the industry, the slickest showcars on the East coast and of course the hottest beach babes we Canucks have seen in a long time.
This year's SBN had the three leading competition sanctioning bodies under one roof; IASCA, dB Drag Racing and MECA. World Records were set and broken this weekend in fierce Soundoff competition. On the SPL front, IASCA World Champion Craig Butler stepped into the lanes dominating the IASCA
IdBL Ultimate 2 Class hammering out an astounding 181.3 dB, the loudest recorded SPL score, ever! Other Classes in SPL competition showcased some of the loudest competitors with the likes of Bob Perillo, Frankie Rio and Steve Mick battling it out. Sound Quality competition drew some of the top well known competitors like Andy Wehmeyer, John Marsh and Christerfer Pate, to name a few, vying for SQ supremacy. But it was the IASCA Bass Boxing Finals that took center stage Saturday Night with Team dB Unit President and IASCA Event Promoter Michael Hadden taking on all comers to capture the Middleweight Title Belt for the third consecutive year!
"A key factor to our SBN success" said SBN founder Paul Papadeas, "is support from 12 volt manufacturers and dealers; after all, SBN functions as a mobile electronics trade show with dealer / distributor meetings and seminars; some of them open to the general public as well. Events like this have been raising consumer awareness for years". Seminar sessions were conducted by Audio Control, Elettromedia, Hertz, Audison, Soundstream, JL Audio, JBL, Memphis Audio and Stinger.
Leading Florida distributors held dealer shows offering show specials, a smorgasbord luncheon and impressive displays followed by order writing
sessions. Soundstream was the recipient of the coveted Bruce Terrell award for their unfaltering support of SBN annually.
Of course, an SBN mainstay year after year is the entertainment. Bikini contests, Papa John's Pizza Eating Contest and Hooters Beauty Pageant had crowds cheering for more. SBN also delivered in a big way by teaming up with the celebrity gear head, legendary hip-hop DJ and host of ESPN's Car Wars, Funkmaster Flex, to combine their Custom Car and Bike Show Tour with their legendary sound off event. Flex brought out several guest performances which included DJ Khaled, while emcee Ray Dejean hosted on-stage entertainment and antics throughout the weekend.
Eye candy was in abundance with some of the finest honeys we've seen in a long time. From the Hooters girls, bikini competitors on down to the booth models we miss so much, they were a welcomed sight for the senses and great way to kick off the car show season! From sunburned spring break rookies to mullet-sporting veterans and everything in between, SBN always delivers an event to remember.
During a time when events like these are struggling and even canceling, SBN continues to evolve and partner up with the very best in the mobile electronic industry. We're already planning our trip for next year, March 13-14, 2010, and counting the days to SBN 24! Check out www.springbreaknationals.com for more to come.