SEMA's triumphant return to form after the first hiatus in the show's history.
After a skipped year of in-person SEMA due to the Covid-19 pandemic, the big show was back with a bang for 2021. Returning to the in-person experience is something we're sure all attendees were thankful for, as it had been too long without the sights and sounds of SEMA in Las Vegas. With an extra year of prep time for builders, the heat of everyone's A-game was to be expected. There were no longer any excuses about the SEMA time crunch!
The overall layout of the show remained mostly the same from previous years, with a little bit more spread to accommodate social distancing. A cool new action-packed addition was the final stage of OPTIMA's Ultimate Street Car Invitational taking place in the Bronze Lot for all to see. While some exhibitors from previous years couldn't make it, attendees were probably happy with the extra room. An eclectic mix of EVs and combustion engine cars were found in all corners of the show, and of course, trucks were a big attraction as well.
PASMAG's 9th annual Tuner Battlegrounds Champion, Kaylee Crayton, had her 2013 Scion FR-S displayed in our booth, and a bunch of awesome contributors were there on the ground for us, bringing you the latest news and reveals from the show over the week. From hot rods, to trucks, and everything in between, we tried to cover it all for you!
Aside from the awesome builds and builders, we also get a chance to check out the latest and greatest product releases across all automotive categories. Our on-site editor Jordan Lenssen took a look through one of our favorite parts of SEMA - the New Products Showcase - and picked out his top 10, which you can also find in this issue!
Of course, we couldn't bring you this level of SEMA coverage in print, video, and online without all the help from our contributors. A big shout out and eternal thanks goes out to our entire roster of staff and photographers who helped make this SEMA so special, and allowed us to share all of the sights and sounds with you guys, our audience. Until next year. Hope to see you there!
---
"SEMA 2021. The largest event held at the Las Vegas Convention Center since the pandemic began shortly after SEMA 2019. We lost many along the road to get to SEMA 2021. We carried them with us as we saw the sights, sounds, and smells of SEMA 2021. SEMA 2021 was a SEMA like none before. Social distancing meant booths were spread further than usual, with planners leaving wide open spaces with seating to rest those tired feet. The ever-present smell of smoking tires hung in the air as people were drawn to the sound of cars burning rubber. SEMA 2021 seemed to be the year of the Ford Bronco, and there seemed to be a general push to promote the Overlanding Experience which took up a large part of the new West Hall. Off Road is in, and one of our favorite vehicles was the Tacozilla displayed by Toyota. If you need to get away, Tacozilla could whisk you away in comfort not provided by Godzilla, Raptor, or whatever mythical name best suits your ride for and adventure. As for adventures at SEMA, Tesla got in the game by going underground and connecting the entire convention center grounds by tunnel. It was very convenient to go from the back of the convention center South Hall to the front of the West Hall in a few minutes, a walk that could take up to 30 minutes. SEMA 2021 took place in the face of many logistical nightmares. Some cars were displayed without wheels because they were stuck on a shipping container still in port. Those who overcame those obstacles and took part in SEMA 2021 set the tone for future SEMA shows. It was great to see many friends at SEMA 2021. We will see you at SEMA 2022." - Adrian Munoz (ajm_studios)
---
"SEMA 2021 this year was a bit of a relaxed rush, in being able to make it last minute. Arriving on Tuesday afternoon, I was able to check in and register easily and get starting on checking out the show. First surprise was the streamlined layout, with overseas vendors not on hand. So seeing bigger displays in some cases and nearly half used convention areas was interesting. This meant less walking, but with the West Hall opened up as a new display area - not really. Definitely more walking. Highlights for me were the Battle of the Builders area, air suspension with Accuair, the DUB show booth, Toyo Treadpass area, and Toyo Tires booth in general. Also seeing all the C8 and Bronco variants, and of course, the lifted trucks. Did I get to go to all areas? No, but this year after many years attending I was able to make it to the Ignited show and experience what that was about. Drift practice, and the SEMA cruise, then displays of the top 12 Battle of the Builders and final winner reveal for the public was done. Then followed the exciting drift displays which did not disappoint. I'll definitely be making a point to pace myself and make it to Ignited each year. Organization was also good for the event. Overall the big plus was Tesla'ss underground shuttle between south, central, and west halls. Also what made this show most memorable was meeting the YouTubers I follow, Shmee150, Rich Rebuilds, and Tavarish by pure chance. Seeing Rich's Tesla and Audi, and Tavarish's McLaren 765LT was a main highlight." - Lee Vermont (photobycereal2k)
Photography by AJ Munoz (ajm_studios), Chris Gosda (photosbycg13), Chris O'Neal (conphotographyllc), Danny Calderon (sessionsdan_), Gerbie Reyes (gersmms2k), Lee Vermont (photobycereal2k), Rafael Leal (talentovertechnology_), Raul Escoto (rvemedia)
---
PHOTO GALLERIES
(click the Facebook logos for full galleries)
Related Articles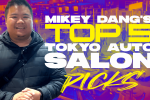 PASMAG's Mikey Dang Picks His Top 5 of TAS 2023
Tokyo Auto Salon 2023 was a show that just hits hard, like your first taste of a fresh carbonated drink. This being my first time in Japan, it was...
MCP Pre-Preg Carbon Fiber Spoiler for Tesla Model 3/Model S
Mackin Carbon Products' pre-preg carbon fiber spoiler for Tesla Model 3 and Model S is available in three different types of carbon fiber: wet carbon...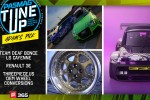 Renault R5 Turbo 3E E-Tech
After some intriguing teasers, Renault Group revealed the R5 Turbo 3E E-Tech, a 100% electric tribute to the iconic Renault 5 Turbo 2 which is...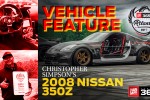 No Doors. No Care.: Christopher Simpson's 2008 Nissan 350Z
With no intentions in modifying the 2008 Nissan 350Z much, the tide turned for Christopher Simpson when he was rear-ended in an accident. He started...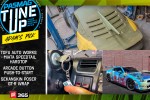 Tofu Auto Works Miata Speedtail Hardtop
This comes courtesy of Chris Watson aka Tofu Auto Works from New Zealand. As you can see he is about the Miata life. These are two of his cars; the...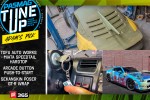 Sekanskin Poser Nissan GT-R Wrap
Sekanskin is a local wrap company and they do incredible work. One of the most recent projects is with my friend, imw8ng4u. He worked in collaboration...