Back to the future
The Consumer Electronics Show was a shock to the system. Yes, there were crazy new innovations shown that might make your life easier and sound better, but I'm talking about the sheer enormity of this place.
I have been fortunate enough to do both of the biggest trade shows in the world, in one year. After SEMA, I was under the impression that I was the king of the Las Vegas Convention Center. I'm also a huge nerd, so these were my people. I walked into Central Hall thinking, "Let me at 'em! I've conquered SEMA already. CES? Big deal!"
I busted through those doors and was instantly and completely overwhelmed.
As I was carried by a sea of people down the hall and shipwrecked at a castaway cove of off-brand LED TVs, I realized just how ridiculous CES was. This wasn't anything like SEMA; this was bigger and there was more of everything.
After getting my bearings and snagging a floor map, I was ready to get to the North Hall - my home for the week. North Hall is where the bulk of the car audio industry is set up to show off their latest and greatest. However, what I noticed on my way there was really intriguing: about three-quarters of the booths or displays had a vehicle out front: FR-Ss, Mustangs, Jags, Jeeps, lifted trucks – they were all here. CES this year wasn't too far off from SEMA in that way. With so many innovations being made in safety, and cars becoming more and more technical, we can expect this trend to carry on for the next few years.
In North Hall, vehicles in the booths is a usual sight. There's been a huge push in powersports products lately, so it only made sense to see UTVs, motorcycles, and even the odd Slingshot or TREX displayed outside the larger companies' displays.
Here are some of the notable highlights from the show:
Orion knows how to have a good time
These Miami bass heads definitely know how to party. Orion's space was huge and everything you need for a great time at CES: awesome demo vehicles, loud noises, models aplenty, and – from what I'm told – stellar espresso. One side of the booth was completely taken up by a Jeep Wrangler displaying some of the most impressive audio installations and output I've witnessed, shaking the hall and getting under the skin of some neighbors on occasion. The other side was host to a Dodge Challenger with an ultra-clean install inside, but an impressive woofer and amp display in the trunk. Stay tuned for both of these vehicles to grace the pages of PASMAG soon.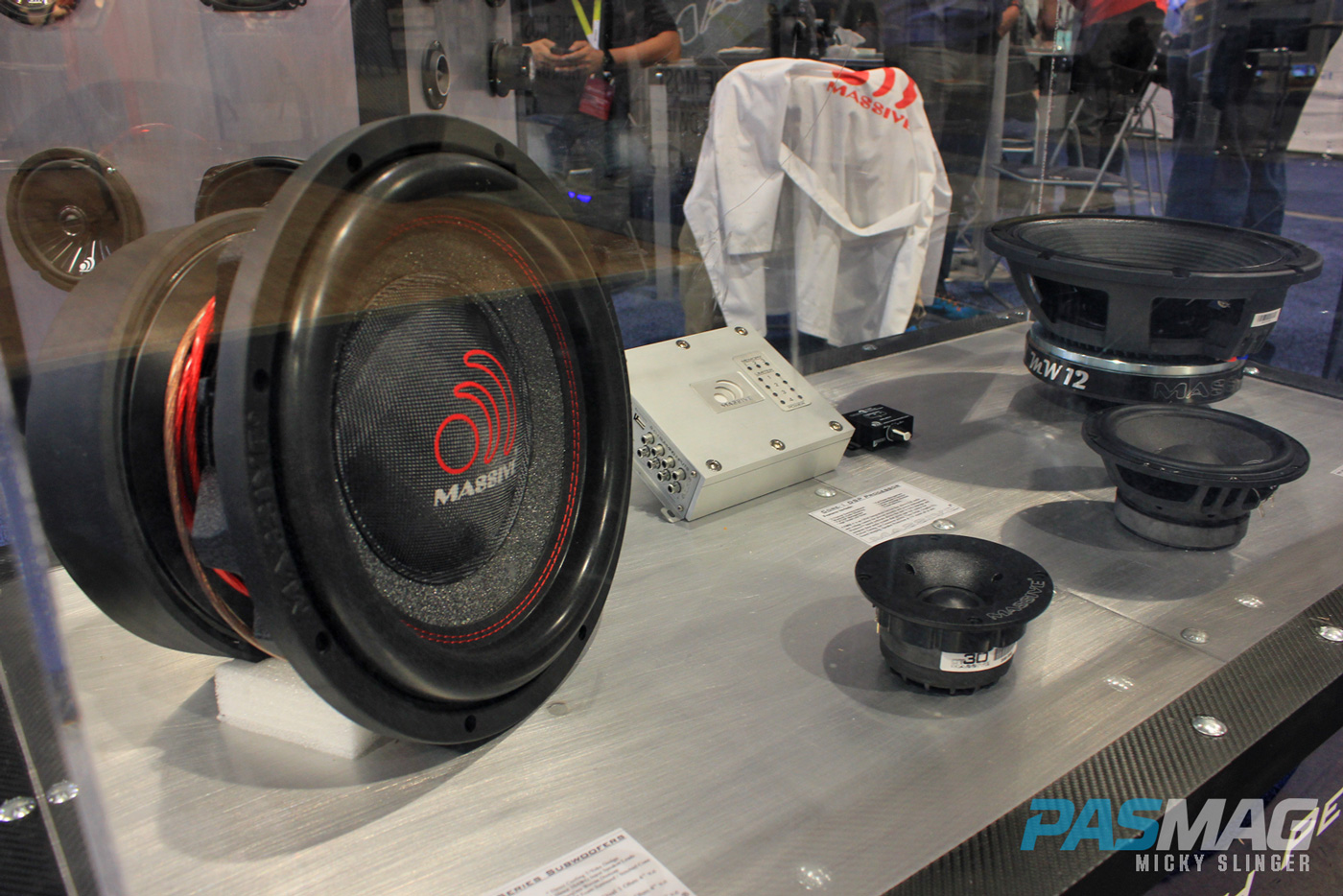 Fearing for my life at Massive
I'm going to come right out and say it: I know absolutely nothing about Dr. Who. I have no idea what constitutes as the lore and I have no idea how many Doctors there have been, let alone who was my favorite. One thing I do know is that Massive Audio had a life-size Dalek (the rep told me that), which was made entirely out of their new Bluetooth car audio products. As well as being made completely from speakers, amps, and subs, the murderous robot had an LCD screen mounted on its chest and was able to move around the floor while waving its weapon-clad arms. I couldn't tell who was having more fun: the fans who seemed to just jump out of the woodwork when the Dalek was turned on, or the guy with the controls.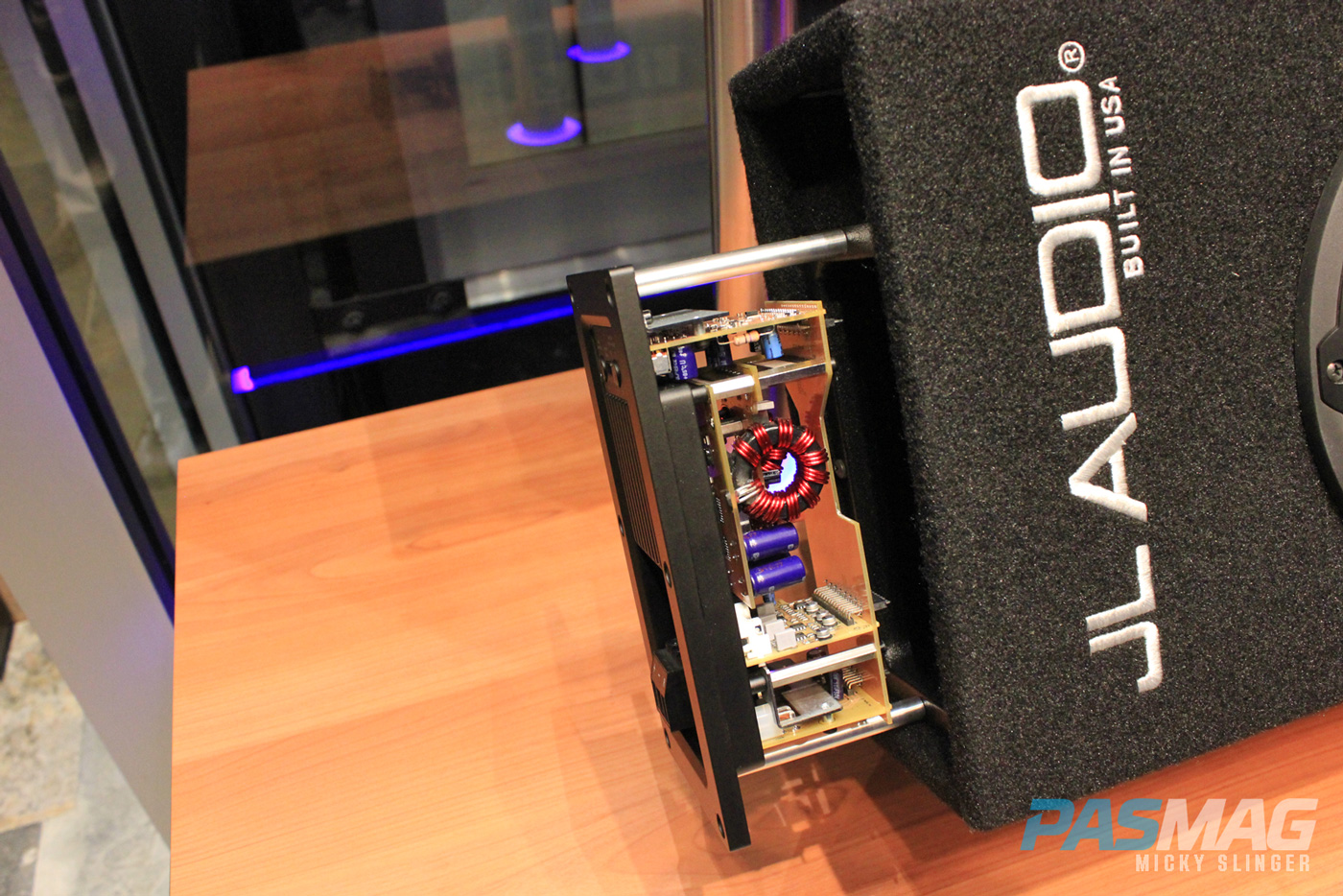 Off-site, out of sight
One thing that's becoming more common with the price hike in booth space and the presence of large vehicle OEMs hitting the floor, are the off-site locations of audio companies. We dedicated one day to seeing about seven different companies at their private suites in four different hotels. Overall, I'd have to say that JL Audio and Rockford Fosgate had the most impressive setups.
It was extremely easy to be feel at home and at ease in a packed Palms suite for JL Audio because the whole thing was set up to be a laid-back house party. A full-serve bar and buffet kept attendees happy, while media members could easily snag a representative and get a tour of the new product lineup overlooking the Vegas skyline. All of the new marine application products were either submerged in the pool or had a waterfall pouring over it, all of which were providing the noise for anyone who wanted a demonstration.
At Rockford Fosgate, being at the Hard Rock was already a bonus, but they put on a great event as well. Taking up one of the conference rooms on the ground floor, Rockford had each of their brands (and there are a lot) displaying their 2015 products with active demos and knowledgeable staff, one of whom was Drew Kallan, a Rockford-Fosgate speaker engineer, who showed me one of my favorite things of CES 2015: the 19-inch Power T3 subwoofer.
This thing is a behemoth compared to the other Power series products, and boasted dual spider suspension as well as out-of-this-world excursion. From what Kallan told me, they haven't been able to kill this woofer yet. The people whose job it is to blow subs at Rockford have run 3,000 to 5,000 watts through this beast, yet it just won't give. Whoever buys this sub should probably just remove all of the glass from their car.
This year's CES was one for the books (or e-reader?). It was a shock at first, but that soon subsided to reveal a wonderland of new noise and automotive innovation. CES is definitely a show that takes more than a week to see the whole thing, so if you're planning to head down, map out what you want to see. I'm already making my list for next year.
For more CES event info, visit: www.cesweb.org.