Photography by Wei Chi Lin (Neo Motorsport) & YASN International
---
Experiencing the 2014 All In Tuning (AIT) show in Beijing, China was quite an experience.
AIT was a feeding ground for knowledge and PASMAG had the opportunity to educate the locals. With that being said, we brought a few friends along with us as well to share that knowledge: Neo Motorsports, XS Power, Shining Monkey, Beltronics, Arc Audio and Redline Oil.
Being my first time in China, I didn't know what to expect from the tuning scene when the show first opened. Soon, cars started rolling in for the start of the show. The first team to roll in goes by the name of iAcrophobia. You would think they shipped their cars straight from Japan with their stanced-out Subaru WRX STI or Liberty Walk widebody BMW M3. Their entire crew had their vehicles on point! There was also a yellow Nissan R35 GT-R suited up with a Ben Sopra body kit, which was hands down my favorite car of the show.
Even though cars in China are limited to just modifying the exterior and interior of their vehicles, there were a few cars that were more than able to pull it off. I spotted a dark grey Toyota GT-86 with a molded-on Rocket Bunny kit that looked super clean.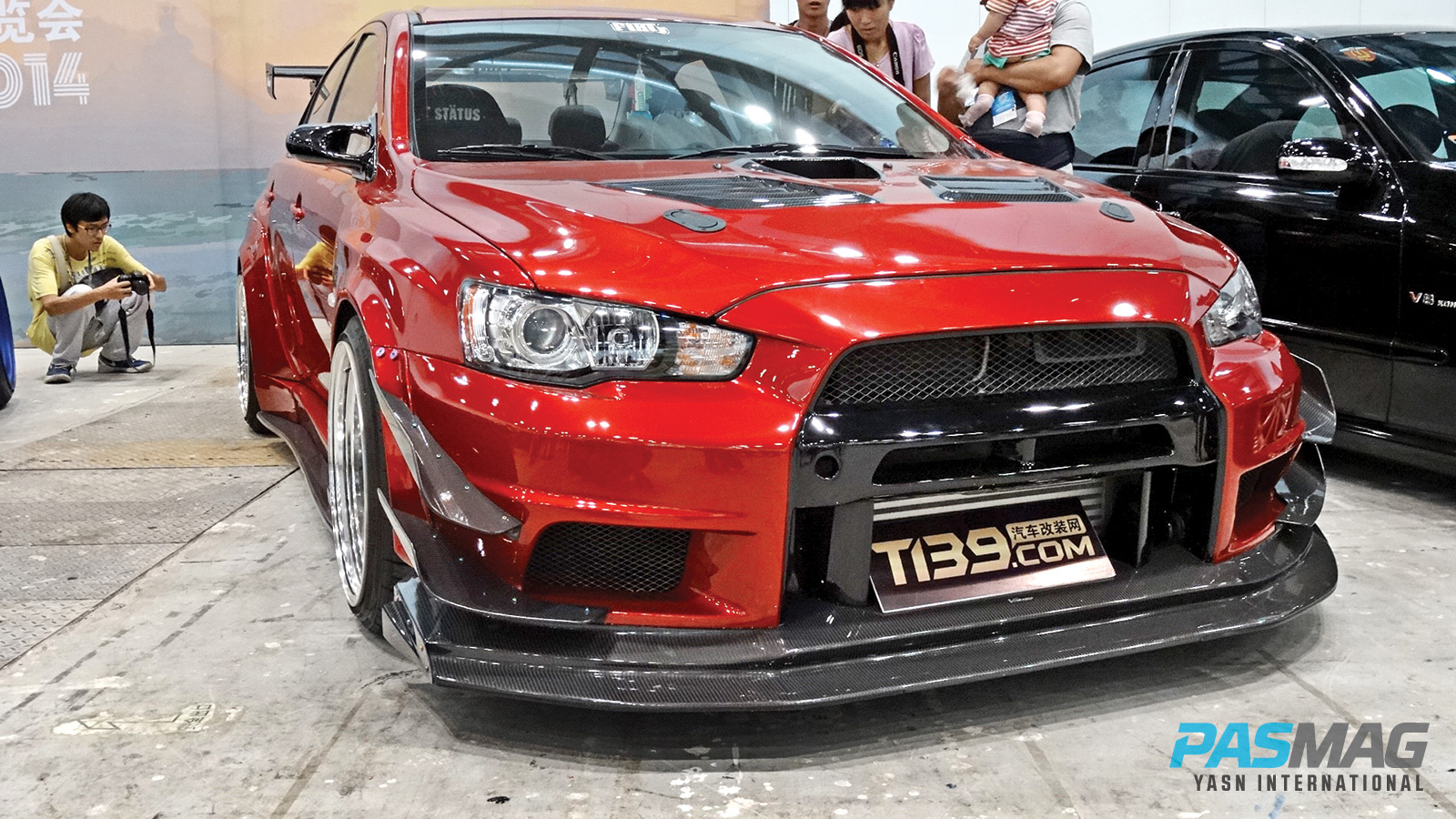 I also scoped out a red Mitsubishi Evolution sporting a Varis widebody kit, which gave the Evo an ominous presence.
One thing is very obvious at the AIT show: the hunger of Chinese enthusiasts for American and European muscle. Growling Mustangs, bellowing Camaros, luxurious Bentleys, stanced Audi R8s and exclusive Brabus Mercedes' were all on hand. These guys came out appropriately, flexing their muscle.
Exhibitors ranged from Eibach (suspension), OZ Racing (wheels), Brabus (performance parts), Remus (exhausts) and Exedy (drivetrain) to name just a few.
Volkswagen is one company that stood out significantly, having brought out a real treat for attendees: the unveiling of the Volkswagen GTI Roadster Vision Concept, which easily stole the show.
As this was happening, the taboo talk of China's "grey market" began to slowly wither away from my mind, and I began to see that there is a market for authentic manufacturers to succeed here.
In addition to the showcasing of the cars, there was also the educational aspect of the show where PASMAG Publisher and CEO, Tim Rutledge, delivered a keynote speech on the risks of street racing in the U.S. and how it is controlled in North America. Rutledge highlighted that in order for tuning culture to succeed in China, they need to adopt legal standards similar to North America. That is, to draw a hard line in the sand when it comes to public spaces, but also to create spaces and venues where racing can be done safely and legally.
With the tuning culture still in its infancy stage compared to North America, China has the potential to reach the same great level as us. Granted, the government has some work to do with respect to regulations, but they also need to educate and spread the word that it takes time and effort for manufacturers to build these parts.
Choosing to buy legitimate parts over knock-offs only helps shows like All In Tuning stay in existence. This is where we come in as the North American consultants for All In Tuning. PASMAG will continue to support the tuning industry and reach out to people who want to learn more about it to help it grow and succeed. We'll see you next spring in Beijing for All In Tuning China 2015.
Text by Rex Cawagas. Photography by Wei Chi Lin (Neo Motorsport) & YASN International