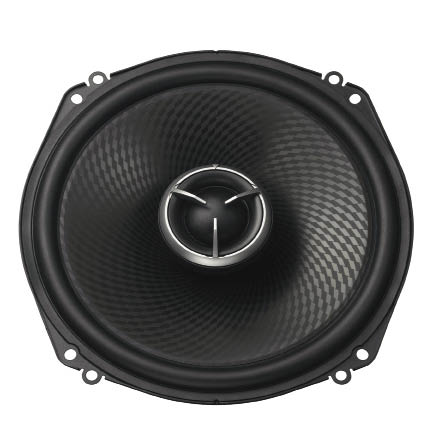 If you've had a look behind the door panels of many General Motors, Dodge, or Toyota vehicles lately, you may have noticed that the openings will accept a larger speaker than a standard 6.5". The folks at Kenwood noticed too, and have developed a 7" coaxial speaker system designed to take full advantage of these larger openings. More cone area generally means better bass performance, and higher output, so if you have one of these vehicles, you may be interested in the new Kenwood Excelon KFC-X183C coaxial speaker system.
Features
The KFC-X183C speakers are designed to be bolt in replacements for factory upgrading of the oversize speakers found in many new cars but, of course, they can also be used in any vehicle that will accommodate their size. Upon unpacking the Kenwood Excelon speakers, I noticed that they have also included two different styles of mounting adapter plates, making it dead simple to mount these speakers in a wide variety of vehicles. One set of adapters is designed specifically for Dodge vehicles, while the other set utilizes breakaway tabs for perfect fitment into a variety of GM and Toyota vehicles. The speaker kit is very complete- it even contains two different kinds of gasket materials, connecting wire and mounting screws.
The speakers themselves are the typical high-quality, well-made products you'd expect from Kenwood, in a two-way design featuring a "Diamond Array" polypropylene woofer cone and a 1" silk dome tweeter. In addition to the midrange's cone being larger than a traditional 6.5" speaker, the diamond-array pattern molded into the front of the cone is claimed to increase strength and rigidity while maintaining low mass. A butyl rubber surround connects the outer edge of the cone to the stamped steel basket, and is designed to withstand the harsh environs of a vehicle's door. The 1" silk dome tweeter is powered by a neodymium magnet, and is protected from damage by an integrated grille with three "fingers" which block things like your fingers from touching the delicate soft dome.
The tweeters crossover point is handled by a simple first order filter, in the form of a 4.7µF electrolytic cap, solidly affixed to the basket near the speaker's standard spade terminals. The basket also includes a wire strain relief to prevent accidental disconnection from vibration. The other major components of the woofer assembly include an 11.6 ounce ferrite motor, a 1" copper voice coil wound on a Kapton former, and a flat linear spider.
The KFC-X183Cs do not come with grilles, which is no great hardship since door speaker grilles are typically just thrown away anyway.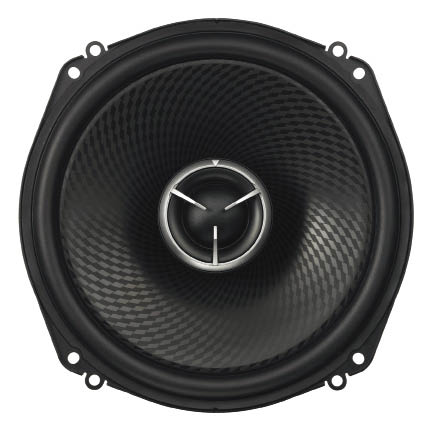 Listening
After giving the speakers a period of break-in, I mounted them in my listening room baffles and sat down to do some listening. Over the next couple of hours, I judged their performance on everything from classical orchestra to metal, with a bunch of classic rock and country thrown in as well. Throughout my listening, I came away with a very positive impression of the sonic performance of the Kenwood speakers. I pushed them hard to their rated power of 80 watts several times, and they behaved perfectly, with no sign of complaint or distress. On the upside, vocals were very upfront and clear, with excellent intelligibility. The highest frequencies were reproduced nicely, without any edginess or sibilance. Overall, I liked the sound of the tweeters, particularly if I was slightly off axis, as you would be with these speakers in your doors. As a complement to the impressive performance of the tweeters, the midranges delivered remarkable bass with good low extension and definition, and as a system overall, the sound was very forward and lively. These are the type of speakers that allow you to really get into your tunes and enjoy them.
On the other hand, my notes were a bit critical of the upper midrange, in the 3 to 7kHz range. In this area, I did have a few reservations about some noted harshness or bite I observed, particularly when listening to acoustic guitar or a well-recorded horn section. However, for many folks, this is a response characteristic they associate with clarity, and it may be an intentional characteristic of the intended sonic signature. But regardless of my nitpicking, don't get me wrong- these are generally very good sounding speakers, especially when you factor in the relatively modest price, with full MSRP pricing of only 160 bucks (US).
On The Bench
As is my usual custom after my listening has been completed, I move the speakers into the measurement baffles in my anechoic room to have a look at the actual on-axis frequency response. I'm happy to say the Kenwood Excelon KFC-X183Cs measure just the way they sound. There is a definite rise in response in the upper midrange as I noticed, and the tweeter's output peaks around 12kHz, rolling off politely to 3-4 dB down at 20kHz. Bass response is excellent all the way down to the 80Hz limit of my test measurement. With a resonant frequency of about 62Hz, these speakers can easily be used for midbass reinforcement.
Conclusion
Kenwood has done a good thing here, in creating a loudspeaker size that not only fits better in many new vehicles, but also has the potential to outperform more conventionally sized systems at anywhere near the same price. If you have a vehicle that is made for this size of speaker, the KFC-X183Cs sound good, come with the adapters and gaskets needed to make them fit better than most other speakers, and do it all for less money than you'd expect for a system this complete.
| | |
| --- | --- |
| Recommended Power | 6-80 Watts |
| Sensitivity (2V/1M) | 86.8dB SPL |
| Frequency Response | 63Hz -17kHz |
| Mounting Depth | 2.438" (62mm) |
| Mounting Diameter | 6.0" (152.5mm) |
| Midrange Resonance | 62Hz |