What do you do when you want big power in your five-channel system but have virtually no room for typical amplifiers?
Well, you can simply turn to the folks at Rockford Fosgate who have come up with a brilliant solution to your problem. Your answer lies in the form of the Rockford Fosgate T1000X5ad five-channel amplifier. Rated at 100 watts x4 into either four or two ohm loads, plus another 400 (four ohms) or 600 (two ohms) for a subwoofer, this small footprint powerhouse will definitely rock your roll.
Features
The T1000X5ad's small size belies the amount of power on tap. Measuring only 12 x 4.25 x 1.6 inches, the five-channel amplifier defines the term power density.
It's built on the same Class AD and BD topology as Rockford Fosgate's larger amplifiers, and features a "constant power" circuit, which ensures the same power is developed by the full range's channels whether driving four or two ohm loads.
Designed to work well in virtually any application, the amplifier can be configured to work with two, four or six channels of input signal, and can also be turned on via signal sensing for vehicles that don't have a typical remote-on wire. Installation and setup are a snap thanks to Rockford's C.L.E.A.N. input/output clip detection and indicator LED's. Also included is a setup disc to ensure you have the levels exactly right. Controls and adjustments are top mounted for easy access, with the wiring connections located on the ends of the amplifier.
The front channels can be set for true full range operation, or you can engage a variable 50-250Hz high or low pass crossover. Also included are separate EQ adjustments for front and rear channels. The front and rear EQ circuits not only boost bass, but also provide a bit more brilliance on the top end, which is great for overcoming road noise or, in my case, a throaty exhaust rumble. On the sub channel the crossover has the same frequency range as the main channels but in dedicated low pass mode. A control is provided for Punch EQ, and there is a switched subsonic filter included as well.
Since even the clever folks at Rockford still have to adhere to the laws of physics, the T1000X5ad is cooled via dual fans and forced induction. The principle behind the cooling system uses a fan to draw cool air in over the devices, and exhaust it out the opposite end of the amp. The system does work well, and I had no issues with the amp overheating even after repeated full power tests. Should the amp ever be driven to the point where it does overheat, a thermal rollback circuit will keep the music going at reduced power.
Listening
For my listening session, I connected the amp into my reference system, driving my reference speakers with the front and rear channels bridged to two-channel mode, and a 12-inch Rockford two-ohm subwoofer for the bottom end. I like to use this test configuration on five-channel amps because it will usually show any weaknesses in the amplifier's power supply. When an amp with a single power supply for all four channels is tested like this and asked to deliver high current to the woofer load, if its internal power supply isn't stout enough it can cause audible distortion in the front channels when the bass hits. After getting the crossovers set to 50Hz high pass on the front channels, and 100Hz low pass on the bridged rears, I sat down to do some listening.
If I wasn't so familiar with the past performance of Rockford products, given the small footprint and relatively light weight (it only weighs slightly over four pounds) my expectations would have been more lenient, but I suspected this amp was going to deliver the goods. Beginning with an audiophile recording of some of Manhattan Transfer's biggest hits, I was pleased with the musicality and natural sound produced by the T1000X5ad. Some full range Class-D amplifiers I have auditioned have tended to add a bit of "bite" or harshness to horn sections, and occasionally they tend to be a bit sibilant, especially with female vocals and cymbals. None of that was found in the Rockford amp. Switching to some rock tunes from Rush, Joe Bonnamassa, and ending with Supertramp, I noted the amp's ability to produce tight, controlled bass while still providing a nice articulate top end from the main channels. Pushing the volume higher, I never really found the amp's limits before common sense kicked in and saved my $3,000.00 speakers. The amplifier sounded very good, and had a ton of power, perhaps due in part to my three-channel test configuration.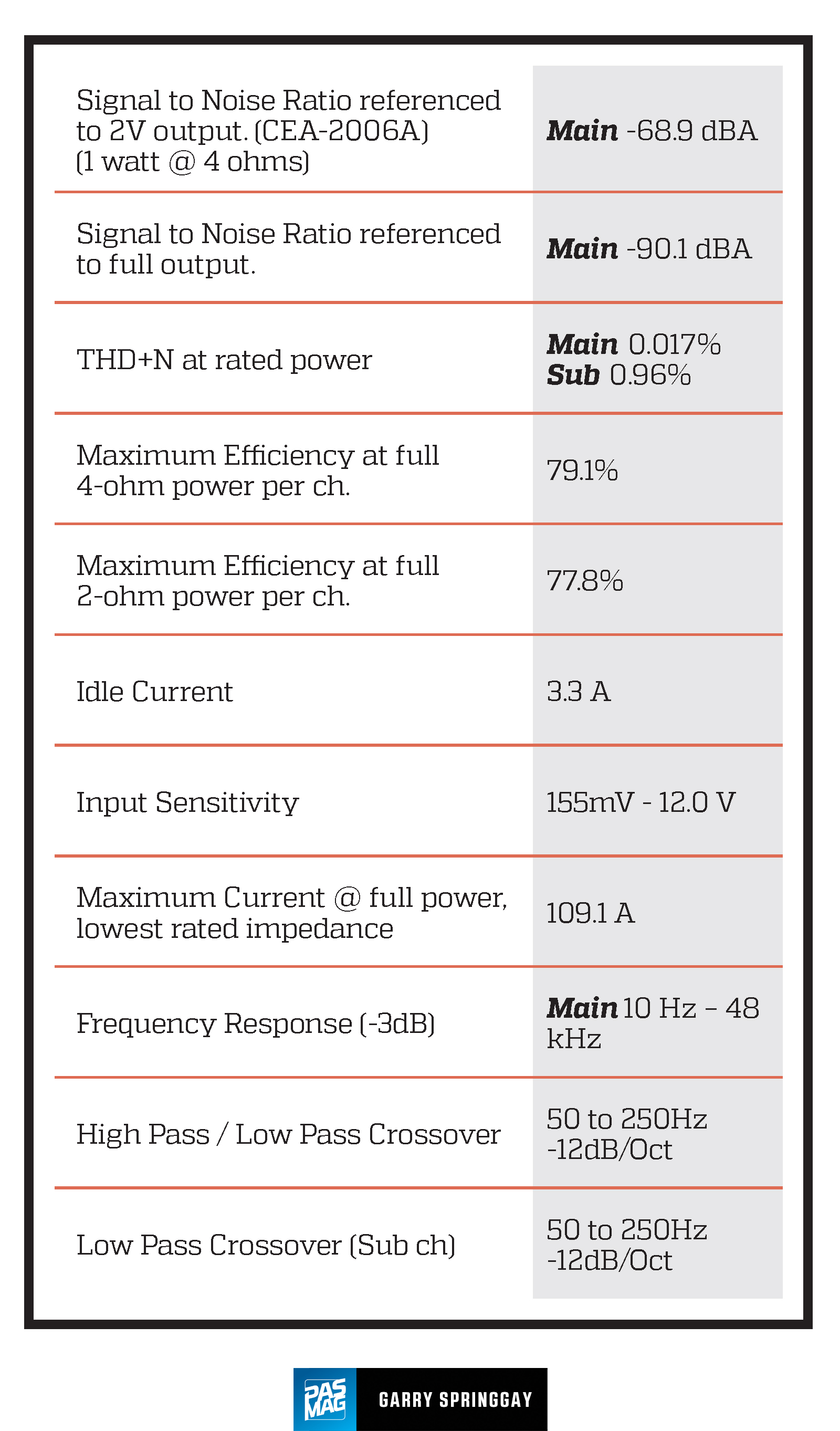 On The Bench
Back on the test bench, the T1000X5ad acquitted itself nicely, handily outperforming the published specifications by as much as thirty percent! Time didn't permit to take it apart and peek inside, but if history is any indication, it is full of modern high tech parts and intelligent construction.
CONCLUSION
Anyone looking for a lot of amplifier power in a very small package should strongly consider the T1000X5ad. Priced at right around the thousand dollar (U.S.) mark, it's not cheap, though quality seldom is. But it is an awful lot of power in a very small package, and with five channels at the ready, it may be the only amplifier you ever need. Audition one for yourself at a Rockford Fosgate dealer near you. For more info, visit www.rockfordfosgate.com, Twitter, Facebook, YouTube.
TECHNICAL DATA
The following power measurements were obtained as follows: (100 HZ @ 1.0% THD+N - Battery voltages shown, +/- 0.1V)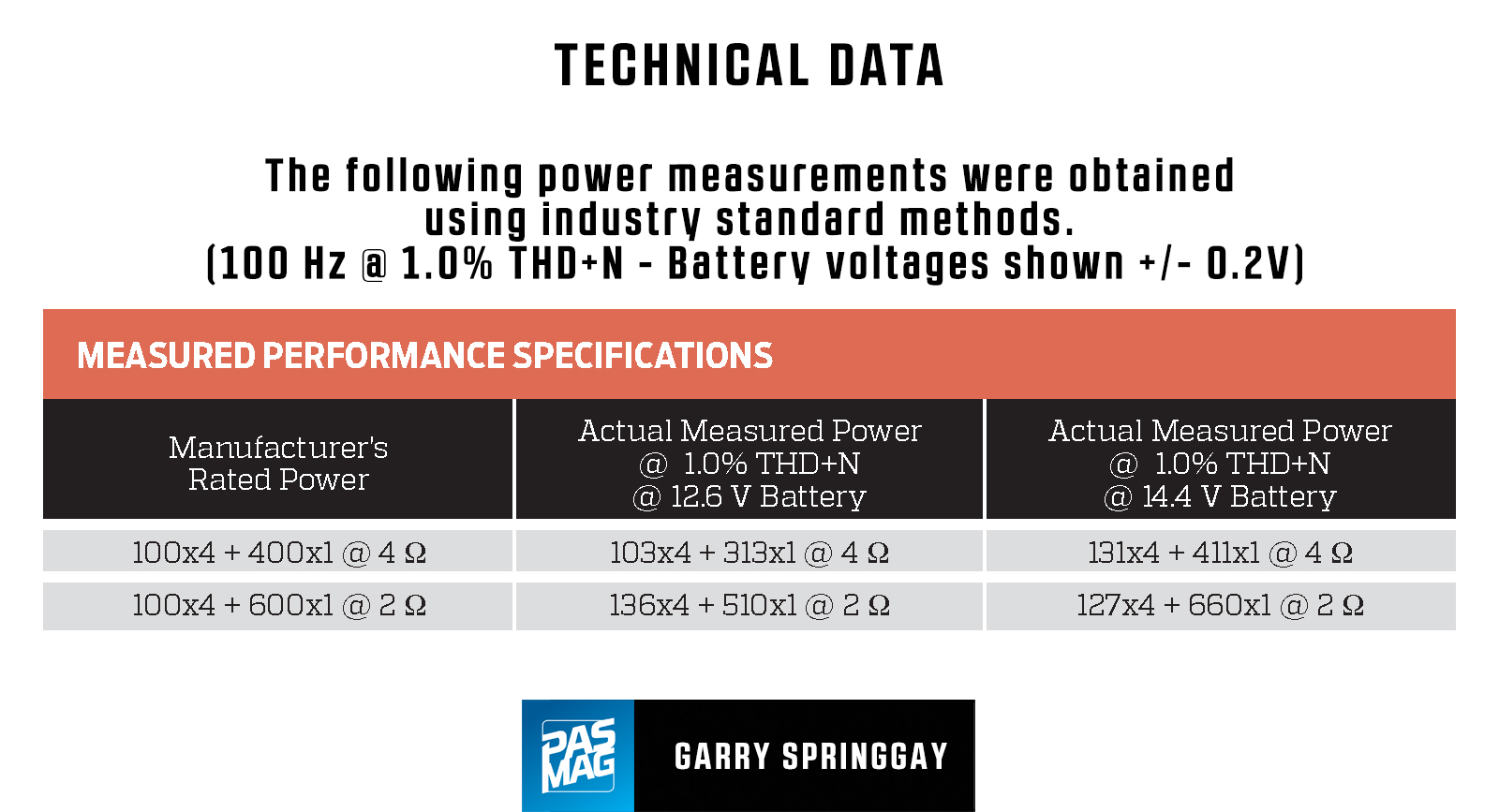 MEASURED PERFORMANCE SPECIFICATIONS
Graph 1: 4 OHM POWER vs THD+N 100Hz 14.4 Batt
Graph 2: MAIN CH MAX FLAT - FREQUENCY RESPONSE
Graph 3: MAIN CH CROSSOVER RANGE - FREQUENCY RESPONSE
Graph 4: MAIN CH EQ - FREQUENCY RESPONSE
Graph 5: SUB CH EQ - FREQUENCY RESPONSE
AS SEEN IN PASMAG TUNING ESSENTIALS: CAR AUDIO VOL. 8