Every once in a while you come across a product that simply defies logic and makes you re-think everything.
The Morel Virtus Nano 602 shallow-mount speaker system is such a product. First of all, "shallow" doesn't begin to describe the incredibly thin profile of the 6.5-inch woofer. Think about this: when I mounted the woofer in a 0.75-inch-thick baffle it did not protrude through the back of the baffle. Now that's shallow! The actual mounting depth of the woofer is an incredible 0.67 inches or just 17 mm! In fact, the woofers are so thin that as soon as I unpacked them, I began dialing back my performance expectations. I could not have been more fooled.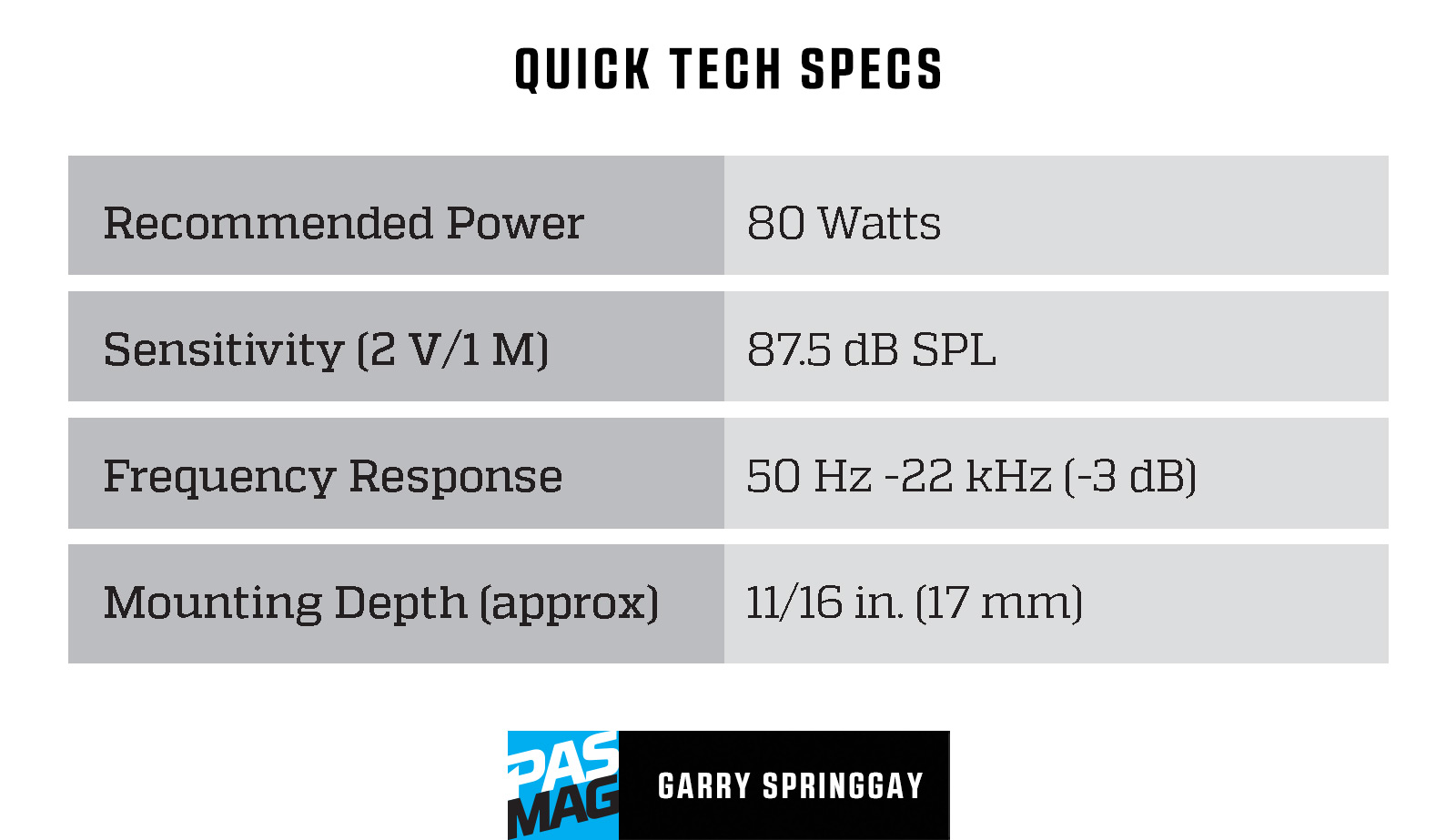 Features and Construction
According to Casey Thorson, the COO for Morel America, the Virtus Nano component systems were developed over a two-year period specifically for applications where an ultra-slim, yet uncompromised high fidelity speaker was needed. These speakers will absolutely fit in any vehicle with a 6.5- or 6.75-inch opening.
The woofer itself is built on a very unique and cleverly designed stamped steel frame. Magnetic energy comes from a neodymium motor assembly that drives a brilliantly conceived "External Voice Coil" (EVC). The 2.1-inch coil is made from "Hexatech" hexagonally-shaped aluminum wire and wound on an aluminum former. The Hexatech wire has proven to have greater thermal conductivity due to better transfer through the surface area. This in turn creates a high power handling, cooler operating voice coil. To further assist in cooling, the progressive-type spider also has eight radially placed cooling vents in its outer perimeter.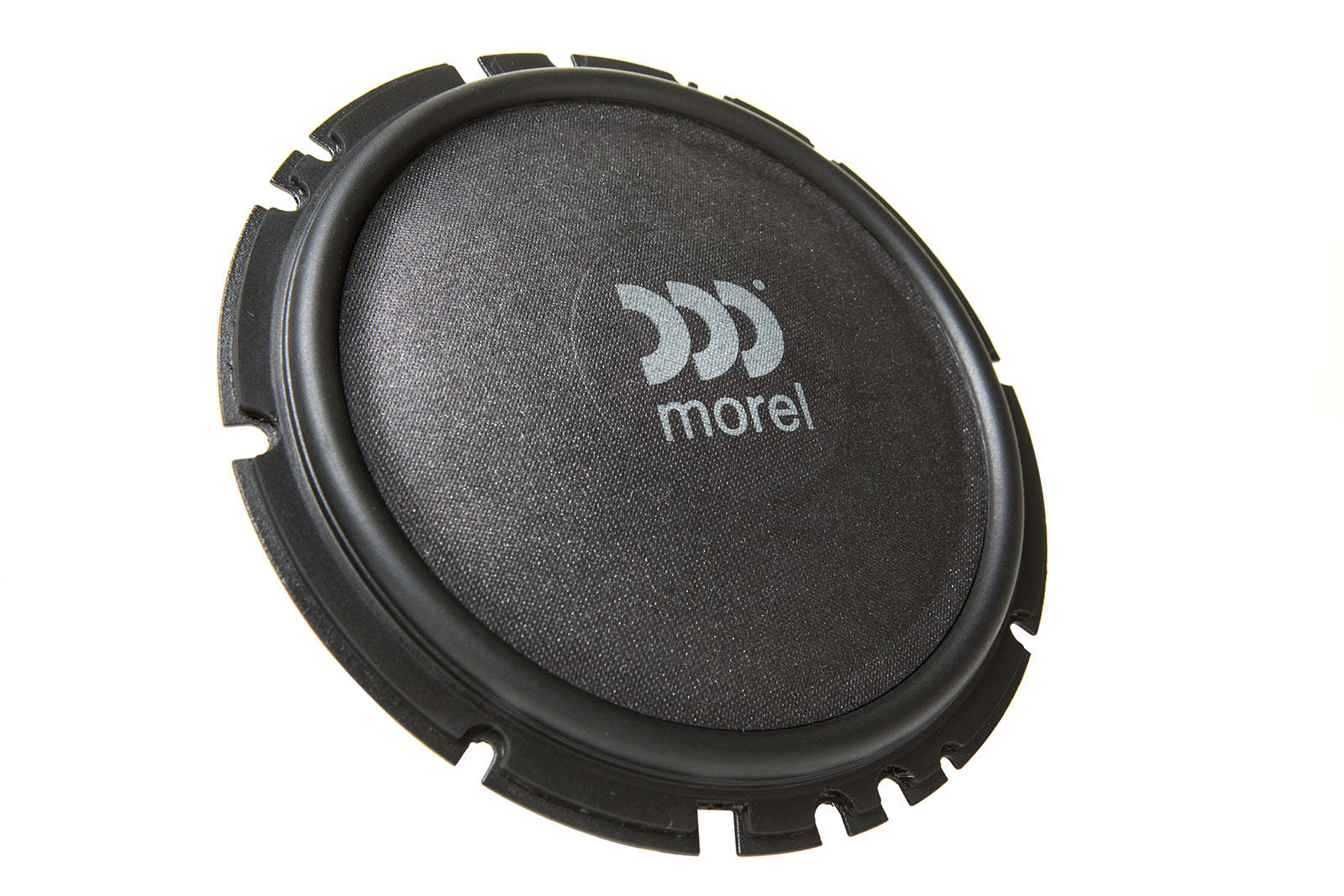 The cone of the Virtus Nano 602 woofer is convex-shaped, which is the opposite of most woofer cones. This shape was selected because it increased the effective radiating area, and testing showed it created improved bass response. The single-piece cone is made of a treated paper composite material and covered in a charcoal gray fabric type of material. A flat outer edge improves rigidity and maintains the inherently good damping of the paper cone. The surround is butyl rubber and uses a tall, narrow profile for increased cone area while maintaining good excursion.
While the woofer of the system usually grabs first attention, the tweeter used in the Virtus Nano system is also something pretty special. The 1.1-inch (28-mm) silk dome low resonance tweeters use a new compact tweeter chassis to allow fitment into tighter locations. The tweeters also take full advantage of Morel's Acuflex technology, a specially engineered damping compound that gets applied to the tweeter's dome. Tweeters treated to the Acuflex compound can control diaphragm break-up, resulting in a smoother, more natural sounding tweeter.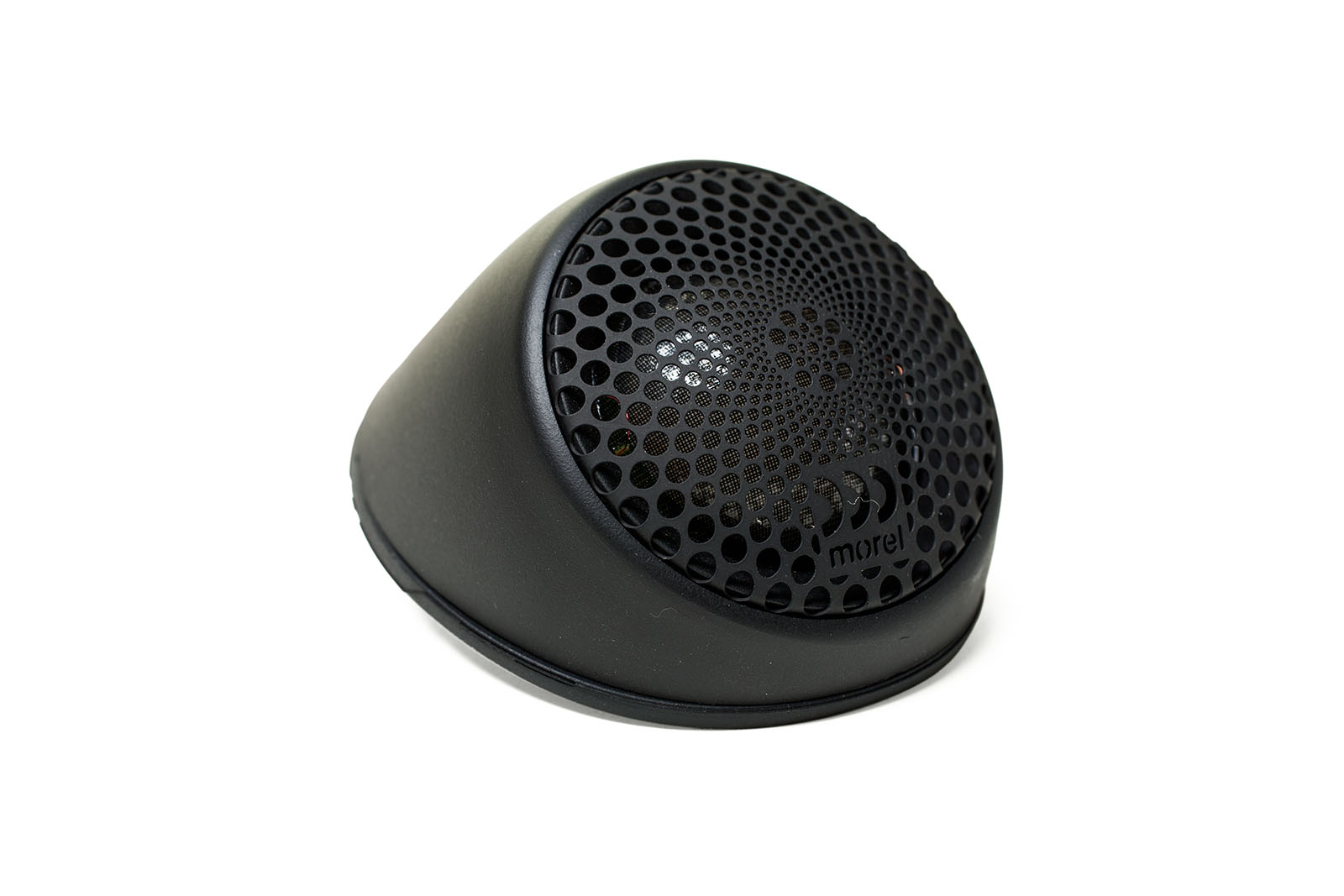 Even the tweeter grilles have been engineered for the best possible sound. Morel's Lotus speaker grille technology features a specific pattern of holes in different shapes and diameters engineered to minimize the "horn effect" (high frequency peak caused by the resonant frequency of multiple same-size holes). Innovative metal processing enabled the construction of a very thin, acoustically transparent grille that has virtually no audible effect while maintaining structural integrity to protect the drivers. The Lotus grilles magnetically connect to the driver and can be either flush- or surface-mounted with parts included in the kit.
The system includes a pair of nicely made passive networks full of high quality components and easy-to-use gold-plated terminal strip style connections. The crossovers are designed to handle much greater power than the speakers themselves, so as to never be a limiting factor in the performance of the system. Unlike many competitive products, the connections are very well marked, and you don't need a magnifying glass or the eyes of a 10-year-old to read them. Tweeter attenuation is done via an impedance compensation network and there are three possible settings marked in increments of 2 dB. Okay, that's enough tech talk, let's get to how they sound.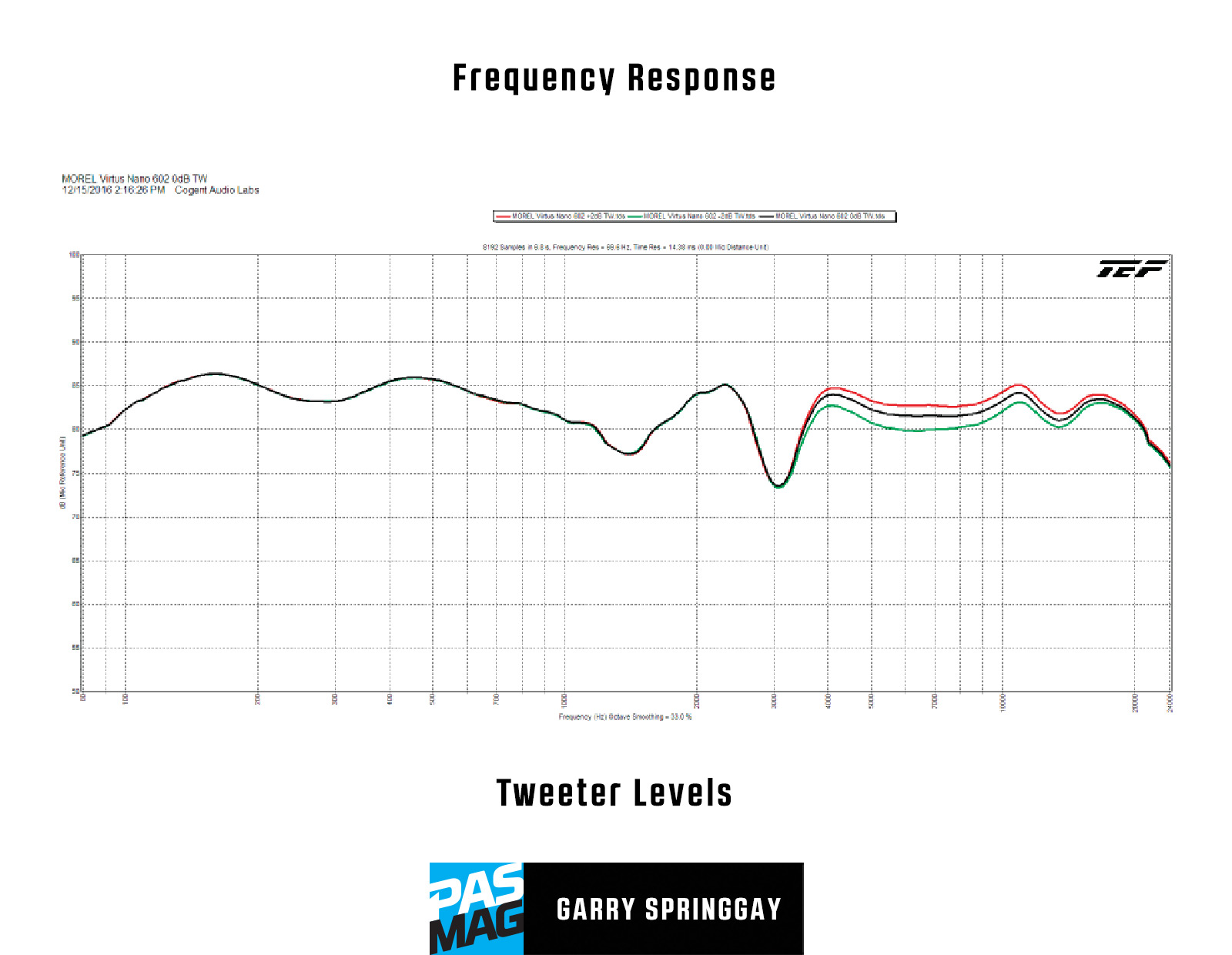 Listening
As I mentioned at the beginning of the review, when I first unboxed the woofers, I began to mentally dial back my expectations of the system's performance. I couldn't have been more wrong. After getting the system mounted in my listening room's baffles, I set the tweeter output to the reference position, and quickly connected the wiring. Then, armed with a good selection of music, I began what has to be the most surprising and stunning listening session I've had in months.
The first track I played was The Blues Walk by Lyle Lovett and his Large Band. I was immediately gobsmacked by the amount of mid-bass these shallow woofers delivered. The warmth and mid-bass output of this system easily equals that of any other woofer this size in recent memory. The accuracy of the bass output and lower midrange is uncommonly good as well.
One of my usual tests for a loudspeaker's sonics is the male spoken voice. The true test of a loudspeaker is for it to disappear and only the person's voice be apparent. The Morel Virtus Nano's accomplished this in spades. Another tough test for a speaker system is properly reproducing a choral or harmony vocal recording. One of my favorite sources for this test is The Manhattan Transfer's A Nightingale Sang in Berkley Square. Each voice was easily separated, and could be heard very clearly. This is indeed a real high fidelity system, and performs better than some popular home bookshelf systems I have heard.

Overall, the sonics of the system were simply natural and open sounding, as if the performer was standing right there in front of you. No harshness, yet nothing was missing either. Every nuance and bit of air and space in the recording was evident. I ended up staying late and listening to these speakers for several hours longer than normal. From AC/DC to Bach, and Hank Junior to Yello, by the time I had to call it a day, these speakers had moved to the top of my recommended list for anyone needing a two-way 6.5-inch system, regardless of if they had room for much deeper speakers or not. I almost never do this, but I will say that the Morel Virtus Nano 602s are easily among the top five best systems of the type I have ever had the pleasure to evaluate - and I'll remind you that I've been doing this for almost 40 years. They are that good.

Conclusion
You may have noticed that I'm pretty enamored with the Virtus Nano 602s, but with good reason. The speakers are easily the shallowest mount 6.5/6.75-inch speakers I've ever seen, and the sonic performance is simply staggering. Now you may be thinking that something this good is going to cost half as much as the car you'll put them in, but that's also not the case. At the U.S. MSRP of only $549 a pair, this has got to be some of the best value in high fidelity componentry out there right now. Plus the fact they will fit in anything with the right size hole, or kick panels, or anywhere your creativity comes up with.