Apparently the engineers at Kicker were paying attention in those classes too, because they have put a fundamental principle of geometry to good use.
I can recall a time as a schoolboy when we were studying geometry. I could not fathom how this was ever going to be useful to me in my life, but of course, it was and continues to be. We learned, way back then, that a square of a given size will always have more area than that of a circle of the same dimension - exactly 27.33 percent more, regardless of the relative dimension.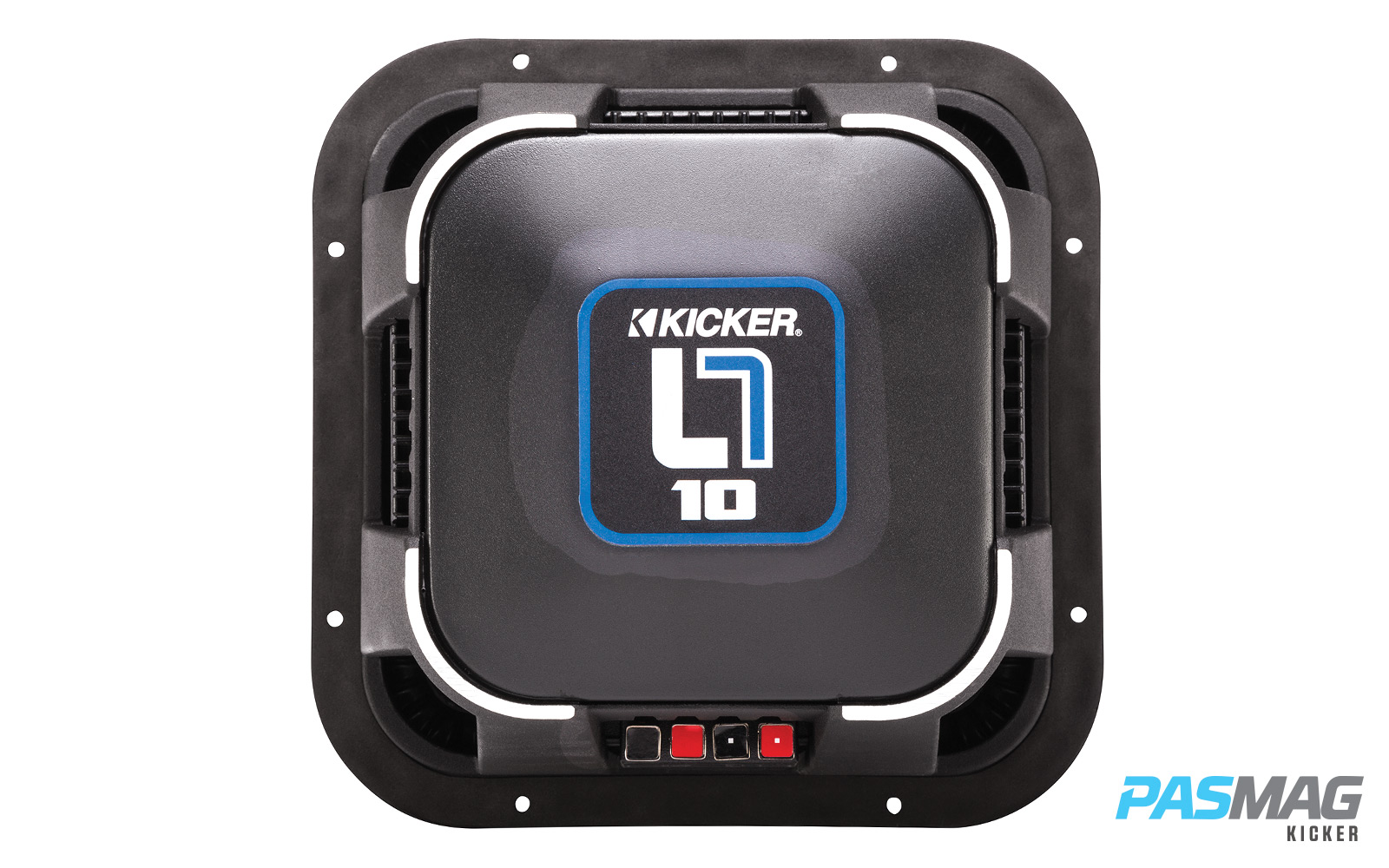 When you are designing a subwoofer, a device that is supposed to move as much air as possible, that 27.33 percent becomes very significant! To get an increase of 27.33 percent in area from a round shape would mean going from a 12-inch woofer to a 13.6-inch diameter, but a square 12-inch woofer fits in the same space as the round one, so the enclosure baffle size can be the same.
Kicker has taken advantage of the principles of geometry for 14 years with their industry first square woofers. In this review, we're going to take a closer look at the new and improved L7 woofer, which serves as the foundation for the flagship "Q-Class" product lineup. According to Kicker president and co-founder Steve Irby, "The L7 and Q-Class products represent what Kicker innovation and evolution are all about. With the L7, you can expect bold small-box performance, bigger than ever power handling and even higher SPL."

Features
The Kicker L7 woofer is built around an obviously square, heavy duty cast aluminum alloy basket. The woofer uses a 7.8-pound magnetic motor assembly, which has been optimized for linearity and power handling using finite element analysis. The magnetic field generated drives a 2.375-inch multi-layer copper voice coil with 26 percent greater length than the previous model, which is wound on an extreme high temperature glass-fiber reinforced polyimide TIL-B former. Rather than using a typical vented pole piece, the voice coil is surrounded by a finned aluminum heatsink, which is mounted to the top plate of the motor assembly. Kicker spent years of research in developing a special low-carbon solid extended pole piece, resulting in very high excursion and higher internal mass for improved cooling.
Keeping the coil centered in the gap is a Blue-Lace spider with a larger outer diameter to allow greater excursion. The spider also incorporates laminated-in-place high-current tinsel leads. The cone is connected to the voice coil former via a polymer 360-degree cone brace that has been laser etched to improve adhesive bonding and reliability. The cone material is made of injection-molded polypropylene, ribbed for rigidity and strength.
On a square woofer, the surround is a critical component, as there are four individual corners that must flex in unison with the four straight sections. To accomplish this, Kicker uses genuine Exxon Mobil Santoprene thermoplastic vulcanizate (TPV) surround material with a patented ribbed corner design, which varies in thickness to maintain maximum linearity, excellent cone control and high excursion capabilities. As all Kicker woofers have been, the cone is glued and stitched to the surround to ensure a long-lasting, trouble-free connection.
Wiring connections to the dual voice coil L7 woofer are conveniently located together on one side - handy when doing either series or parallel configurations. The terminals are square (of course!) spring-loaded, and nickel-plated. Polarity is clearly marked and the terminals will accept up to 8-gauge wire.
Listening
For my listening session, I choose to mount the L7 in a sealed enclosure with an internal volume of 1.3 cubic feet. The woofer is powered by a 1,000-watt studio amplifier with a crossover set to 100 Hz and a slope of -24 dB/Oct. The coils are wired in parallel for a 2-ohm load.
I begin with a few of my favorite bass tracks, like the John Lee Hooker version of Sweet Home Chicago, Thomas Dolby's Hot Sauce, and Ricky Lee Jones' Danny's All-Star Joint. The L7 woofer sounds very good, with a nice, tight attack and quick decay. Definition in the bass is excellent and I like the overall timbre of the woofer. This is a very musical woofer considering its high power handling capability. Stated differently, this is an excellent choice for those who like great musicality and high SPL.
Switching musical gears, I played some Nine Inch Nails, Yello and other bass heavy tomfoolery, and turned up the power to the 900-watt rated limit and beyond, with nary a complaint from the big square woofer. Just for fun, I did an impromptu side by side comparison with a very popular 12-inch round woofer (also 2 ohms) and the Kicker L7 was most definitely louder.
On The Bench
On the test bench, with the woofer connected to my Klippel analyzer, I measure the parameters and find them well within the normal tolerances used in manufacturing woofers. I also note that the woofer does have a preference for a sealed enclosure, and unless you only care about maximum SPL, that is the type of enclosure I'd suggest.
Conclusion
I really enjoyed my time with the Kicker L7 woofer. Like other products from Kicker, its focus is on musicality and reliability. And with 27.33 percent more cone area than a 12-inch round woofer, it comes with extra output too!
For more information on the Kicker L7 Q-Class subwoofer, go to www.kicker.com and/or on Facebook, Twitter and YouTube.
For more test reports, download the PASMAG+ tablet app for free from iTunes.