Anyone who has an interest in audio will be very familiar with the name Cerwin-Vega.
The Cerwin-Vega Mobile brand has continued the 50-year legacy of delivering high performance audio products to the most demanding customers. Now, in addition to the regular car audio products, there is a line of marine/off-road oriented amplifiers. Known as the RPM series, for Recreation, Powersport, and Marine applications, these amplifiers have been designed and built to stand up to the rugged demands of the marine and off-road markets. This time we'll be taking a closer look at the five-channel SRPM1100.5D amplifier, designed to be the only amp you need for the whole system!
FEATURES
The SRPM1100.5D is built around a high efficiency Class-D topology, using a high performance chipset from International Rectifier. The amplifier is very compact for a high powered five-channel product, measuring only 12 x 5.25 x 2 inches. The design places all of the controls and connections along the length of the front panel. Power and speaker cables are secured with set-screw-type terminals, and will accept four- and 12-gauge cables, respectively. A removable cover allows easy access to the controls and connections for installation, as well as provides protection once the amp is installed. The SRPM1100.5D has three different modes available for turn-on: either the traditional 12-volt trigger or signal sensing via actual musical signal or DC offset sensing. These options make ideal to use with any type of source or vehicle. A signal steering switch allows all five channels to be driven with one, two, or three pairs of RCA inputs.
Power is rated at 120x4 and 500x1 at two ohms, or 100x4 and 300x1 at four ohms. A clipping indicator is provided for each set of channels to assist in initial setup of the gain controls. Up to 13 dB of bass EQ is also available to get the subwoofer system tuned to suit your tastes. The PCB is conformal coated to withstand moisture and ensure great reliability in harsh conditions. A mini USB port called a "BTR Port" allows connection to an optional Bluetooth receiver/controller, allowing direct connection to your Bluetooth music source, and the ability to control volume and track selection via the Bluetooth receiver. Cerwin-Vega offers an array of various Bluetooth receivers to operate with this amplifier. A more traditional RJ-45 port allows connection of the remote bass level control, which can be mounted in several different ways.
The SRPM1100.5D also has an advanced thermal rollback protection scheme, which allows the amplifier to keep the music going when lesser amplifiers would shut off.
LISTENING
Listening to new gear is always my favorite part of doing these reviews, and the SRPM1100.5D certainly did its part to make my session enjoyable. After connecting the five-channel amp to four full-range speakers and a single 12-inch woofer, I set the sub crossover to 100 Hz, and left the main channels in all-pass mode.
Beginning with Clair Marlo's Let it Go, it was apparent I was in for a good time. The Cerwin-Vega Mobile amp rewarded me with a very realistic soundstage, and did a great job reproducing the subtleties in the recording that make it one of my favorites for testing clarity and stereo imaging. Moving onto Flim & the BB's Funhouse, the bottom end is excellent, and even when driving my woofer hard I noted no apparent strain from the stereo channels, which tells me the amp has an adequately sized and properly engineered power supply. More great tunes ensued, from Yes and Yello, to Paul Simon's classic Diamonds on the Soles of Her Shoes, and the SRPM1100.5D never made a misstep. I write my comments down as I listened, and here I wrote: "Excellent imaging and top end detail, a very slightly audible noise floor, and a strong authoritative bottom end."
ON THE BENCH
Moving back into the lab, I connected the amp to my trusty test bench to see how good the numbers actually were. Not surprisingly, the SRPM1100.5D easily outperformed all of the published specifications. It measured very respectably in all areas, although I did note that the amp does tend to run a little on the warm side. This is due to having a great deal of power in a small footprint, but thanks to the thermal management system it employs, it shouldn't pose a problem for the end user. Frequency response is ruler flat, and all of the crossover and signal control functions work as advertised.
TECHNICAL DATA
The following power measurements were obtained as follows: (100 HZ @ 1.0% THD+N - Battery voltages shown, +/- 0.1V)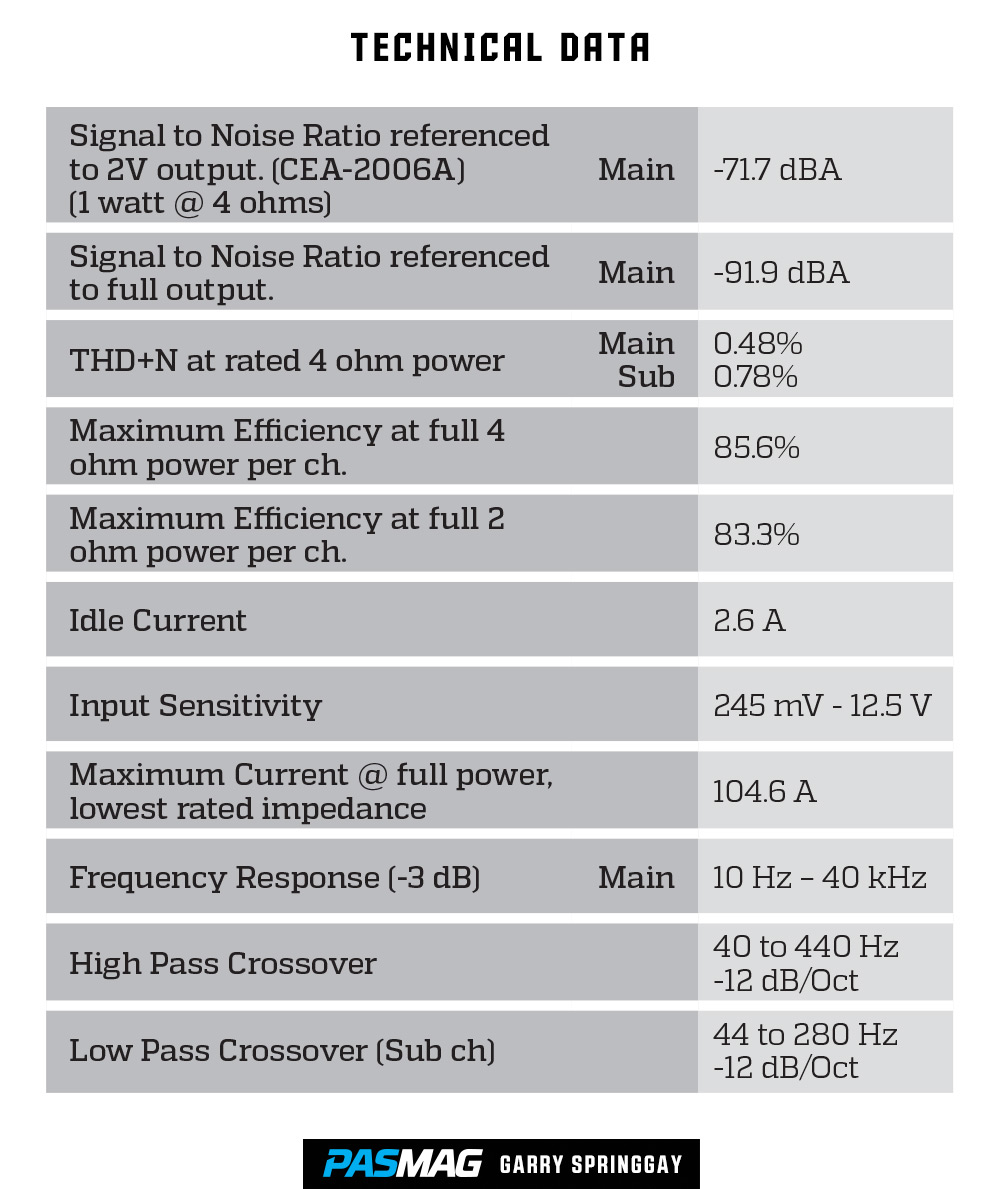 CONCLUSION
The SRPM1100.5D is a great choice for anyone needing a lot of audio power while minimizing the size of the physical footprint required. This amp has been designed and constructed to provide reliable good sounding performance for years to come, and lives up to the legacy the brand is built on. If you need a quality multi-channel amplifier for your boat, UTV or whatever else you're driving, get down to your local Cerwin-Vega Mobile dealer and check it out for yourself. #pasmag
Website | Twitter | Instagram | Facebook | YouTube
Contributor: Garry Springgay