From the folks at Axxera comes the all-new AV6225BH multimedia receiver.
Built on a double-DIN size chassis, the new head unit boasts a high quality touch screen and something called "DualMirror" - the Dual version of the popular Mirrorlink technology, which allows your head unit's display to mirror the display of your smartphone. In addition, the AV6225BH brings Bluetooth connectivity, a high performance pre-out section and a built-in programmable steering wheel control interface. Perhaps best of all, all this high-tech wizardry will set you back less than 250 bucks!
Features
The Axxera AV6225BH is built around a 6.2-inch TFT touchscreen display with 800 x 400 display resolution. A front-mounted USB port provides charging (1-amp) connectivity for music and video playback via USB stick and 3.5-mm jack located on the front panel for direct audio input.
The DualMirror technology provides a mirror image of your smartphone's screen (iPhone, iPod or select Android devices) via HDMI. For those not into connecting a cable to your phone all the time, the DualMirror function can also be used wirelessly thanks to Dual's DMH25 DualCast WiFi dongle.
With the DualMirror functionality, you can bring all the handy apps in your smartphone to the head unit's screen. This is an exceptionally good solution for navigation, music and video apps.
On the rear panel of the Axxera unit are the USB charge port and HDMI connector for connecting either your smartphone or the Dual- Cast WiFi dongle. I should mention the rear USB port is for charging only and can't be used as an additional USB input. However, there is an AV input on the rear panel, as well as two video outputs. A rear view camera is also compatible via rear RCA input. If you are a serious iPod user, it should be noted that the AV6225BH is not designed to connect and control an iPod or iPhone directly, only via the DualMirror method.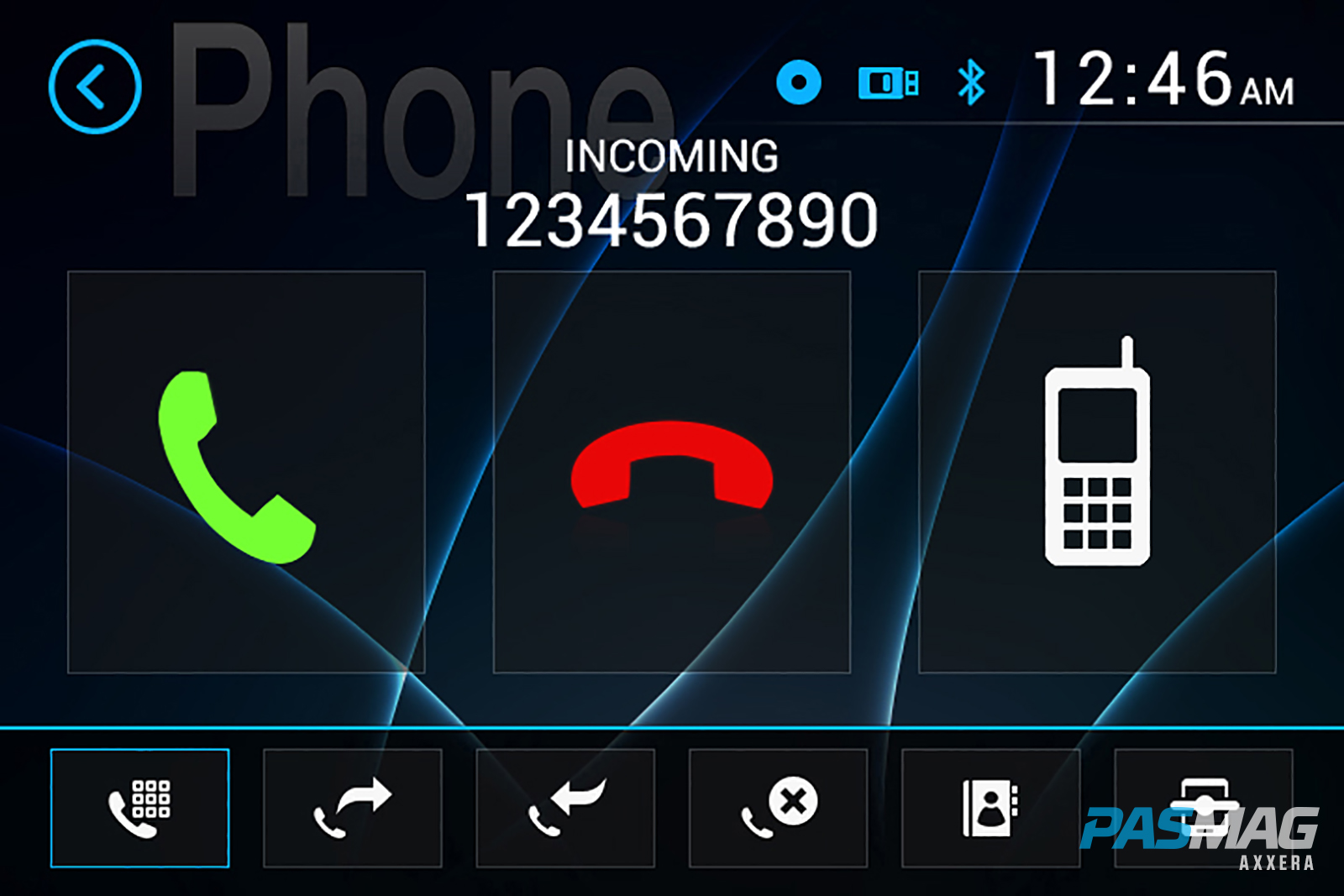 Thanks to the built-in Bluetooth connectivity, the AV6225BH provides full phone book support, caller ID and telephone operations, as well as audio streaming with
ID3 Tag and control of the player. Pairing the unit the first time takes only a few seconds. After that, it's completely automatic, so making hands-free calls safely is a snap.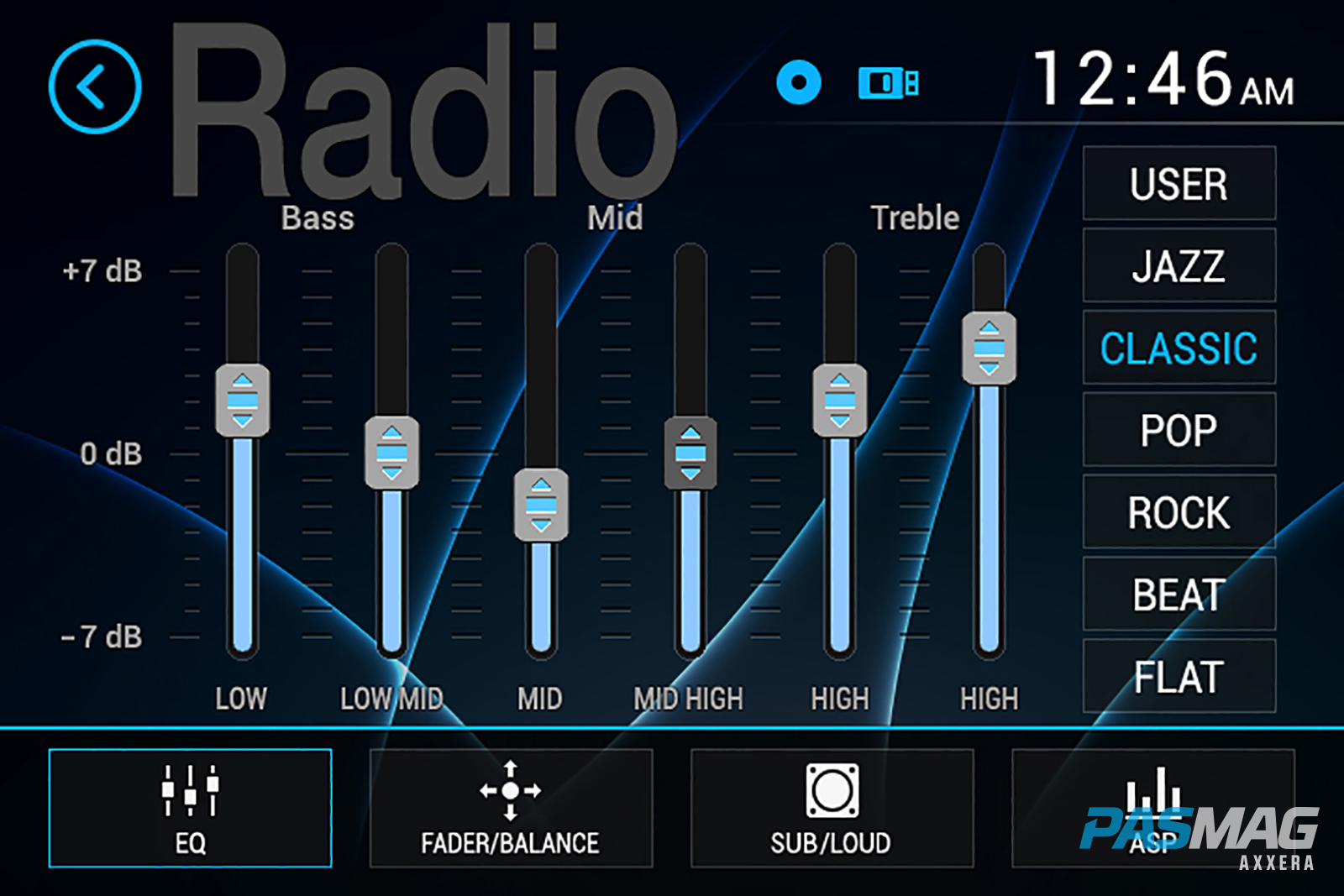 For those who listen to the radio, an RDS (Radio Data System) tuner is used, which can provide convenient station ID, station genre, and emergency information.
The audio section of the Axxera unit is equally as impressive, with three pairs of high voltage pre-outs. Then there is a DSP powered six-band graphic / three-band
parametric EQ with adjustable Q, subwoofer crossover and level adjustments, and an adjustable loudness contour.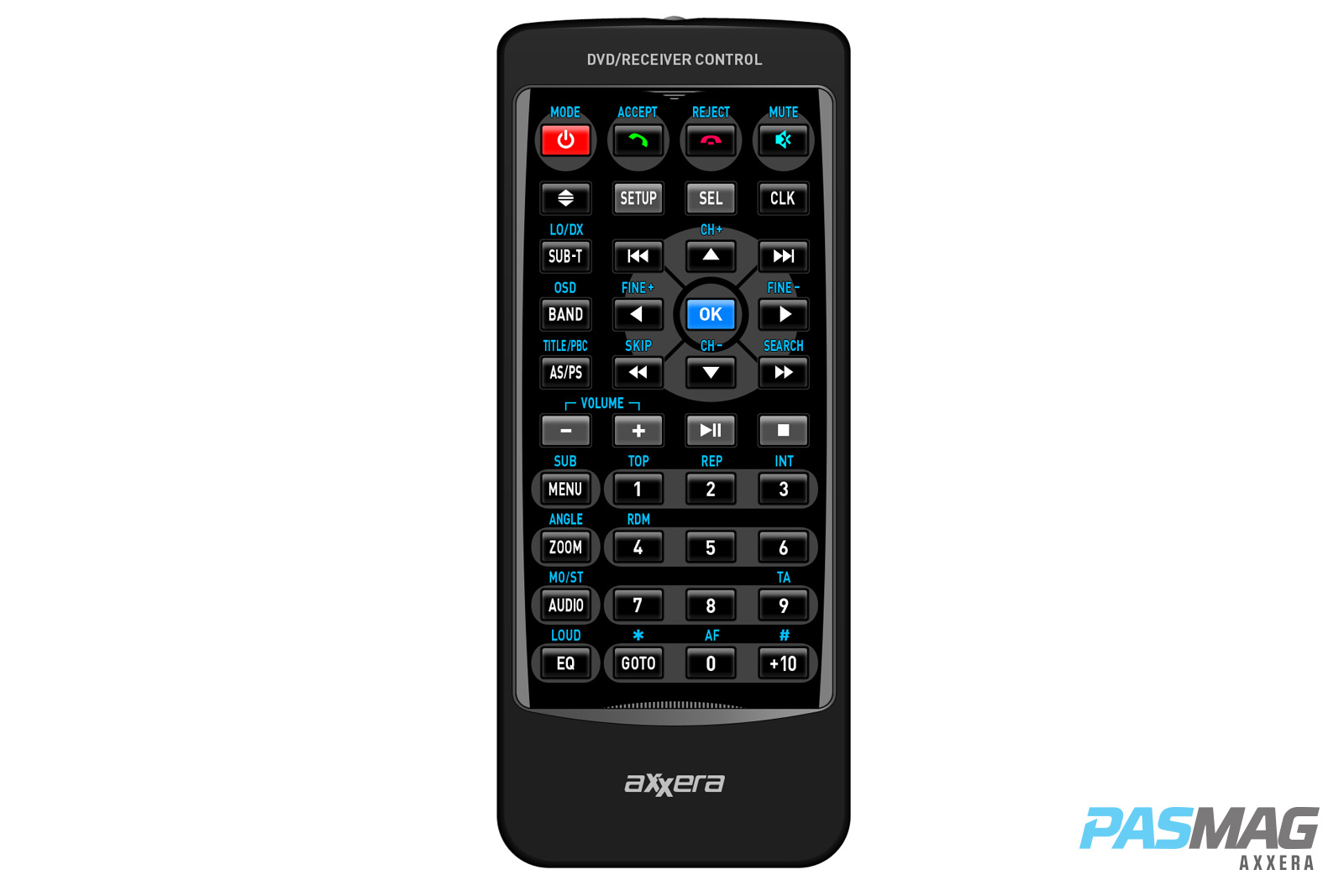 A wireless infrared remote control is also included in the box.
Controls and Ergonomics
In terms of everyday operation, the Axxera AV6225BH is pretty easy to use and live with. The touchscreen is responsive and the icons and menus are clear and logically displayed. Picture quality is excellent and all the menus are in a large enough font size that you don't need your reading glasses.
Thanks to direct access menus, adjustments to the audio are done with a minimal amount of fuss and the menus are displayed long enough to do some tuning without constantly getting kicked back to the default screen.
I attempt to use my HTC One Android phone with the DualCast WiFi dongle, but cannot get the connection to stay connected. The dongle's instructions specifi cally talk about Samsung phones, and iPhones, so perhaps my HTC One simply isn't compatible, as may happen due to Android being an open source platform. However, a friend's iPhone works perfectly.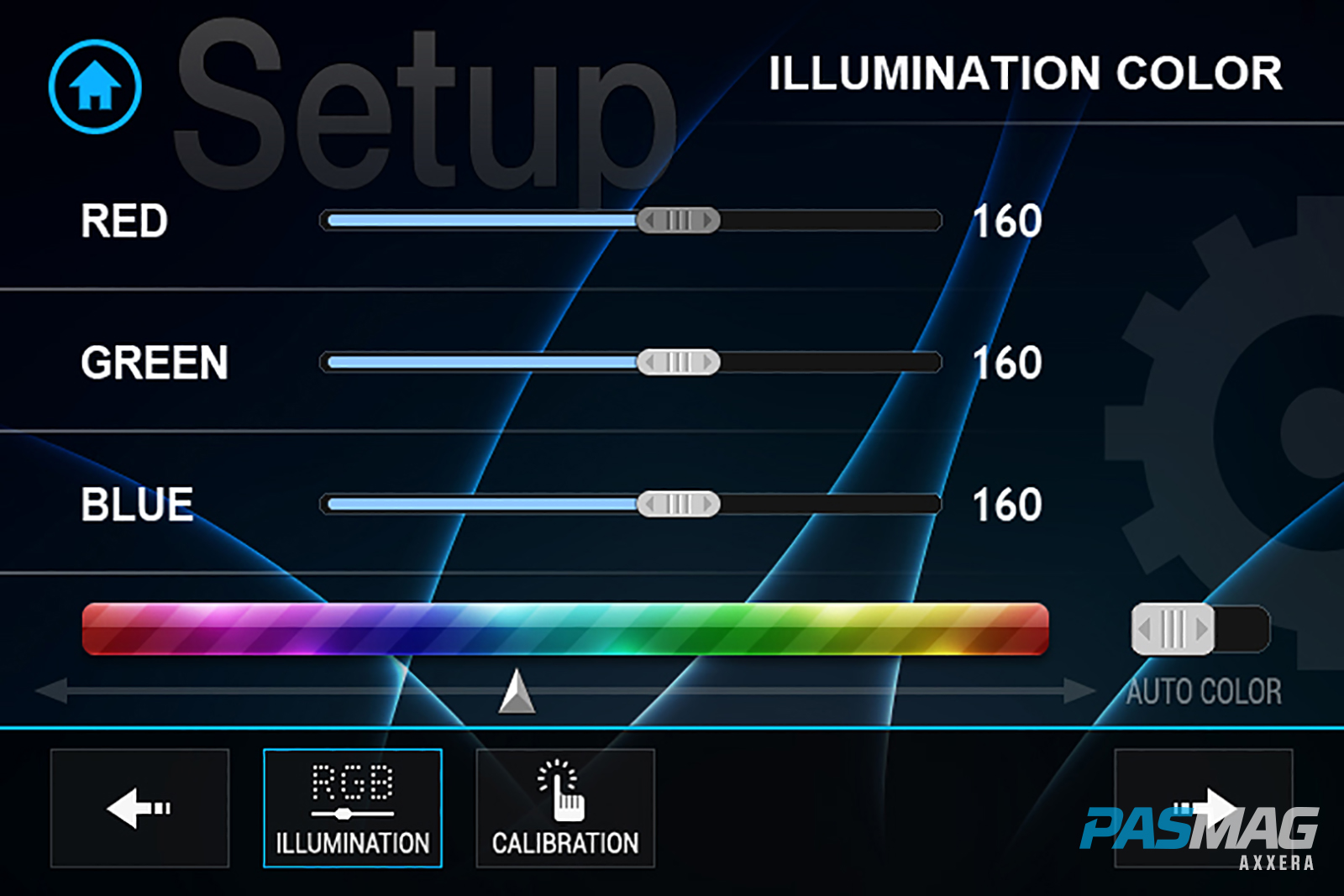 There are over sixteen million button and screen icon illumination colors available, so dialing in a matching or contrasting color is easy. You also have a choice of three selectable wallpapers.
I did wish for a little larger diameter volume knob, but the smallish one provided does have nice detents and it's easy enough to use unless you are wearing bulky gloves. The faceplate is fixed in position and has a disc loading slot immediately above the top of the screen.
Listening
I have to say, I'm quite impressed with the sonics of the AV6225BH in my reference system and it sounds better than I would expect for the price. Music on regular CDs sounds open and natural with good detail and no sense of compression. The sound of the CD section is very similar to my reference home audio player — the only real difference I notice is the Axxera is a bit noisier between tracks and during very quiet passages. Audio and video from DVD movies are reproduced excellently as well. I also play a couple of well-worn CDs and the transport has no problem reading them, so the laser mechanism and error correction is good.
The controls operate smoothly and without any digital "zipper noise." Using a track with an 18-Hz recorded note on it, I notice from the movement of the woofer cones that the unit has good extended low frequency output. This should please the bass-heads on a budget out there (you know who you are). This flat low-end response is fairly uncommon at the lower price points, so kudos to Axxera for paying attention to details like this.
While I might not be able to say it is as good as my $1,200 reference unit, I can say that the differences between them would probably go unnoticed by most average listeners, especially in a car system.
On The Bench
In the lab with the AV6225BH connected to my test equipment, the measured specifications prove to be quite respectable, with only the signal-to-noise ratio of the built-in amplifier measuring a bit lower than I would have liked. Stereo separation, frequency response, amplifier power and pre-out voltage and impedance all measure very well, which is not surprising based on the way the unit sounds.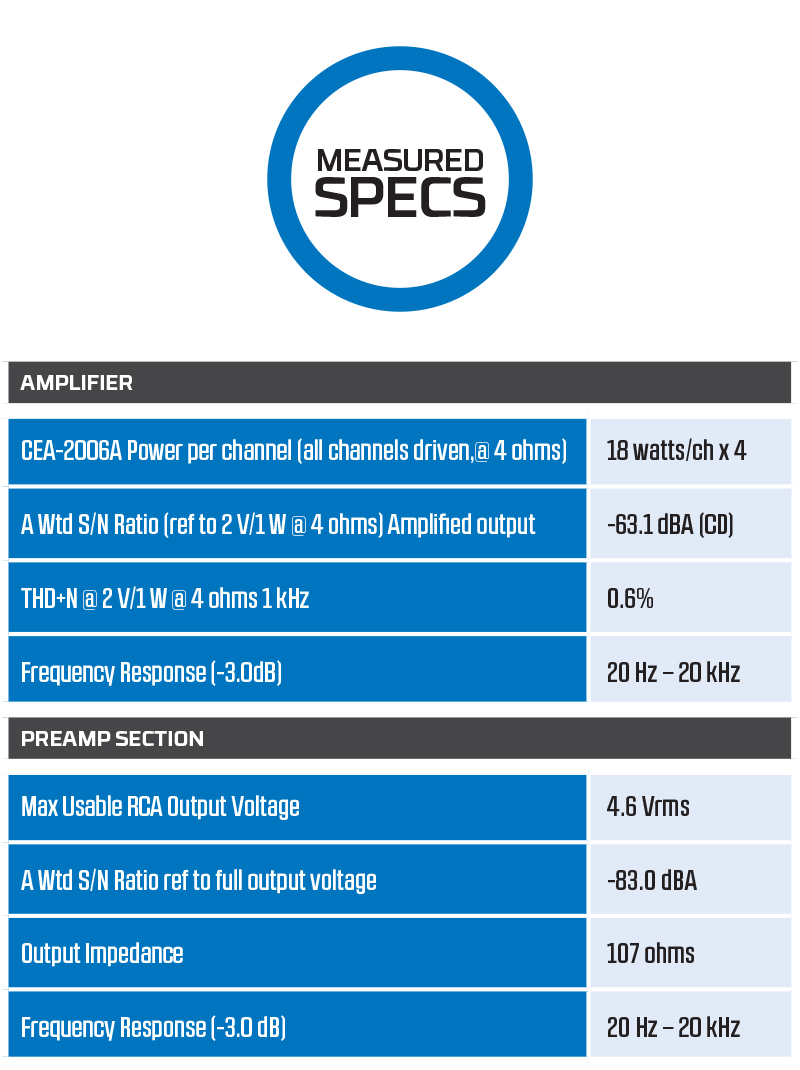 Conclusion
If you are looking for a new multimedia headunit that offers an array of input sources, great sound and the ability to make full use of the apps in your smartphone, you should check out the AV6225BH. For those of you looking for all those features on a budget, this unit is a no-brainer.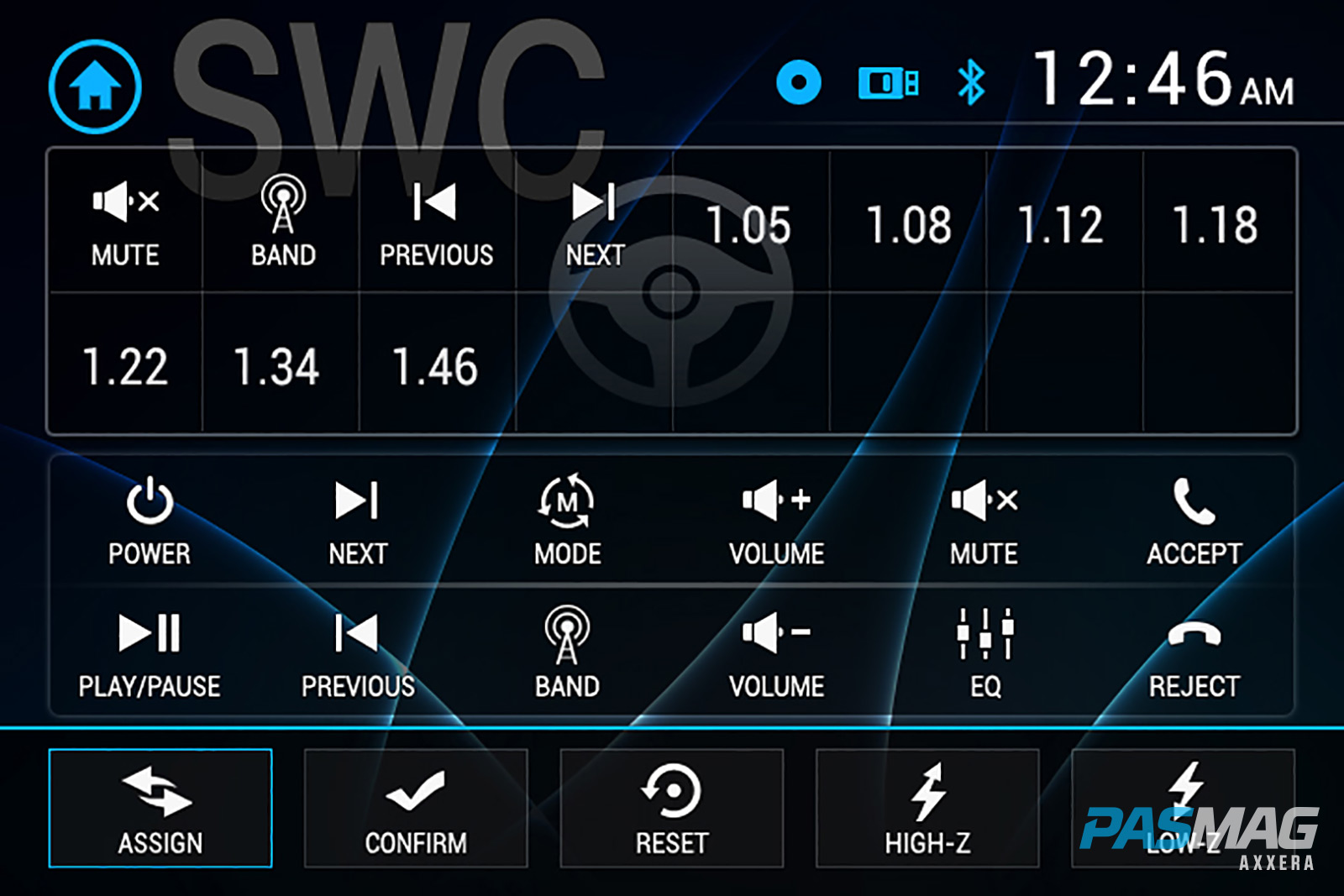 For more information, go to www.axxeraaudio.com.