Good music doesn't stop with just amplifiers and mids and highs. Rounding out the X2 Series are the X2 Subwoofer line from ARC Audio. Available in 10- and 12-inch sizes with your choice of dual 2- and dual 4-ohm voice coil configurations, the new X2 subwoofer offer the same value and performance you have come to expect from ARC Audio products.
The new X2 10 and X2 12 subwoofer feature a proprietary four-spoke stamped steel basket. The spokes have a double-compound curve to eliminate the flexing and distortion. The basket has eight integrated cooling vents that allow hot air to escape from the motor assembly for improved power handling. The vents also prevent pressure changes under the spider to improve driver linearity and low-frequency extension at high excursion levels. A secondary vent through the center of the T-Yoke releases pressure from under the dust cap and provides addition motor assembly cooling.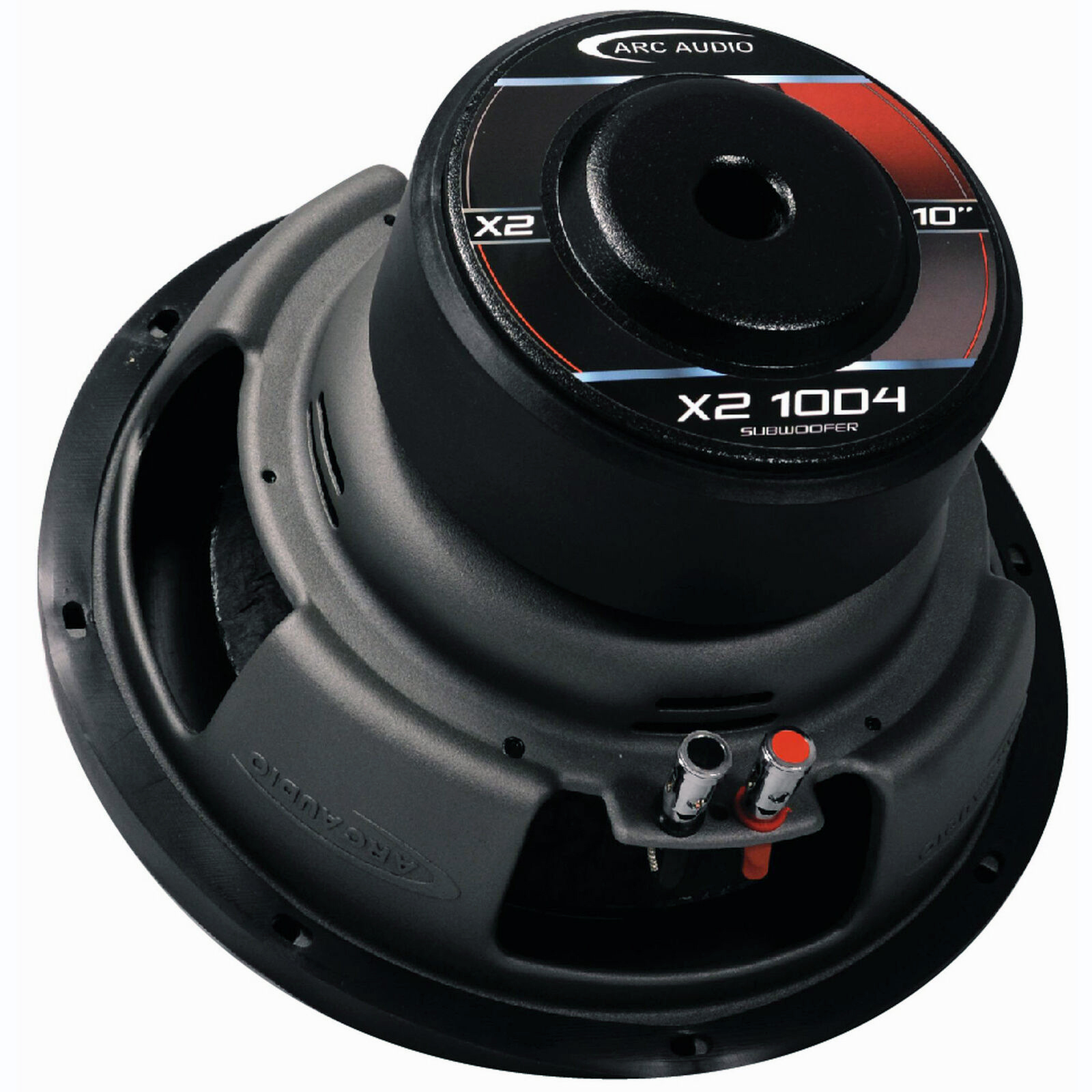 A set of double-stacked magnets provide an intense magnetic field that ensures excellent efficiency and high excursion capabilities. A Two-inch diameter High-temperature copper coated aluminum voice coil with a Kapton electrical isolator serves as the voice coil former offering extensive thermal dissipation properties while keeping the mass low improving the ability to be fast and responsive at all levels of listening demand. The aluminum is anodized black to improve the extraction of heat further away from the voice coil winding to improve power handling and reduce power compression.
The cones feature reinforced pulp paper construction with a moisture resistant coating to ensure reliable operation and predictable performance in high-humidity applications. Large diameter rubber surrounds ensure long-term reliability, eliminating the most common failure point in drives with foam surrounds. The large surround also contributes to the 13.5mm (one-way) Xmax specification. At the base of the cone is a high-roll Conex spider that has the tinsel leads woven into it. Woven leads eliminate the possibility to cone slap or short circuits common to bare lead designs.
All X2 Subwoofers offer consumers an excellent balance of efficiency, dynamics, low-frequency extension and great value. Enclosure requirements balance size with efficiency and are optimized for a wide variety of pre-fabricated speaker enclosure solutions. Of course, ARC Audio always provides their retailers with full support for custom enclosure applications.
Cosmetically, ARC Audio fans will instantly recognize the new X2 packaging, and it's black, red and silver graphics as part of the 20th anniversary series of products. ARC Audio has included a few Easter Eggs on the products, so be sure to look closely at the entire line.
Knowing that consumers are hard on products that offer exceptional value, ARC Audio has put a great deal of effort has into ensuring thermal power handling is reference-class at these price points. The thermally conductive voice coil formers and advanced cooling technologies allow the X2 10 subwoofers to handle 200 watts and the X2 12 to handle 250 watts of continuous power for more than 10 hours. ARC Audio's new power testing process involves doubling-down the test power levels after each successful round to ensure we know where the weakest links are and have addressed them to the best of their abilities.
If you are looking for a subwoofer that sounds great, offers excellent low-frequency output and is fun to listen to, then introduce them to the new X2 Series from ARC Audio.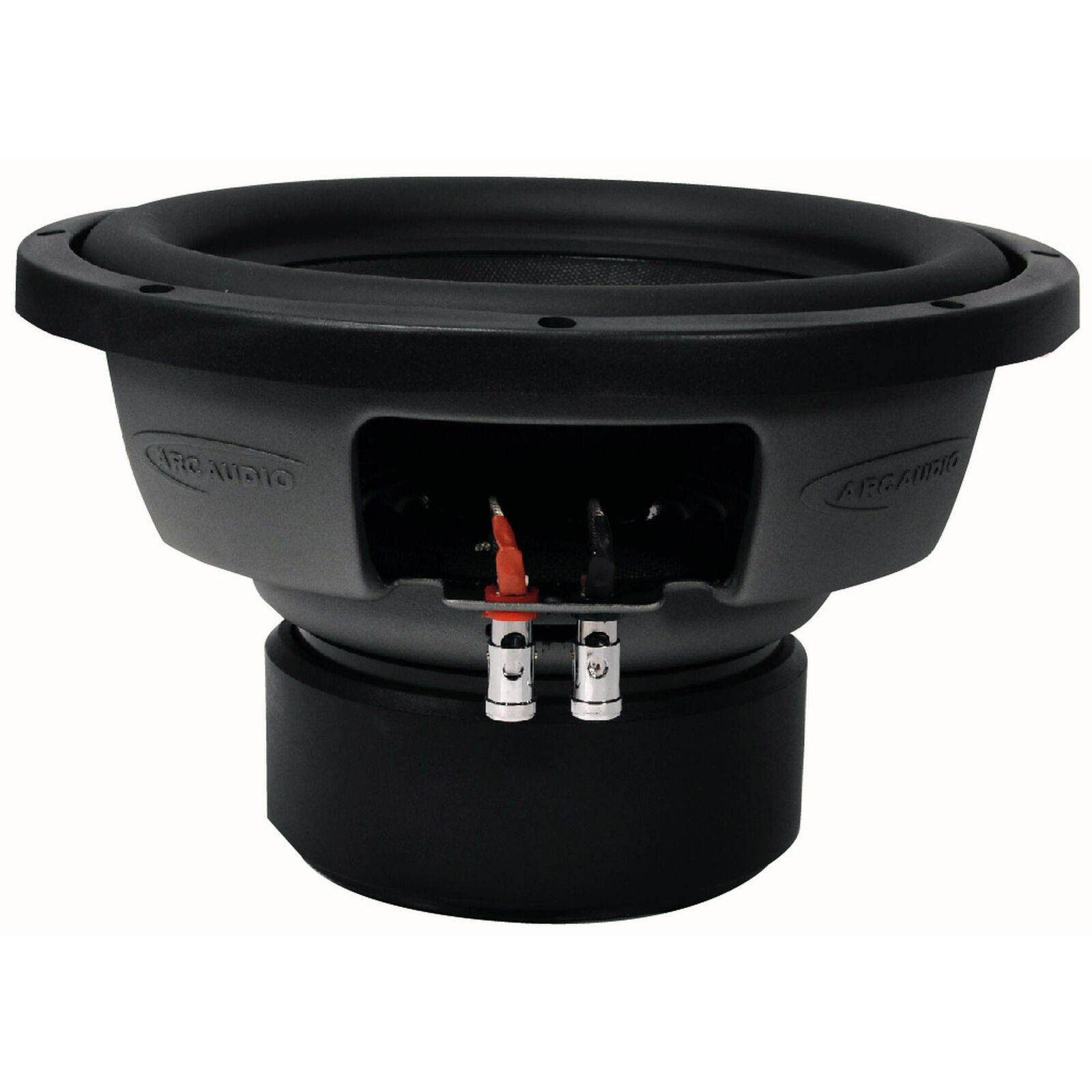 FEATURES
Designed And Engineered In The USA
High-Temperature Black Anodized Copper Coated Aluminum Voice Coil
Linear Design For Improved Dynamics And SPL At Low And High Volumes
Cellulose Fiber Composite Cone
Stamp Steel Basket
Available In Dual 2 Or 4-Ohm Configurations
Flat Profile, Linear High-Roll Conex Spider With Post-Process Woven Integrated Tinsel Leads
Designed For Small To Moderate Sized Sealed And Ported Enclosures
Mounting Depth 5-7/8"
Cutout Diameter 9-1/8"
Minimum Sealed Enclosure - 0.8 cu ft
Optimum Sealed Enclosure - 1.0 cu ft
Maximum Sealed Enclosure - 1.2 cu ft
For more information, visit www.arcaudio.com.