It was less than 30 years ago that all the mobile electronics industry had to offer were security systems.
We could remotely arm and disarm these systems and a moderately loud siren would go off if someone opened a door or triggered the shock sensor. These systems started to evolve to include keyless entry features that would allow you to lock and unlock the doors, pop the trunk and even start the vehicle. Now, remote starter sales have replaced security system sales, and companies like Firstech from Kent, WA are leaders in the industry. They sent us their new Drone Mobile RSD-3S to check out.
I should at this point highlight that any work being done on your vehicle electrical / electronic system be done by a trained professional. Gone are the days of simply cutting and tapping wires to make things happen. Installers must configure and program computerized integration modules, then connect and program them to your vehicle. If you don't have access to the manufacturerís website, you simply cannot complete the procedure. That doesnít even touch on what could happen if you tap into the wrong wire in your vehicle or test it with the incorrect equipment. Itís not worth the risk
The RSD-3S includes a Start It branded FT-7200S-CONT remote starter and keyless entry system, their awesome Drone system and they threw in an iDatalink ADS-BLADE AL data interface module that will allow us to integrate with the vehicles bus-based security systems for seamless control and integration for the installer.
The Drone is an amazing piece of technology. With it, and a suitable subscription (more on that later), you can use your smartphone (Apple iPhone or Android based phone) to control and communicate with your vehicle. The task is as simple as downloading the Drone app from the iTunes or Google Play store and setting it up to communicate with the Drone system your installer configured in your vehicle.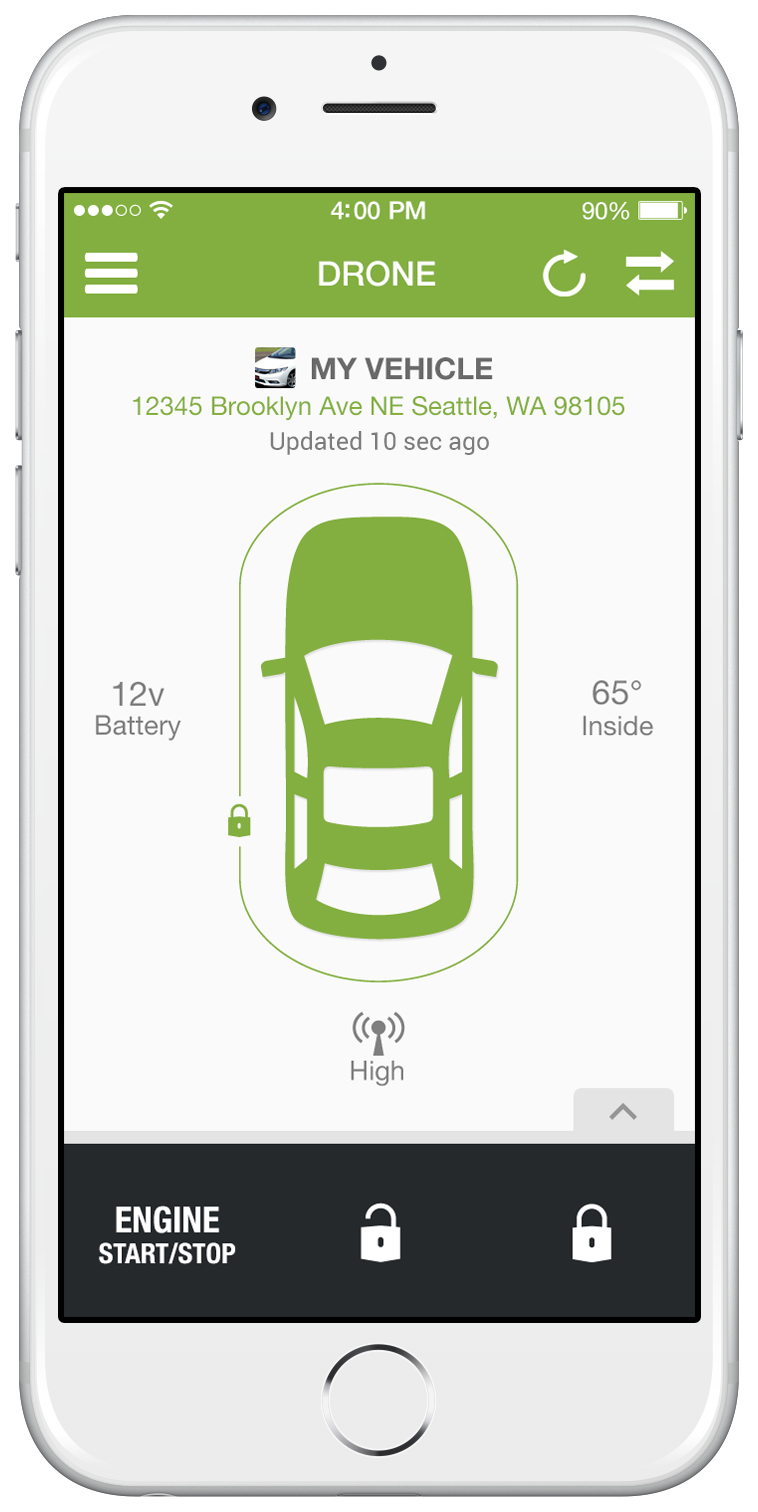 Once the app is installed and set up, you can lock or unlock your vehicle while simultaneously arming or disarming the security and anti-theft system. You can also activate the remote start system, meaning that so long as you have a data connection to your cell phone, you are 'in range' of your vehicle and able to start it. The Drone software reads the battery voltage of your vehicle and displays it on your phone, and also shows you the internal temperature of your vehicle thanks to a temperature sensor built in to the Drone module in the car. A panic and car find feature, trunk release and a pair of auxiliary outputs are also included, so you can activate a motorized door, control power windows or whatever you choose to have your installer add to the system.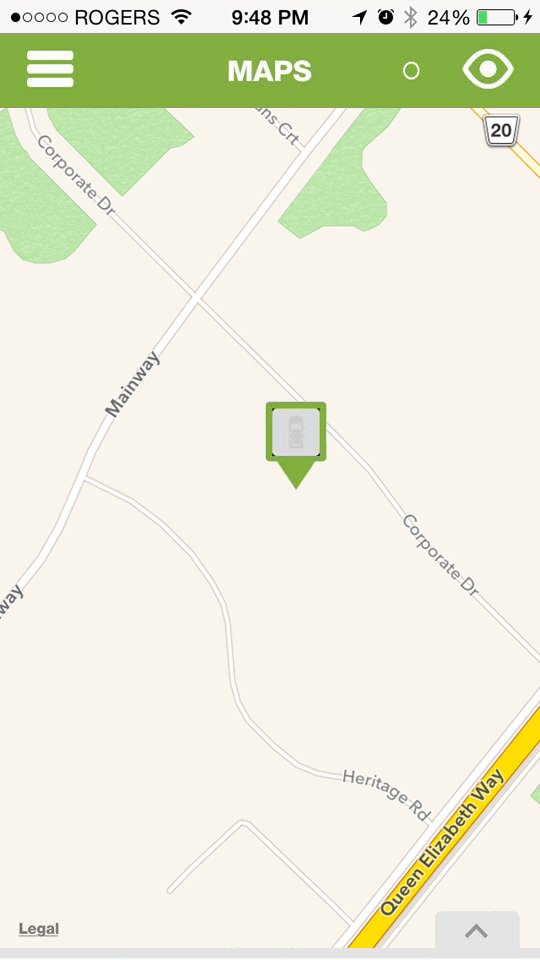 Drone works using cellular communication. You need to pay a yearly fee for the connection service, and those fees can be seen on the www.compustar.com or www.dronemobile.com website. There are two service levels and the basic package allows you to do all of the above features, but if you step up with the Premium package, you get access to the GPS based functions of the Drone system. These include a vehicle locator, geofencing and speed warnings. You can set these up on the mobile app to send you text messages if the vehicle exceeds a preset speed or enters/leaves a specific area. The vehicle locator is obviously a great feature if you loan your vehicle to your children. The Drone app will let you control multiple vehicles, so you can have Drone systems in a small fleet of work trucks or all your family vehicles. Included in the RSD-3S is an FTX700R remote control. This is a simple 4-button 1-way remote control that provides up to 1000' of range.
For those of you residing in the US, there is a slightly different, but fully equivalent system called the RSD-3100AS. This uses the DR-3100 Drone module instead of the DR-3000. It's designed to work with Verizon's CDMA network. You are still free to use whatever carrier you want for your phone.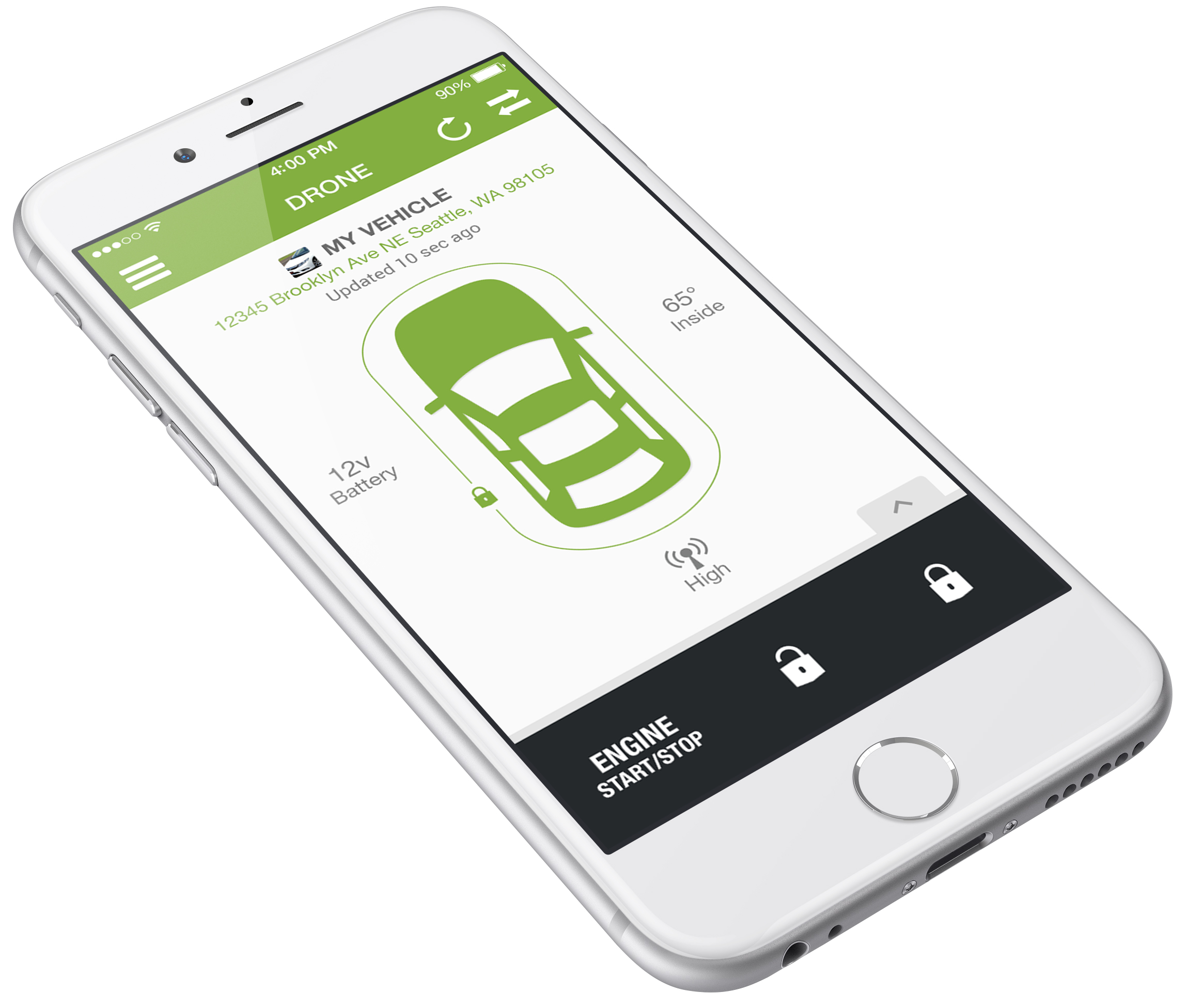 Testing
We had the RSD-3S installed in one of our employee's vehicles and set out to play with the system. Of course, the first thing we did was unlock and lock the car a few times and remote start it using the phone. The delay between pressing the command button on your phone and the command being executed by the vehicle was between 15 and 20 seconds. Itís comforting to know that you can be alerted almost anywhere when there is activity around your vehicle ñ range limits are a thing of the past with Drone.
Firstech products like Compustar (A full line of remote start and security system products from Firstech) have always been considered a leader in the industry when it comes to the range of their remotes. We took the car to an industrial area with a long stretch of straight flat road. We parked the car and started walking ñ locking and unlocking the car every dozen steps past what we guessed was 1000 feet. Once the car stopped responding, we took note of our location so we could check our range using the scale on Google maps. We got 1155 feet. As they say, your mileage may vary, based on objects between you and the vehicle and interference from other communication devices in use in the area.
We were unfortunately not present during the installation of the system, as the task was squeezed into a busy day not long before Christmas, but we followed up with the installer to get his thoughts. He loved the fact that the bypass module (iDatalink Blade-AL) plugged into the 7200 brain. This saved time during the installation as only one unit had to be mounted. He pointed out that the 7200 brain has additional features, but you canít control some of them via Drone. Happily, Firstech / Compustar sells their remotes a la carte, so you can add whatever you want. Some of these features include a total of 7 Aux outputs. The also mentioned a few other cool options that you may want to look at. The RPS Port is dedicated to a windshield shock sensor that can be configured as pager or as a way to disarm the vehicle by entering a pattern of taps on the windshield. Thatís cool!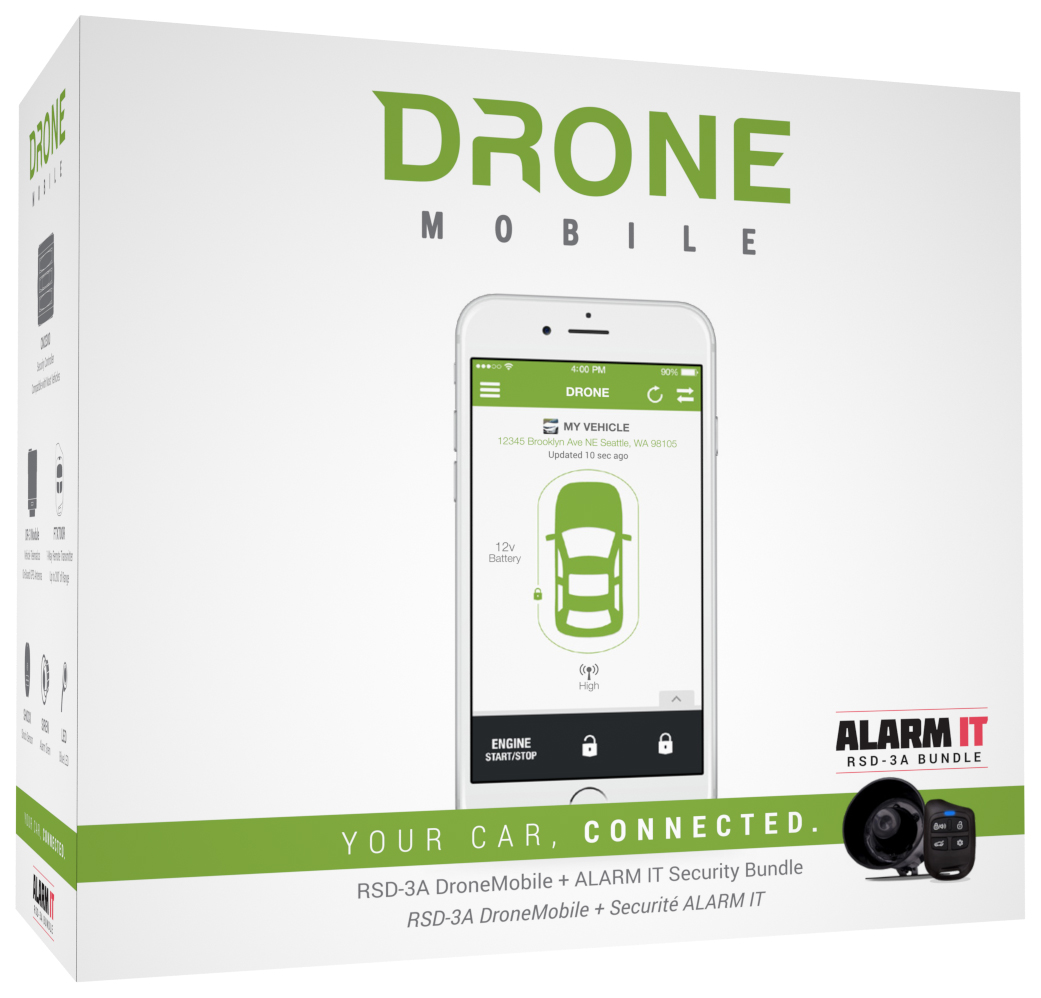 Conclusion
In terms of a simple system that gives you state of the art control and communication over your vehicle, we canít think of anything that covers all the bases like the RSD-3S does, especially from a single box. Every installer we talked to about doing the installation (which was a lot this time of the year) all agreed that Compustar was a great company to deal with. Happy retailersí means happy customers ñ what more could you want?
For more information, visit: www.dronemobile.com.