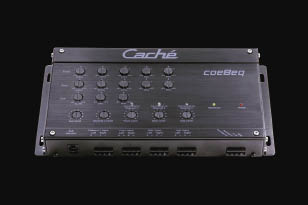 Caché Audio
COEOE8eq
The COE8eq will provide the ultimate solution in adding aftermarket amplifiers and speakers to any OEM audio system. The COE8eq can provide install flexibility with four pairs of channel inputs. The remote level control also doubles as the switch for the auxiliary input. It also has a unique signal sense feature that detects signal on the input and turns the unit on without the need of a 12-volt trigger. This on board equalizer can be used to custom tuned for the optimum listening experience.
---
AudioControl
LCQ-1
Audio enthusiasts can now rejoice with the introduction of AudioControl's LCQ-1, a powerful six-channel signal processor that provides a gateway between factory installed source units and after-market amplifiers. The LCQ-1 allows Mobile Electronics enthusiasts to easily tune their audio systems and receive truly amazing sound quality.
---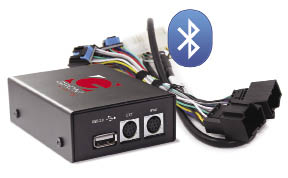 Grom Audio
GROM-USB MP3 Smartphone Bluetooth Car Kit
GROM-USB connects any portable music device to a factory car stereo for many car makes. The adapter provides USB input for MP3 playback directly from USB mass storage device. Integrated controls allow using car radio or steering wheel buttons to change track position, browse albums and more. In addition GROM-USB connects Bluetooth Hands Free, Android phone, iPod/iPhone to the factory car stereo. GROM Bluetooth Dongle adds Bluetooth-enabled hands free communication and audio streaming.
---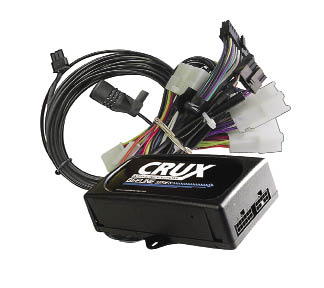 CRUX Interfacing Solution
Beeline Series
The CRUX BEEBT-22 Bluetooth Connectivity Kit is a comprehensive solution that is tailored to seamlessly integrate mobile phones with a wide range of Toyota / Scion automobiles. It includes steering wheel controls that enhance the ease of access for communicating while driving. Featuring cutting-edge A2DP technology that allows the user to stream music wirelessly into the factory installed (OEM) audio system.
---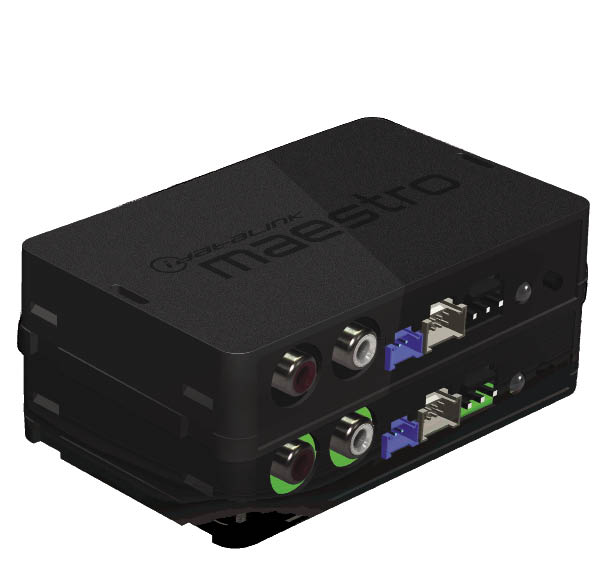 iDatalink
Maestro RR
Connect your compatible aftermarket radio to your OEM system: Bluetooth hands-free and streaming, USB media player, satellite radio, telematics, steering wheel controls and more! Program Maestro to work with your car and configure your steering wheel buttons using an intuitive web interface. Maestro RR will retail at 169$ USD / 189$ CAD and will be available in Q2 2012.
---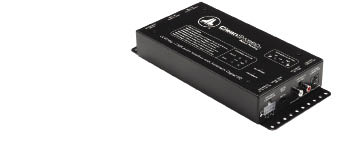 JL AUDIO
CleanSweep CL-441dsp
CleanSweep® integration products are gateways between your factory-installed head unit and your high-performance aftermarket amplifiers and speaker systems. These groundbreaking products employ state-of-the-art digital and analog processing so you can enjoy spectacular aftermarket sound without losing vehicle functions and without radical modifications to your dashboard. In other words, you no longer need to install an aftermarket head unit to enjoy outstanding audio in your car.
---
Massive Audio
FLATLINE©
The Massive Audio FLATLINE© hi-end line-output converter will make installing aftermarket electronics a breeze. This unique OEM product will convert up to 8 speaker level signals at over 300+ watts from either your cars factory amplifier or your OEM head-unit. The FLATELINE has 8 RCA outputs that can be programmed so the user can have a multiple amplified system with front, rear, center and subwoofer outputs. All being driven by a massive 9 Volt preamp output with signal auto-sensing inputs and level matching controls. Now you can hook up that I-PODTM/MP3 Player with the included remote aux cable, selectable input switching with gain control while still using your factory head unit.
---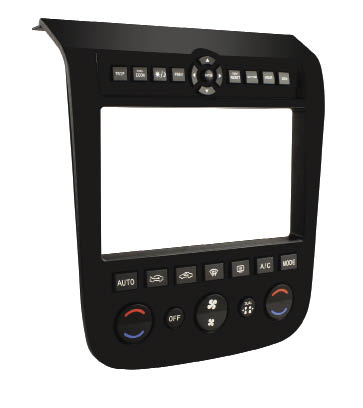 Metra Electronics
Turbo2 Integrated kits for the Nissan Murano
Metra Electronics is proud to announce they are now shipping the new 99-7612A and 99-7612B. Both kits are designed for installation of aftermarket DIN and DDIN radios into the 2003-2007 Nissan Murano.These kits have more than 20 rubber buttons for control of factory climate controls and Driver Information Center. These functions are all seen on the factory display that is retained by the interface. Metra has been shipping kits with integrated electronics for climate controls and displays since 2003 and now offers more than twenty integrated kits like this one for the Murano…  no other integrated kits like it are available in the world!
---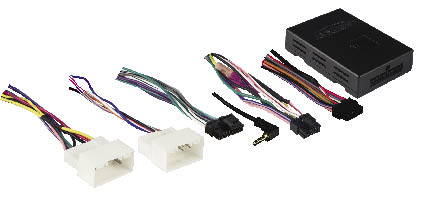 Metra Electronic
Axxess Blue Link® Interface
Hyundai has introduced Blue Link, an innovative technology that sends and receives updates to keep you well connected at all times. Blue Link can be accessed through your in-car system, a smartphone or myhundai.com. Blue Link features the ability to help you find points of interest, check your maintenance, communicate with friends, monitor your vehicle from afar and so much more: all with visual or audio guidance.
---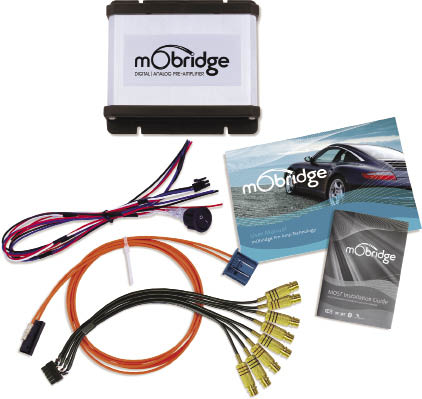 Mobridge
M1000-M-DA2 MOST Advanced Analog & Digital Pre-Amp
When it comes to upgrading the audio system in vehicles equipped with MOST Fibre Optic networks, the best way get a pure, phase-coherent, flat frequency response signal source is to use the M1000-M-DA2 from mObridge. The DA2 provides 8 channels of output to connect to premium amplifiers, making your speakers sound their best. The powerful 400MHz Blackfin DSP and Burr-Brown D/A Converter ensure studio-quality sound while maintaining functionality for factory Bluetooth voice and navigation prompts.
---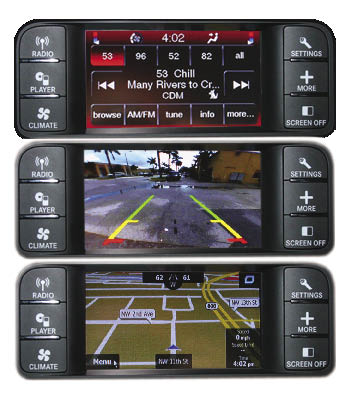 Directus and NAV-TV
Uconnect Touch 4.3 and 8.4
The Uconnect Touch radio consists of a 4.3" color LCD touch screen (or optional 8.4" large screen) in the center of the dash, a remotely mounted CD player, a USB port for iPod control or MP3 and WMA audio playback from a USB memory device, Bluetooth, voice recognition and optional XM/Sirius satellite radio. All radio features, vehicle convenience settings and the heating and air conditioning system can be controlled directly from the touch screen.
---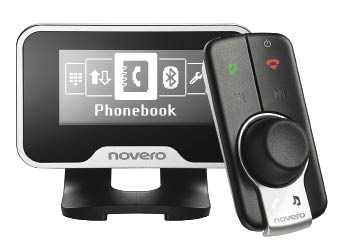 Novero
TheTrulyOne
Engineered with simplicity and safety in mind, TheTrulyOne by novero is a Bluetooth car kit that offers intuitive controls and a low-profile design that is perfect for any vehicle interior. A truly "next generation" hands-free kit, TheTrulyOne announces who is calling, has a large display with big icons for quick reference, and its intuitive remote allows the user to flip through their phonebook with ease.  It synchs quickly with any Bluetooth-equipped cell phone, smartphone, tablet or MP3 player and supports the voice-activated calling, search and text features on most Android and iOS devices.
---
The Pacific Accessory Corporation
RadioPRO4
The RadioPRO4 is an all-in-one radio replacement and SWC interface, the RadioPRO4 communicates directly with the vehicle's databus and comes pre-loaded with software that retains OEM features and saves time during an installation. RadioPRO4 modules are available for Audi, Chrysler, Ford, GM and Volkswagen vehicles, at an MSRP of $199.95.
---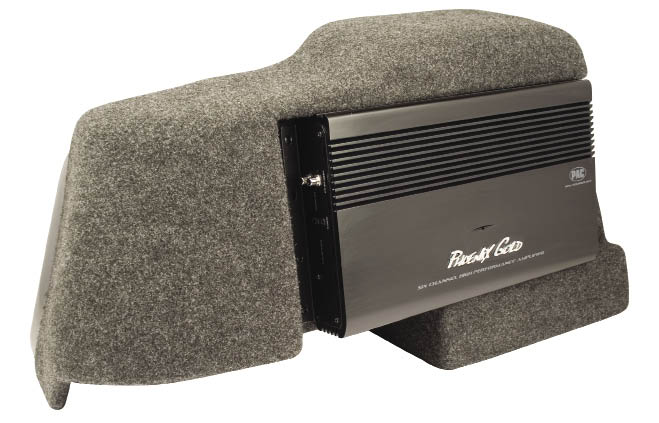 Phoenix Gold
iSeries iAMP-GM1
The Phoenix Gold® iSeries iAMP-GM1 (MSRP $1599.99) is designed to keep the refined stock look of the Chevrolet Camaro while dramatically enhancing the overall performance of the factory sound system. The iAMP-GM1 combines a six-channel, 800-watt digital amplifier and 10-inch, hard-hitting subwoofer into a single unit that installs easily in the Camaro's trunk without taking up extra space. Additionally, an iSeries kit for the Chevrolet Cruze is scheduled for release in 2012.
---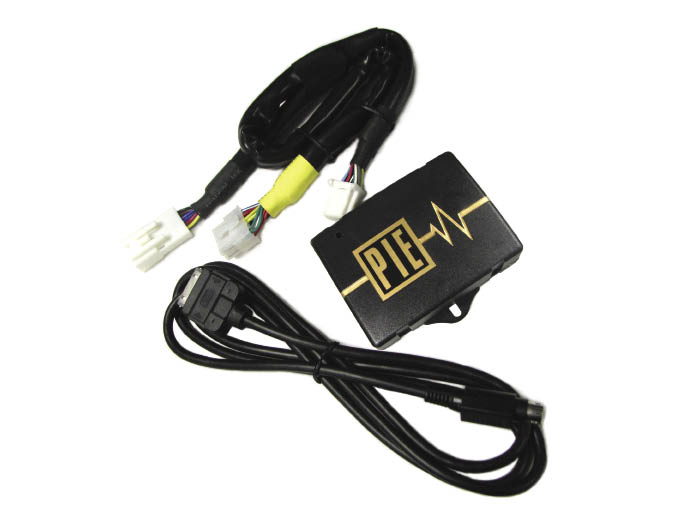 Precision Interface Electronics
iPhone/iPod Interface
Everybody wants to listen to their iPods and iPhones in their cars, but plugging into the factory radio's AUX port is lame; plus, it doesn't charge your device. Precision Interface Electronics makes a cleaner solution for most Honda, Toyota, Lexus, Acura and Scion vehicles. Not only does it play your idevice through the radio; it charges it and lets you control playback and track selection from the radio. Check out the HON03-IPH for 2003-2011 Honda and Acura, TOY03-IPH for 2003-2011 Toyota and Lexus, or TOY-IPH for 1998-2005 Toyota and Lexus vehicles. Professional installation is recommended.
---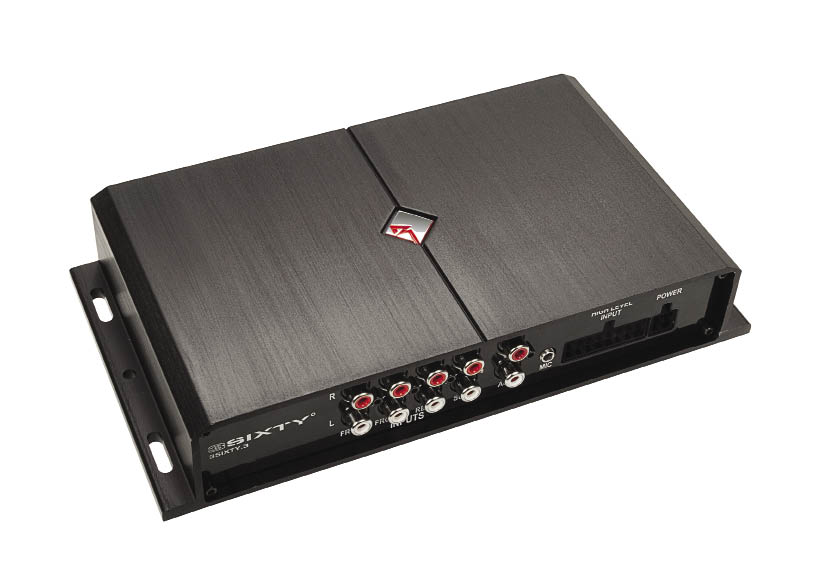 Rockford Fosgate
3SIXTY.3 Interactive Signal Processor
Rockford Fosgate's 3sixty.3 gives customer's seamless OEM integration and complete control over their audio experience. The Rockford Fosgate 3SIXTY.3 Interactive Signal Processor allows aftermarket car audio equipment to be integrated into existing OEM environments by utilizing artificial intelligence to automatically correct OEM inadequacies to restore a flat frequency response. Customers can then customize their sound by using the computer interface to set up such features as a multi-band EQ, time alignment, crossover type, slope, and frequency. The 3sixty.3 will also wirelessly play music on your smart phone, MP3 player, iPad, or other Bluetooth equipped device through your stereo system.
---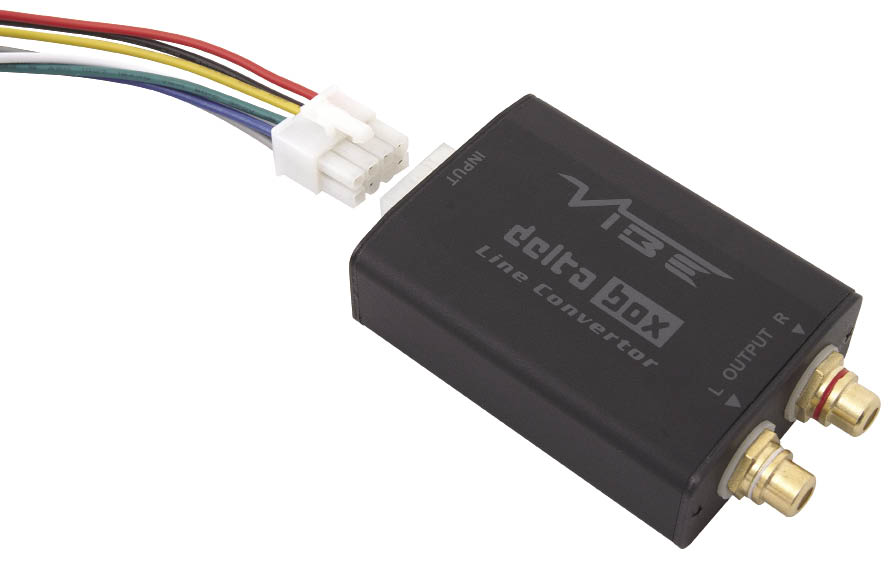 VIBE
Delta Box Line Convertor
The Delta Box Line Convertor provides the perfect solution for integrating your aftermarket amplifier with your Factory Fit / OEM headunit. Not only does this line convertor derive a low level RCA output for your amplifier from the speaker outputs of the headunit but thanks to VIBE AUTOSENSE technology also provides a remote turn on for your amplifier without the need to add a separate switch or locate an ignition switched +12 Volt supply in the vehicle.