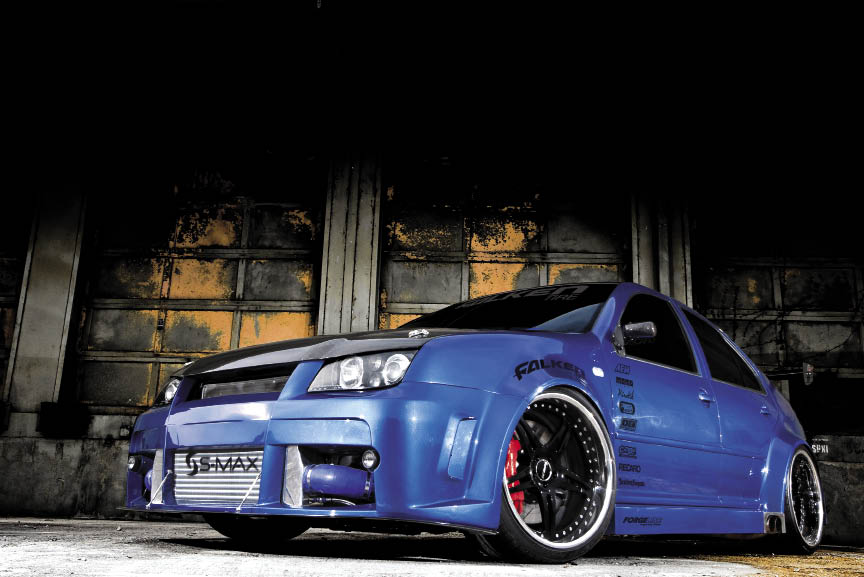 Chances are, you or a family member has owned a Volkswagen at some point in time. Way back during the explosion of the cult-classic Beetle days or hoping aboard the diesel train whenever there is a manufactured gas crisis by the oil companies, Volkswagens have always been tailor-fit for diverse markets. The cars used to be built like German Panzer tanks but then at some point in the '90s, VW started diversifying into Mexico and then making their entire lineup uber-complex. Then some genius at the Stuttgart Headquarters decided VW was going to go upscale luxury and developed outrageous projects like the Phaeton and the twin turbo V10 diesel Touareg. Great cars but no one is going to pay over $100K for the latest version of the "People's Car." The VW brand, however, has the 18-34 year old sector on lock, developing loads of capability off the showroom floor and at a reasonable price.
Since the '50s, VW has developed its own subculture that stretches from Alaska to California, North Pole to Florida and all points in between. And when WaterFest (www.waterfest.net) drops in New Jersey, every VW gearhead shows up. It's a dedicated fan-base that is so loyal, they have no problems with tattooing VW's trademarked logo on their body, sometimes more than once. That is the measure of success for any brand, the ultimate goal of any marketing professional.
Well that and selling insane amounts of cars and parts, so when Todd Sollar of Centerville, OH surfaced, we knew he was the poster child of VW's success. Considering Sollar switched over from the H-badge having owned some tricked-out Preludes and Del Sols, I'm sure the execs at VW would be rubbing their hands together doing their best Mr. Burns impression realizing they have yet another convert.
Sollar bought the car with intentions of keeping it stock but that only lasted a few weeks. At first just a couple tweaks and then the gloves came off. "At some point I just started going crazy on the car," admits Sollar, "and I wasn't going to stop until I got it in a magazine."
Mission accomplished. Purchased new off the dealer floor, Sollar knew the stock 1.8T needed a makeover. The motor was yanked and sent off to DTR Performance in Florence, KY. While it was out of state, the motor received a fresh rebuild with forged pistons and stronger rods. The head was also ported and polished for the gobs of airflow it was about to receive. DTR fabricated a custom 4-into-1 header which a SPA GT30R turbo hangs off. The spent gases were expelled using a TiAL 44mm wastegate passing into a custom 3-inch side-exit exhaust clamped with V-bands.
Fueling the fire is a massive Aeromotive 700 inline fuel pump complete with a surge tank. The high octane feeds into the ATP billet rail with S-Max FPR and spit from a quartet of 800cc Bosch injectors. Sucking in air is a custom 4-inch intake, which is made more combustible by an S-Max intercooler, DEI CryO2 cooler and maze of polished DTR intercooler pipes. Then, a VR6 throttle body is fitted to a DTR intake manifold, heavily polished of course.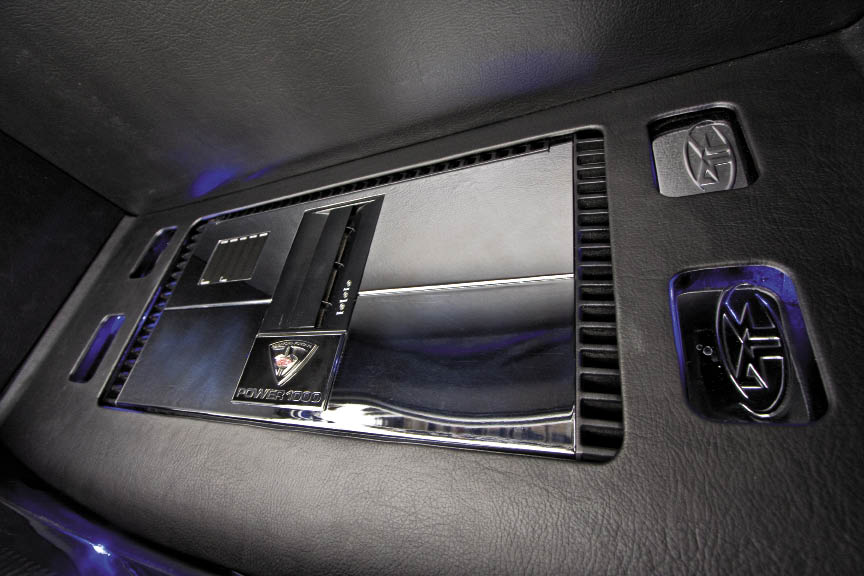 One of the highlights lurking beneath the hood is that the entire engine bay was smoothed out and re-sprayed. Wiring harnesses were ghosted and several items were deleted including the A/C system, heater, emissions equipment, coolant reservoir, washer bottle and sprayers. DTR added a polished stainless steel catch can and power steering reservoir. The effect is one clean bay that shows off the custom magic without all the clutter.
The tuning was done by DTR back in Kentucky. Using a 034 standalone 2C engine management with an onboard wideband sensor, the motor puts down some solid power. In its fairly conservative state of tune, the car is currently putting down just under 400whp and will have achieved in the neighbourhood of 10% more before year's end. "Even with 265s up front and a Quaife LSD, the car is tough to control," states Sollar.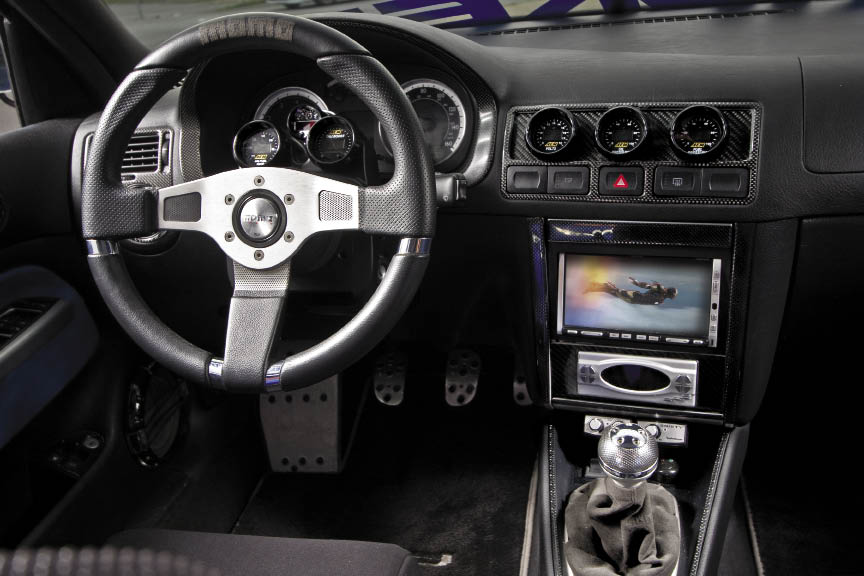 The nutty body work and grossly overstated wheels are something that sets this project apart from the masses. Not many people would undertake a project like this and that's no huge revelation as Sollar stopped calculating after $100,000 was sunk into the build process. The entire widebody is not some grafted-on FRP kit but rather a full custom metal widebody fabricated by DTR. The front and rear bumpers are remodeled Zender designs to fit the widened bodywork. The rolling chassis was sent to Custom Collision in Middletown, OH for a fresh re-spray in factory Blue Lagoon Metallic and four coats of clear.
Stuffed under the new shell are Forgeline SP3-P alloys with a 9-inch front and 12-inch rear boasting a 4-inch dish. Cloaked in Falken FK452 256/30R19 front tires, the rear can accommodate enormous 315/25R19 meats! The look is accented with carbon fibre galore including VIS trunk and hood with an APR carbon fibre GT200 wing, front splitter and GT3 mirrors.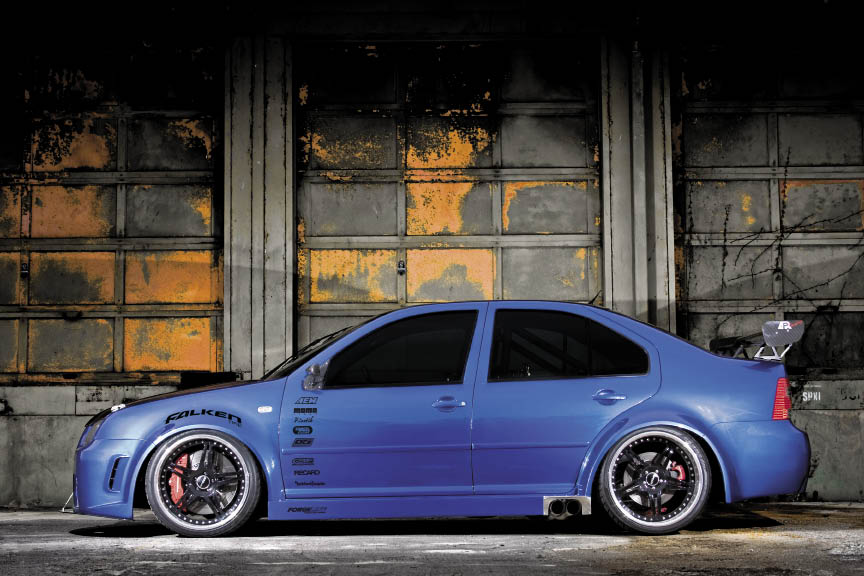 To bring the ride to a full and complete stop are ECS Tuning's modified 6-piston Porsche calipers with monster 15.1-inch rotors. On the rear are 4-piston calipers with menacing 12.1-inch discs and street / track pads. The Easy Street air suspension proves to be capable but mostly geared for show being able to raise and lower the car several inches with in-car controls. Neuspeed front and rear sways help reduce the roll while the Neuspeed tie bars cinch together the chassis.
From a driver's perpective, the interior integrates everything one could need. Stiff and functional Recaro SPG seats are threaded with Momo 4-point harnesses. The cabin is protected by a DTR-built Chromoly cage with Pro Werks bottle brackets holding the CO2 tanks. The rear seat has been deleted and in its place sits some custom trim and an illuminated logo. Suede accents are everywhere and Momo upgrades include a sport steering wheel, e-brake handle and shift knob connected to a Neuspeed short-shifter. The engine vitals are displayed on AEM's electronic gauges: Tru Boost controller, Wideband UEGO, Voltmeter, oil pressure and fuel pressure. Shift points are signaled with Auto Meter's programmable shift light and tach to keep it out of the red zone.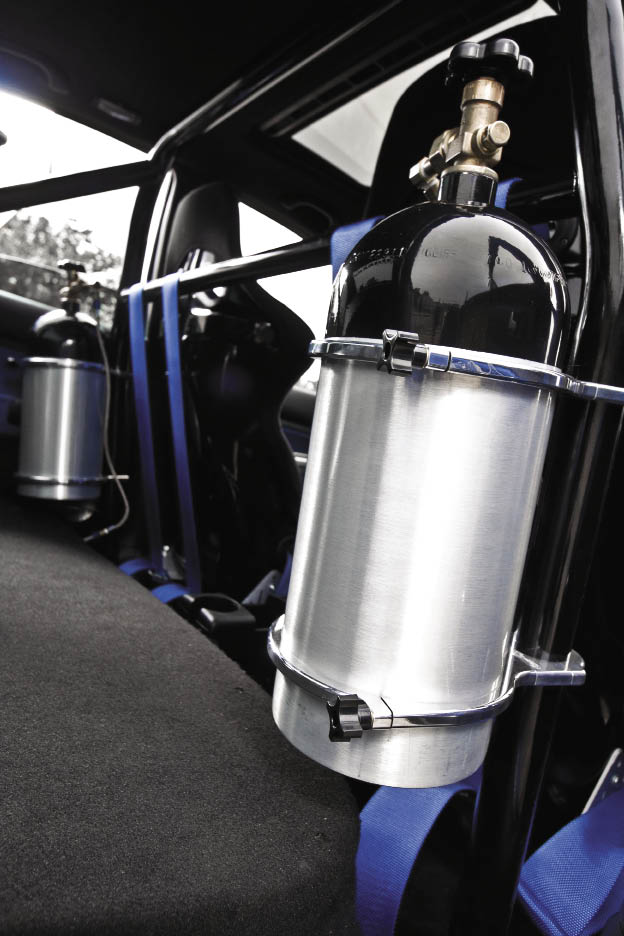 The audio and multimedia setup is a barrage of some of the most volume-churning gear available. Up front is a Clarion MAX675VD DVD head unit to orchestrate the system and display DVD, nav and HUD graphics. A 3sixty.2 sound processor sorts out the frequencies destined for the Rockford Fosgate Power 1000 Limited Edition 5-channel amp. Lows are sent to the Power T1-15 sub in the custom enclosure while the mids and high frequencies go to the Rockford Fosgate T162 6.5-inch component speakers in the front and rear of the cabin. A pair of Kinetik batteries (the HC1800 and the HC600) power everything up and the whole shell received DEI Boom Mat treatment before reassembly.
Ohio has never seen anything like this. Sollar even drove up to our Toronto office for our annual Waterfest Kruize (www.waterfestkruize.com) and this hotbed of Euro cars had never seen any VW built to this level either. If it was de-badged, 99% of the population would have a real hard time determining just what this vicious 4-door sedan really is. But then again, does it matter who made it? Sollar has clearly reinvented everything about this car and for a guy with loads of manufacturing experience working for GM, he probably should think about starting his own company.
THE ESSENTIALS
Owner: Todd Sollar
Location: Centerville, OH
Vehicle: 2004 Volkswagen Jetta


ENGINE MODIFICATIONS
SPA 60-48 GT30R turbo
DTR Ported & Polished head
DTR Tubular style welded 4-1 turbo manifold w/ DEI wrap
DTR 4-inch custom stainless steel polished intake pipe
DTR Polished aluminum intake manifold
DTR Polished stainless steel intercooler piping
DTR 3-inch stainless steel V-band side exit exhaust w/ twin tips
DTR Polished stainless steel breather catch &
power steering tank
TiAL 44mm wastegate
Bosch 800cc injectors
ATP polished fuel rail
Aeromotive 700 inline fuel pump
S-MAX adjustable FPR
S-MAX SW300 BOV
S-MAX intercooler
S-MAX vacuum manifold
DEI Cry Intercooler sprayer & fuel cooler
VF Engineering engine mounts
Samco silicone hoses
Worth Zebra heavy duty clamps
Neuspeed power pulleys
Polished OBDI VR6 Throttle body
034 Stage 2c with wideband EGO sensor
Six-speed w/ Quaife LSD
South-bend stage 3 clutch
EXTERIOR
DTR Metal Widebody
DTR stretched metal sideskirts
Zender Racer R front and rear bumpers (modified)
VIS carbon fibre hood and trunk
APR carbon fibre: GT200 wing, front splitter, GT3 mirrors
FK angel-eye projectors
Blue Lagoon Metallic by Custom Collision
Graphics by Balance Point Graphics
WHEELS, TIRES, BRAKES
Forgeline SP3-P 19x10 front w/ 3-inch dish 19x12-inch rear with 4-inch dish
Falken FK452 265/30R19 front, 315/25R19 rear tires
ECS tuning Stage 5 15.1-inch 2-piece rotor w/ 6-piston
Porsche calipers
ECS tuning 12.1-inch rear brakes w/ 4-piston calipers
SUSPENSION
Easy-street sport suspension by Air Lift
Neuspeed front and rear sway bars
Neuspeed upper and lower front tie bars
Custom poly rear bump stops
INTERIOR
DTR 4-point chromoly cage
Recaro SPG seats
MOMO 4-point harness belts
MOMO air metal steering wheel, shifter and e-brake handle
AEM Electronic gauges: Tru boost controller, Wideband,
Voltmeter, fuel / oil pressure
Autometer programmable shift light / tachometer
Custom micro suede interior accents
ABD door sills and pedals
Pro Werks polished aluminum CO2 Bottle brackets
AUDIO / MULTIMEDIA
Clarion MAX675VD DVD head unit
Rockford Fosgate Power 1000 5-channel amp
Rockford Fosgate T162s 6.5 component sets front and rear
Rockford Fosgate wiring
Rockford Fosgate power T1-15 subwoofer
3Sixty.2 sound processor
Kinetic HC1800 and HC600 batteries
DEI Boom Mat sound-deadening
SPONSORS
FORGELINE WHEELS
FALKEN TIRES
S-MAX
AEM
DTR PERFORMANCE
VIS RACING
APR
SAMCO
034 MOTORSPORTS
ECS TUNING
DEI
MOMO
RECARO
BALANCE POINT GRAPHICS
KINETIK
ROCKFORD FOSGATE