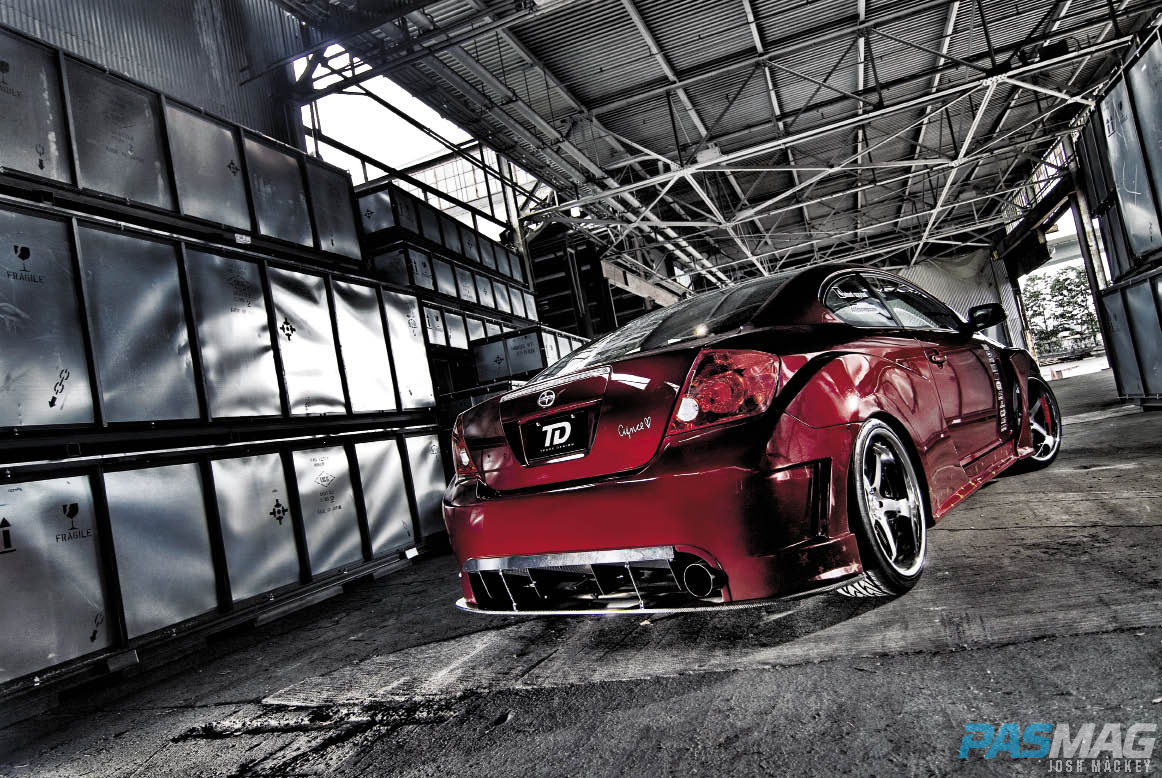 Written by Dave Pankew / Photography by Josh Mackey and Nick Parker
There is one in every circle of friends. You know the guy who gets married young and gets whipped into doing anything his little lady tells him to. He's the first to talk mad game, but also the first to bail on you when it's time to go mix it up at the club. It's the same cat whose house is a snapshot of whatever Martha Stewart is claiming to be the latest trend. The dried flowers, the country kitchen accents, the BS needlepoint art on the wall or something worse like chiffon curtains or throw pillows. Damn, I'm getting nauseous picturing it, but some girls out there have more style, which has spilled over into the tuner world in numbers never seen from car-crazed days of the past.
Enter Cynce Tester. No, that isn't the trade name for some new voltmeter; it's a girl's name, pronounced just like "since." As for Tester, well ask her ancestors about that one. Forget all that – the bottom line is this girl is down for whatever considering her automotive roots. Originally from Palmdale, CA, her father is a 30-year veteran mechanic in an area with a popular racetrack in the backyard: LA County Raceway. While Burt Tester was more of a circle track guy, we can't ignore the irony, as LACR is one of those tracks at which amped-up imports were throwing down at a time when displacement ruled. Many of today's big-name racers have spent nights out there breaking stuff in order to go fast and carve out a rep for 4-bangers and rotaries. It's those beginnings that spawned the success of launches like Scion, where the car is simply a base to be modified to individual tastes.

Tester's tastes are obviously outrageous. There isn't much left to replace on this chassis and the rebirth of this particular tC is a far departure from the majority of the modified examples out there. "What other company actually encourages the buyer to modify their vehicles to their liking?" asks the 22-year-old Tester. "What was originally purchased as a sporty daily driver soon became a major project. I just couldn't help myself from upgrading it and then I just couldn't stop." After a year of steady modifications, Tester decided to team up with a builder that would engage in something more major and meet all of her expectations – including attending SEMA 2006. "I chose Matt Teske of Teske Design who would approach the project the correct way, starting with a bad-ass computer rendering to solicit sponsors with," Tester admits. "A project like this is a lot of networking, scheduling and serious project management; it was almost like a full-time job but worth every second." Since Tester (homonym anyone?) was going to go big-league, she understood her limitations and handed the keys to Teske who has over 10 SEMA creations under his belt.
One of the more common criticisms we hear about cover cars is "well, the owner didn't build the SEMA car, they only paid for it." That kind of hating is getting tired and I don't care who you are, you didn't do the computer rendering, then build the motor, then upholster the interior, then form some custom carbon fibre panels, then weld up the exhaust or perform every single detail down to the chrome plating and drop in the audio gear on your lunch break. No one can. But go ahead and try to tell that to Tester, who slaved 80-hour-work weeks to fund the build, then stayed involved during late nights, wrenching on the motor with her dad and getting her hands dirty in as many areas as possible along the way.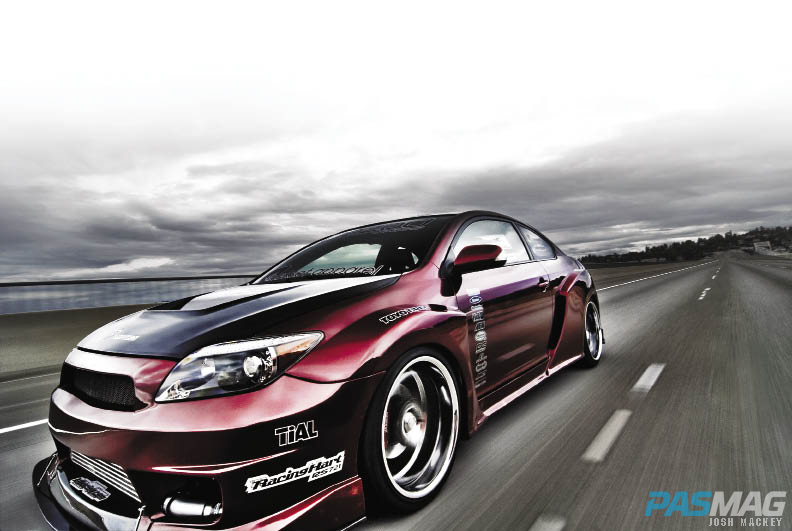 The first item was to start stripping the car down to prep it for the luscious paint job. It was a feat Tester and Teske Design had zero issues with. The kit fitted up was an AIT K-1 Series widebody consisting of eight pieces of FPR construction. The side skirts and panels were moulded in with seamless perfection, and the whole shell was shot with some tasty House of Kolor: Kandy Apple Red with a Gold base-coat. The multi-step process was carried onto the seatbacks, underside of the hood and empty engine bay with a speckle of ghosted stars tastefully spread around the car. Afterwards, a Kaminari grille was fitted up to replace the factory offering and an AIT front carbon fibre front lip was paired up with an APR rear carbon fibre diffuser. A Kaminari reverse-cowl carbon fibre hood was added along with striking two-tone graphics to drop some sponsor love. The aggressive Izn-Trbl projector headlights fire out blue beams sparked by 8,000K HID ballasts. Complete with its series of active venting, bulging fenders and IC pipes poking out through the bumper, it's hard to dispute this car is well worthy of SEMA.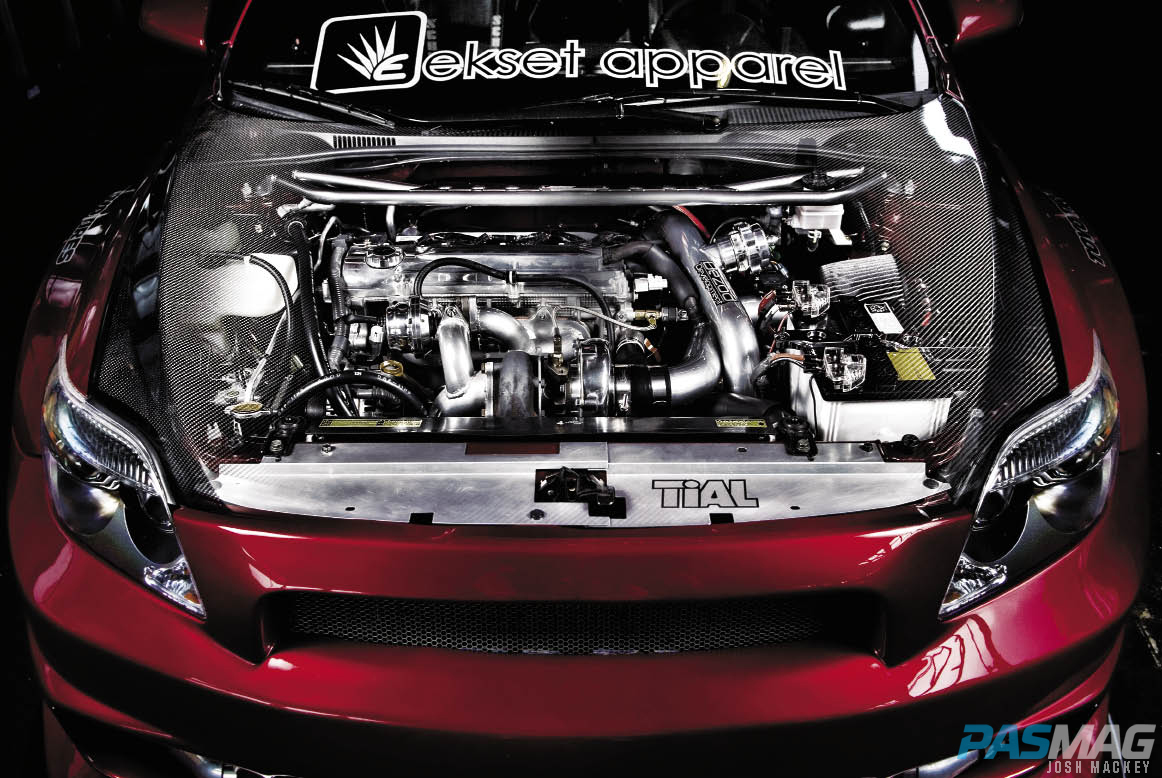 As expected, Tester didn't go overboard assembling a show queen. She invested lots of time (and sweat) in the 2.4L motor. "Me and my Dad did the work on the motor," Tester states. "I used to work on his race cars when I was younger and I could see his eyes light up when we had a chance to do it again after so many years." The strong 2AZ-FE is a worthy forced induction candidate and the Testers sided with Dezod Development to push the project. A Dezod-spec T3/T4 turbo kit was bolted up to a motor with some fresh gaskets just to keep it reliable. A Dezod ceramic-coated manifold is found on the exhaust side with a TiAL 38mm external wastegate hanging off it. Air gets yanked in via an AEM Dry-Flow intake and post-compression goes through some custom Dezod piping and a Spearco front-mount.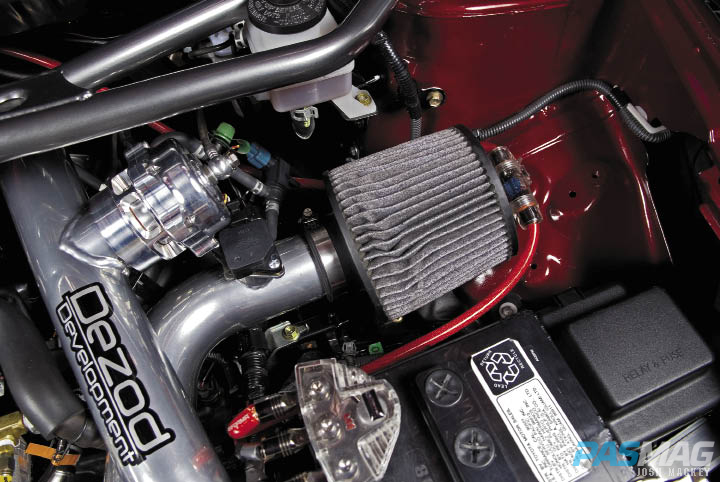 A GReddy e-Manage with a Dezod harness oversees the operations with four Denso 550cc injectors. After many hours at R&D Dyno in Gardena, CA, some final numbers came through. The results are a respectable 280whp with over 300ft-lbs of torque channeled though an ACT street disc.
With the fatter widebody comes a need for higher width and offset wheels. Racing Hart RS721 19- x 8.5-inch alloys are installed all around with Toyo Proxes4 235/35ZR19s touching the asphalt. Tester went with a mild Rotora setup for the braking duties consisting of SS lines, single-piece slotted rotors and 4-piston grabbers coated in red.
Under the chassis, Tester opted for H&R adjustable coil-overs to shred up the road surface. She added H&R sway bars, harder urethane bushings and DC Sports tie bars to get the Scion dancing with the stars.
Don't even roll up to SEMA if your interior isn't hard-hitting too. Sure, most of the cars are locked up but at SEMA the entire project has to be intact (even though some are pushed in and out of the show – there, I said it). Tester dragged the car over to J&G Customs in Fountain Valley, CA to get gangster with it. The A-, B- and C-pillars were wrapped in rich black suede as was the headliner and rear interior quarters. Then, a 7-piece carbon fibre package was custom fabb'ed for an interior treatment beyond description. A pair of Cobra Imola S-GTs was installed but not before Stitchcraft of Westminster, CA weaved up new leather and suede patterns for them. Snaking through the seats is a pair of Schroth 4-point harnesses matched with a custom harness bar. A trio of AEM gauges fill the suede A-pillar to relay boost, AFR and oil temps. Straight from Sparco are a Globe shift knob, Mugello steering wheel and oh-so "sessy" CF pedals, allto accept the driver commands to maneuver this Toyota prodigy around.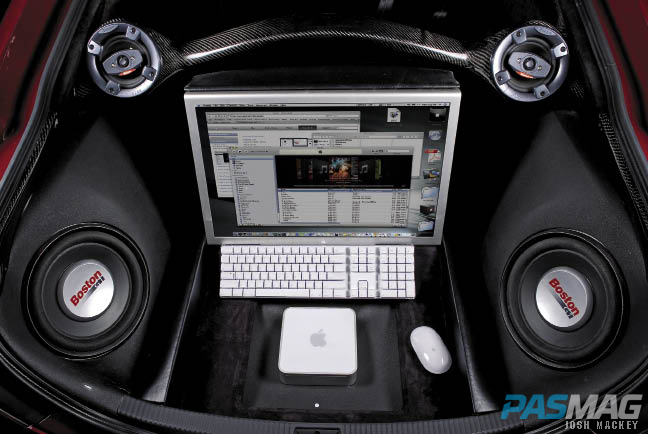 When is comes to 12V, Tester also had some visions of more than ordinary. Aside from the sound gear, it's interesting to see this car running a Mac! Teske and Tester sat down and pored over an Apple catalogue before deciding on all the gear. At the core is a Mac Mini computer connected to a healthy 23-inch Apple display and an iSight high-def camera, all controlled by a wireless mouse and keyboard. The balance of the A/V is orchestrated by a Pioneer AVIC-N2 LCD Nav unit and the prerequisite PS2 slim is integrated into the dash. The custom sub enclosure is vented to mimic the cues on the widebody kit and filled with two Boston Acoustics 10-inch G-110 subs. The subs are driven by a Boston Acoustics GT-22 amp with a GT-20 amp to run the midrange GT-20 components and their tweets.
The judges recognize the car is something special too. With 30 trophies in total, when it comes to Scions, the competition is in a bit of a predicament to compete. But above all, she uses the Scion regularly and realized her dream through all the crap that it took to get there. As this is only her first major build, we're sure this isn't the last time you will have to remember how to pronounce "Cynce."
Read on for Full Spec Sheet
THE ESSENTIALS
Owner: Cynce Tester
Location: Portland, OR
Vehicle: 2005 Scion tC
ENGINE & PERFORMANCE
Dezod-spec Turbonetics T3/T4 turbo
Dezod ceramic-coated header
Dezod downpipe
Dezod intercooler piping
Spearco Intercooler
TiAL 50mm BOV
TiAL 38mm wastegate
Denso 550cc injectors
AEM Dry Flow intake
DC Sports exhaust
EXTERIOR
AIT K-1 widebody
AIT front CF lip
APR rear carbon diffuser
House of Kolor Kandy Apple Red
Kaminari reverse cowl CF hood
Kaminari front grille
WHEELS, TIRES, BRAKES
Racing Hart RS721 19- x 8.5-inch
Toyo Proxes4 235/35ZR19
Rotora 4-piston brakes with slotted rotors
Stainless steel lines
SUSPENSION
H&R coil-overs
H&R sway bars with bushing kit
DC Sports tie bars
INTERIOR
Black suede A-, B-, and C-pillars, headliner and doors
Eight-piece CF interior panels
Cobra Imola S-GT leather / suede seats
Schroth 4-point harnesses
Sparco Mugello steering wheel
Sparco CF pedals
AUDIO / MULTIMEDIA
Apple Mini Mac
Apple 23-inch Cinema Display
Apple iSight camera
Pioneer AVIC-N2
Boston Acoustics G-110 10-inch subs
Boston Acoustics S55 mids
Boston Acoustics S60 tweeters
Boston Acoustics GT-22 sub amp
Boston Acoustics GT-20 mid amp