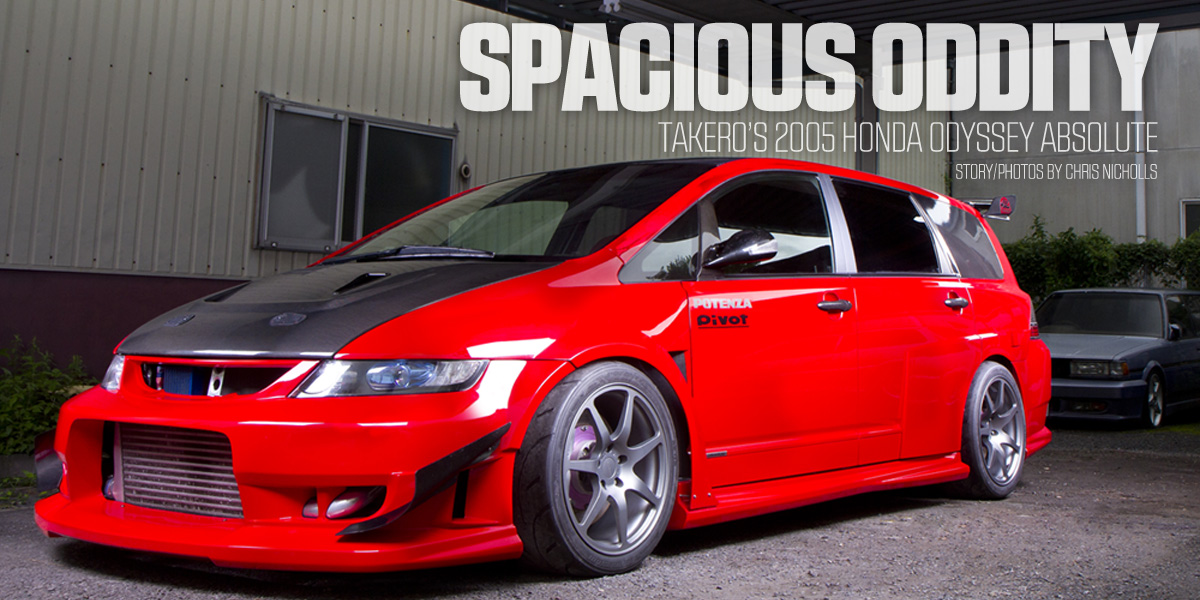 "So you have a 400-horsepower, manual-conversion, track-only Odyssey. What's your daily driver?" I ask. Owner Fumihito Kawashima points in the direction of a white Evo wagon and a white Stagea RS. "That black thing there." Huh? The only "black thing" in the vicinity is a shopping bicycle, complete with basket on the front. "You own a track-only Odyssey and your daily is a shopping bike?!" "Yup. My son owns an Evo 7 daily, though," he laughs.
This conversation, and the fact Kawashima-san decided to build a track-only Odyssey in the first place (ignore the number plate – it's registered, but has no shaken so is illegal to drive), should be all the information you need to understand he is no normal car enthusiast. An apparel industry worker by trade, Kawashima-san also did the majority of the work on the Odyssey himself, entirely in his spare time, over the space of two years. That included laying up some of the carbon fiber parts, including the passenger-side dash panel, rear three-quarter windows and rear window, the manual conversion and all of the electrical work; all of this despite having no formal training and facing the daunting task of starting with a bare chassis. In fact, just about the only things he didn't do were spot welding the chassis, fitting the body kit and paint.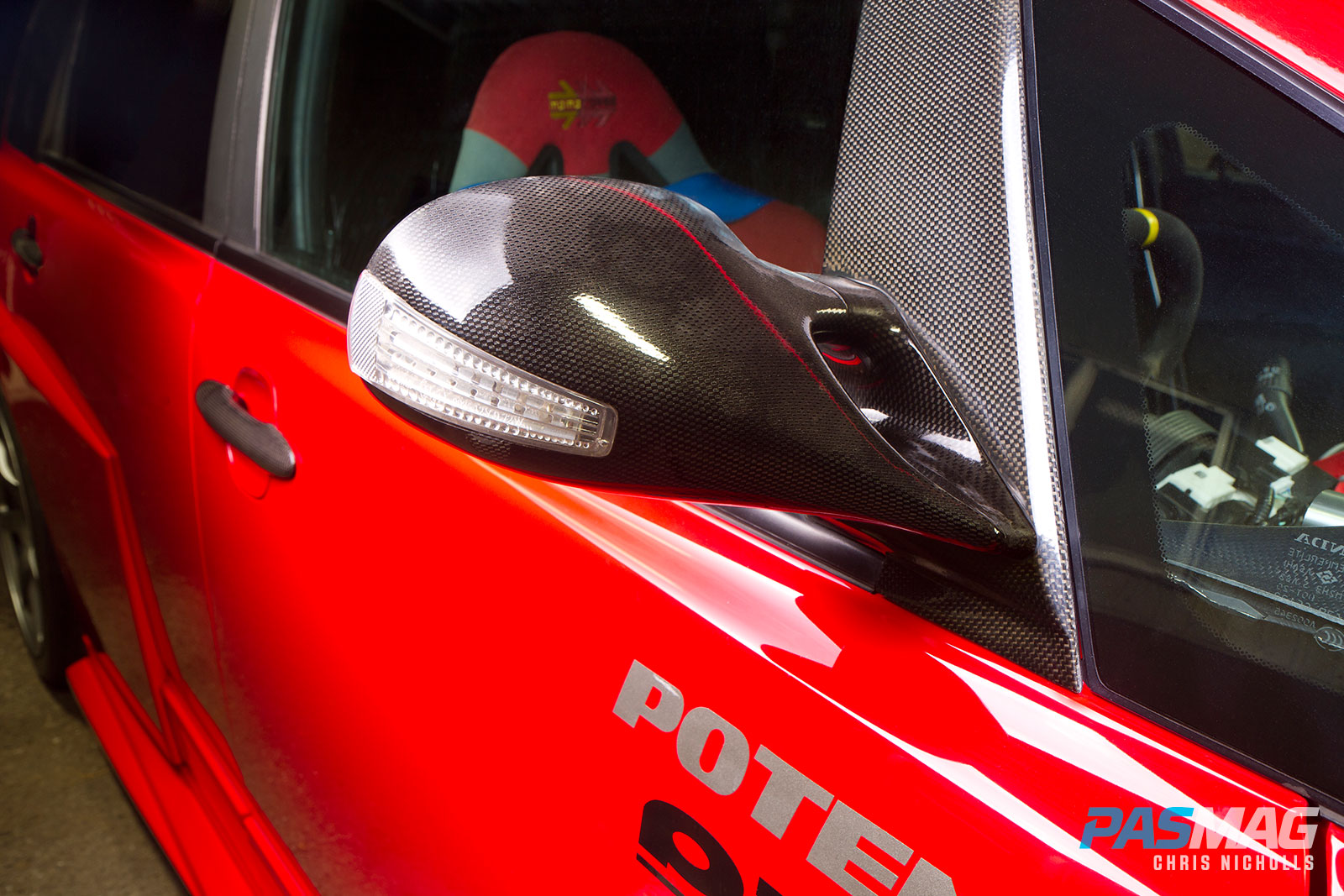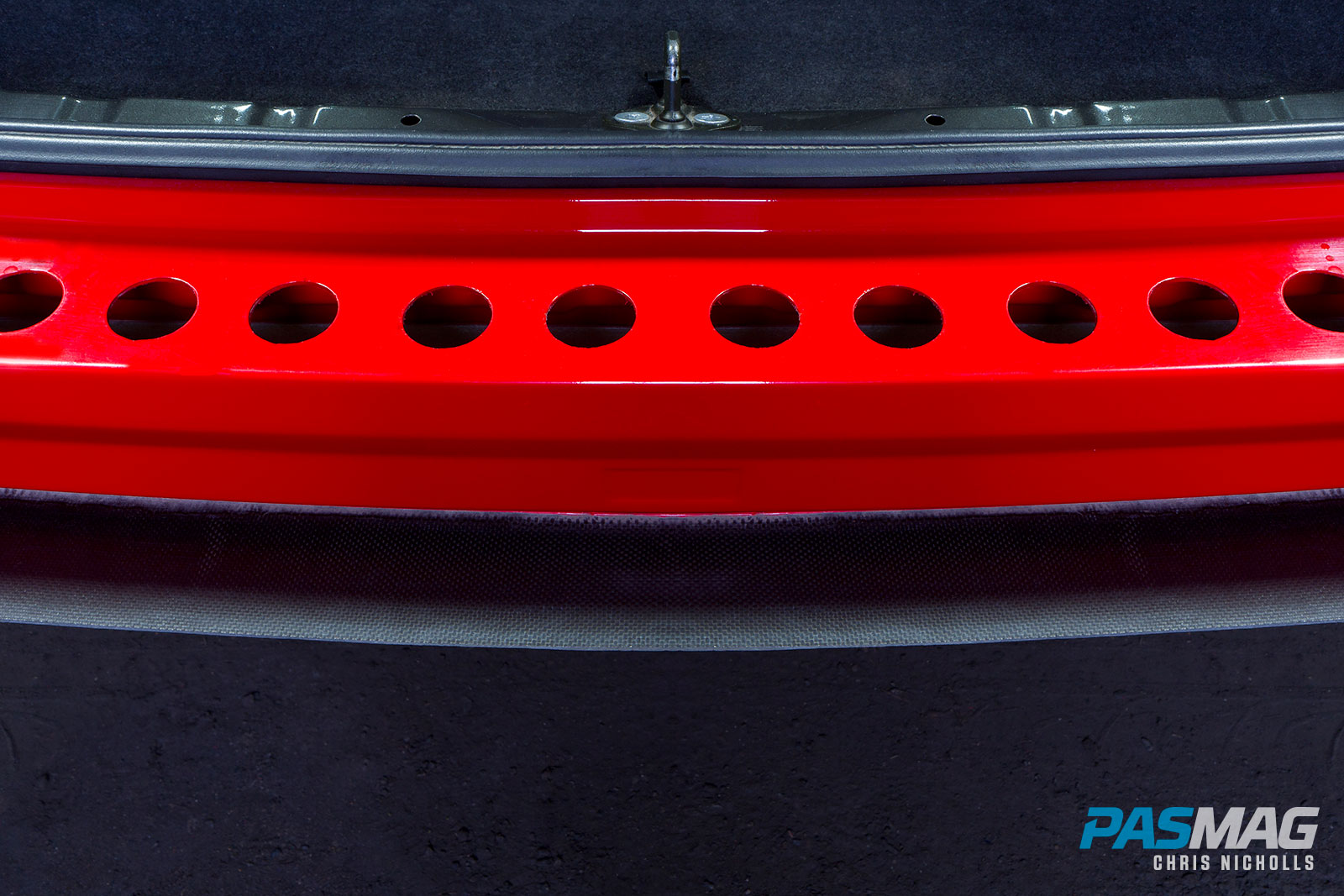 This he left to the guys who made the kit, and who lent him workshop space — wagon tuning specialist Takero's. You might remember Takero's from our recent Japan special, as they helped create possibly world's only overfendered RS260 Stagea, complete with 2.8-liter, 600-horsepower RB26. However, they also have a long history of tuning Odysseys, especially for track work. Indeed, their current main demo car is a 600-horsepower AWD track-only Odyssey Absolute. So it makes sense that Kawashima-san chose them to help out with the project.
But why an Odyssey track car in the first place? "Well, the first time I drove one, I just felt, 'This would go alright on the track.' So I built my first one." Simple, huh?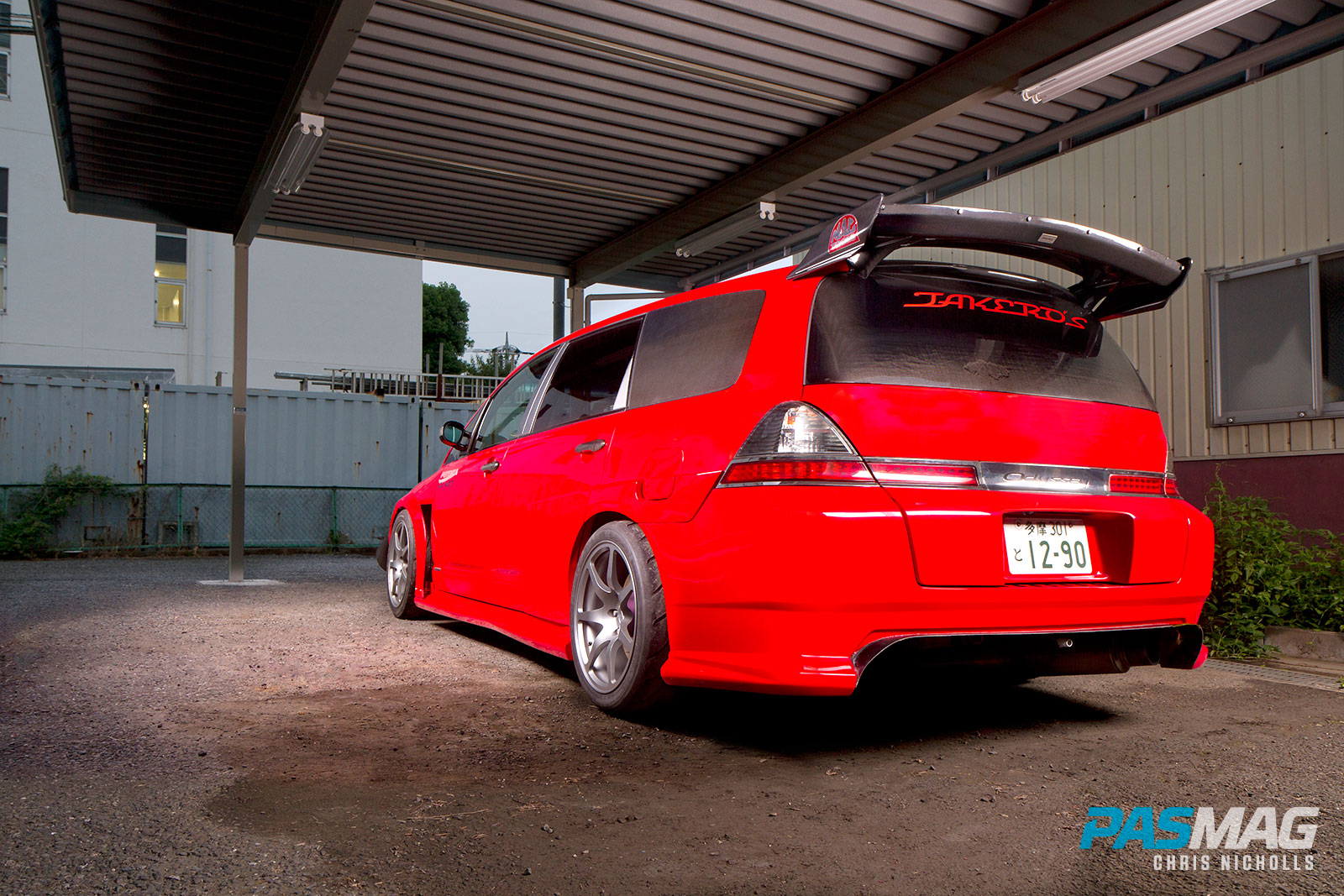 That first one, a lower-spec Odyssey with a K24A lacking VTEC on the exhaust side, wasn't all that highly tuned, with the standard motor augmented with some nitrous and your regular track-car mods (coilovers, better brakes, etc.). Sadly, during a shoot for a local magazine, a professional driver hired to extract the best out of it around Tsukuba managed to ignore some low oil pressure warnings and subsequently sent a rod through the block. Given replacing the engine with a higher-spec, dual VTEC Odyssey Absolute model's (the original plan to fix it) would actually cost more than buying a second-hand Absolute in its entirety. So, Kawashima-san decided to pull the plug on Odyssey number one and move to this current body.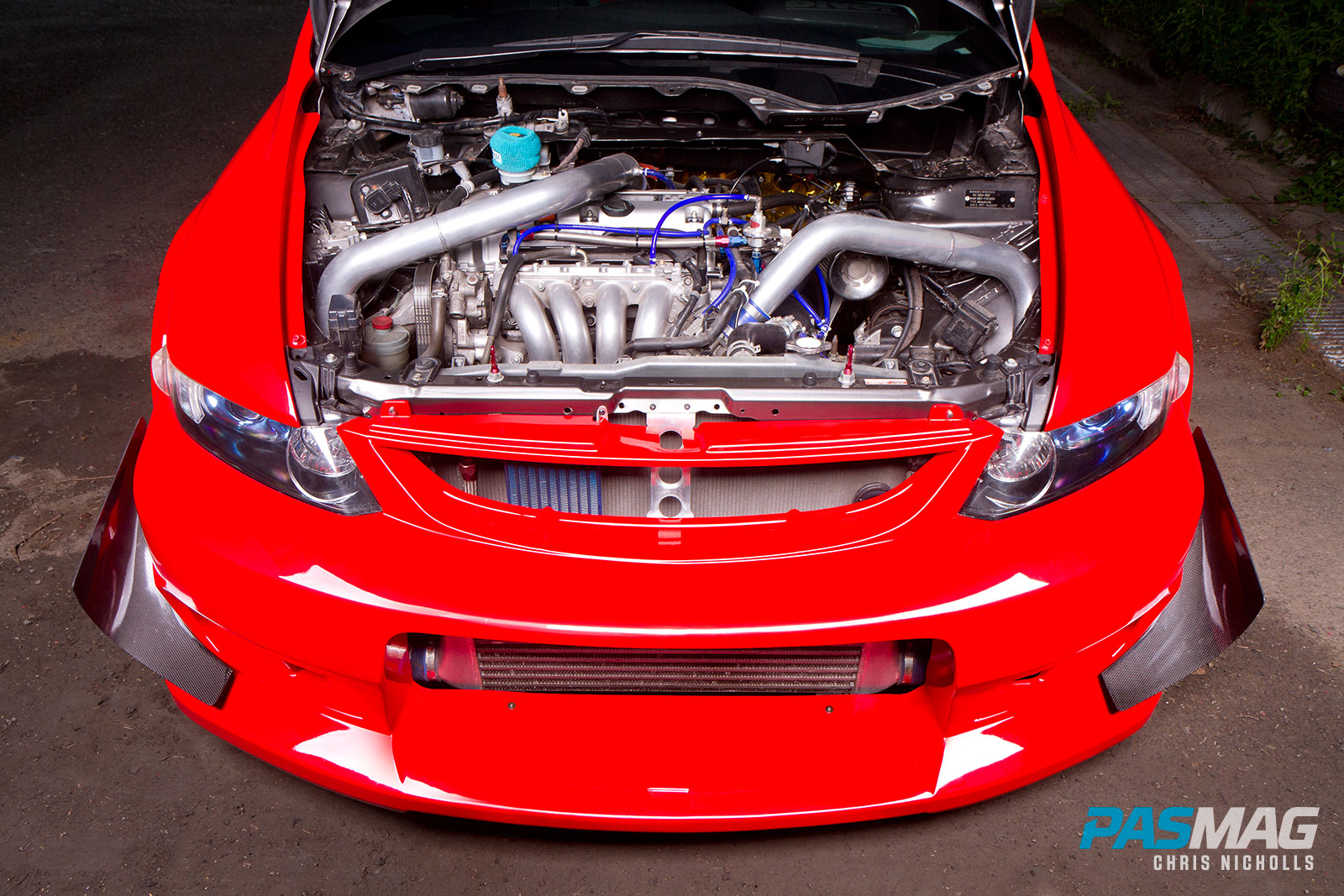 Unfortunately, his troubles didn't end there. Having built Odyssey number two to a higher spec, complete with turbocharged engine, he found himself staring at a flame-filled engine bay at a Tsukuba track day a couple of years ago after the wastegate actuator failed, over-boosted the engine and led to (yep, you guessed it) another thrown rod.
This third time is hopefully the charm, though. Having stripped the car down to the bare chassis after the fire, Kawashima-san decided to start again, and really work on getting things right. As mentioned earlier, he asked Takero's to spot weld the body, and also modify the front end so the entire engine can come out in 30 minutes flat (handy when the turbo's at the back). He then got to work stripping every last ounce of weight from the chassis and modifying it to fit a DC5R manual transmission, OS Giken twin-plate clutch and Cusco LSD, as the previous car's stock auto set-up — the only transmission ever available from the factory — obviously wasn't ideal for a circuit racer. After that came the carbon roof, the gold-lined engine bay (just visible with the engine in) and fitting all the mechanical, electrical and interior parts. And just to make sure any subsequent engine fires would be less expensive, Kawashima-san made his own custom electrical board to house all the electronics (including the Garage Zaurus ECU) within the passenger cell. Finally, Takero's fitted one of its Super Wide kits and painted the whole thing a gorgeous Pure Red.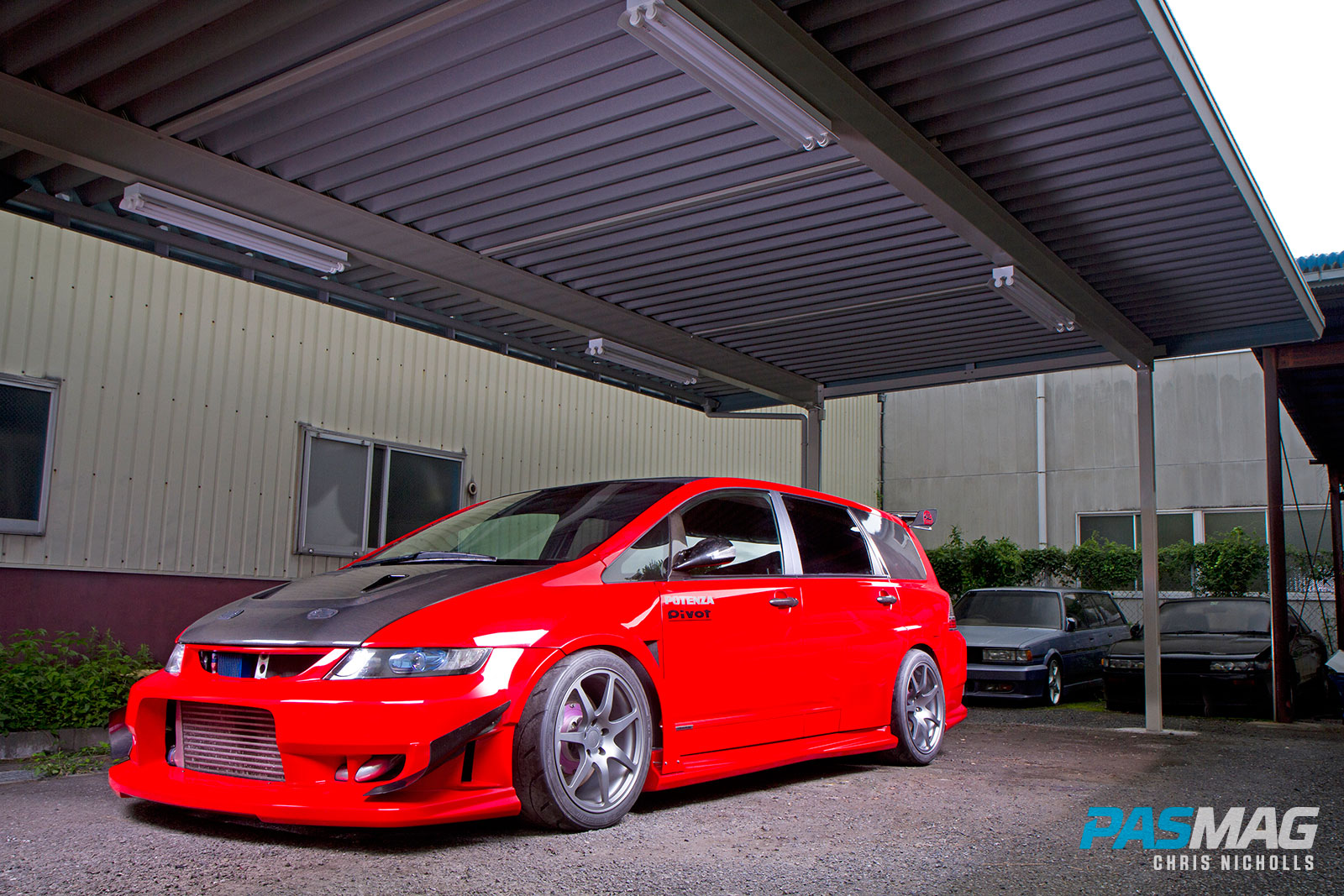 The end result, which only came together in April this year, is simply stunning. Sitting low on its 18x9.5-inch Prodrive GC07C wheels (+15 at the front and +30 in the rear) and Bridgestone RE11S rubber, and thanks to Takero's Racing dampers and Merewede springs, the car oozes hardcore presence, helped in no small measure by the Takero's six-pot front and four-pot rear brakes, complete with 355-mm two-piece rotors all-around. The Takero's body kit is easily one of the most handsome available for the Odyssey, and adds both useful width and aero functionality at the same time. Moving it around for the shoot, the Takero's 3.94-inch titanium exhaust makes a nice, growly note, which, when mixed in with the clutch's signature rattle, really brings home how serious this build is.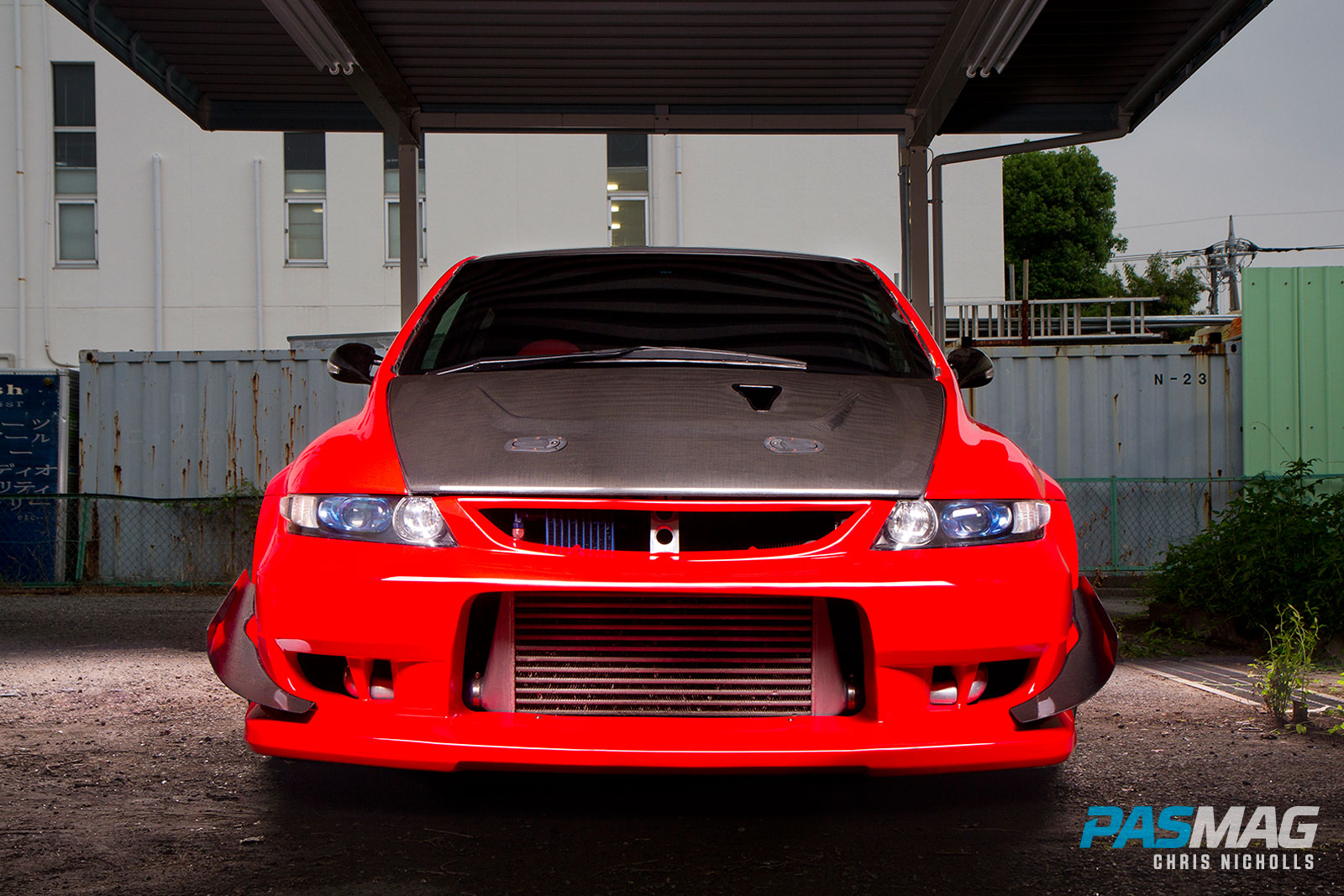 In case you needed further proof of this, it's worth noting Kawashima-san set a previous best of around 1:06 at Tsukuba, back when the car was heavier and running an auto with no LSD. In its current spec, he obviously aims to go much lower. Like, one minute flat lower, which is kind of nuts, given it's still technically a family wagon (albeit one with no interior and a single MOMO NASCAR bucket). Right now, it's still in the shakedown phase, so no benchmarks have been set, but come the traditional January time attack season next year, Kawashima-san is aiming to give it all it's got and see what happens. Hopefully it all hangs together and he can be the first person in the world to dip under the one minute mark at Tsukuba in a minivan.
Japan's modified car scene is one of the few areas of the country's culture where being truly different isn't just accepted, it's celebrated. Kawashima-san's Odyssey is no exception. It's always great to see something unique, and when it's unique, fast and good-looking, well, who can resist?
ESSENTIALS
2005 Honda Odyssey Absolute
DRIVER: Fumihito Kawashima
TEAM: Team Takero's
BUILT BY: Fumihito Kawashima, Takero's
ENGINE: Honda 2.4L I-4 (K24A)
HORSEPOWER: 400 hp (estimated)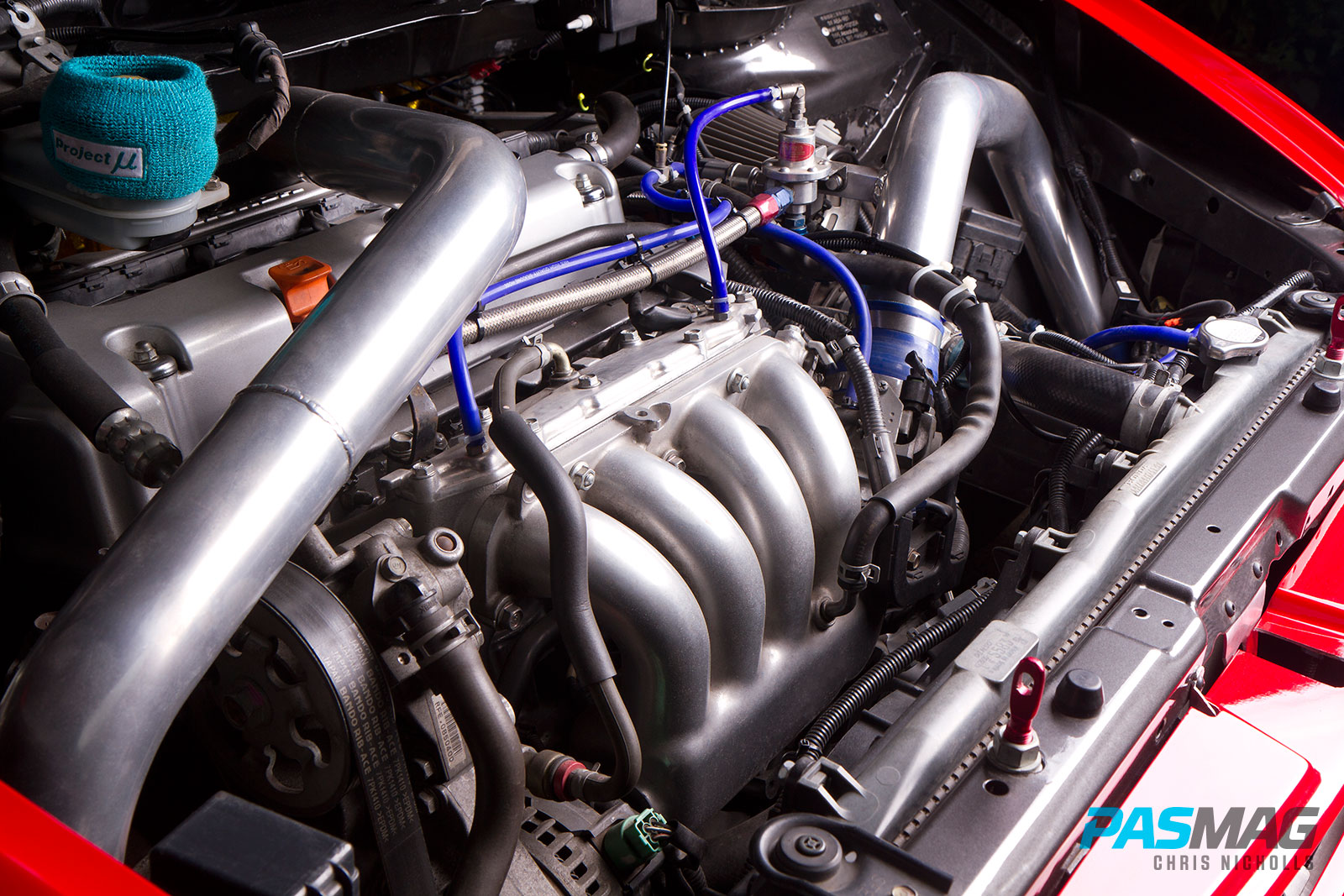 ENGINE MODIFICATIONS
HKS GT-RS turbo
Takero's (custom intercooler, head gasket)
Blitz SUS Power air filter
Modified stock (intake plenum, fuel rail, throttle body)
Sard 2354L fuel pump
Nismo 480 cc/m injectors
NGK Racing spark plugs
Garage Zaurus ECU
Custom engine mounts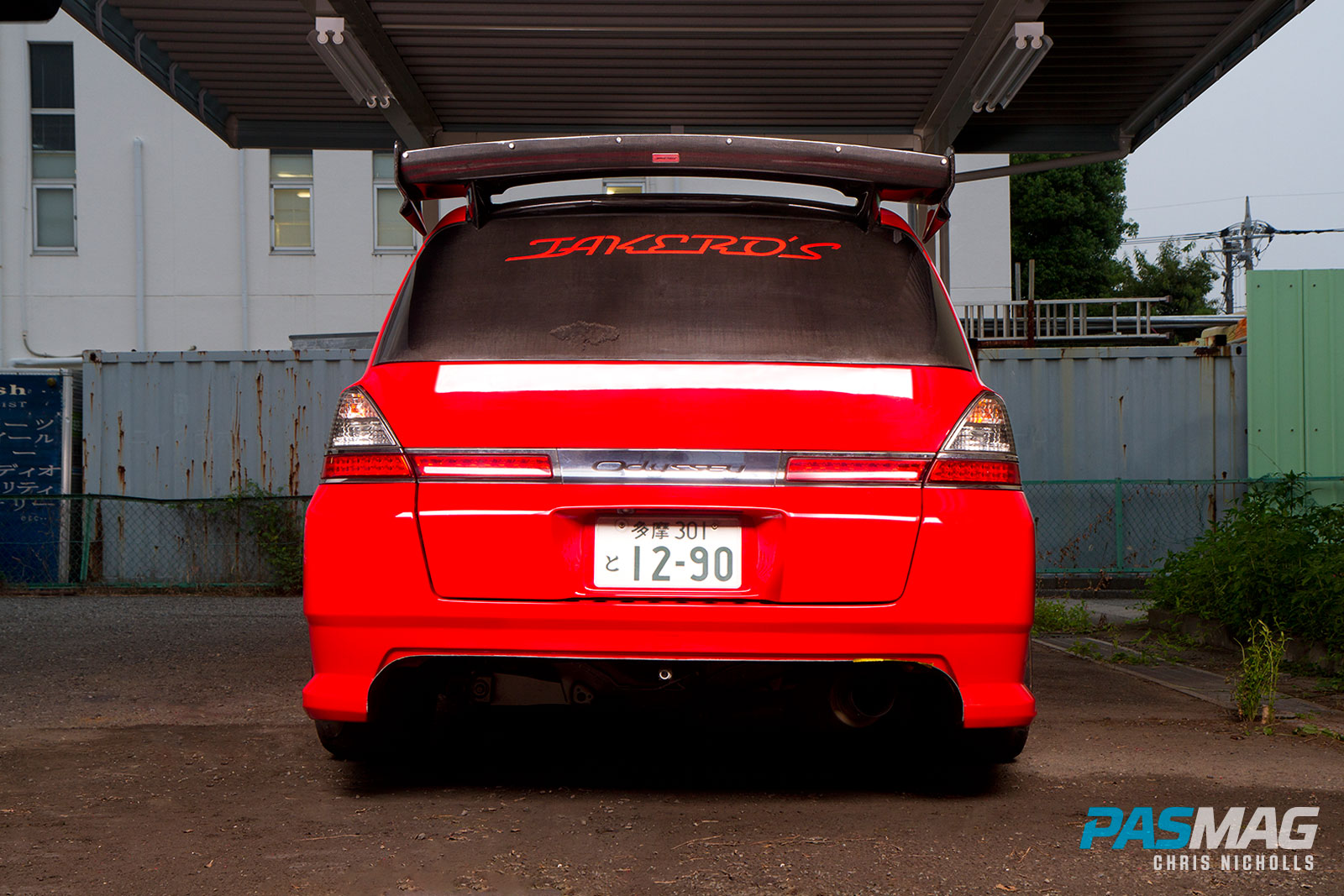 EXHAUST
Takero's (SUS exhaust manifold, 3.94-in. titanium exhaust)
DRIVETRAIN
Honda DC5R Integra six-speed manual gearbox
OS Giken twinplate clutch
Cusco LSD
Custom driveshafts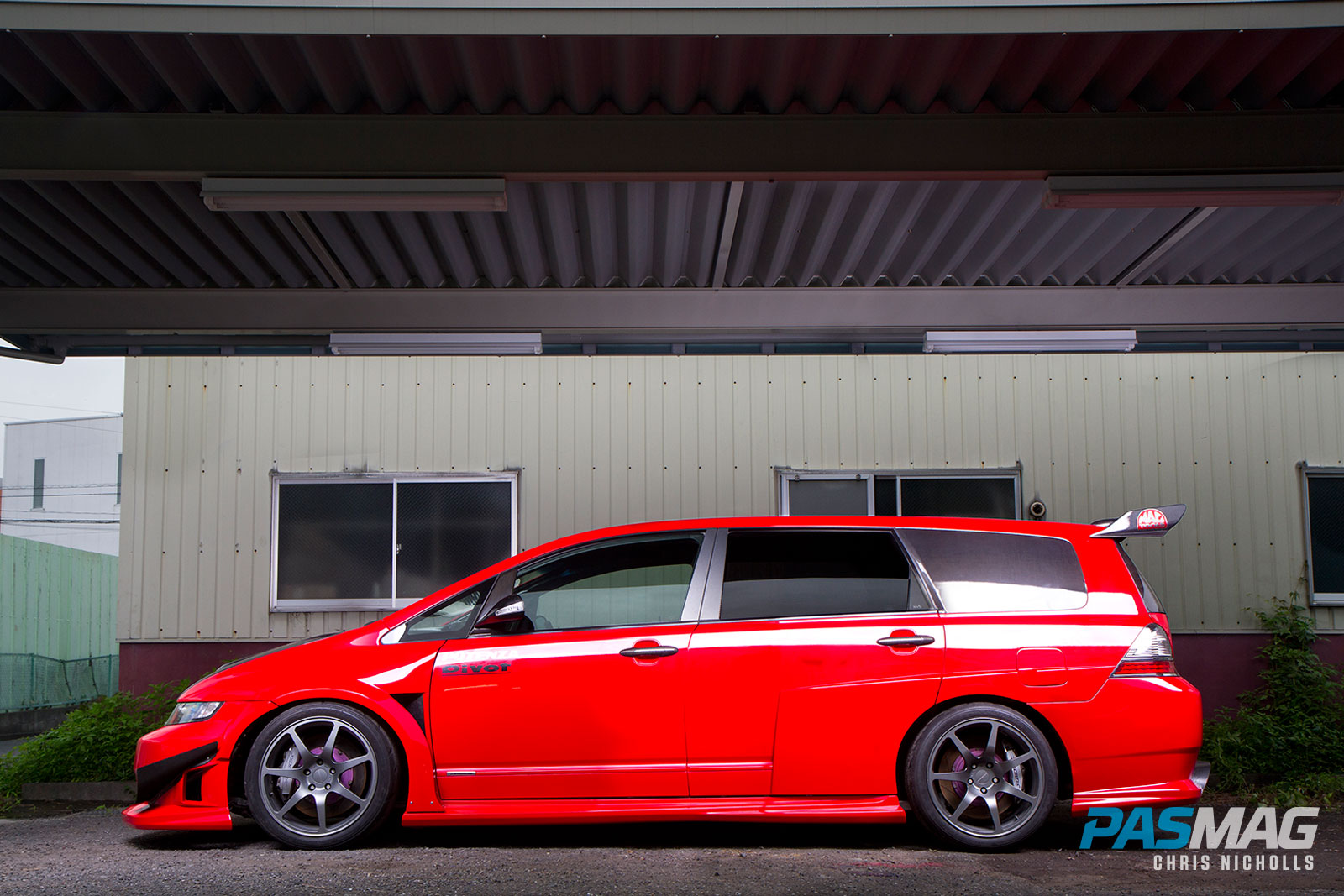 CHASSIS / SUSPENSION
Spot-welded chassis
Modified front end
Takero's Racing Performance dampers
Merewede springs
Modified stock front control arms
Cusco rear control arms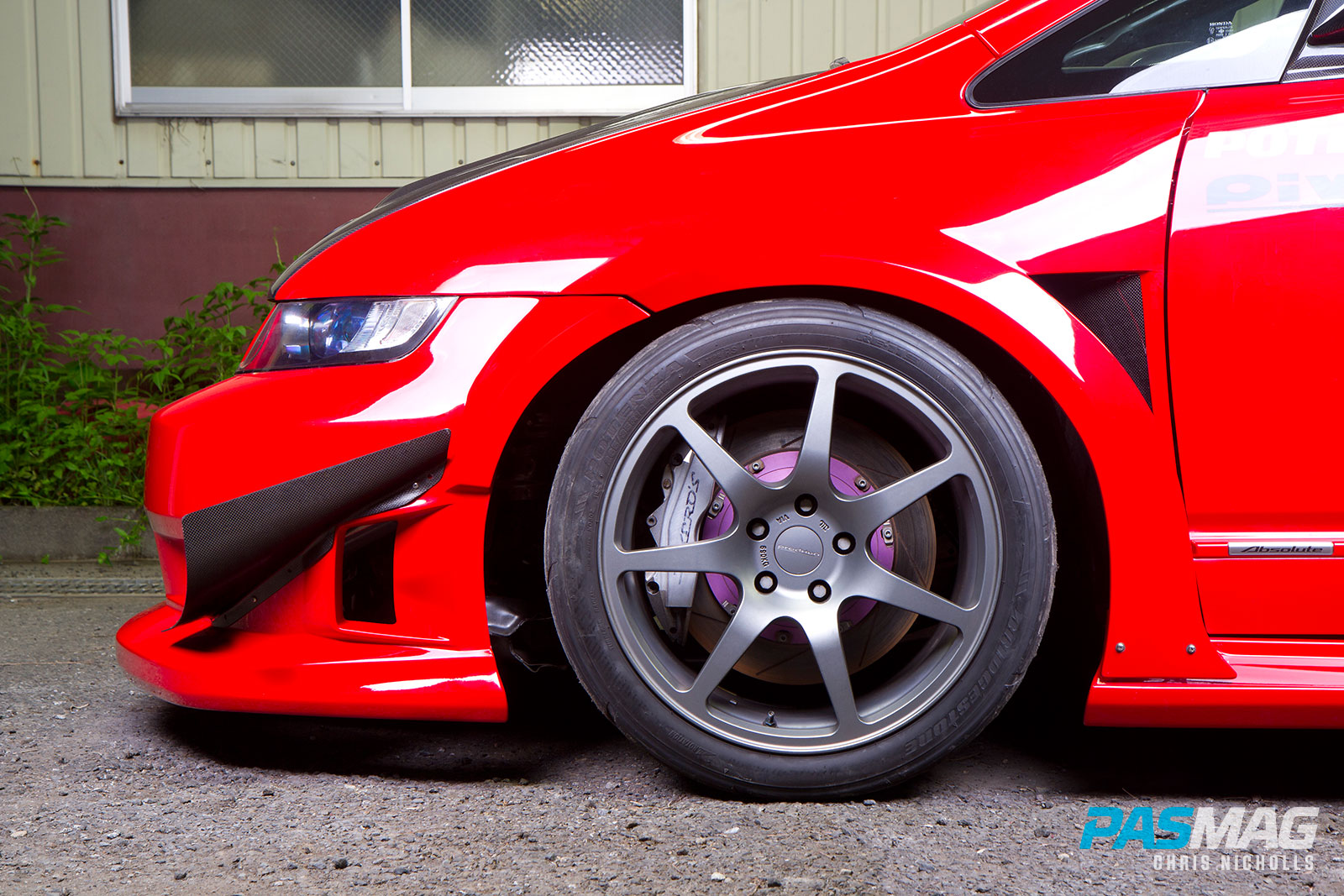 WHEELS / TIRES / BRAKES
Prodrive GC07C wheels - 18x9.5 +15 (f), 18x9.5 +30 (r)
Bridgestone Potenza RE11S tires - 265/35 R18 (f/r)
Takero's (Racing brakes - 6-pot (f), 4-pot (r), 2-pc. slotted rotors)
Braided lines
EXTERIOR
Takero's (Super Wide kit, 3-pc. rear carbon wing, carbon aero bonnet, carbon mirrors, carbon door handle covers)
Carbon roof
Custom carbon rear three-quarter windows and rear window (made by owner)
Pure Red re-spray by Takero's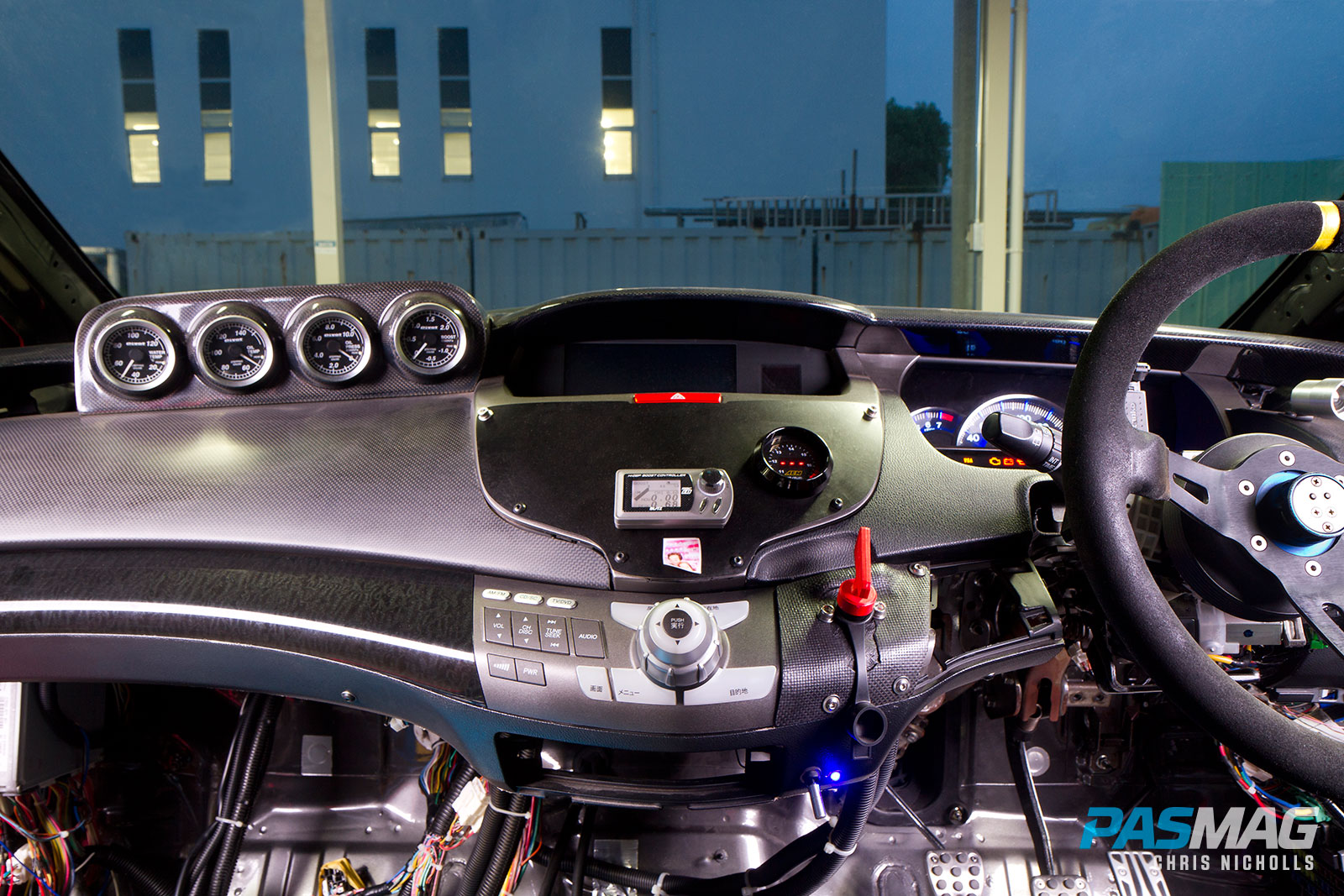 INTERIOR
Custom carbon dash
MOMO NASCAR seat
Prodrive (harnesses, sport steering wheel)
Honda DC5R Integra shift knob
Pivot gauges in Takero's carbon pod (boost pressure, oil pressure, oil temperature, water temperature)
Pivot 5-in-1 gauge (used for tachometer)
Blitz Hi-Def Boost Controller
AEM air-fuel meter