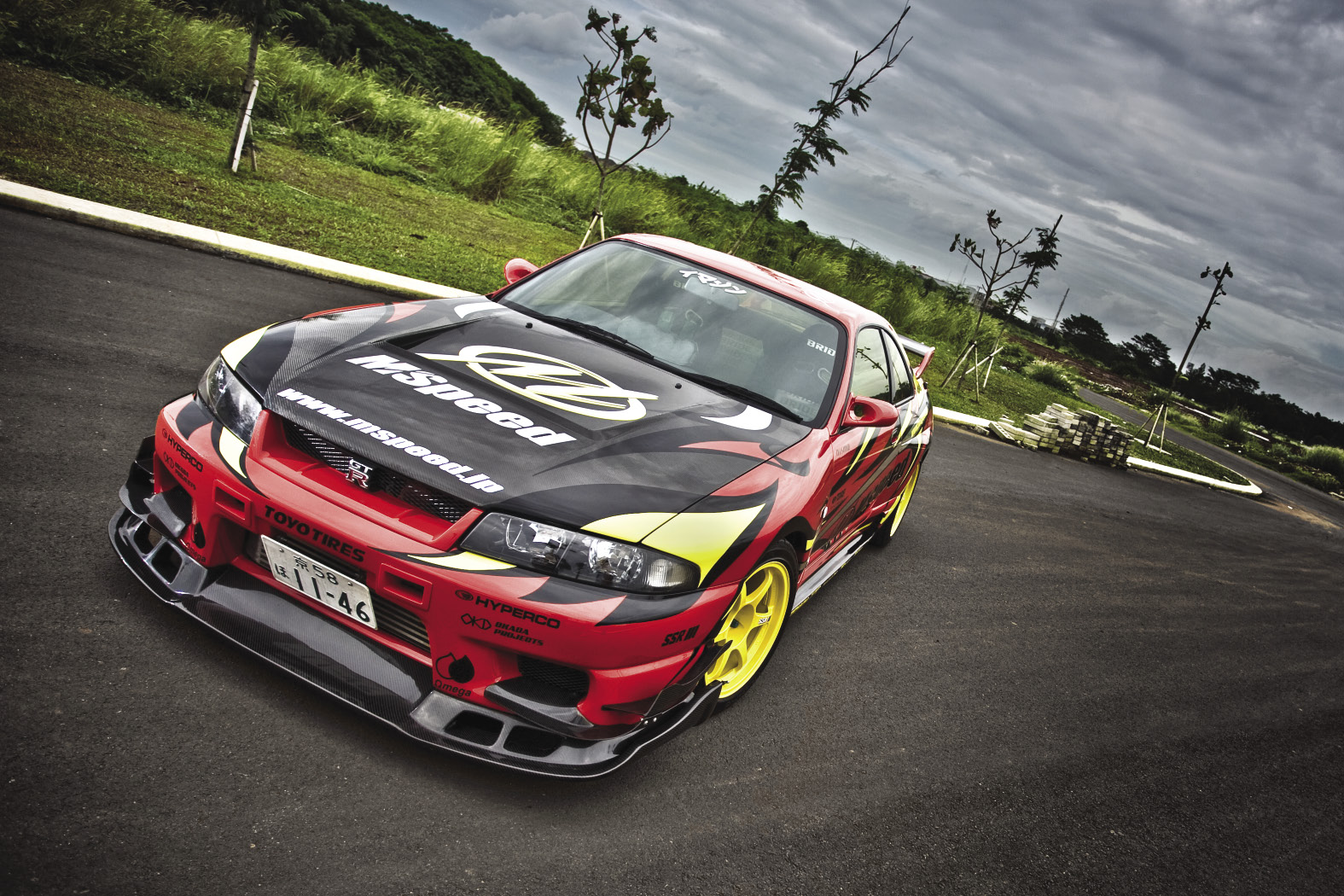 Written by Mark Wei / Photography by Muhammad Balbed
There aren't many who can proudly proclaim that they've turned their high school daydreams into reality. Such aspirations are usually dashed by the harsh reality of adulthood and the responsibilities that come with it, forcing those childhood dreams to take a back seat. But not for Jakarata native Willy Cahyadi Hadiwijaya; after 15 long years his dream of owning an R33 Skyline has finally come true. The brightly colored R33 you see here is the end result.
It wasn't an easy journey for Willy though as R33 Skylines, let alone R33 GT-Rs, are incredibly hard to find in Indonesia. In fact, Willy managed to source this R33 from one of the last places you'd expect to find a car like this: Papua, New Guinea. Thanks to a friend with connections, Willy was able to have this car shipped from Papua New Guinea to Indonesia. "The car was in pretty bad condition as it had been abandoned by the previous owner. But good thing the chassis was still good and straight," explained Willy.
Willy's new Skyline wasn't a top-of-the-line GT-R, but a slightly less potent GTS-T. Clearly, a GTS-T wasn't enough to satisfy Willy's automotive dreams, so he embarked on a journey to source parts for his beloved Skyline to turn it into a GT-R. As it turns out, sourcing parts for a car that's rarely found in Indonesia wasn't very easy at all.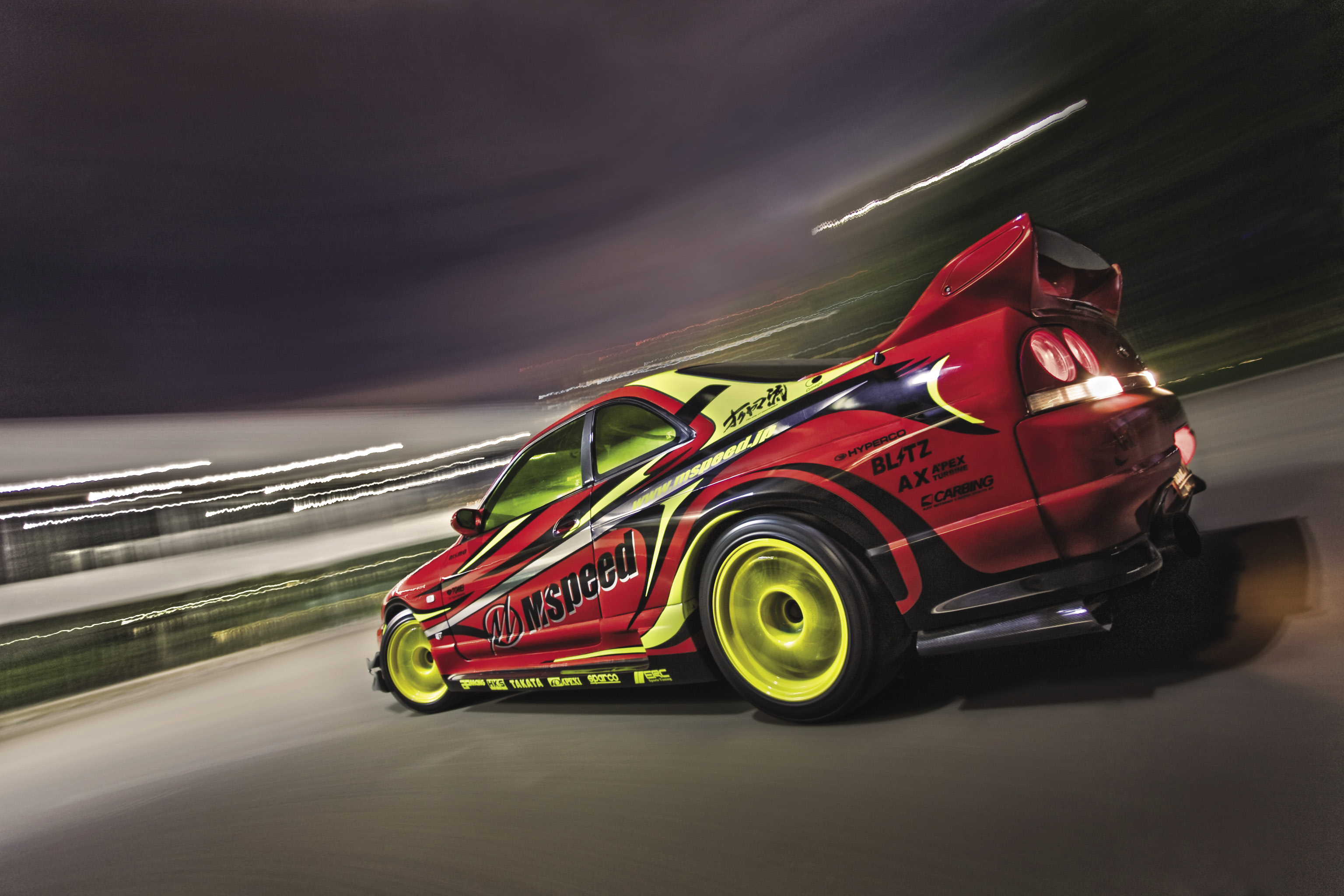 "I wanted to turn my GTS-T into a range topping GT-R. So I began looking for an R33 half-cut and I started ordering whatever parts I needed over the internet from Japan. I also ended up travelling to Malaysia to look for an R33 half-cut, but as it turns out, R33 half-cuts are quite rare. There were plenty of R32 and R34 halfcuts though. But I finally lucked out and purchased a full R33 GT-R V-Spec half-cut which had just arrived from Japan. It wasn't easy getting the half-cut back to my tuning shop in Jakarta however; it took three whole months," Willy said.
Willy's shop, Namura Hyan, is a tuning garage which specializes in body and engine mods, making it a one-stop destination for all your car modification needs. With these resources at his disposal, it's no wonder that Willy had the guts to take on a project like this. Having plenty of experience modifying cars over the years also helps, of course. To date, Willy has owned and modified an Isuzu Panther, a Toyota Vios, a Mitsubishi Lancer, a Honda Cielo and a Honda Prelude; a pretty impressive list for a 26 year-old.
Once all the parts needed for the conversion had arrived at Namura Hyan, Willy then discovered that transforming a GTS-T into a proper GT-R wasn't as easy as it seems. He encountered problems installing the GT-R's 4WD drivetrain into the RWD GTS-T chassis. "The modification work needed to make the GT-R 4WD system work with the GTS-T chassis was just too much, so we decided to keep things simple and stick with RWD while retaining the RB26DETT 'box," he explained.
Willy decided to keep things simple when it came to engine mods. The mighty RB26DETT remains mostly stock, save for an APEX'i intake kit, a custom exhaust system, an MPower intercooler and a useful hike in boost thanks to an OGS Talking Boost Controller. To better cope with the extra power, a Nismo Coppermix clutch was also installed. This simple yet effective setup is, however, good for an estimated 400hp at the wheels. "If money was no object, I'd trick out the engine with Tomei parts, stroke it to 2.8-litres and shoot for a minimum of 1,000hp!" Willy exclaimed.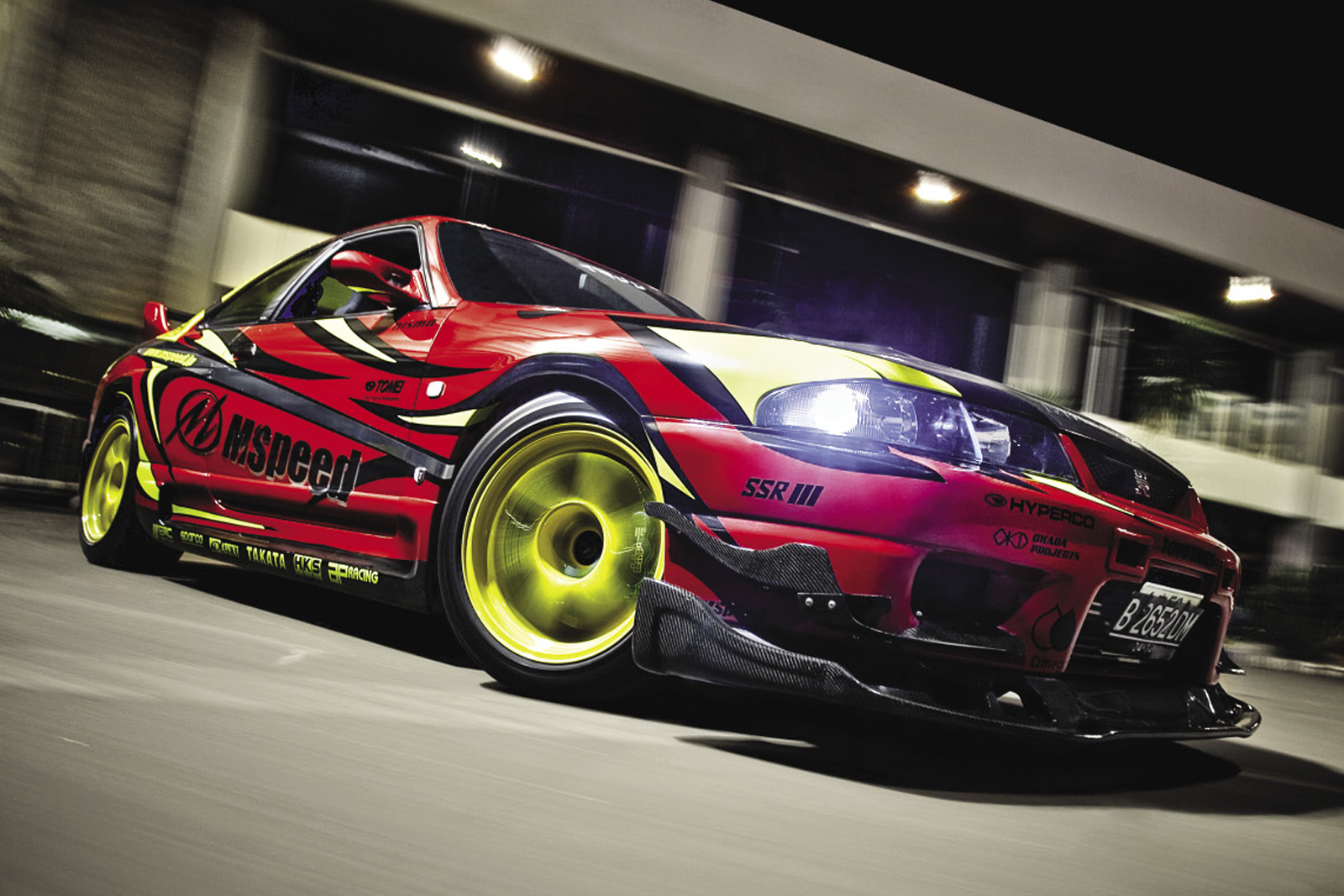 Willy also made sure to show the R33's chassis some love with a HKS Kansai strut bar, a set of A'PEXi N1 coilovers and a new set of shoes. 17x10 inch SSR Type C's, with a +12 offset and a retina-burning yellow paint job now adorn each corner, wrapped in sticky Toyo Trampio R1-R tires and playing peekaboo with onlookers behind the SSR's spokes is a big brake kit from Aviation Performance Products. "Another wheel choice I would've gone with is a set of deep dish Work Meister S1s, but the SSR's light weight and simple 1-piece construction won me over," Willy said.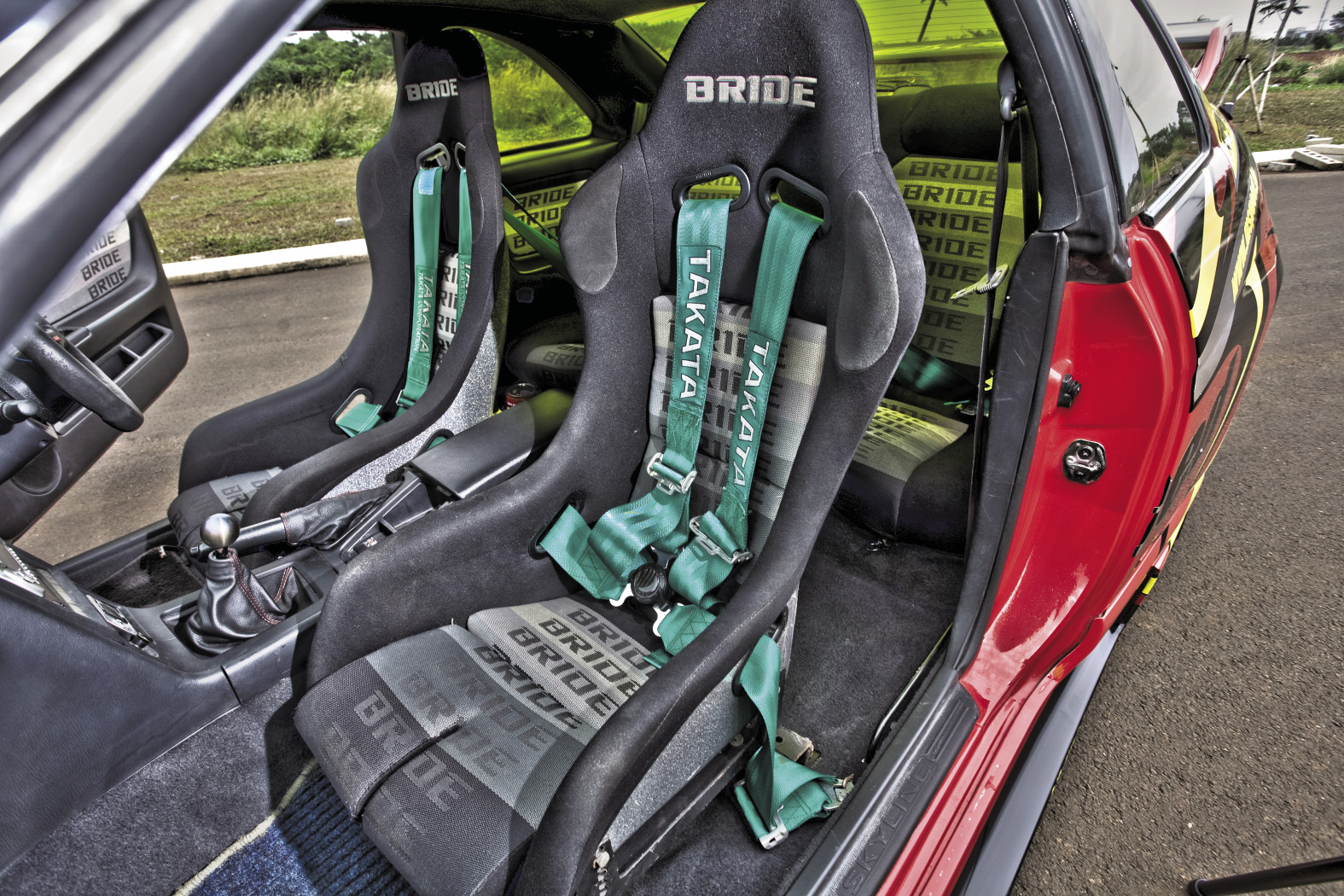 With the powertrain and the chassis sorted, Willy turned his attention to the interior. "I wanted to keep things simple and functional. I had the dashboard, centre console and the shifter console from the GT-R half-cut fitted, along with a few select goodies," he said with a grin. Those 'few select goodies' include a pair of gorgeous Bride Exas 3 seats (with matching Takata harnesses), a Sparco steering wheel, an ARC titanium gear knob and a set of Defi gauges, among other upgrades. To match the front seats, Willy also had the rear seats wrapped in Bride's trademark gradient fabric.
The striking exterior is a mishmash of both OEM and aftermarket parts, with big names such as Auto Select and Top Secret joining the fray. The front bumper, rear bumper, rear skirt, front grille, headlights and tail lights are taken from the aforementioned GT-R half-cut, while the hood is a replica Nismo 400R carbon fiber item. Instead of a super aggressive GT wing, Willy opted for an OEM R33 GT-R style rear wing, fashioned out of carbon fiber. The aftermarket additions are the carbon fibre Auto Select front lip and front bumper canards while the rear gets the Top Secret treatment with rear diffuser, also made out of carbon fiber.
With the aerodynamic additions fitted, Willy sent the car in for a fresh coat of Rosso Fuoco Red from paint supplier Spies Hecker. For the full 'shock-and-awe' effect, he slathered on decals and vinyls modeled after M Speed's time attack GT-R along with Foliatec Yellow window tint.
With his new masterpiece and childhood dream completed, Willy wasted no time hitting the streets of Jakarta with his gang of like-minded friends, entering it in car shows. "The first time I entered my R33 in a car show, I had quite a few people come up to me and tell me how impressed they were with the car. Some even asked if it was an actual Tsukuba time attack car! That felt pretty nice," related Willy.
As much as Willy loves his Skyline, he's already got plans to add another fine Japanese thoroughbred to his stable: Honda's only supercar, the NSX. After taking over a year and 300 million rupiah to complete, Willy's GT-R convert will be taking a back seat and he will be focussing his attention on the lovely NSX. And if his GTS-T turned GT-R is anything to go by, we can all be pretty sure that the NSX will be just as special.
ESSENTIALS
Owner: Willy Cahyadi Hadiwijaya
Vehicle: Nissan Skyline R33 GT-R V-Spec (R33 GTS-T Convert to GT-R)
Location: Jakarta, Indonesia
Engine Displacement: 2.6 L
Horsepower: 400hp
ENGINE MODIFICATIONS
RB26DETT V-Spec Engine Custom Color Chrome Blue & Manual Gearbox
GT-R Transfer Case
GT-R V-Spec ECU
Apex-I Custom Chrome Twin Intake Kit
Twin Air Filter Kit: Apex-I Custom Color Chrome Red
Nismo Coppermix Series Clutch
HKS Kansai Strutbar
Nismo Radiator Cap
Tomei Anodized Blue Oil Cap
HKS SQV Blow off
MPower Intercooler
Custom Piping
Okuyama Carbing Radiator Cooling Plate
HKS SLD Limiter Cut
Summit Racing Extra Fuel Tank
EXTERIOR
GT-R Model Front & Rear Bumper
Nismo 400R Side Skirt & Carbon Hood
Auto Select Carbon Front Lips & Front Canard
GT-R V-Spec Rear Lips
Top Secret Carbon Rear Diffuser
GT-R Front Grill with original GT-R Badge
GT-R Carbon Rear Spoiler
Foliatec Yellow Window Tint
Rosso Fuoco Red Paint by Spies Hecker
GT-R V-Spec type II Headlights
HID 6000k Visional and High Beam Visional 8000k Headlights
GT-R Rearlamp and garnish
GT-R and V-Spec Original Rear Badge
Nismo Carbon Pillar Cover
MSpeed Decals
INTERIOR
GT-R V-Spec Dashboard, Console and Panel
GT-R V-Spec Speedo Meter
Shift Boot n HandBrake Boot: Nismo Red Stitch
Bride Exas 3 Bucket Seat
TAKATA Safety Harness
Custom Bride Rear Seat and Door Trim
Sparco Extreme Steering wheel with Pulsanti kit
ARC Titanium Shift Knob
Okuyama Carbing Pedals and Passenger Seat Foot Rest
BLITZ Infometer R-Vit II
Defi BF Amber Gauge and Control Unit
HKS Type 1 Turbo Timer
Custom Carbon Gauge pod
OGS (Ogura Japan) Voice Module Boost Controller
WHEELS / TIRES / BRAKES
SSR Type-C Wheels 17x10" Flat, Et 12 with custom Bright Yellow
Toyo Tire Trampio R1R 255/45 R17
Rays Blue Lug Nuts
APP Big Brake Kit
6-Piston Front Caliper
4-Piston Rear Caliper
330mm Slotted Front Rotor
330mm Slotted Rear Rotor
APP Brake Pads
AP Racing Brake Lines
Tomei Brake Master Cylinder Stopper
CHASSIS / SUSPENSION
A'PEXi N1 Coilover