You've packed up the show car - freshly wrapped in gloss gold metallic vinyl - with all the essentials, including your significant other and kids. You're road-tripping for 14 hours to compete for an award at a car show. Four hours in, in the pitch black of night, traveling uphill, you finally crest the top, only to be greeted with a BANG! You drive a little longer, but something doesn't feel right. You stop and tell your partner you think you hit something and get out to inspect the car. The front and rear bumpers are gone, the widebody is cracked, and miscellaneous aero parts have been strewn down the road - it's ruined. Canceling your plans, you begin to backtrack, finding pieces of your car along the way, eventually ending at the semi truck tire you were blind to. You have no choice but to head home, without an award and only pieces of a car. A nightmare, right? Well, this isn't just a scary story. This was Keith Jose's reality, driving from Winnipeg to Calgary, Canada, in his 2010 Subaru WRX STI.
For most people, we'd imagine this would be the end of the road, but Jose is built differently. This car has been through multiple iterations, but this upset was the catalyst to take this reimagining to a whole other level.
"Even if you take one step forward, you can always end up taking three steps back, but that can be the point where you can tell yourself that you can do better," he says, wisely. "Which is what I did. I rebuilt the car better than it was before."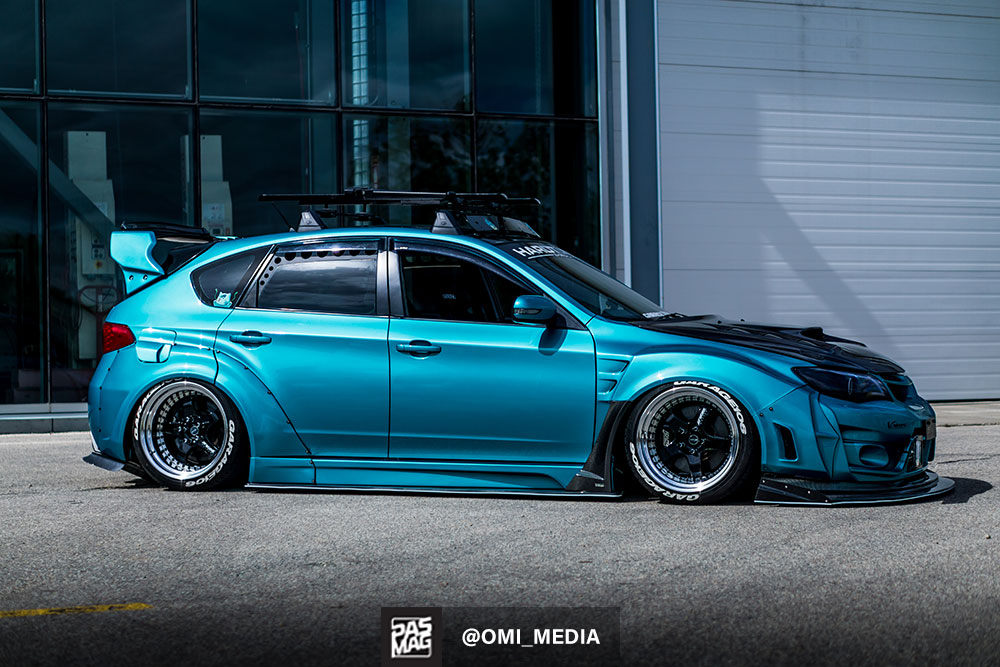 Jose fell in love with the Subaru's factory styling and signature rumble from the get-go, but decided to provide his own spin with Varis' full widebody kit and an Invidia quad-tip exhaust system. The spacious fenders squat over three-piece Work Meister S1Rs via Airlift Performance air suspension and management. That gold metallic wrap has gone with the rest of the ruined parts and has been replaced with a standout electric blue paint job that covers everything from the front bumper to the double-deck hatch spoiler, barring the exposed carbon fiber hood.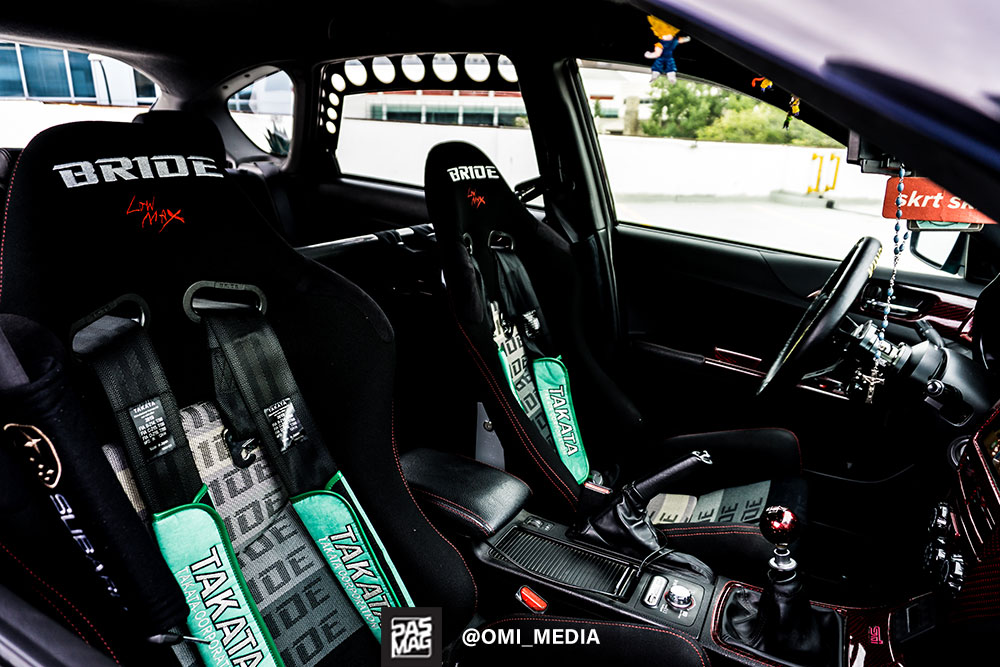 The inside has also been treated to a refresh, with the factory steering wheel and seats being replaced with Vertex and Bride offerings, respectively, and the red stitching from both seem to bleed onto the interior panels in the form of a red carbon hydro dip. The trunk is home to the real showstopper, however, as Wayfab Creative has worked his magic on the install inside the hatch. Incorporating a custom enclosure and two 10-inch JL subs, it really is a sight to behold.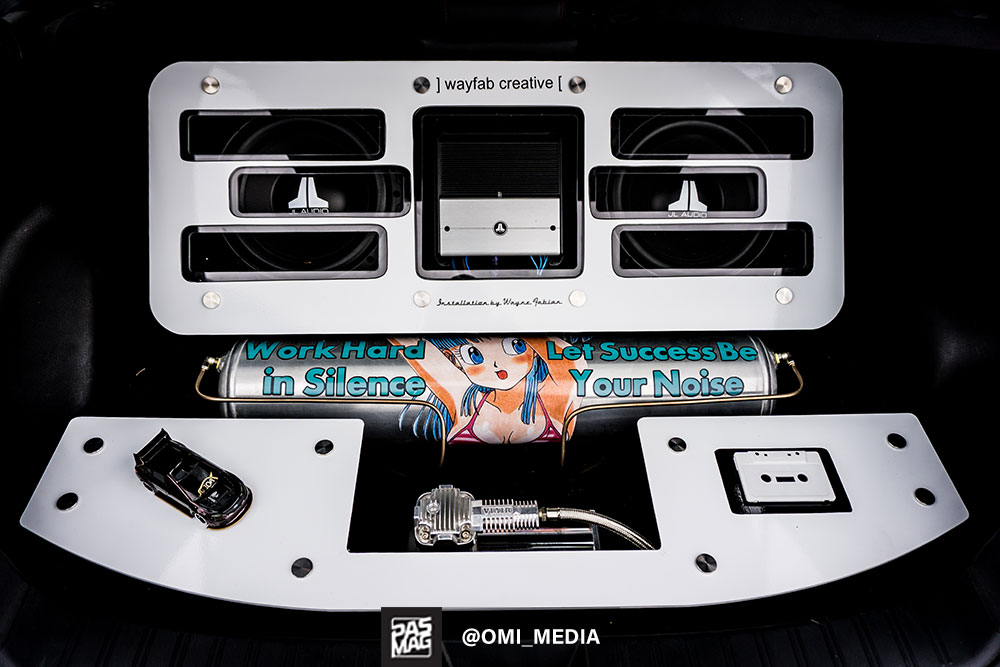 "I have the honor of being a member of this group of guys that are not only teammates, but also a family," Jose says of his crew, Garage106. "When I see progression on one of their builds, it only motivates me to keep going in the direction that I'm going. Inspiration definitely comes from all the builds I've seen when I was younger and throughout the years, hoping to be able to build something that's out of the ordinary and just be a straight neck breaker!"
With a winning team and attitude behind him, it seems there's absolutely nothing that can keep Jose and his dreams down.
Keith Jose's 2010 Subaru WRX STI is featured in PASMAG's Tuning Essentials: Performance Upgrade Guide #8. CLICK HERE to order.
Photography by Kevin Cruz (@omi_media)
---
ESSENTIALS
Owner: Keith Jose
Location: Winnipeg, Manitoba, Canada
Vehicle: 2010 Subaru WRX STI
Horsepower: 281 WHP
Club: Garage 106
TBGLIVE Event: Craftsman Product Battle
TBGLIVE Event Location: Canada
TBGLIVE Event IG: @craftsmanca
% of popular vote: 53%
SOCIAL
Facebook: /keith.jose.77
Instagram: @keithjose_
ENGINE
COBB (air intake system, Accessport Stage 2)
TurboXS (front-mount intercooler, blow-off valve)
Grimmspeed (radiator cover, alternator cover)
EXHAUST
Invidia (Q300 burnt titanium quad-tip exhaust, down-pipe)
WHEELS / TIRES
Work Meister S1R 3-piece wheels - 18x11 +5 (f/r)
Sickspeed extended lug nuts
Falken Azenis tires - 265/35/18 (f/r)
Prevail tire decals
CHASSIS / SUSPENSION
Air Lift Performance (air suspension system, V2 digital air management)
ISC lower control arms
EXTERIOR
Black Top Aero double deck spoiler
CS side skirts
Spec D headlights
Bluebatmobile tail light overlays
Varis widebody kit
Galvez Customs (front splitter w/ fins, rear diffuser, side splitters, rear aprons, front canards)
LED license plate lights
VISracing carbon fiber hood
Blacked out headlights
Hella Red Supertone horns
Roof fins
Grimmspeed (license plate relocator, license plate delete)
Exhaust finishers
Support rods
INTERIOR
Bride (GIAS II Low Max reclinable racing seats, seat rails)
Vertex steering wheel
Works Bell tilt steering wheel hub
Takata 4-point harnesses
NRG harness bar
Hydro-dipped red carbon interior trim
Billetworkz shift knob
AUDIO / MOBILE ELECTRONICS
Wayfab Creative (custom iPad Mini tablet head unit, custom subwoofer trunk enclosure)
JL Audio (10-inch subwoofers (2), amplifier)
Fifield Fabrications head unit bezel
SPECIAL THANKS
Wayne Fabian
Darrell Alcantara
Geoff Lozano
Richie Bautista
Randy Patacsil
---
PHOTO GALLERY