A transition from lightweight and nimble drift cars to the big body big leagues, and all that comes with it.
For our readers who immerse themselves in the stateside drifting scene, Eric Chob's 1998 Lexus GS300 is a familiar sight. As a member of Team ProceeD, one of the world's most stylish drift teams, and one which sits at the forefront of the United States drifting scene, the standards are high, and the ride heights are low. One look at the photos before you, and it's clear that Chob and his GS300 fit the bill. The Lexus GS300 - the USDM counterpart to the Toyota Aristo - is a bit of an obscure drifting platform, albeit one that has risen quickly in popularity over recent years. Chob's example is a good opportunity to explore exactly why that happened.
With a hereditary automotive influence from his father, as well as some Japanese car influence from his cousin who built an Integra for all the HIN shows back when he was younger, Chob was already well on this path before he knew it. His first project car was a 2000 Integra Type R with a fully built B18 engine - not a bad start, right? It wasn't long before a close friend's collection of drifting VHS tapes convinced him he wanted to build a drift car. He sold the Integra Type R, and purchased an S14 240sx. For four years, that S14 served as his drift car, and a platform for further learning experiences.
Prior to owning the S14, Chob would watch Japanese automotive YouTube videos, and he recalls one specifically that shaped his tastes in ways he would only later discover.
A video in which the only translatable text was "600hp 6-speed drift" sticks with him to this day. "It would be cool to have such a crazy car one day that I can slide like that," he recalls thinking to himself in front of the computer. During his time with his S14 drift car, he came across the Friends Racing Toyota Aristo - a 1,000 horsepower monster of a drift car that linked the entire front straight at Nikko Circuit during a D1 event. That was a scene that remains burned into his memory forever, and inspired him to pursue the idea of drifting a big body car - something that would make people ask "Why?"
Upon his first few track sessions with the GS300, Chob found himself a little frustrated. It certainly wasn't the same nimble and lightweight drifting experience he remembered in his S14. As the frustration grew over time, he was tempted to sell the Lexus and hop back into an S-chassis, but his friends and team pushed him to stick with it and learn the car. Once he switched out every suspension arm and component for proven SerialNine options, the car became more predictable to drive, and his dream was coming to fruition.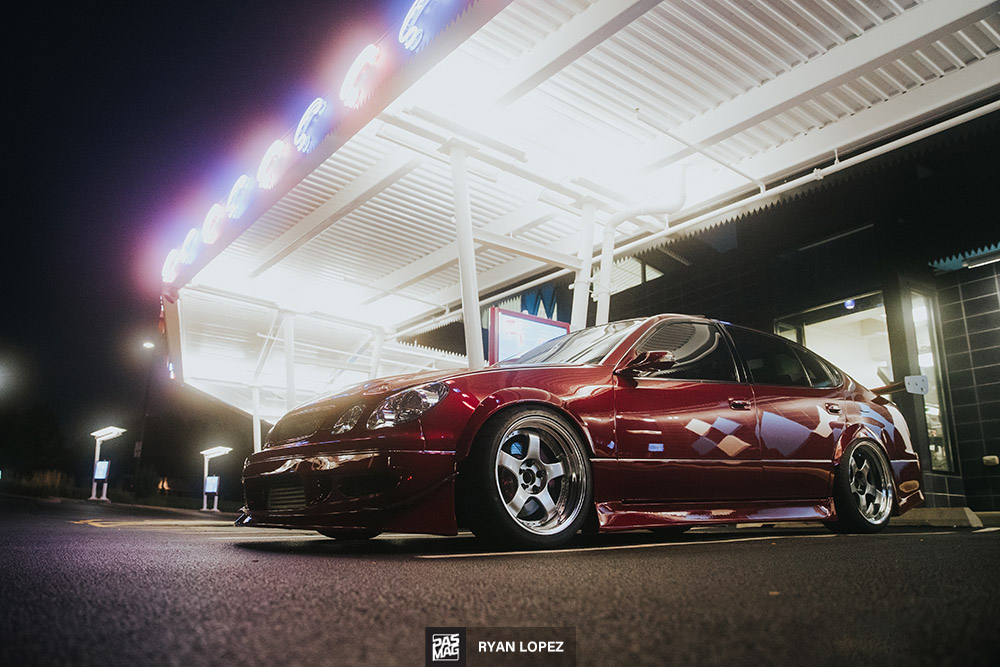 The GS300 you see before you is a far cry from the stock one he purchased all those years ago, and we're all better for observing this transformation. A 2JZ-GTE non-VVTI engine was swapped in, and treated to a Garrett GTX3582 Gen 2 turbocharger on a Future Fab manifold, a GSC valvetrain, BC 264 cams, and a whole catalogue of supporting mods to ensure reliability in the face of increased power. The result is a pleasant 506 horsepower at the rear wheels, transferred through the drivetrain by way of an R154 transmission, ORC 659D twin-plate clutch, and Suburban Driveline custom 1-piece driveshaft.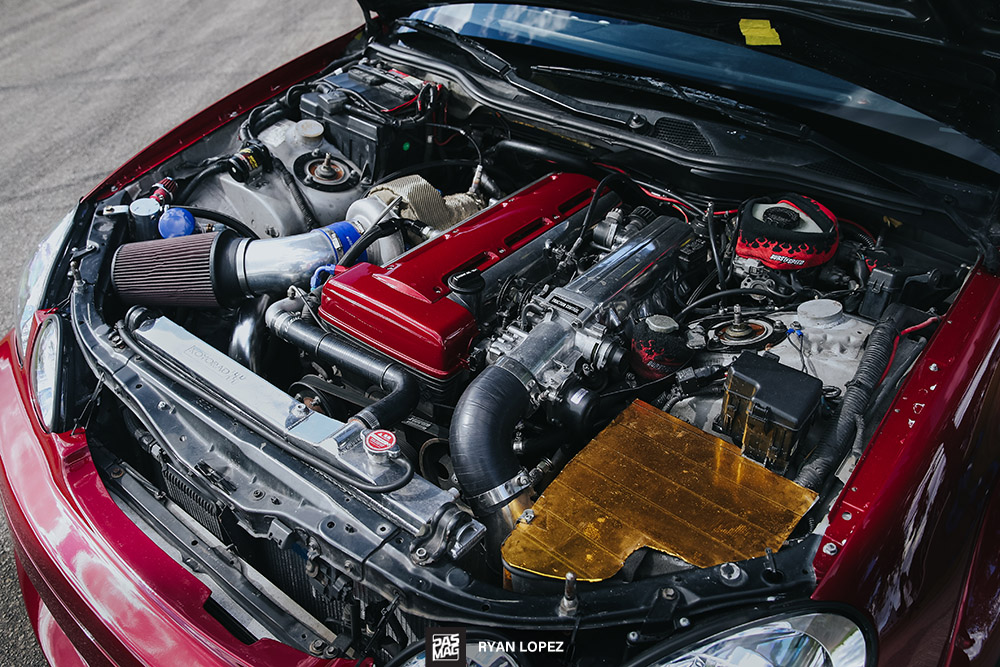 That entire powertrain has held up reliably, something Chob attributes to choosing quality parts in order to do things once, and do them right.
"I went almost 6 years without having to do any serious prep for drift days other than changing the oil, spark plugs, and tires," he says proudly. When things aren't a simple bolt-on affair, he either makes parts himself like his custom exhaust, or trusts the gurus at RCN Motors to handle the rest.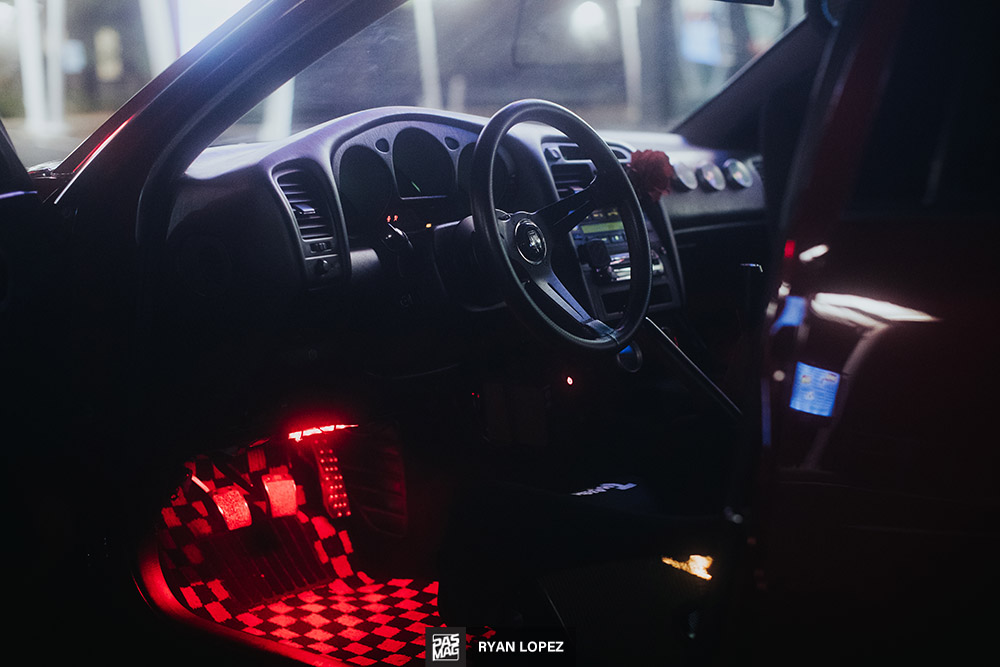 On the interior of the car, it's a picture-perfect drifter's cockpit, with clean execution throughout. Thrash Racing provided front seats - a Pro Spec Gamma One driver's seat, and a Street Spec Alpha passenger seat. While driving, Chob grips an iconic classic in the form of a Nardi 350mm Deep Corn steering wheel, as well as a Circuit Sports shift knob. Period correct Defi gauges serve as both at-a-glance diagnostics, as well as added style points. Perhaps one of the best features is a full MB Quart audio system. This is still a street car at the end of the day!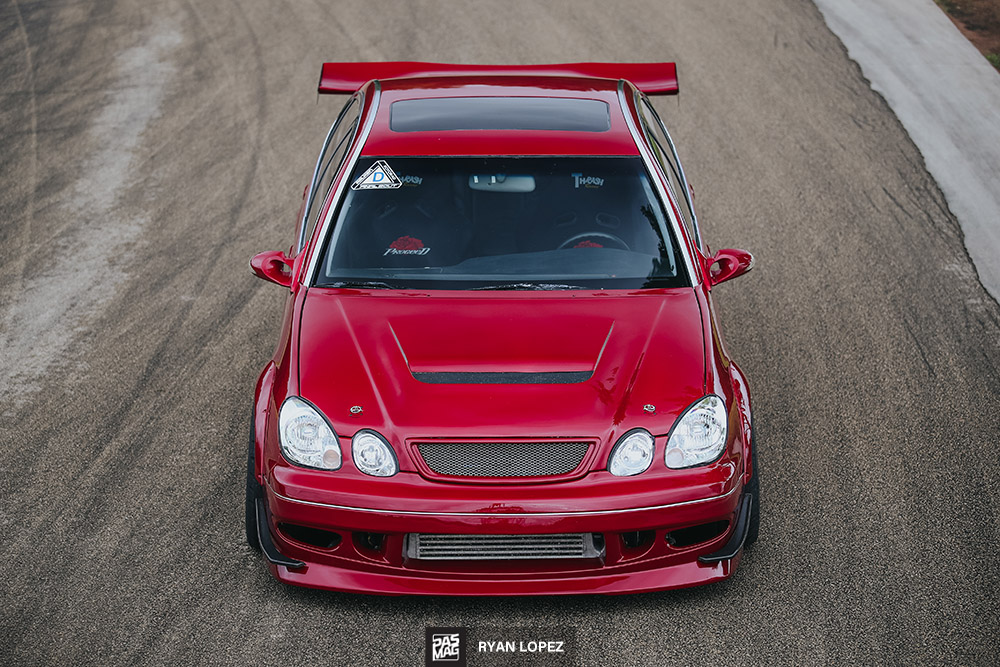 Speaking of style points, you don't get to drive in Team ProceeD, or in Final Bout for that matter, without ample style. Some Kazama Auto rep aero goes a long way in changing the profile of the GS300, but Chob wanted to go further. With the use of a Raysfactory low mount GT wing, a VIS Racing carbon fiber vented hood, and Car Modify Wonder flares meant for a 180sx, the GS300 is radically transformed, and looks absolutely incredible now that it's been painted in Kandy Drip paint to match his old S14. Sitting low on SSR SP1 wheels, 18x9 up front and 19x10 in the rear, the car truly looks the part.
When Chob started this build, he wanted a drift car that he could thrash on the track, but still enjoy on the street and take his family out for lunch with the next day. Thanks to a careful balance between form and function, as well as quality parts keeping the GS running smoothly at all times, that's exactly what he's achieved. These days, he looks forward to handing down the automotive passion he got from his father to his own son, who is just under a year old now. Chob extends a heartfelt thanks to his patient and supportive wife throughout the years, saying he's truly hit the jackpot with an amazing partner and amazing friends. You love to see it.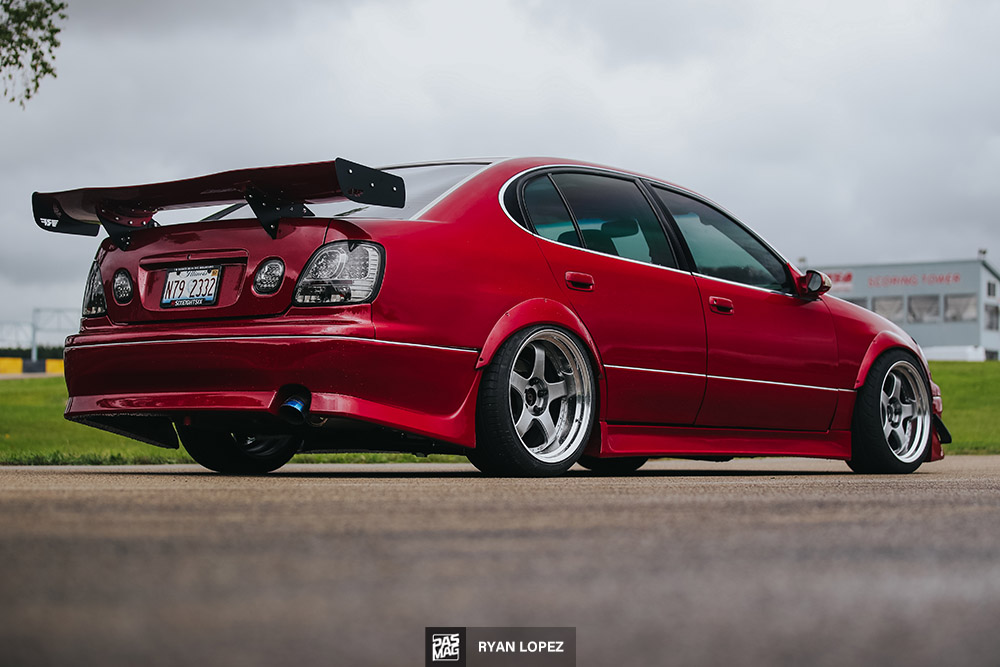 Eric Chob and his 1998 Lexus GS300 are the cover feature of PASMAG Issue #168. CLICK HERE to order.
Photography by Ryan Lopez (@theryanlopez)
---
ESSENTIALS
Owner: Eric Chob
Vehicle: 1998 Lexus GS300
Location: Palatine, Illinois, USA
Engine: Toyota 2JZ-GTE 3.0L Turbocharged I6
Horsepower: 506 whp
Club: ProceeD
SOCIAL
Instagram: @mrchob
ENGINE
Toyota 2JZ-GTE Non-VVTI engine swap + AEM Performance Electronics (V2 standalone ECU, boost solenoid, 1.5-bar MAP sensor) + Injector Dynamics 1000cc injectors + BC 264 cams + GSC valvetrain + Future Fab exhaust manifold + Garrett GTX3582R Gen 2 0.83 A/R turbocharger + Turbosmart Gen V Hyper-Gate 45 + Tial BOV + Koyorad (JZA80 radiator, oil cooler, intercooler) + K&N air filter + GReddy oil filter relocation kit
EXHAUST
Custom (3-inch downpipe, 3-inch exhaust system, 4-inch turn down muffler)
DRIVETRAIN
R154 transmission + Marlin Crawler Thrust washer + ORC 659D twin-plate clutch + Suburban Driveline custom 1-piece driveshaft
WHEELS / TIRES / BRAKES
SSR SP1 wheels - 18x9 +11 (f), 19x10 -11 (r) + Accelera 951 Sport front tires - 255/40/18 + Accelera Phi rear tires - 265/35/19 + Ceika Performance front BBK + Project Mu E-brake shoes
CHASSIS / SUSPENSION
Stance coilovers w/ custom valving (22k/16k spring rates) + SerialNine (solid diff bushings, solid subframe bushings, front upper control arms, roll center adjusters, sport rear upper control arms, toe arms, traction arms, lower control arms) + Heatmaker Hotside Sport knuckles
EXTERIOR
Kazama Auto rep aero + Raysfactory Low Mount GT wing + VIS Racing carbon fiber vented hood + Car Modify Wonder 180sx Type 2 fender flares + Kandy Drip paint
INTERIOR
Thrash Racing (Pro Spec Gamma One driver seat, Street Spec Alpha passenger seat) + Nardi 350mm Deep Corn steering wheel + Circuit Sports shift knob + Defi (Link system, water temp gauge, oil temp gauge, oil pressure gauge) + AEM Performance Electronics AFR Gauge + S14 E-brake handle
AUDIO / MOBILE ELECTRONICS
MB Quart (RM440.4 amplifier, RM1000.1 amplifier, PWM304 12-inch subwoofer, RKM113 2-way speakers (2), V3 amplifier kits)
SPONSORS
RCN Motors + Koyorad + TFWorks + Raysfactory + Thrash Racing + SerialNine + Final Bout + Turn14 Distribution + MB Quart + Maxxsonics
---
PHOTO GALLERY