Photos by Jubal Leierer, Larry Chen
---
Following up a smash hit can be pretty difficult. Just ask those guys. What's their name again? Those guys with the faces. You know who I'm talking about, right?
What I'm trying to say is that becoming a one-hit wonder is all too easy. You have to take what you've already been successful with, then crank it up to stand over what you've previously created. For example: Clarion Builds' BMW 2002. If you'll remember, that initiative got Clarion Builds on the map as a restoration program dedicated to bringing icons and legends of the automotive world back to their former glory, and then some, in the most modern version of a pure driver's car that they can manage. The kicker is, after all is said and done, the car is then auctioned off to a true enthusiast and every penny is donated to a deserving charity.
But wait, it gets better. The Builds team has announced their next project earlier on in 2016 as a 1991 Acura NSX. Designed after an F16 fighter jet's cockpit, tuned by Formula One World Champion, Ayrton Senna, and singlehandedly changed the game on supercar ownership and reliability in the 1990s – the Acura NSX is the perfect example of a legend or an icon, and in most everyone's mind, the most logical next step forward to live up to the stellar little BMW that came before it.
Luckily, I could pull the three guys responsible for the operation out of the garage long enough to provide me with some insight into the build: Allen Gharapetian, Clarion Builds Program Head, and Program Directors Jubal Leierer and Michael Farino.
FINDING THE ONE
"We all said we should do an NSX," explains Gharapetian. "It was something that we all admired growing up and we all agreed that the Acura NSX played a great role in the automotive landscape. You didn't have to be a movie star or millionaire to own one."
This is the car that made supercar manufacturers take a second look at how their cars were built, and opened the doors to another level of consumer to experience a purpose-built driving machine. The concept's name (NS-X) initially stood for "New Sportscar eXperimental," which just screams that Honda knew they had a game changer on their hands.
Unfortunately, making NSXs more easily accessible in the '90s would turn out to throw a bit of a wrench in the plans of someone looking to buy an NSX a number of years later. Pristine examples of these cars can sometimes go for over $100,000, with fixer-uppers going for around $45,000, and those cars could have fallen victim to gaudy body kits and huge GT wings, courtesy of an extensive aftermarket and the modification tastes of the time – something Clarion found very challenging when whittling down the classifieds to find a decent example for under $30,000.
The other challenge that the Builds team faced was the competitive used NSX market. Prices keep climbing and NSXs are usually snatched up within about half an hour of being posted – something that's caused by what Gharapetian and Farino refer to as "NSX zombies."
NSX zombies, by definition, are older gentlemen (typically mid-to-late-60s) that will pay outrageous prices for these cars, purely because they'll do anything to get them. Like the living dead to brains, these fellows are magnetized to open their wallets to own this daily driver supercar. The guys at Clarion admit that they almost turned into zombies themselves in the desperation to find a workable project car, that is until Farino found the what seemed like the perfect one.
"We eventually found the perfect car that was high mileage, used and abused, but still loved," he recalls. "I found it on Craigslist!"
Their 1991 NSX was found in Lake Geneva, Wisconsin, and they bought it sight unseen. There was no check-up at a mechanic or road trip out to see it, they just paid for it and got it trucked right to Clarion's headquarters in California. When it arrived, Gharapetian thought they had made a mistake.
"I honestly thought that what we had bought was an Accord," he laughs. "I was questioning our decision, so before I went and stored it in the warehouse at our office, I decided to take it for a quick spin. It took me less than a mile to realize how great and solid the car was. It had 229,000 miles on it, but it felt like it had 10,000."
It was so good, in fact, that a couple of the guys involved with the program have bought their own NSXs since.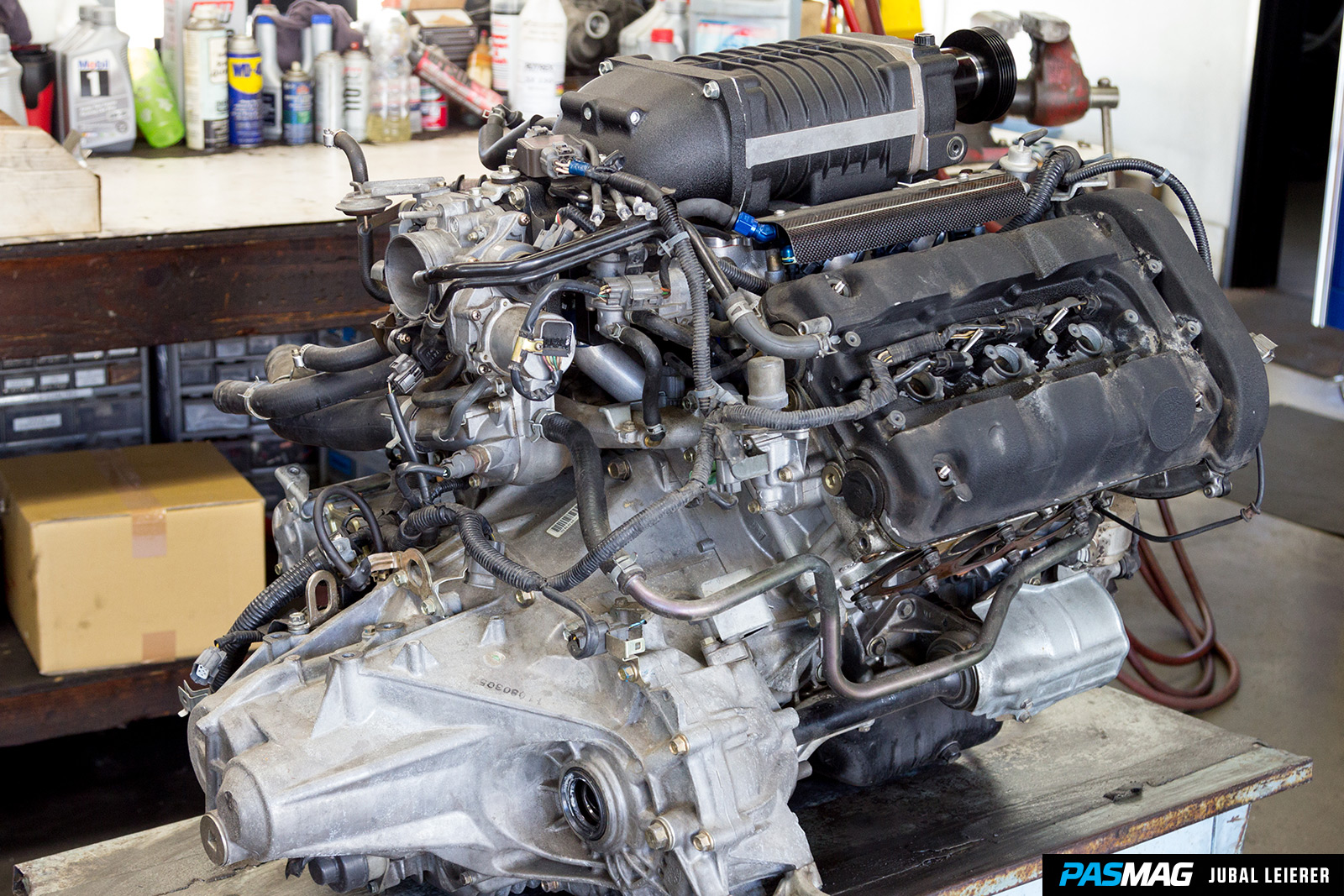 POWER UPS
In 1990, the NSX launched with an allaluminum 3.0-liter C30A V6 engine featuring Honda's infamous VTEC. The Builds team's NSX came equipped with this 270 horsepower, 210 lb-ft of torque toting engine, as well as the matching five-speed manual gearbox. However, there was a nagging in the back of their heads – a 3.2-liter nagging.
In '97, the NSX got a performance upgrade in the form of a more potent V6 (the C32B) with 20 more horses and 14 more lb-ft of torque paired up to a nicely geared six-speed transmission. As anyone in the NSX game knows, finding one of these sixes is next to impossible, never mind getting it with the six-speed. Little did they know, the Clarion crew was about to make almost every NSX enthusiast seethingly jealous with their luck at AutoWave, Huntington Beach's Honda/Acura specialists and the chosen builder of the Clarion Builds NSX.
"AutoWave actually had a newer NSX that was a salvage title that had been hit," Leierer excitedly recalls. "Since it was a salvage title, they knew they wouldn't get too much for it if they tried to sell it. So, we decided that the 3.2 would go in our car, while our motor would go into the salvage car to be sold that way."
The engine and transmission were unaffected in the newer NSX's accident, leaving Clarion Builds with an upgraded engine and six-speed manual transmission with just over 9,000 miles on it.
The Builds program is about going above and beyond OE, so forced induction was the next topic of discussion. At the end of the day, it was always going to be a CT Engineering supercharger, wasn't it? Their storied history with Honda platforms paired with the fact that their systems are California CARB legal made a blower on the NSX a no-brainer.
Next up was a visit to AEM, who are a returning build partner from last year. When AEM heard that the Builds initiative was tackling an NSX, they jumped right on board and got the car into their R&D facility as soon as they could, creating a custom one-off carbon fiber intake system, as well as a brand-new exhaust system, leaving the NSX breathing easier than ever.
Altogether, between the intake, exhaust, new engine and supercharger, the NSX was making a newfound 344 horsepower to the wheels!
"That car screams," grins Farino. "For being about 3,200 pounds, that 340 horsepower to the wheels will send you flying! There's nothing like when that car screams through the RPM range up to 8,200."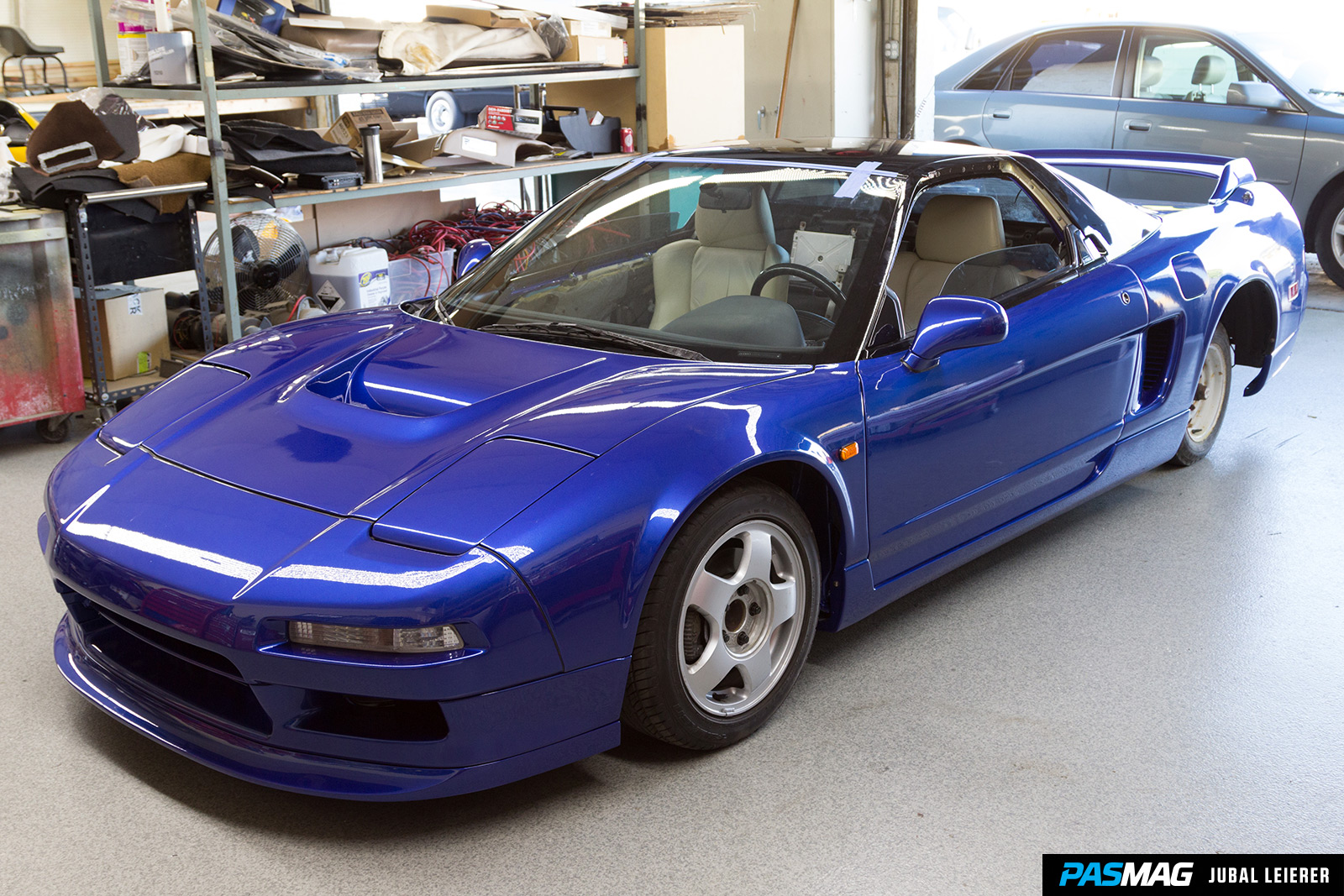 LOOKING THE PART
"We're all car guys here, so we went through every single thing you could possibly do to these cars just to get an idea of what's out there," says Leierer. "We then went through that list and picked out the things Honda would have done, or did do, on certain models of the car. We wanted our NSX to look like Honda had done a special version of the car."
I'd say they achieved their cosmetic goals. Using body panels and add-ons from Downforce USA, the Builds NSX started to look reminiscent of the rare and performance-oriented NSX-R. The hood and the rear spoiler are made of carbon fiber, while the diffusers, rockers and wider fenders were all done in fiberglass, shaving some weight here and there.
The aforementioned wide fenders were definitely necessary to fit the larger wheel and tire setup that the team had selected. Originally wanting the timeless TE37s, but not being able to find suitable sizing, the crew decided to stay in the Rays family and go with some CE28s in 18x9 and 19x9 front and rear sizing, dwarfing the 15- and 16-inch staggered offerings from factory. However, when the boxes rocked up to the workshop, they were a completely different wheel than expected: bronze ZE40s.
"Initially we thought, 'Oh no, we've got the wrong wheels. What are we going to do?' Leierer exclaims. "But once we gave them a once over and looked at the style and the color, we knew these were the ones."
Satisfied with a test mounting and then wrapped in highly capable Michelin Pilot Super Sport tires, the Builds team then completed the look and feel of the car with track-inspired parts that are perfect for a car that begs to be aggressively street driven. The NSX now stands on KW's top-of-the-line V3 coilovers and is brought down by a StopTech BBK – a street-able version with a parking brake, which was part of a special run just for Clarion Builds.
To finish off the car, Clarion then draped the NSX in a Lamborghini Hurracan shade of "Blu Caelum Metallic" blue paint by Glasurit.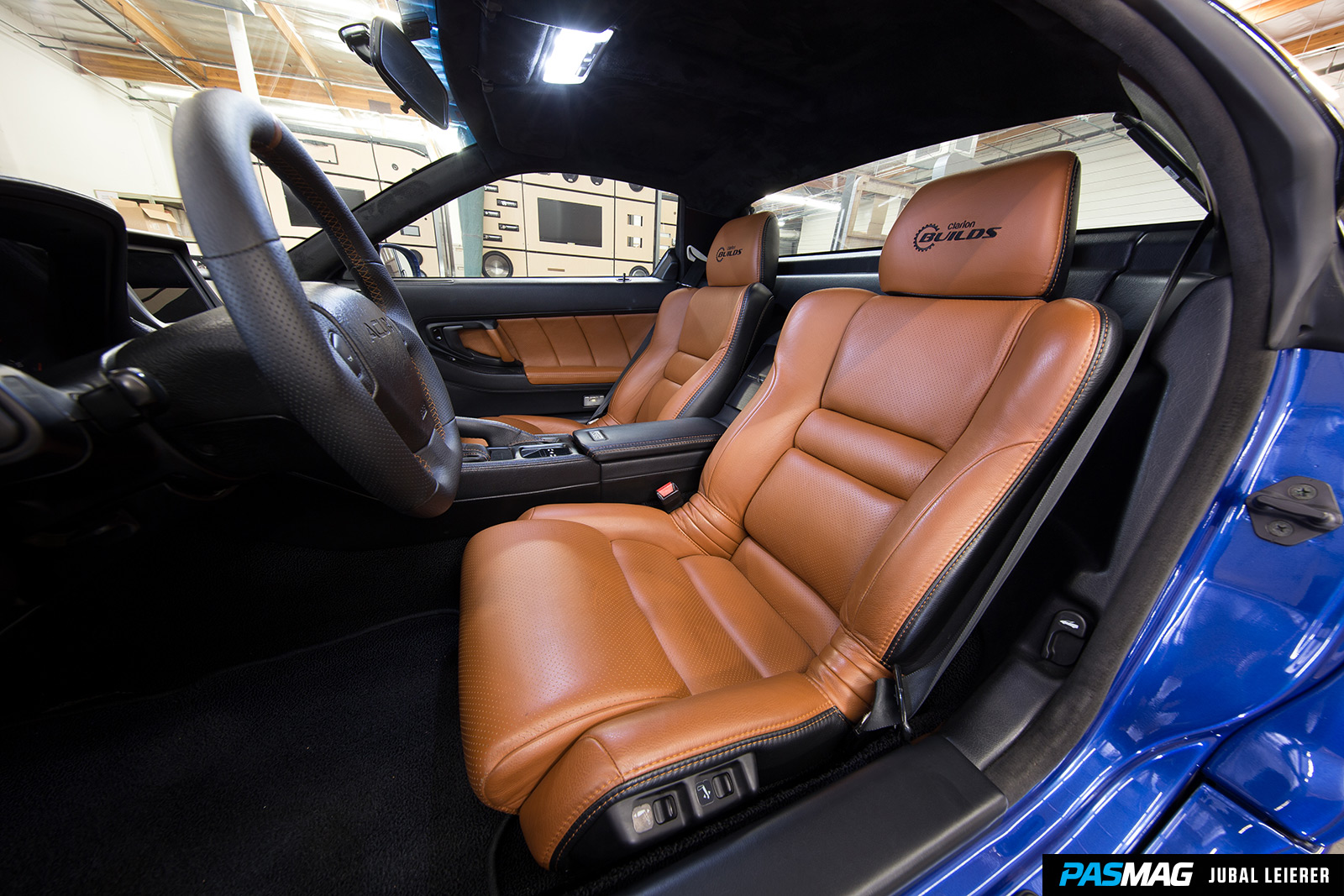 IT'S WHAT'S ON THE INSIDE THAT COUNTS
Though the outside of the NSX can be considered classic and timeless, pop-up lights and all, one thing is true for almost any car of the '90s, and that is the fact that the interiors are god awful. Questionable shades and superdated electronics paired with the look of years of wear through use aren't exactly welcoming combinations. When the Builds team picked up their NSX, it was no different.
"You could see wear on the seats and stains on the carpets," Leierer says. "This car wasn't babied."
One of Mr. Farino's tasks was finding a suitable company to tackle the reupholstering of the interior, to give the NSX a modern feel and a touch of class. He found his answer in the aptly-named LeatherSeats.com. What seems like the first search result on Google is actually a very high quality reupholstering company that tackled everything in the inside of the Acura – from the shift boots and headliner, to the seats and the pillars, everything has been treated to Terracotta brown leather and black Alcantara accenting. The head rests of the seats even feature a custom stitching of the Clarion Builds logo!
Of course, as this is a car built by the techheads at Clarion, it's going to feature some serious technology. For a car straight out of the '90s, the NSX garnered more than enough attention at 2016's CES because of all the impressive gear it's packing.
When sitting inside, your ears are treated to super clean audio from all directions, courtesy of Clarion's exclusive Full Digital Sound (FDS) system. With the system being fully digital, high-resolution audio can be fed straight into the system without worry of sound deterioration. The FDS system is also capable of outputting four times the power of conventional systems at approximately one-fifth of the usual power consumption, and that's all without the use of an amplifier. Instead of an amp, the FDS system utilizes an LSI (Large Scale Integration) chip that ties together thousands of transistors all unto itself, like a microprocessor, which then sends a fully digital signal to the door speakers, tweeters, and 10-inch subwoofer in the factory floor-mounted location. The Builds NSX is equipped with what could be a pretty important part of car audio history.
The NSX also shows off Clarion's Surround Eye 360-degree camera system. Surround Eye is a super intelligent camera system that stitches camera views from, in the NSX's case, the front bumper, the rear license plate frame, and both of the side mirrors. The stitched image is a real-time bird's-eye-view of the car. The cherry on top is that it's all wired up to display on the JDM navigation pod, which was optional equipment on NSXs in Japan.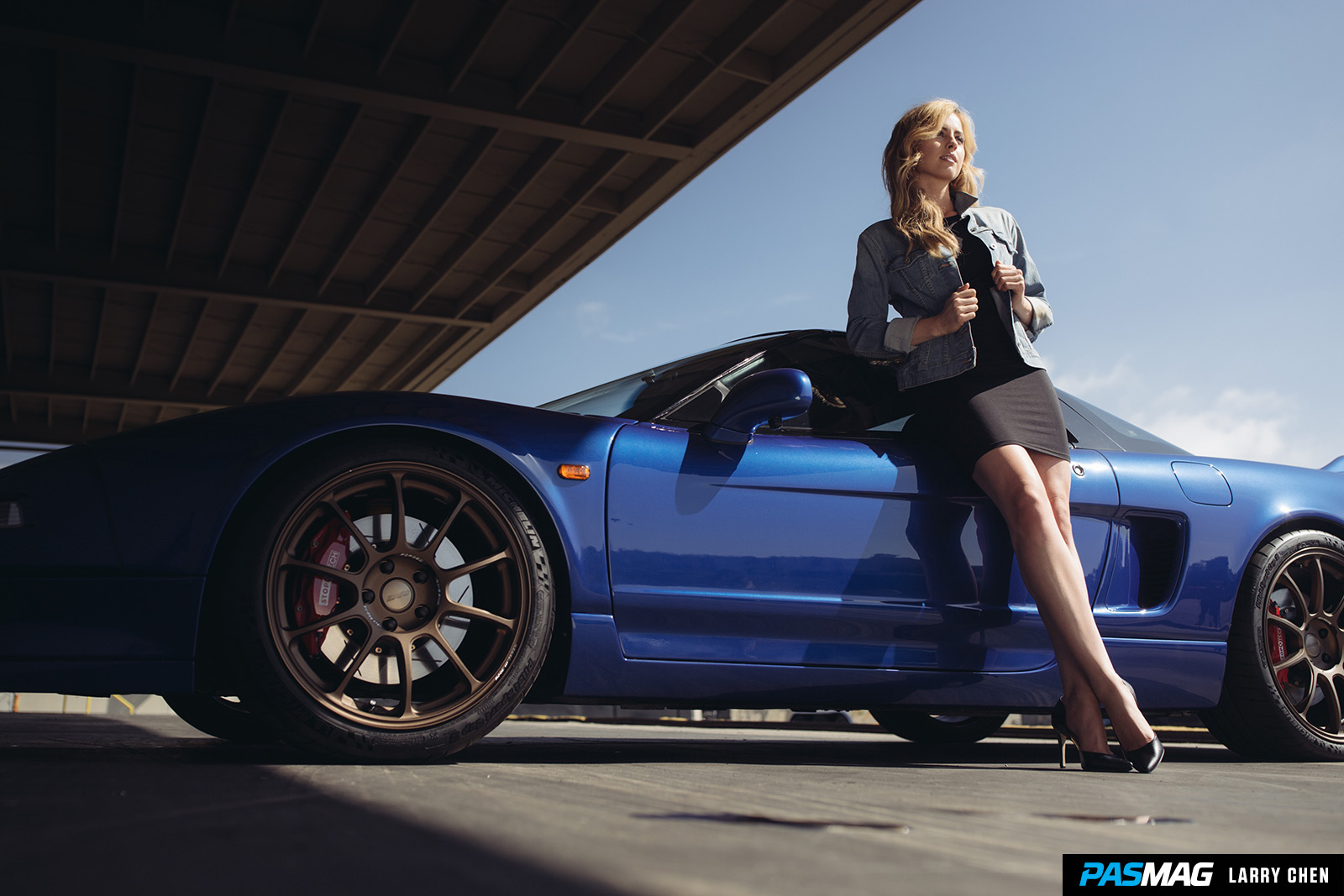 REPEAT SUCCESS
The crew at Clarion Builds has done it again. Their NSX is like if Gotye made a follow-up to Somebody That I Used To Know, and that follow-up song was even catchier (side note: is Gotye now officially somebody that we used to know?). They're no one-hit wonders, that's for sure. And in case you forgot, the car will be up for grabs once it's finished touring around and winning awards.
"Whoever gets this car, when it's auctioned off for charity next year, will be smiling for days," says Gharapetian, smiling himself. "We just want to make sure that at the end of it all, when the ink is dry and everyone is happy, a good amount of money will go to a good cause." #pasmag