Photography by David Cho
---
A few years back, Christian Okoye earned the moniker of "Nigerian Nightmare" as he ran over NFL defenses. Today, another Nigerian, 'Bisi Ezerioha, is causing nightmares for the opposition in his Honda Insight on the import drag racing scene.
Ezerioha, who was born in Nigeria and now lives in Hacienda Heights, CA, runs the "World's Fastest All Motor SOHC Honda," and he re-set that record with a run of 9.76 seconds at 145.28mph at Battle of the Imports in Joliet, IL in September. It was a typical run for Ezerioha, who has continues to improve the performance of his Honda on the IDRA, IDRC and NHRA tours.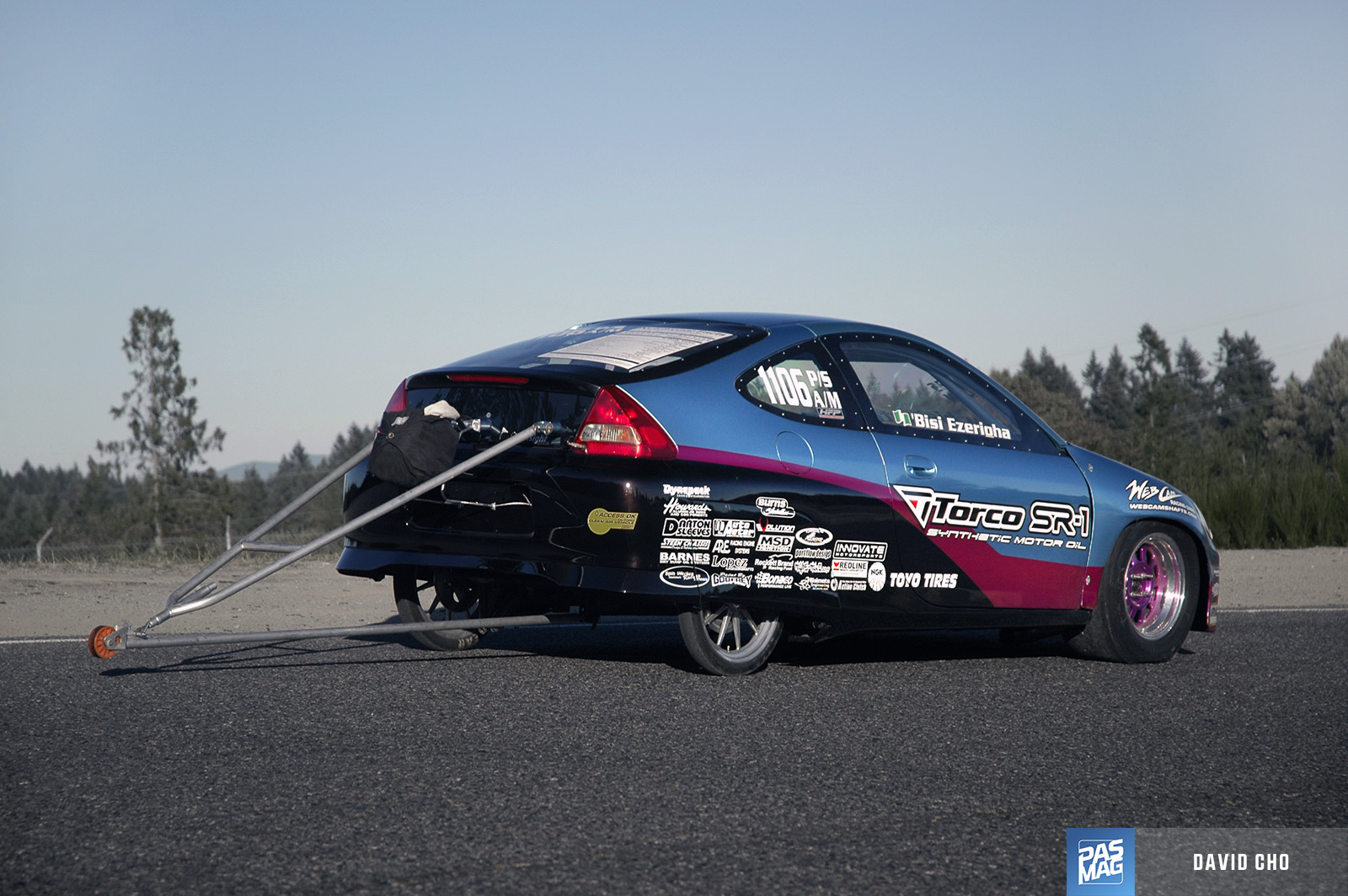 With over 10 years racing experience, Ezerioha and his team at Bisimoto (he's the owner) have committed to finding speed wherever they can. Ezerioha has a firm grasp on the technology side of the sport as he's arguably the smartest competitor on the circuit. Not only was he invited to join MENSA, but Ezerioha started his university education at the ripe old age of 15! Combining his knowledge with that of drag racing and it should be no surprise that Ezerioha is one of the top drivers on the circuit and that his Honda Insight is a record breaking vehicle.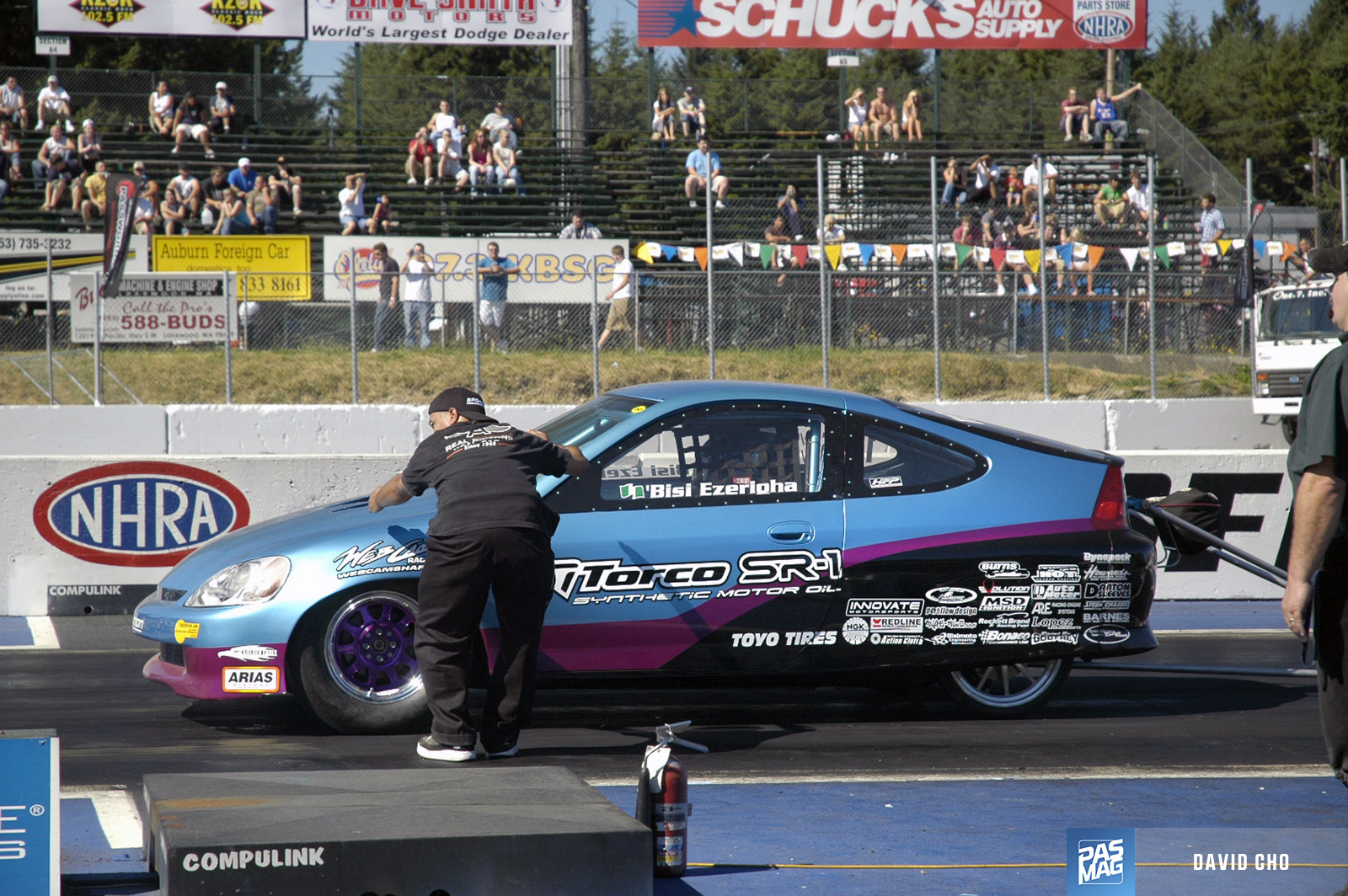 His quick run at Joliet not only was a personal best and All Motor SOHC Honda record, but it also established several other marks. The Insight is now the world's fastest full unibody FWD car and set the world's fastest ET for a car running gasoline, Not a bad set of results from just one pass on the quarter-mile!
To reach those performance levels took a lot of work and effort from both Ezerioha and his crew at Bisimoto. All the under hood mods were performed by Bisimoto and made this Insight the record breaking car it is today.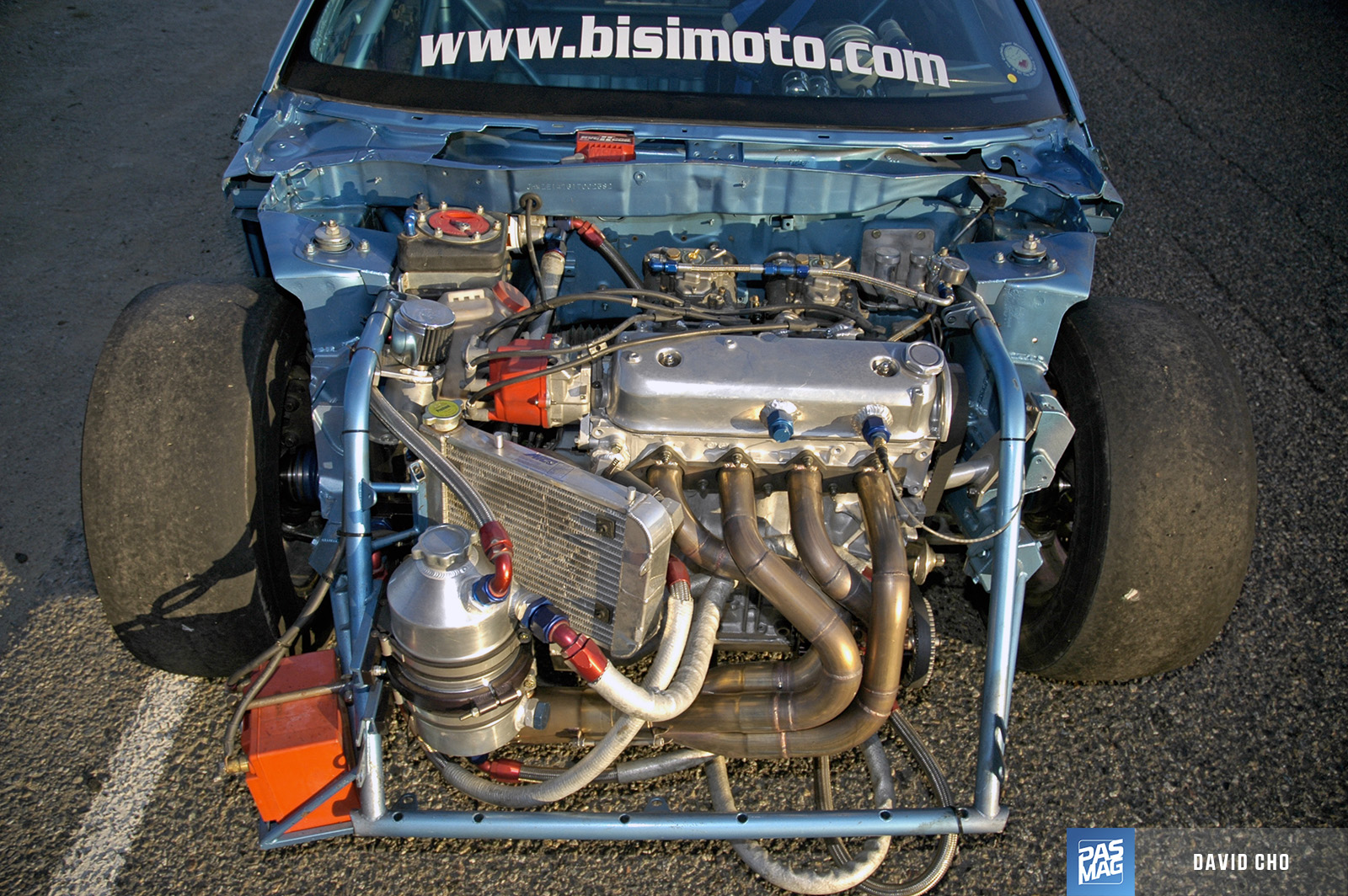 Starting with the F22A SOHC non-vtec powerplant from a Honda Accord, Bisimoto went to work upping its performance. The throttle body was improved with a Redline Weber 55mm model. Bisimoto created a custom manifold that works with a custom Bonaco fuel rail. The cams were improved via a Bisimoto Race Spec Webcam model and the gears are Evolution F22 SOHC models. Timing is controlled by an MSD Ignition 75314 and the spark plugs are courtesy NGK.
The crank comes from a Honda Prelude while the connecting rods are Bisimoto spec Howards Aluminum models. The pistons and rings come from Arias Pistons. A Honda Golden Eagle modified head gasket completes the work under the hood.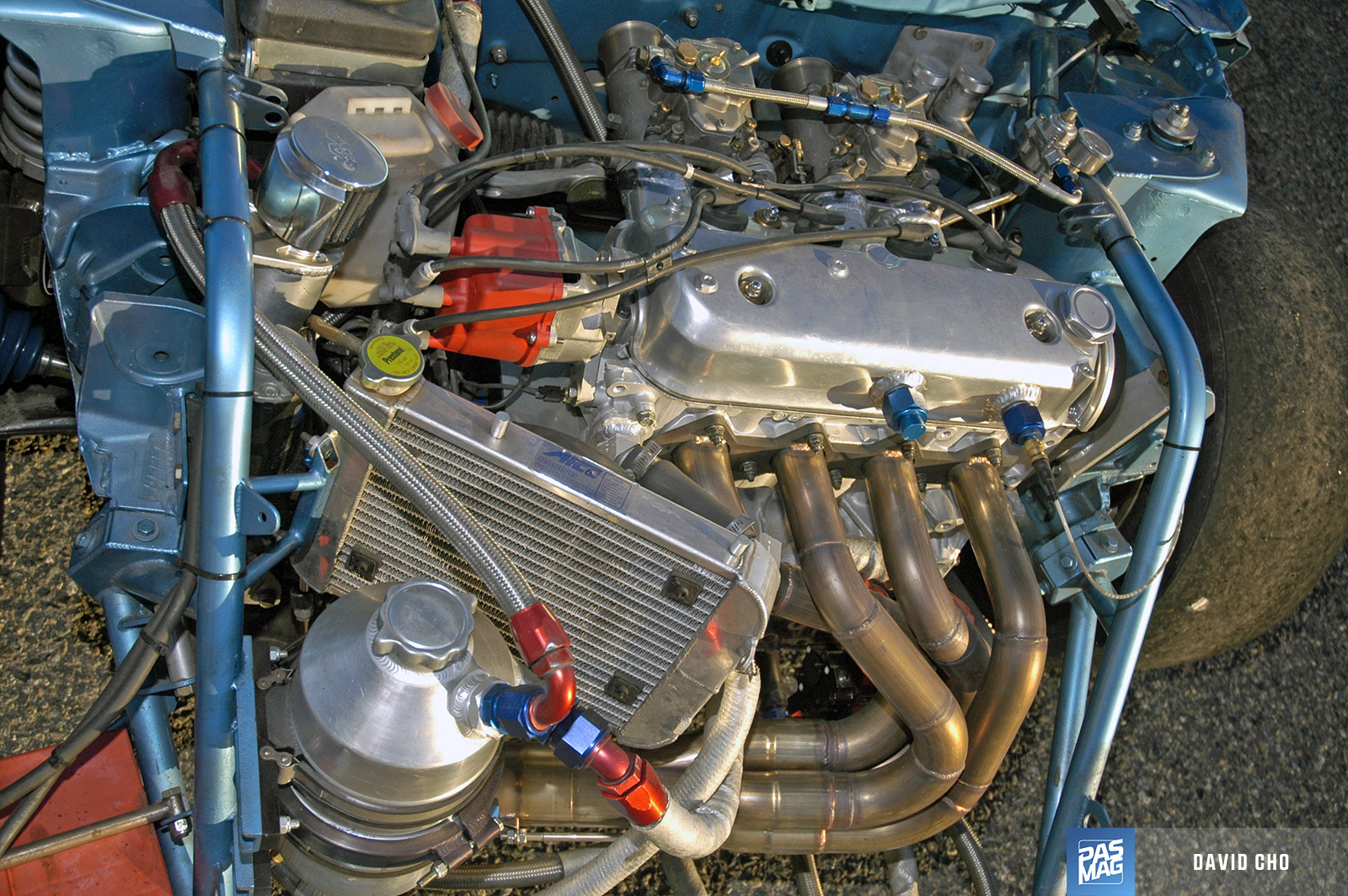 Taking care of the spent gases is a Burns Stainless three-inch ultra-lite SS muffler and a Bisimoto F22 Race header. Combined with the Burns Dyno-SYS Collector, the system allows Ezerioha easier and simpler research and development when he is tuning the header system for new engine configurations and different track conditions. The Venturi designs are both convergent and divergent and have been tested extensively to give Ezerioha accurate results.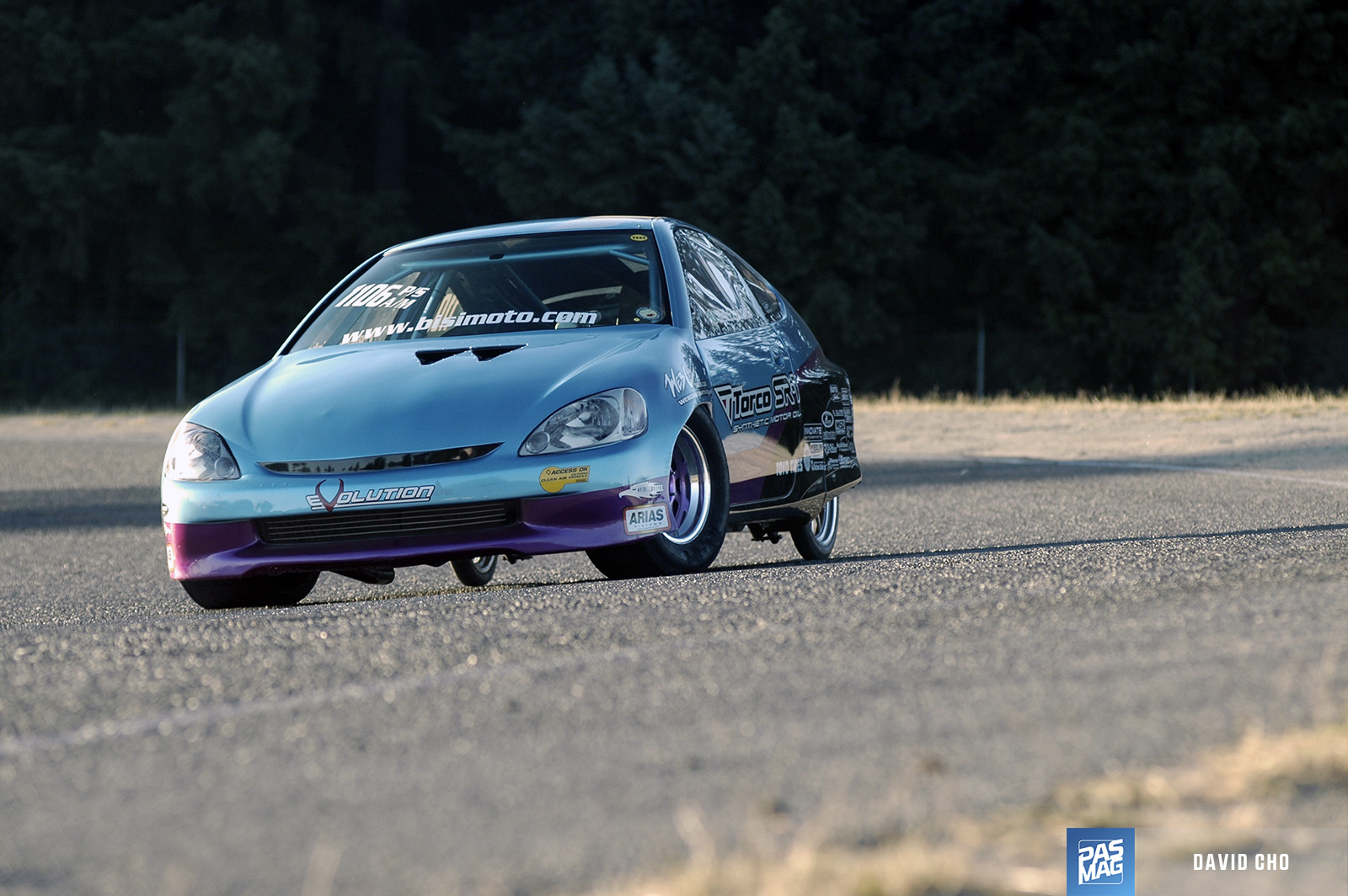 Next, Ezerioha went to work making sure the Insight stayed glued to the track and could be brought down from speed at the top end. Both the front and rear struts and springs were upgraded via Progress Suspension Competition Series coilovers, sport springs (front) and drag springs (rear). Progress also came through with solid spherical bushings. For the drag racing competition side, Ezerioha had to install a Steen NHRA-spec roll cage and wheelie bar. Steen also stepped up to supply solid engine mounts, a chassis spindle mount rear end and a chassis parachute mount. Bringing the Insight to a stop are 10.2-inch, two-piece aluminum hat, cross-drilled rotors up front matched with a Fastbrakes Drag 10.2-1 kit caliper upgrade with a single piston floater and braided Bonaco lines. The rear received a 10-inch, one-piece, solid rotor and a Fastbrakes custom Wilwood caliper, single piston with Bonaco braided lines.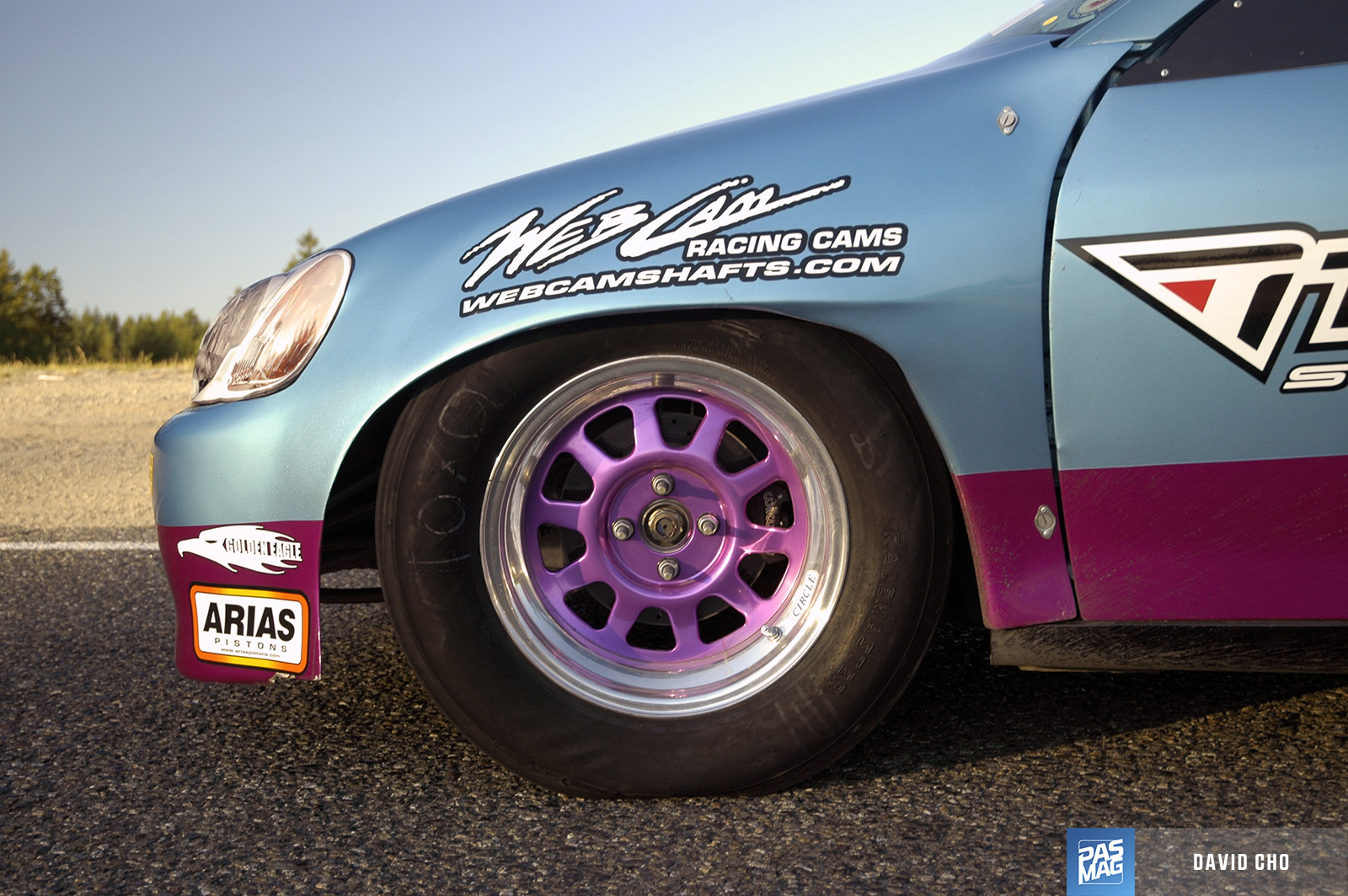 The Insight rolls to the line on Spin Werkes 350 Series wheels sized 15- x 8-inches in the front and 17- x 2.5-inches in the rear. When Ezerioha launches off the line he leaves a patch of Toyo Proxes drag slicks rubber behind, sized 28 x 9-15 in the front and 22 x 3-17 in the rear.
Of course, racing at this level takes the support of some great sponsors and Ezerioha is quick to thank title sponsor Torco Oils for all their help. Also supporting the Insight are Webcamshafts, Evolution Industries and Bisimoto Engineering. Ezerioha has also received plenty of support from friends and family, and would like to thank his parents (Chief Dr. & Lolo Emesia Ezerioha) his KDM Hedi Kim, his siblings, Team 400M, Bob Godfrey, Mike Coughtrie, Gabe at JDM Concepts, Ricky at Industrial Performance, HAP Recycling, Frank Cali, Ned Tanson, Laurie Dunlap, Al at Evolution, Frank at BOTI, Mike at IRDC and the Federal Republic of Nigeria.
The Honda Insight of Ezerioha hits the track hard and is ready to lay down some rubber every time down the track. And you can be sure he's given nightmares to more than one opponent on the strip.