Written by Jordan Lenssen | Photos by Dale Martin
McKinney, Texas has a rich history in the Lone Star state. Incorporated in 1848, it's positioned in the north side, just 30 miles from Dallas, where the fertile land made it the perfect point for agriculture in the area. The growth of textile mills, corn and flour industries exploded with the expansion of the Houston and Texas Central railroad in 1872, leading to the creation of one of the earliest textile mills in the country – the Texas Cotton Mill Company. Today, McKinney is rated as one of the best places to live in the country. It's vast farmland provides plenty of resources, and one of the biggest playgrounds in the northern state. So suffice to say, pickup trucks play a big part in work, and play.
Shaun Freilich is one of those people with whom that sentiment resonates with. The grandson of a classic car collector, he was introduced to automotive builds and restorations from a young age. He started building vehicles in his grandparent's wrecking yard in Lucerne Valley, California and took that experience to trucks, crafting his hobby and laying the groundwork for the F-250 you see here.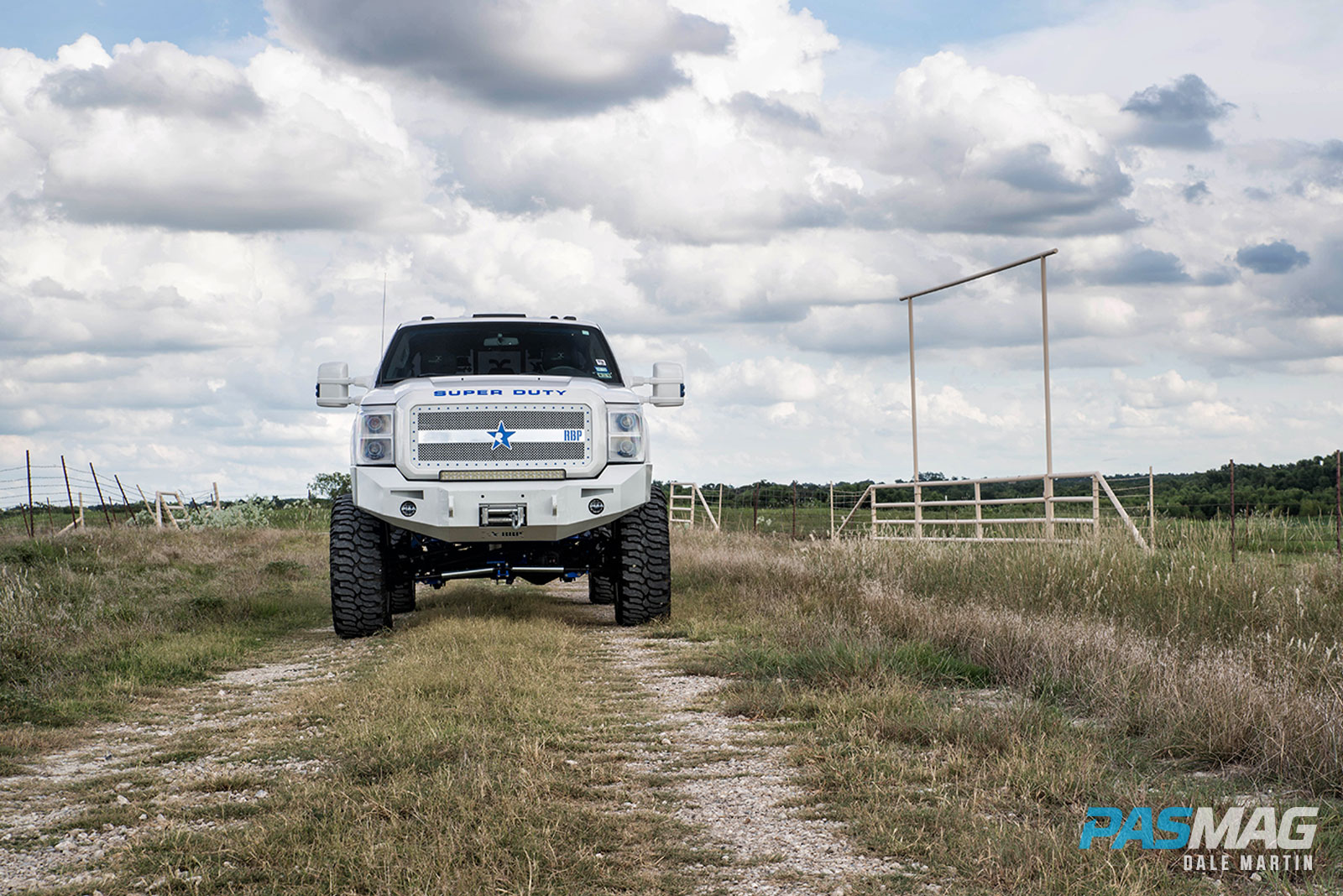 The turning point in his career came in 2008, when, after working extensively with numerous other builders and suppliers, he was approached to build RBP's SEMA truck. The blue-on-white flame paint scheme and matching boat/trailer combo was such a hit that he returned to the show for 2010. Making the most of his experience and his contacts inside and out of the show, Freilich was persuaded to push his hobby into a full-time career, so he created Complete Customs just one year later.
"I started the company back in the summer of 2011," Freilich says. Through [my previous SEMA projects], I met a lot of really cool people in the industry. Some of the owners of the companies we were getting parts from, they kind of persuaded me to open a shop, being that I was in Texas and the economy was good at the time. So I went ahead with the shop in McKinney – it was a single bay, 3,000 square-foot building."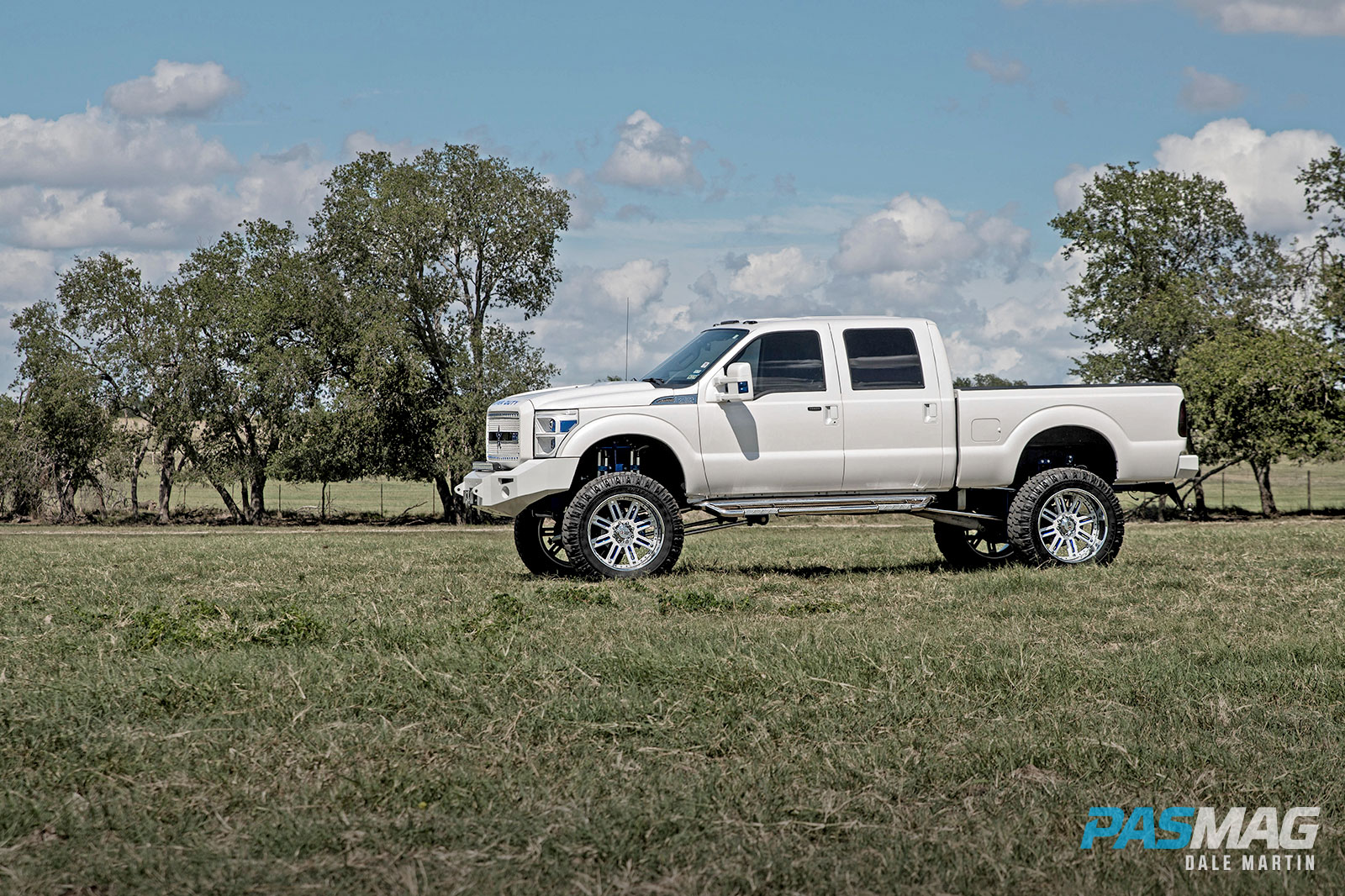 It was just after celebrating their first anniversary that Freilich and his company returned to SEMA in 2012 – again with a Ford, and again with a blue-on-white paint scheme. But this time it wasn't planned. Freilich was actually building a 12th generation F-Series for a private customer, but after working with the stronger, more definitive body design, he saw it evolving into a beast of its own.
"The truck was already built when we received it, it had wheels and tires and a lift kit – not the greatest parts – but it had stuff on it," Freilich says. "[The owner] saw some of our most recent work and said, 'I want you to build me the baddest F-250 possible.' So I sat down with him to see what colors and what direction he wanted, and once that conversation was over, I thought it would be an awesome SEMA build.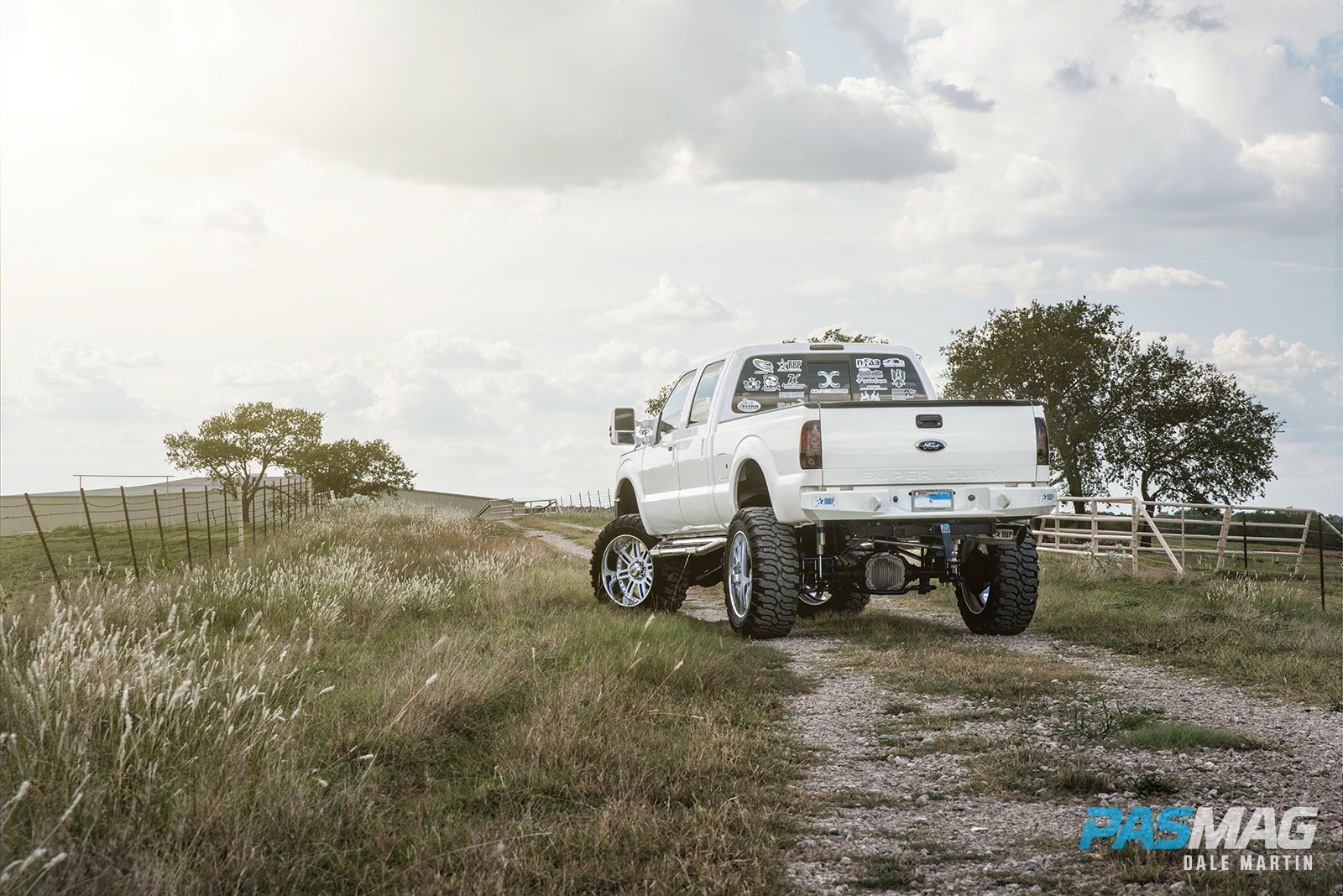 "He said, 'Here's the keys, here's the check book, go do your thing.'"
Commissioning the talented group at KEG-Media to develop a render of the car, it wasn't long before the sponsors and suppliers wanted part of the action. Freilich would make his return to the RBP booth just four years after debuting his first SEMA truck, and the progression was obvious.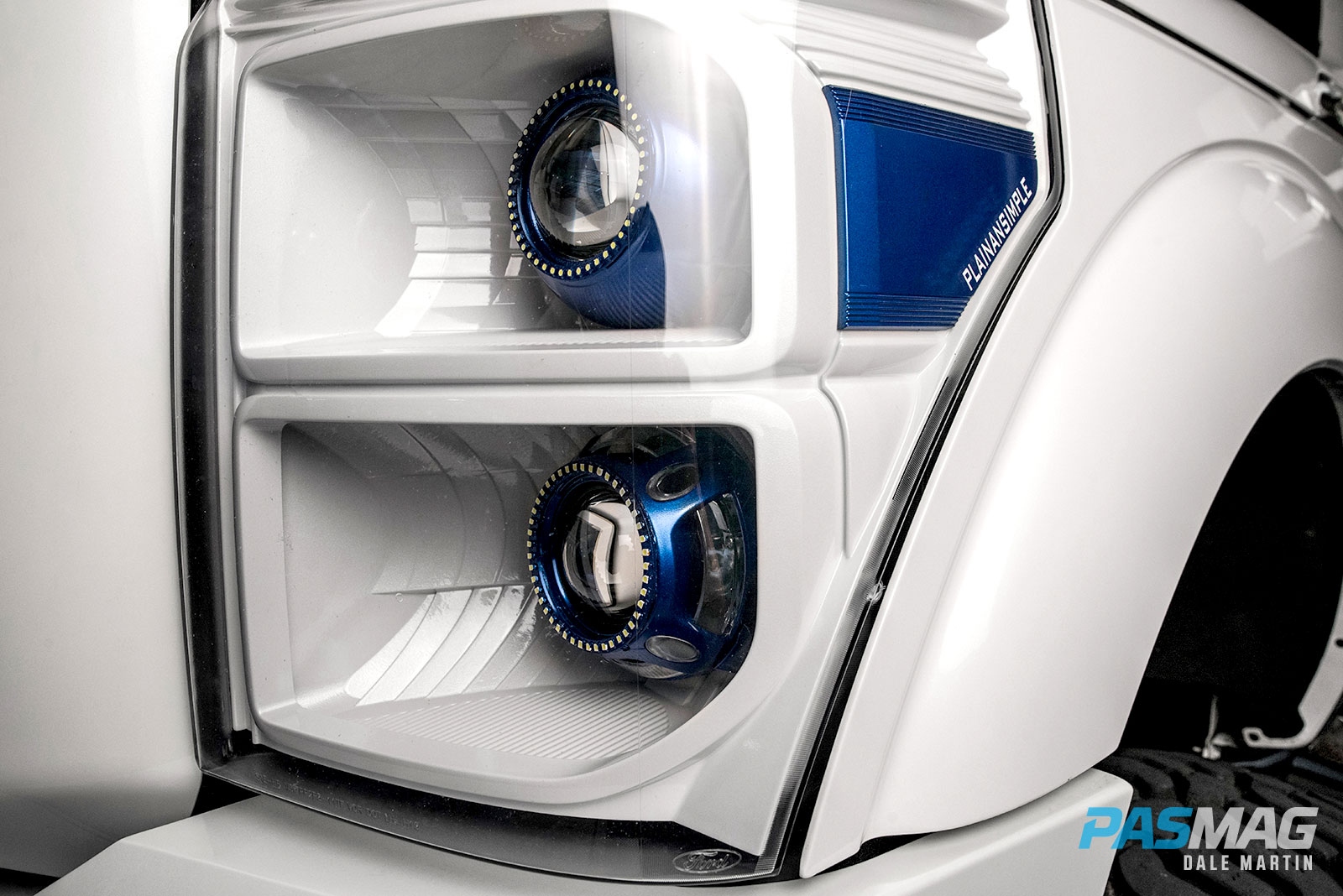 The pearl white paint came straight from the factory, but with stone chips and dings, CC made sure to expertly match each exterior upgrade to the original color – no easy task. The minimal blue accents stick to the clean theme while contributing just the right amount of electricity to make it pop. The 24-inch, two-piece RBP Revolver wheels are paint-matched, and each of the eight spokes detailed using the same blue, which on closer inspection, hides a customized set of Kelderman 8to10 four-link air ride suspension components.
"It's a full bolt on kit – there's a little bit of welding and fabrication, for sure. It's the premium kit, but we custom powder-coated it and chromed out the accessories to match the rest of the build."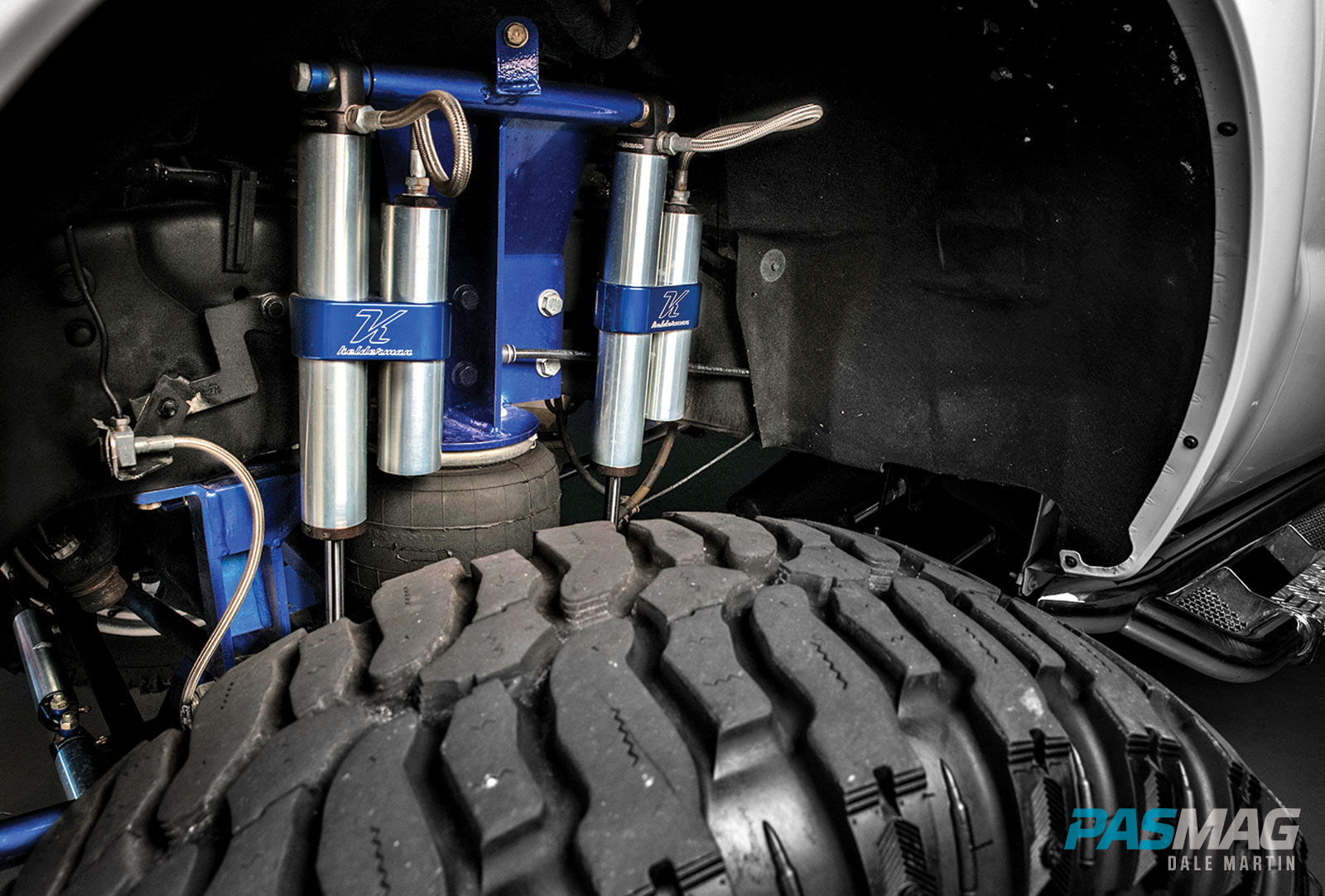 What's more, with as much as 10 inches of travel, the F-250 is extremely versatile. At six inches of wheel clearance, it's an easy entry and comfortable ride height for rural or suburban drives, but a flip of the switch and the Kelderman kit balloons to an incredible 14 inches, wheel to fender.
Paired with 800 lb-ft of torque from the Ford 6.7-liter turbo diesel and the chunky treads of the 24-inch Interco SS-M16 tires, and regardless of the job or location, this F-250 will get there with little to no effort.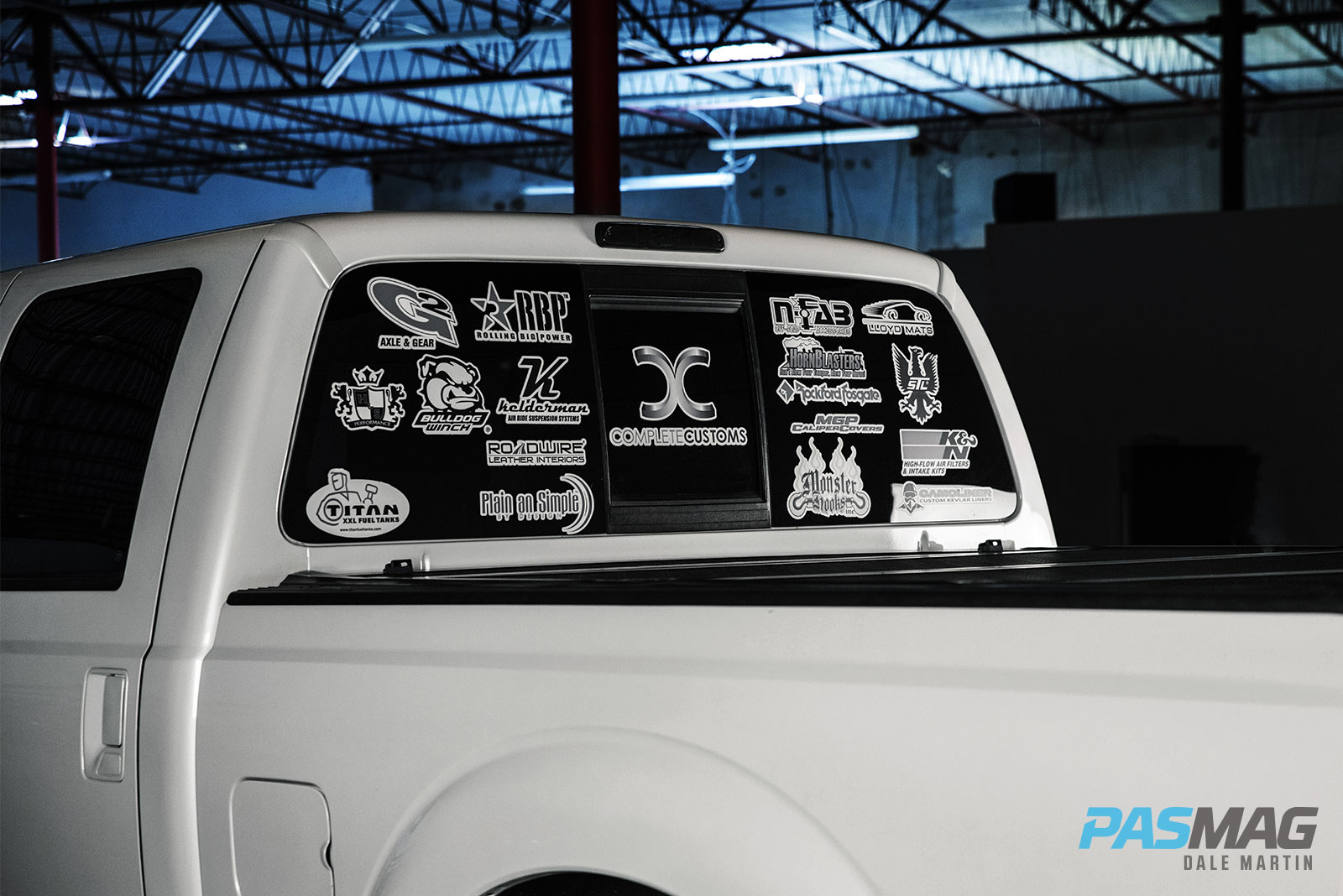 The OEM front and rear bumpers were replaced with RBP's offerings, stamped with the company logo, complete with double tow hooks on each end and a cutout to make room for a front-mounted six horsepower Bulldog winch capable of pulling a 12,000 lbs. of anything from anywhere.
In terms of detail, Complete Customs left no stone unturned. Nowhere is that more evident than on the RBP RX-3 grill and custom Plain & Simple headlight assembly, which are paint-matched in the factory pearl white, then accented with blue bolts and lens housings. Even the RX-3 chrome side steps received a fresh blue coat in the logo detail.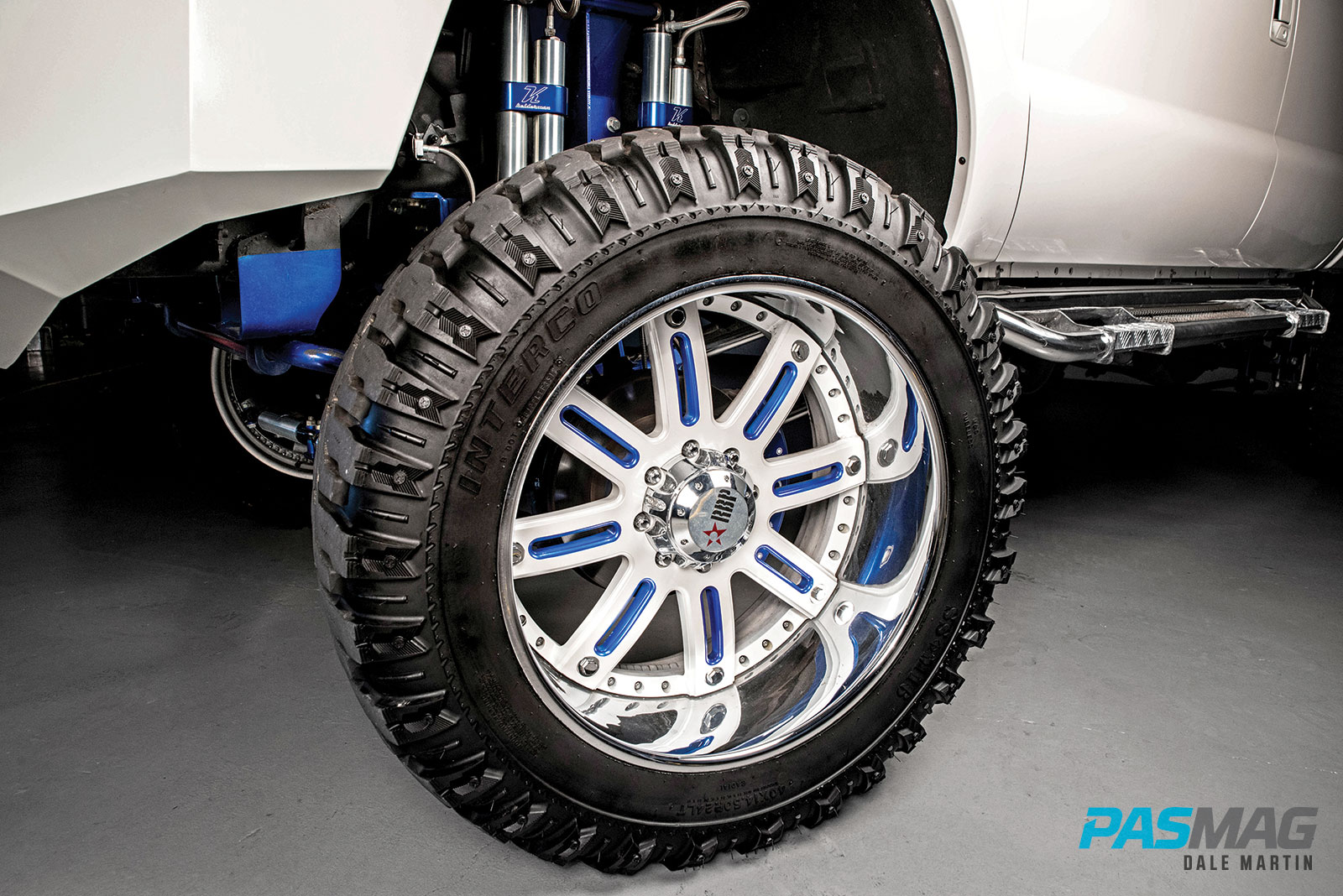 When you get inside, it's evident how encompassing this build really is. The blue suede headliner is stamped with the CC logo, the entire dash is dressed in blue, and Roadwire Leather Interiors drape the seating, finished with stitched logos in the back and headrests. From the driver's point of view, he has complete control of performance and sound, starting with an H&S Black Maxx Programmer that displays more than 20 vital engine statistics (four at one time), and on-the-fly tuning with four power levels to pump sound through the monstrous MBRP stainless exhaust.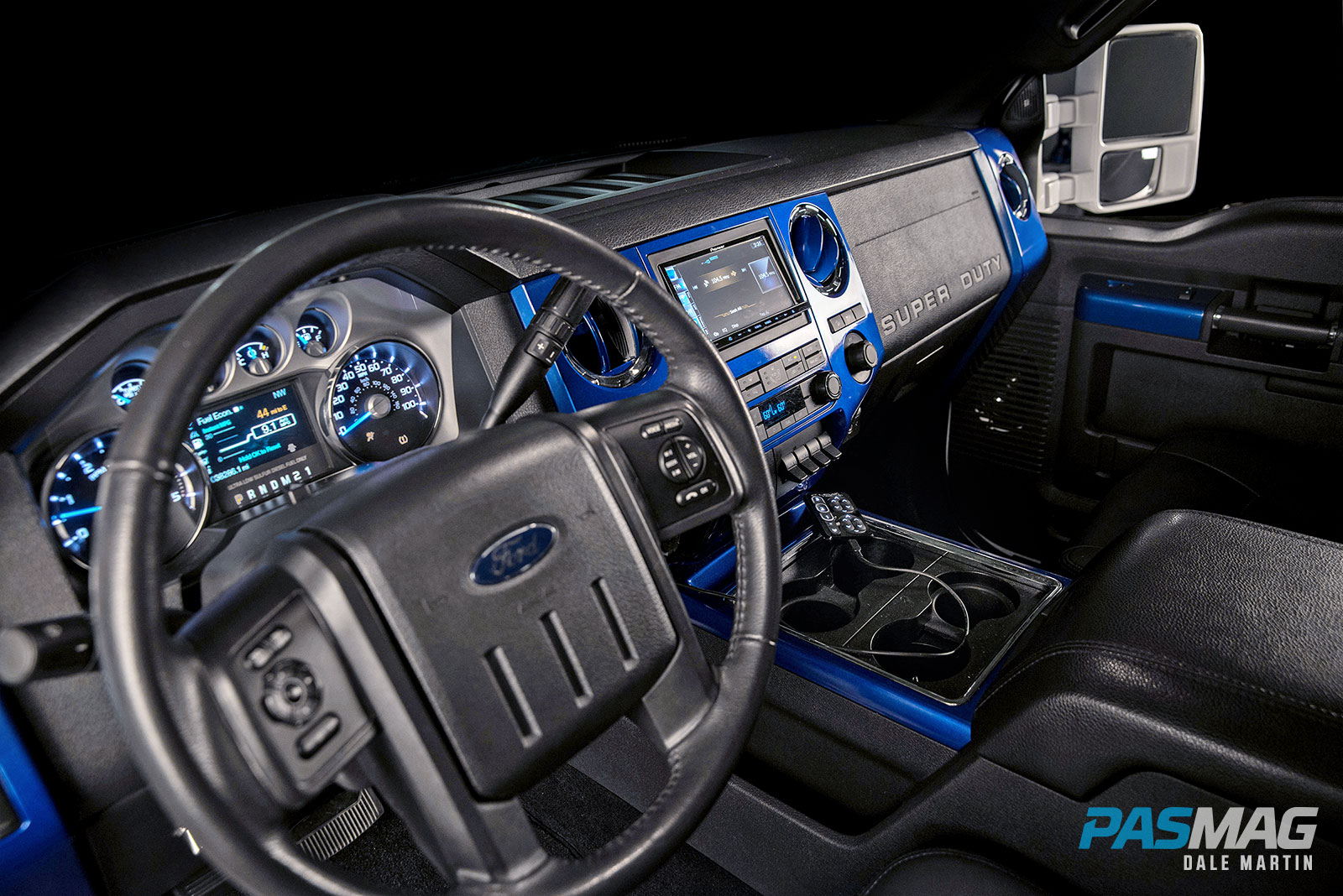 For audio of a different kind, Pioneer's flagship AVIC-Z140BH head unit controls an array of Rockford Fosgate components, including a T1000-1DB1 sub amp, a custom-enclosed set of P3 subwoofers, and a T400-4 amp that sends sound to T2 6.5-inch component speakers.
It's this type of work that proves why the company is so deserving of its name and why it exists in the first place. But ask Freilich, and he doesn't forget his roots and the people who helped get him here.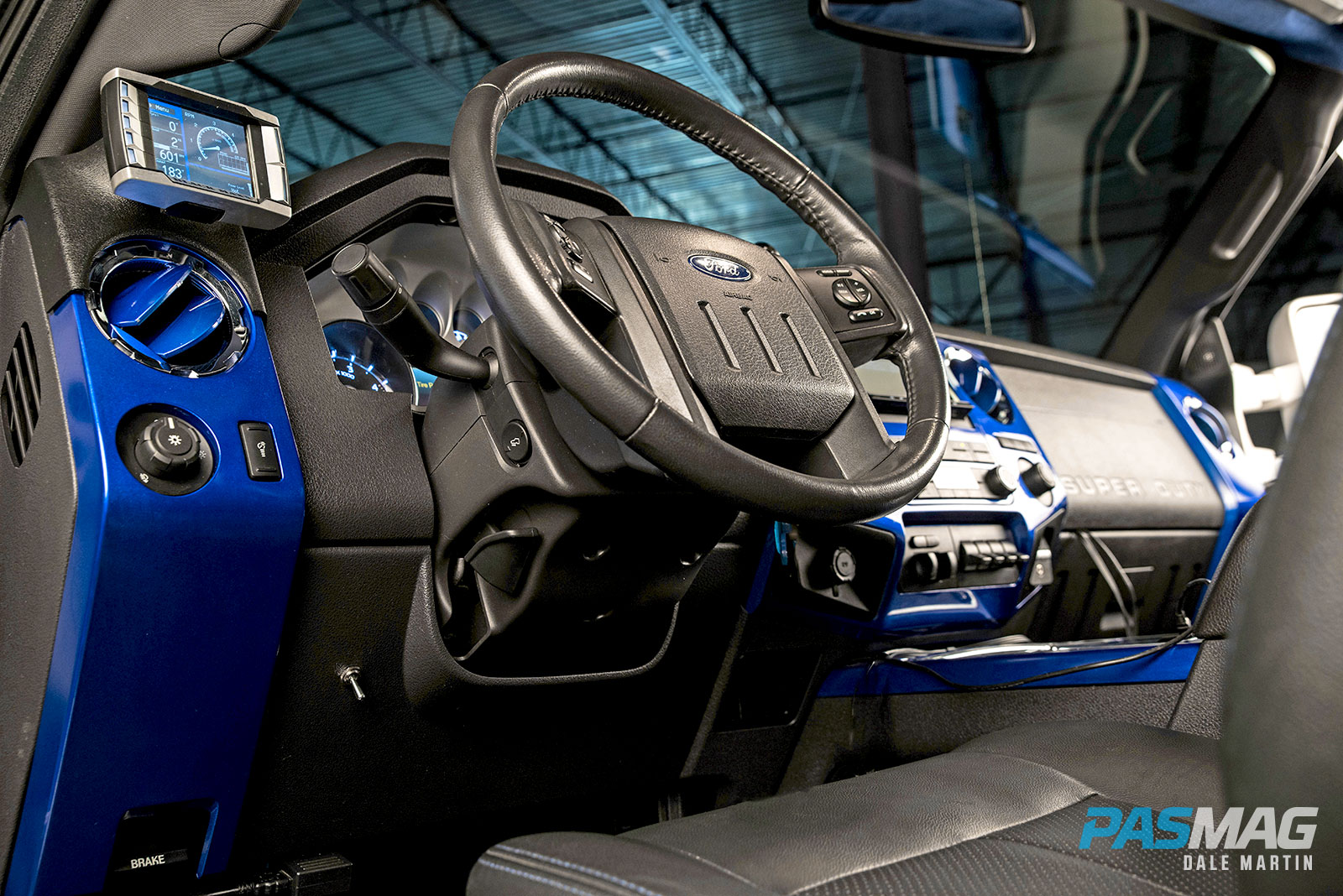 "Roland Trudell of RBP was one of the key people that influenced me to open a shop," he says. "I worked with him for the first time at SEMA in 2008. He introduced me to a lot more people in the industry and paved the way for me to do this, schooled me on what to do and what not to do. I owe it all to him. If it wouldn't have been for him – teaching, encouraging and persuading me – I probably never would have opened Complete Customs.
"During the remodel and building prep for the first shop, a young gentleman walked over named Luis Salas," Freilich says. "He saw what I was doing and asked to work for me. I wasn't really looking to hire anybody that early, but I did, and he's my lead guy now. He's been with me since day one."
Last year, Complete Customs upgraded to an 18,000 square-foot facility and opened a new location in Odessa, Texas, and they show no signs of slowing down.
Just three years later, the company will be hitting SEMA in full force with a seemingly-impossible amount of projects – 17 to be exact – which includes 16 trucks and two new undertakings that will display the company's growth even further: a brown Audi A5 with paint-matched wheels and a Cadillac CTS Wagon that we can't wait to see. Complete Customs might be in its infancy, but when it's spread across some of the busiest booths at one of the industry's biggest shows, you know it's here to stay.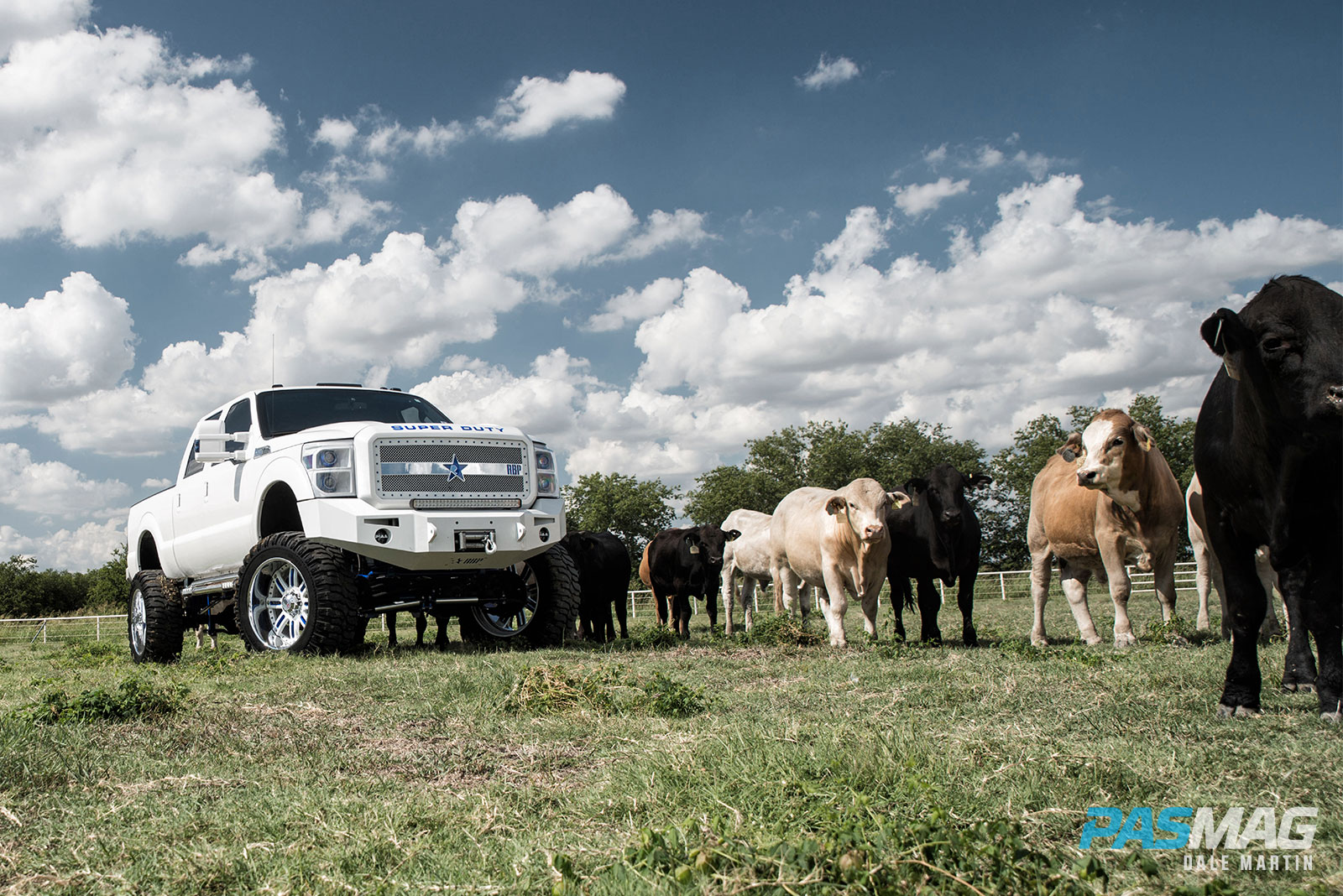 ESSENTIALS // Vehicle: 2012 Ford F-250, Built By: Complete Customs, Location: McKinney, TX, Engine: 6.7L Turbo Diesel V8, Horsepower: 400 hp (est.), Torque: 800 lb-ft (est.)
ENGINE MODIFICATIONS // K&N air intake, Black Max Pro Max programmer, Titan fuel tank
EXHAUST // MBRP stainless steel exhaust
WHEELS / TIRES / BRAKES // RBP Revolver wheels – 24-in. (f/r), Interco SS-M16 tires – 40/13.5 R24 (f/r), MGP brake caliper covers
CHASSIS / SUSPENSION // Kelderman 8to10 4-link air ride kit (custom chromed and powder-coated)
EXTERIOR // Ford Pearl White paint refinish, RBP (front bumper, rear bumper, RX-3 front grill, RX-3 side steps, chrome side vents), Monster hook, Bulldog 12,000 lb. winch, Plain & Simple headlights (custom housings), PIAA fog lights, Vision X 30-in. LED light bar, Horn Blaster air horns, Flex Bed cover
INTERIOR // Roadwire custom interior, Custom (blue suede headliner, floor mats)
MOBILE ELECTRONICS // Pioneer AVIC-Z140BH in-dash head unit, Rockford Fosgate (T1000-1DB1 subwoofer amplifier, P3 subwoofers (2), T400-4 amplifier, T2 6.5 component speakers), Custom rear subwoofer box, Floating amplifier rack