Photography by Nate Rolen
---
One of the coolest things you can experience as an enthusiast is looking back to see how far you've come and how much you've learned. Depending on how you work, it could be looking back on the same build through various stages, or even various projects that have lead you to the one you have now – both of which reflect the evolution of your taste in building and modifying.
While he may have gotten into the diesel game a little later, Lane Wakeland has always been a truck guy, through and through. Before the gorgeous F-250 featured here, his foray into the truck world was a '98 Sierra 2500 4x4, with a single cab and a king bed. He got the truck for a steal, as it was a retired from its job at an electricity company, and it came with the utility bed and roof-mounted spotlight to prove it. That look didn't last long though, and Wakeland and his father soon tore into it to give it a new lease on life.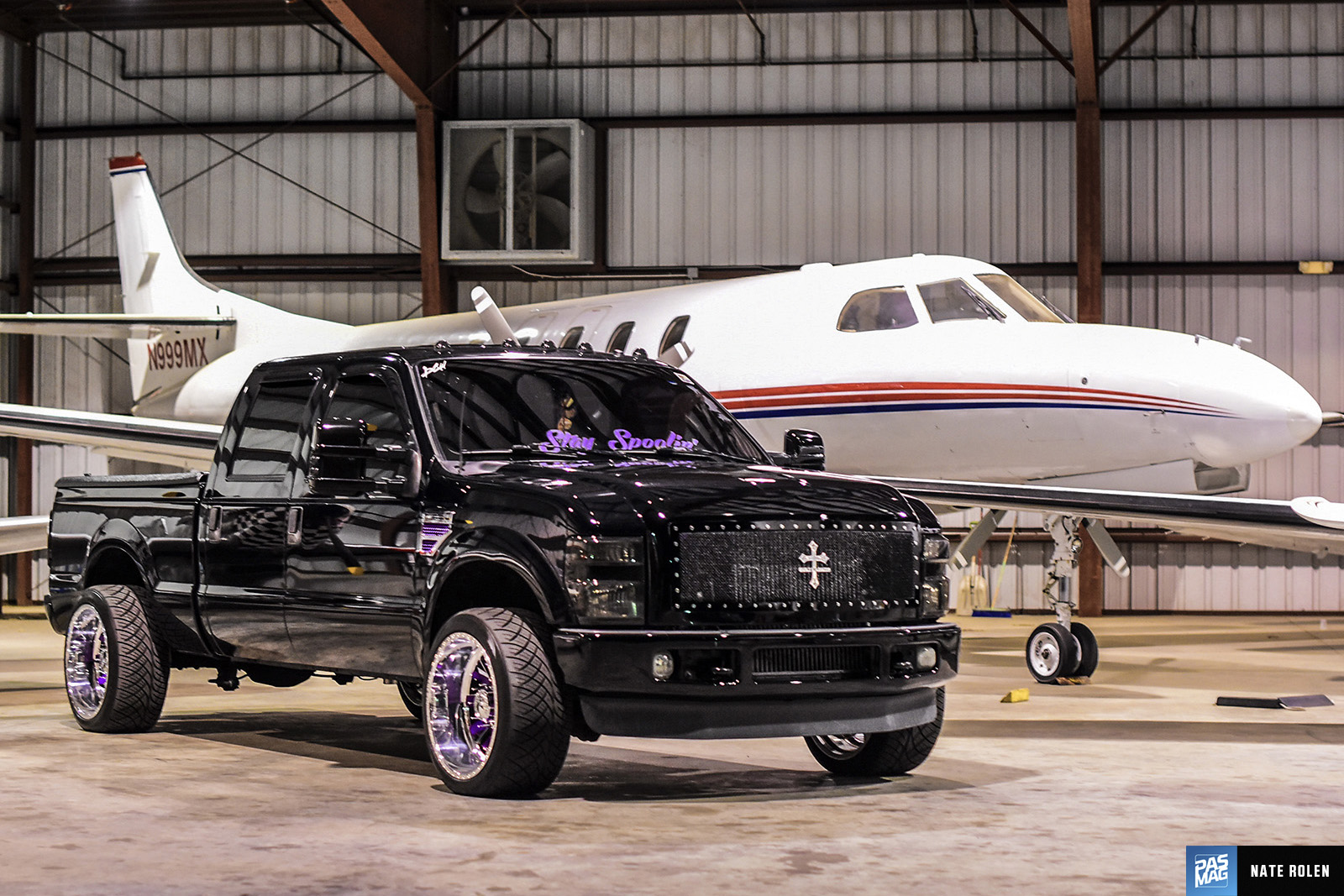 "My dad and I pulled the bed off, put a regular long bed on its frame, had the truck painted, new wheels, two JL W3V3 subwoofers behind the seat with a JL 1000/1 amplifier under the seat," Wakeland recalls, fondly. "I never had a single issue with that truck."
Despite not having an issue, the Sierra was soon sold and a Silverado Z71 took its place, giving Wakeland some insight into the world of lifted trucks, with a four-inch lift, 15x10-inch wheels, performance tune, and LED underbody lighting. A 2002 Cummins-equipped Ram would come after that, which Wakeland pretty much threw the parts catalogue at for over two years. That's where he fell in love with diesels.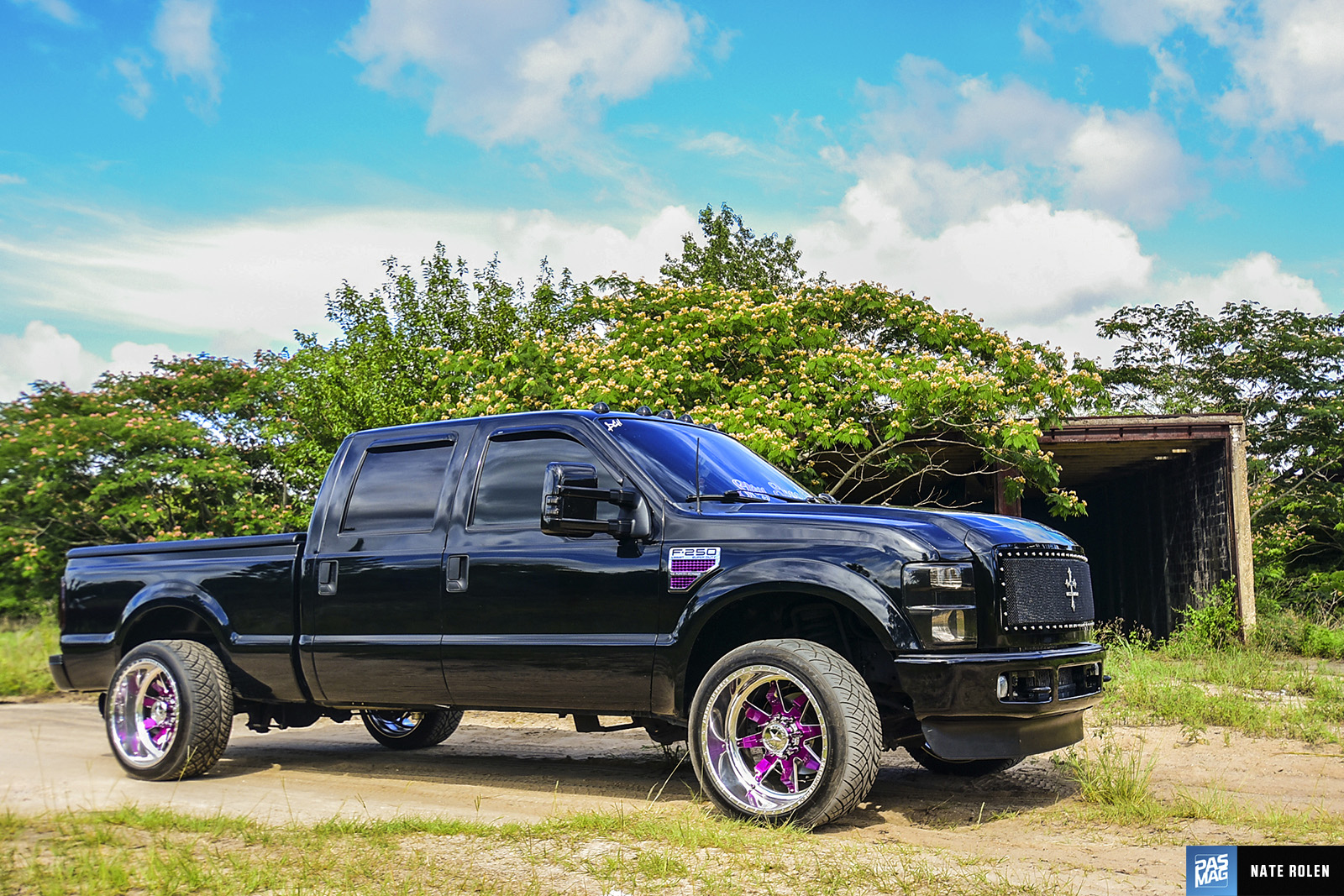 Not one to have a project for too long, Wakeland had sold the Dodge and was looking for his next canvas, and, for a while, he considered not going with another truck.
"I figured I'd wait awhile before I got back into another truck, save some money, race motocross for a bit," he lists, laughing. "Then one night at work I was on Autotrader and stumbled across the truck I now call 'SlowLowStancedSixFo.'"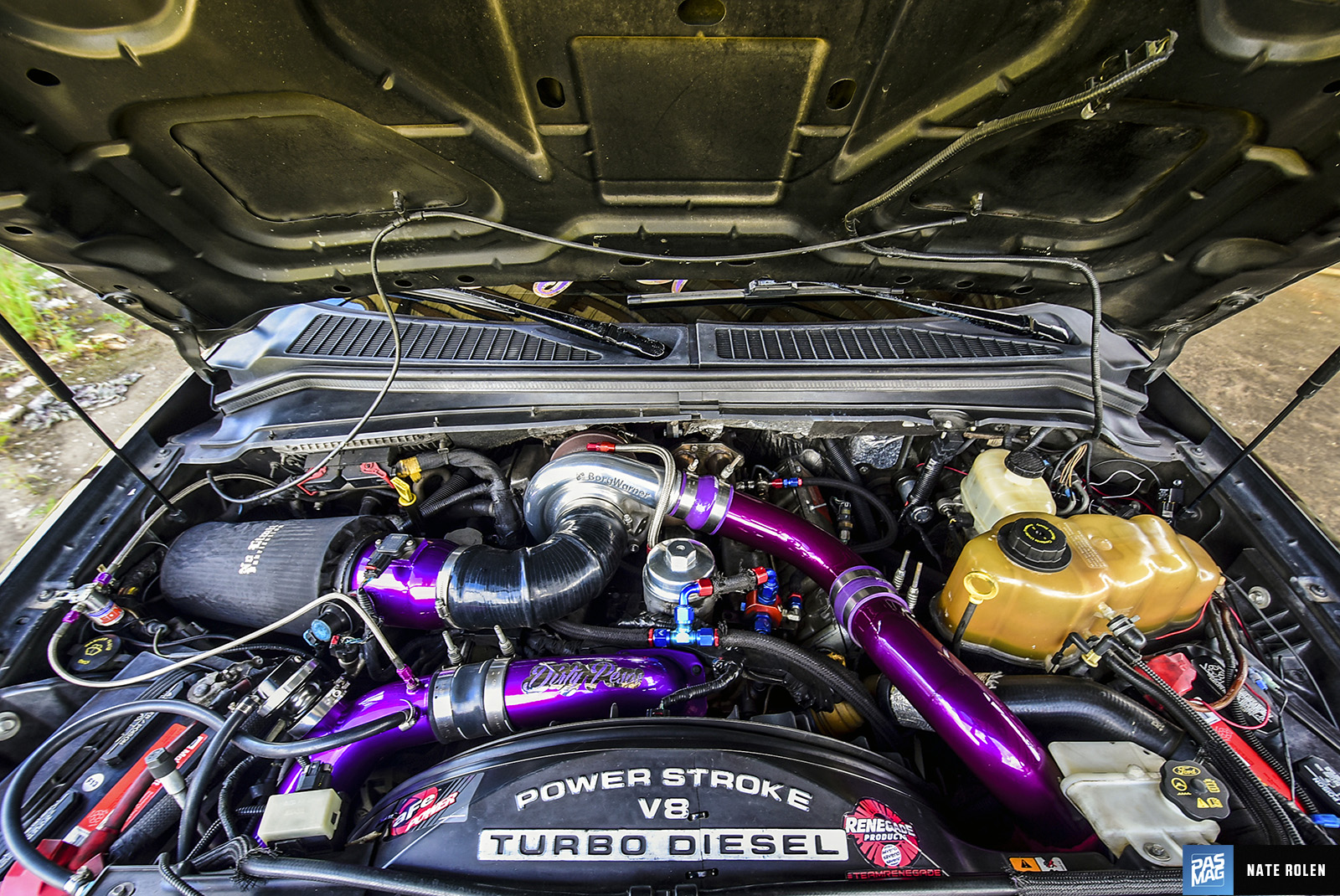 The truck was a 2008 Ford F-250, and the "SixFo" refers to its 6.4-liter Powerstroke diesel V8. Since getting into the diesel scene, Wakeland had heard the Ford diesels can make for a fast truck with minimal modifications, which sounded great, until he learned that they can also power-stroke their pistons in half, and cracking pistons doesn't sound fun for anyone. This truck was different though.
"The motor was built by the previous owner, a Powerstroke tech at Ford, due to the number two piston cracking," says Wakeland. "Since the one problem that these trucks are notorious for was fixed, I decided to check it out, and after a 30-minute test drive, the truck was coming home with me!"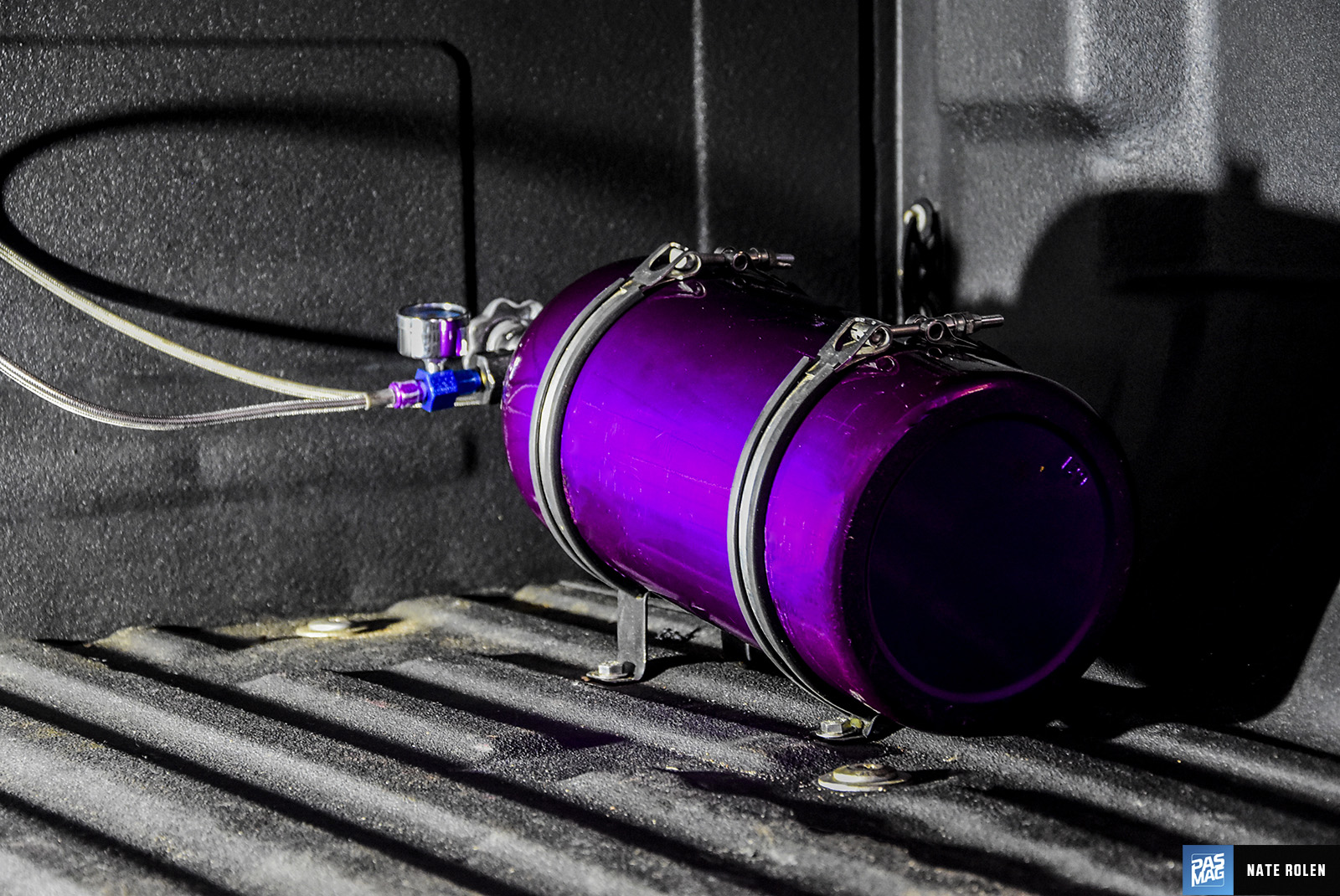 Since then, the Ford has been host to a vast number of mods. Wakeland bought the 6.4 to make it go fast, so a Borg Warner S369SXE single turbo swap wasn't far behind, as well as a No-Limit Fab air intake, Elite Diesel Z-Max Jr. ported manifold, and a three-way valve job. Though he likes to joke that the F-250 is "low and slow," only the height bit is true. He's recently added a ZEX dry 150-shot nitrous system to the truck, which bumps numbers from the Superduty to around 700 horsepower and 1,300 lb-ft of torque. We'd say it's low and good to go.
Unfortunately, with the piston problem being taken care of, it didn't make everything on the engine bulletproof and Wakeland has been through a few turbo pedestals since taking ownership. However, the last time he pulled the fender wells and top of the engine out, he replaced the pedestals with Smeding's offerings, and has been golden for over 25,000 miles.
Taking up the exhale end of the turbo is a set of heat-wrapped manifolds from a 6.0-liter Powerstroke, Beech Performance cermanic-coated up-pipes, and a FloPro four-inch turbo-back exhaust system. To handle all that extra power, the trans has been beefed up as well, with a built 5R110 competition transmission and 2,400-stall triple-disc torque converter from SunCoast diesel.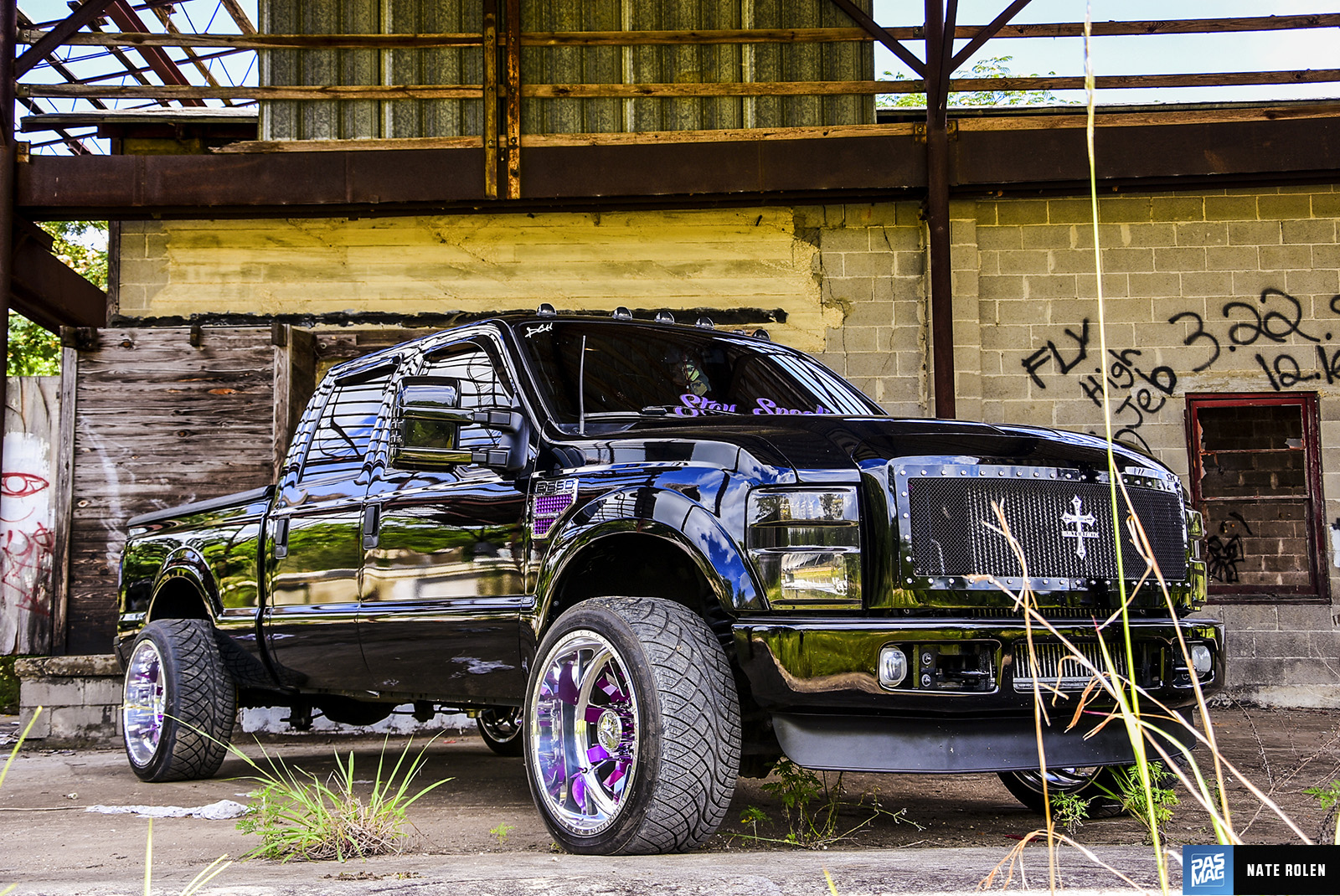 When it came time to do the suspension, Wakeland had already had his time with lifted trucks and wanted to do something a little different.
"I've tried to do my own thing," he says. "Low and decently quick is different, and in today's 'scene,' different is few and far between."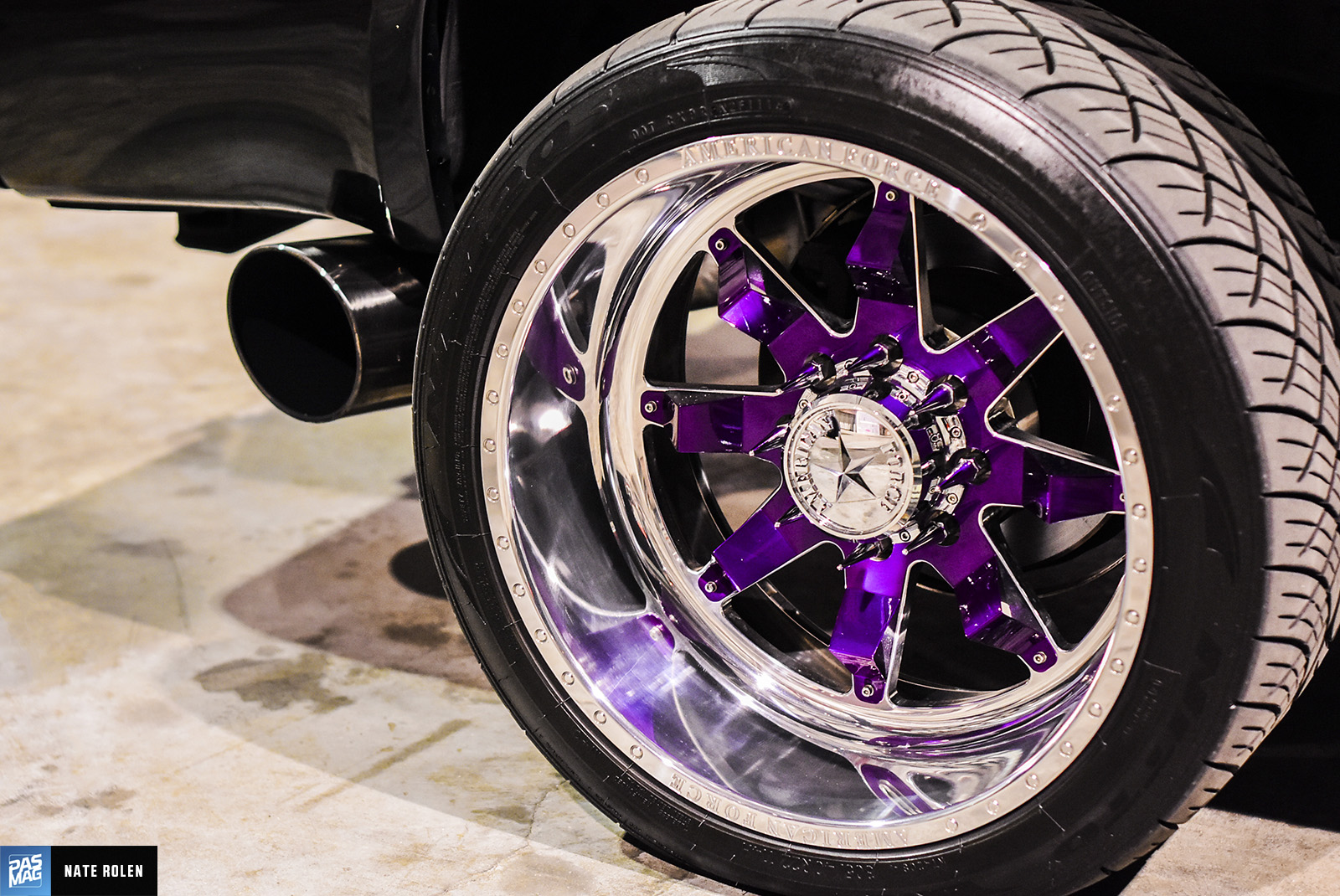 Providing the drop he was after are a set of Rancho shocks and some lowering springs, allowing for two inches of down-to-earthness over top of Wakeland's favorite part of the build: his American Force Stackz wheels. The 22x12 wheels were a part of American Force's Faceplate Series, which allowed the raised aluminum faceplate covering the center of the wheel to be swapped out for a different look. Wakeland says that he believes there were only two sets of the faceplate he has before they were discontinued. That, plus the purple they're currently dressed in make them a winning addition on this truck.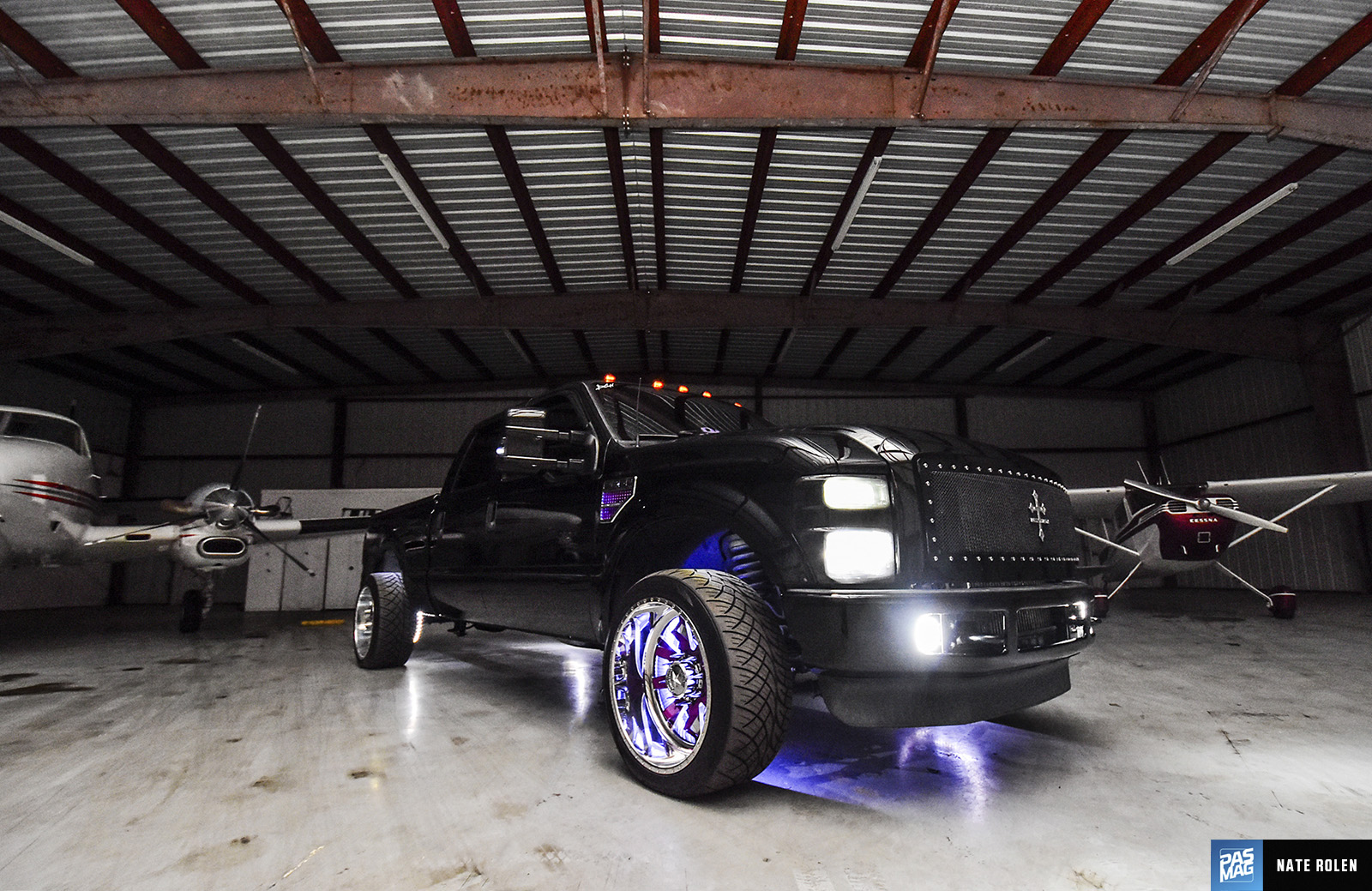 Since the F-250 is entered in quite a few shows, it's had a bit of a wow-factor added. While Atlas Lighting wheel well lights and Swamp Donkey wheel ring lights illuminate the American Force wheels, while back-lit fender vents and a full LED replacement of just about every bulb on the Ford make for a completely different look when the sun goes down. The whole truck has been color-matched to be as blacked-out as possible, and the whole build is tired together by a cross badge from Kahl Kreations on the front grilled that reads, "Built On Faith."
"I'm not a hugely spiritual person, but I am a firm believer in the man upstairs," Wakeland explains of the emblem. "In order to build anything, you need a good foundation. Faith in the Lord is that foundation for me."
Inside, Wakeland looks over two displays that give him information on his truck. The Edge CTS2 digital monitor lets him know what's going on with the Powerstoke and how happy she is, while a Soundstream head unit shows just how loud he's bumping his tunes. Signal from the head unit feeds to a Kicker ZX 1000x1 amplifier, which then powers a 12-inch Memphis shallow-mount woofer in a custom enclosure. Just enough to make the neighbors mad – either that or the bellow that must come out of the Smeding exhaust tip.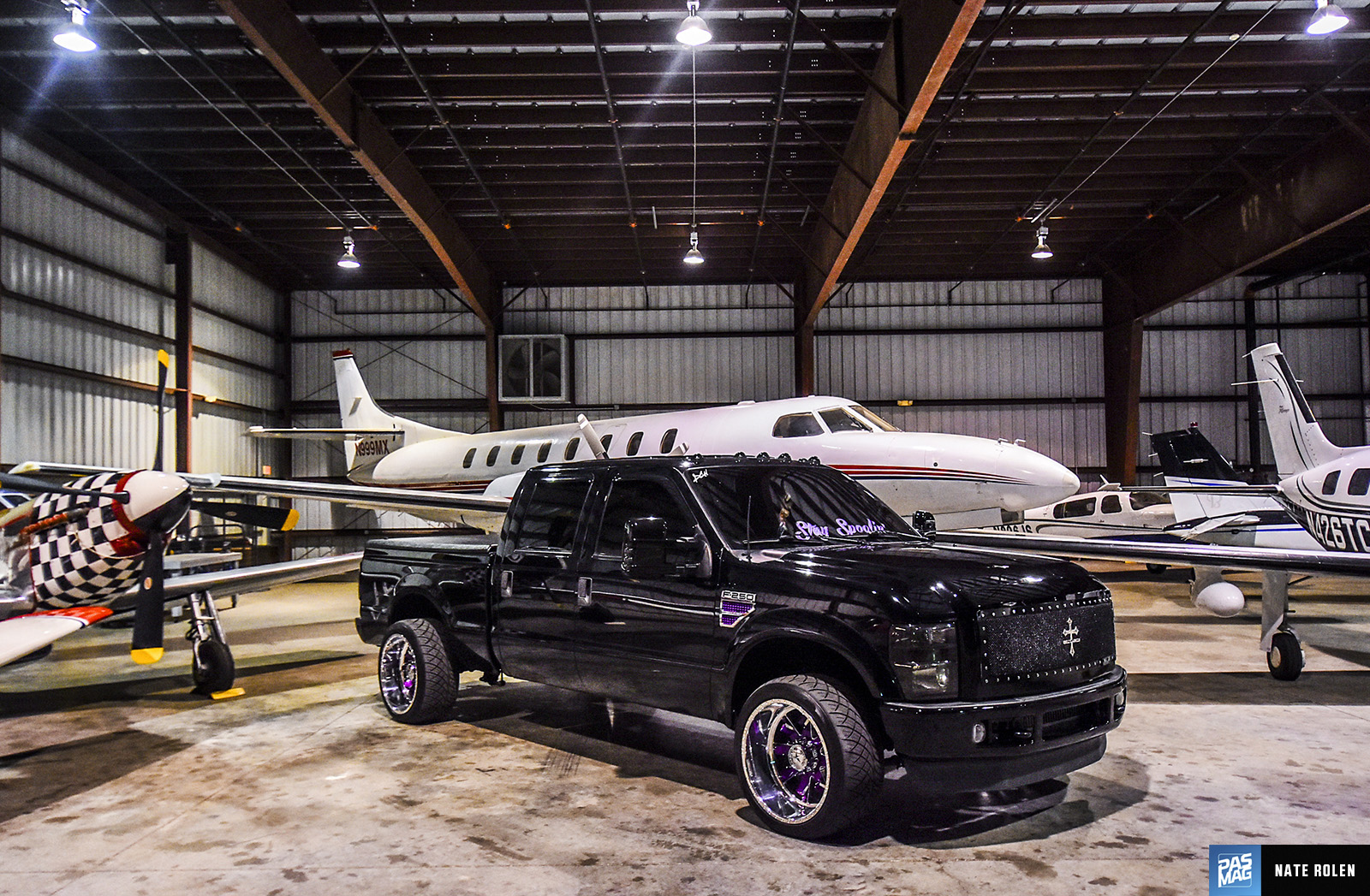 An interesting fact about this "show truck" is that it really isn't all that pampered. In fact, Wakeland usually does some pretty long hauls in it. He used to be from Kerville, Texas, before he took the Air Force gig in Florida, and he drives home a few times a year to see the family, as well as do the odd tow job to help a friend out.
"With over 220,000 miles on the clock, it's fun competing with trucks that have 27 miles on them, knowing they were trailered for four hours, while I drove six," Wakeland proudly says. "My truck is very well road tested and proven."
Wakeland must like this truck because he has no plans to sell it and start another – not yet, anyway. This truck is a culmination of everything he's learned from owning and building his previous ones, and he seems happy with how far he's come. For now, he intends to keep adding to it, driving it on the daily, and taking to shows to connect with other owners and see if he can bring some hardware. If not, we can always flick on the lights under the truck and rock a 1,300 lb-ft burnout on his way out.