Photography by Brian McGee
---
They say that we all have a moment in our lives that causes a shift. That moment could be a person, place, or thing, but that moment leaves such an impression on you that you change the course of your life because of the inspiration you're left with. For Central California native, Keith Young, that moment struck on a beautiful day in Pismo, almost nine years ago.
Perusing along the beach with his camera, Young was indulging in his hobby and snapping pics of modified trucks and posting them to his personal Facebook page (something his family and friends were quickly tiring of – some even unfriending and unfollowing him). He eventually came across some towering trucks that stood out from the rest lining the lot. Built by Showoff Motorsports in Modesto, these rigs were built in the CenCal style we know today: lifted, running some seriously big wheels, and wrapping some small, or sometimes even stretched tires. Gawking up and letting the shutter drop on all that chrome and powdercoating was Young's moment, and from that moment forward he knew he needed to be a part of that.
A quick Google search for "Showoff Motorsports" revealed that the shop was a mere 15 minutes away, so Young soon found himself walking through their front door and face-to-face with the shop owner, Billy Mekelburg.
"I went over there and I talked to Billy, and I said, 'hey, if you ever need any help around here, let me know,'" Young recalls, chuckling.
"I was cleaning floors, toilets, and trucks just to be a part of it! That's how it all started out. Ever since then, [Billy and I have] become good friends."
In the time that Young had picked up some odd jobs with Showoff, he had also started a Facebook page to get his family and friends off his back since all he was posting to his personal profile was trucks. He called it "CenCal Trucks," and it started to generate some decent traction among other enthusiasts of the CenCcal style. Soon, Instagram became the more prevalent social media platform, and lent itself better to Young's style of taking pictures of the most outstanding CenCal builds. It turns out that migrating the page to Instagram was a great idea – as of now, the page has over 12,000 posts and over 158,000 followers.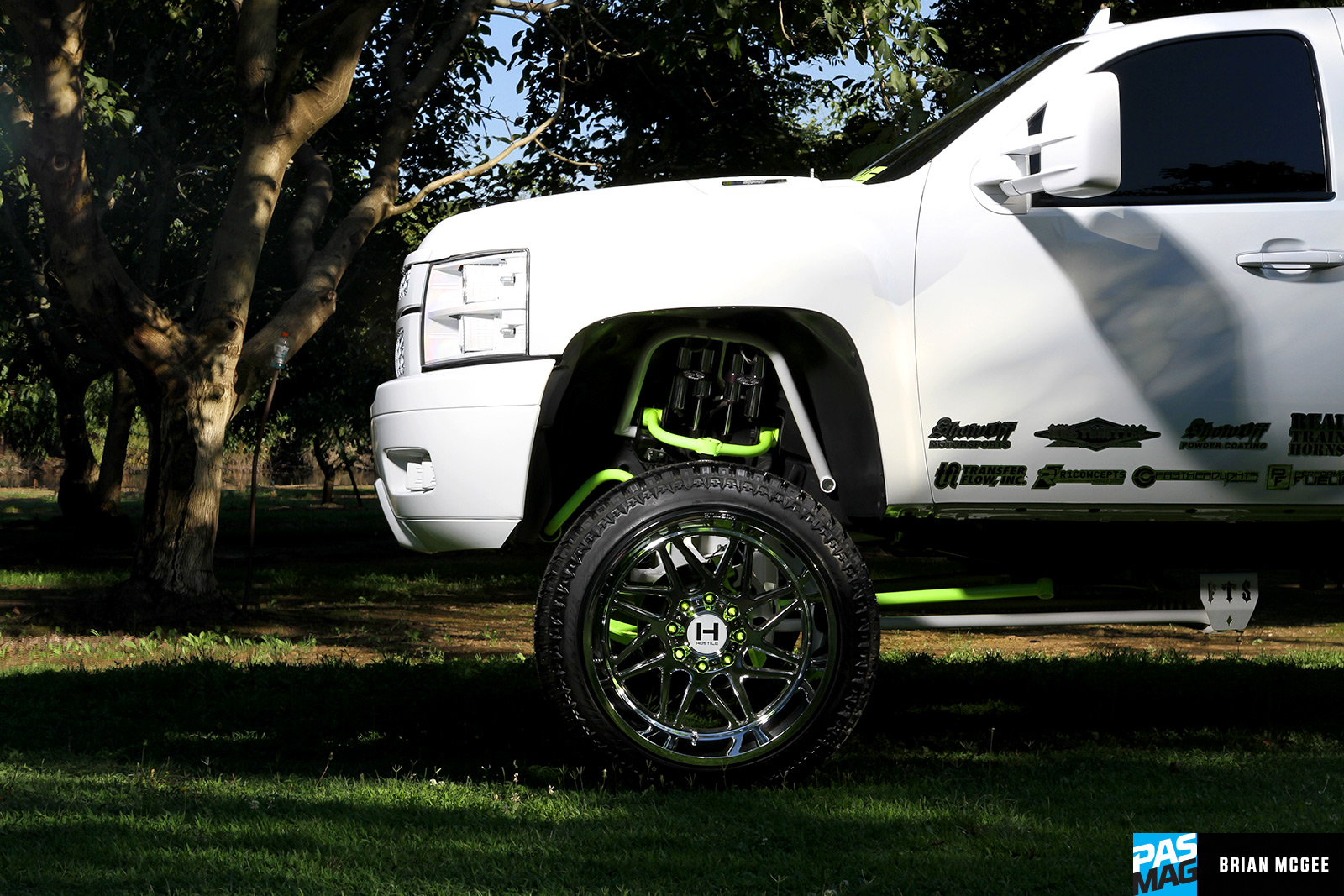 Let's take it back a bit though. Once Young had scraped together enough experience and cash at the shop, he decided to build his first truck. He got a line on a Silverado 1500, and Mekelburg agreed to help him build it. A truck built by his favorite shop in the style that they originated was a dream come true for Young, but as time went on, and he was constantly surrounded by builds that went above and beyond, the 1500 was no longer what he was looking for.
When the time was right, Young sold his 1500 and went on the hunt for something bigger and better – a 2500HD. As it turns out, his timing was dead on.
"I sold my old truck, and then immediately went to the first place I knew that had a truck I wanted, and I ended up buying it," Young laughs. "In about an hour and a half, I went from selling my truck, to driving home in a new one! You break up with one, and you find another one the same day, you know?"
The white Duramax was pre-owned, but had low miles on the odometer, the right price, four doors, and a short bed. Feeling a little like destiny, it was everything he wanted, so he pulled the trigger and brought the 2500 back to Showoff to begin the transformation.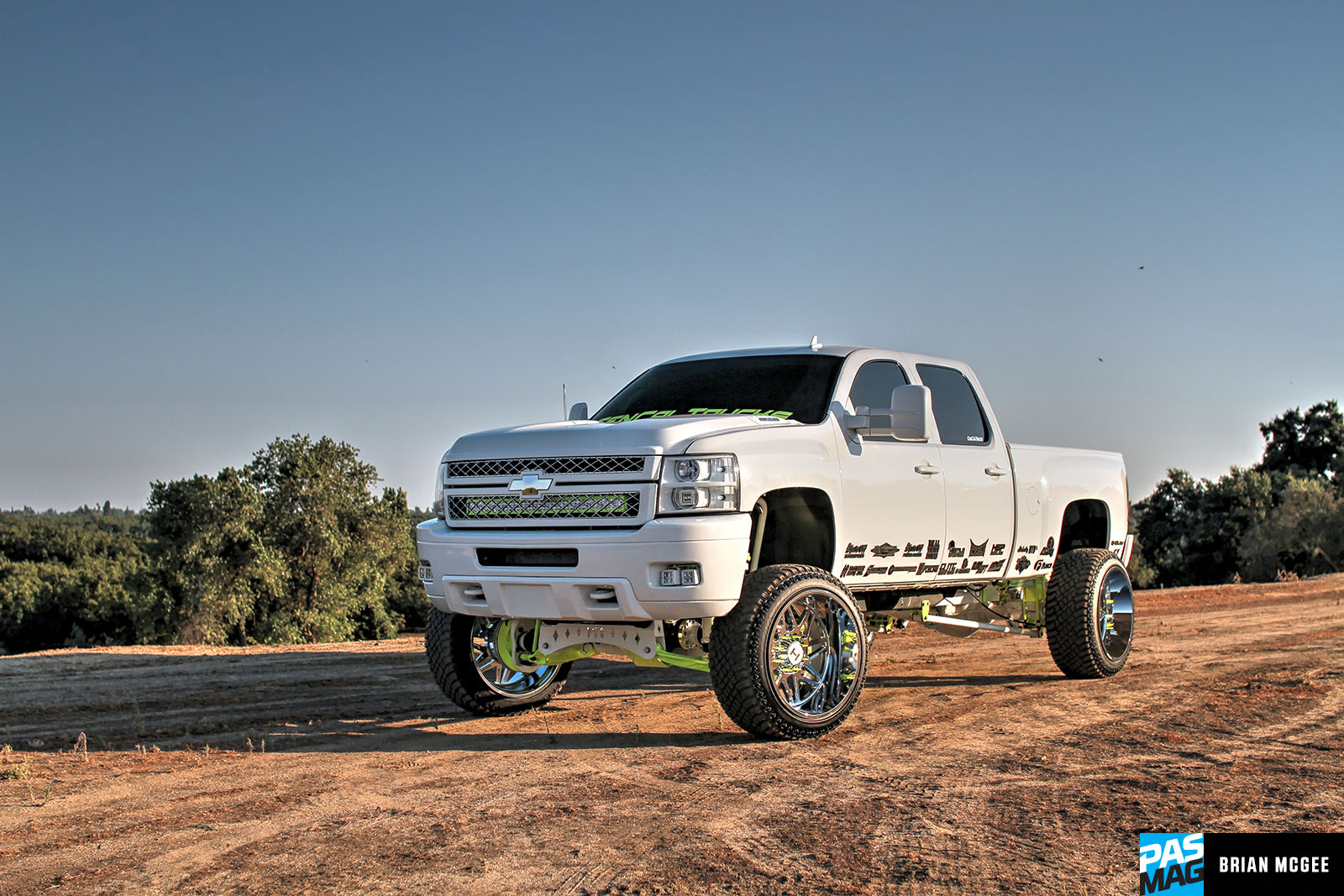 One of the most important part of any CenCal build is the lift kit and the colors you'll choose to make your truck stand out from the other mobile towers out there. Usually, you choose an extremely contrasting color, like a neon green or orange, and then pair that with high polish chrome components. Young decided to go against the grain and go with two powdercoat colors on his seven-inch Full Throttle kit: white to match the body color, and a bright orange – that is until a notable local build used the same pairing. Young was stuck for a while on what to do until Mekelburg looked down.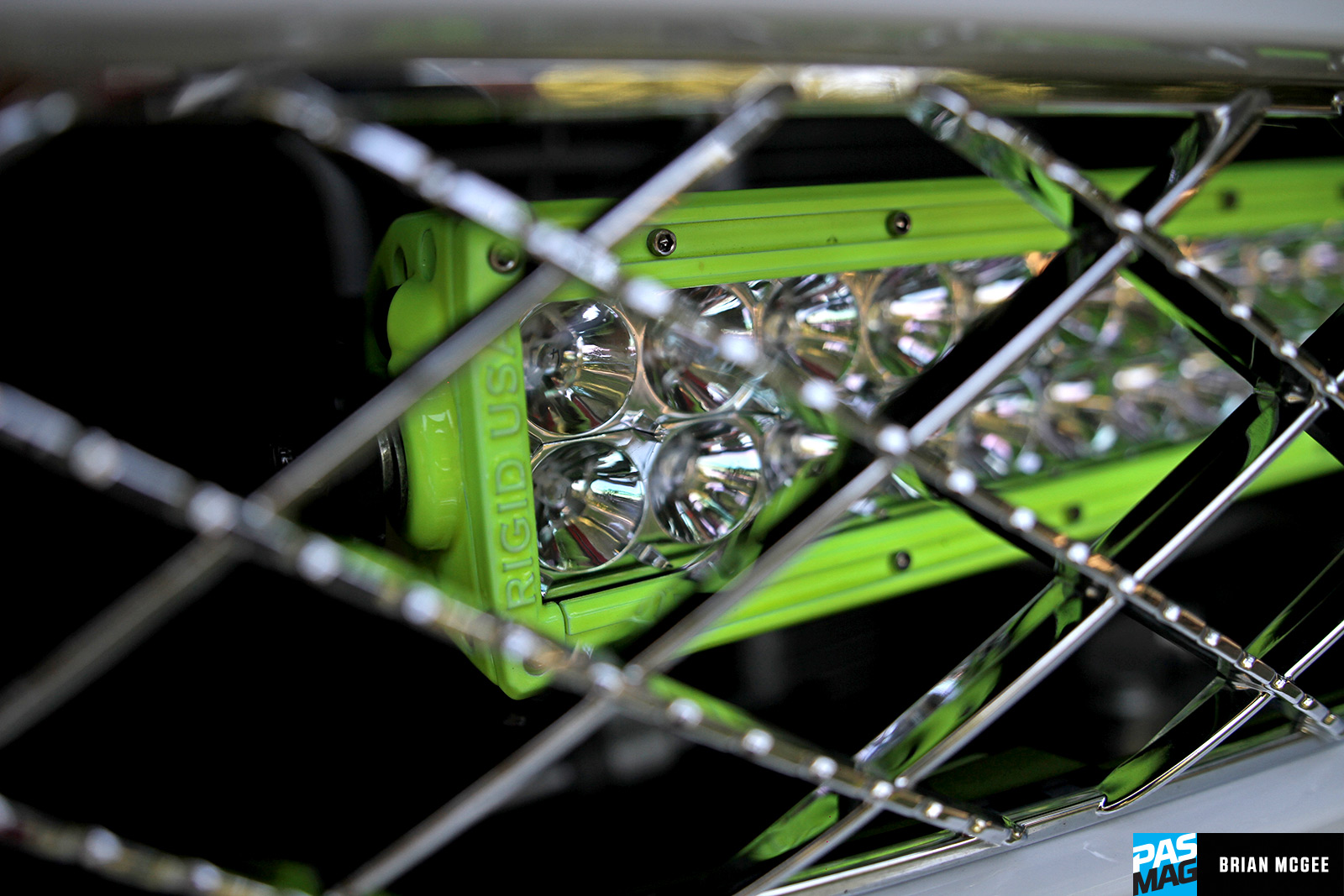 "I was actually wearing shoes that day that had bright neon yellow laces on it, and Billy was like, 'Just do that color! We'll call it 'highlighter,'" Young retells. "The powdercoat that's on this green, when you put UV light to it, really glows."
Naturally then, 10 white and six purple C4 Off-Road IED UV lights have been rigged up under the body of the 2500 to really make everything pop. Young also has a remote that allows him to choose front lights only, rear, both, or even have them oscillate like a mobile light show.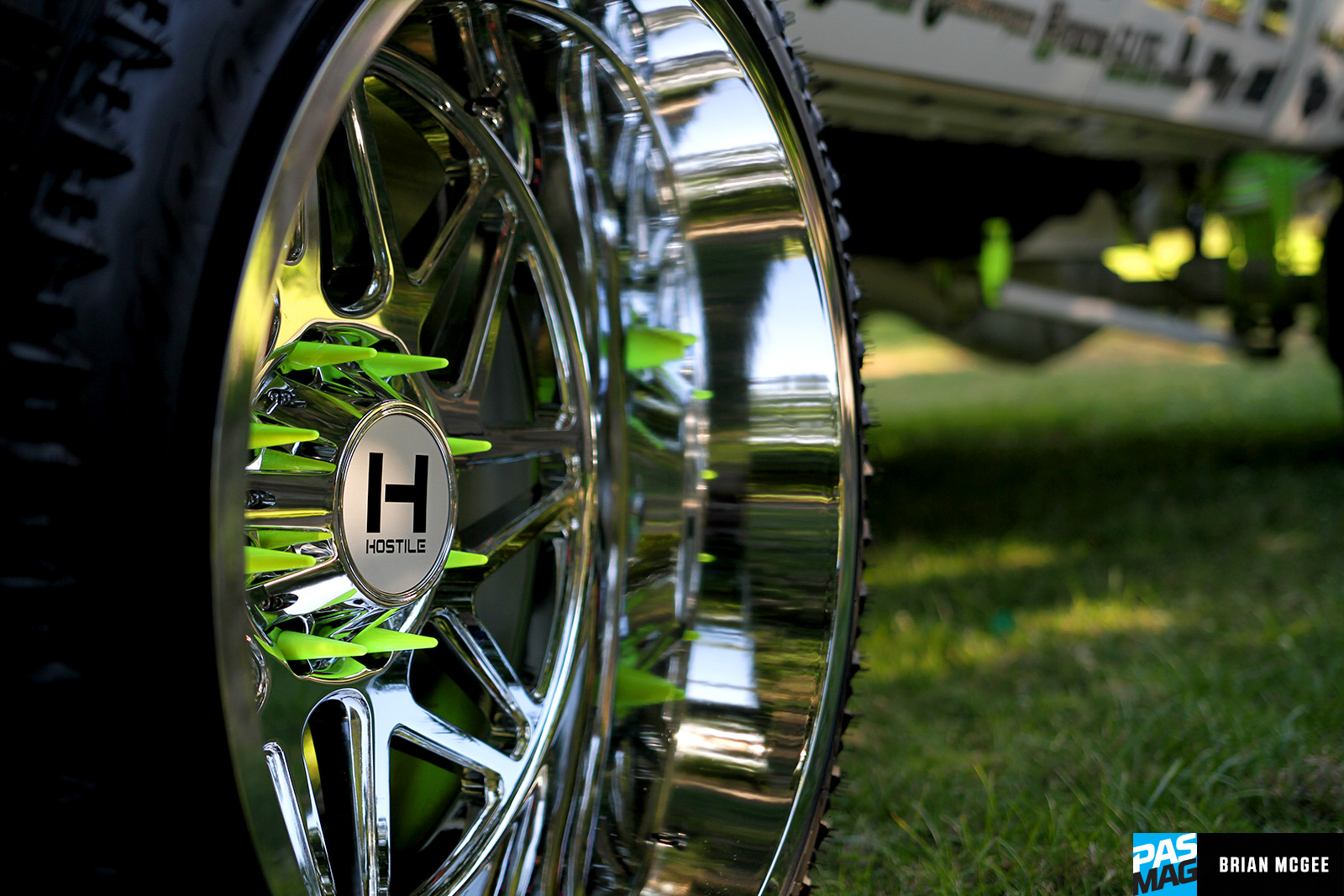 Reflecting even more light are the deeply dished 24x14 Hostile Sproket wheels, finished in a shiny chrome. A set of Atturo Trail Blade XT tires are slightly stretched overtop in 325/45 R24 sizing. The lightshow doesn't end there either, being rounded out by custom headlights, taillights, and third brake light from Fast Headlights. When night falls, this Chevy becomes a completely different truck. Just look at the photography here.
This Duramax isn't all show and no go either! The stock 32-gallon fuel tank has been replaced with a 60-gallon offering from Transfer Flow, which is drained by a Power Flo 750 CP3 fuel pump to feed the extra power generated by the Fleece Performance Cheetah 64-mm turbo upgrade and PPEI custom tune.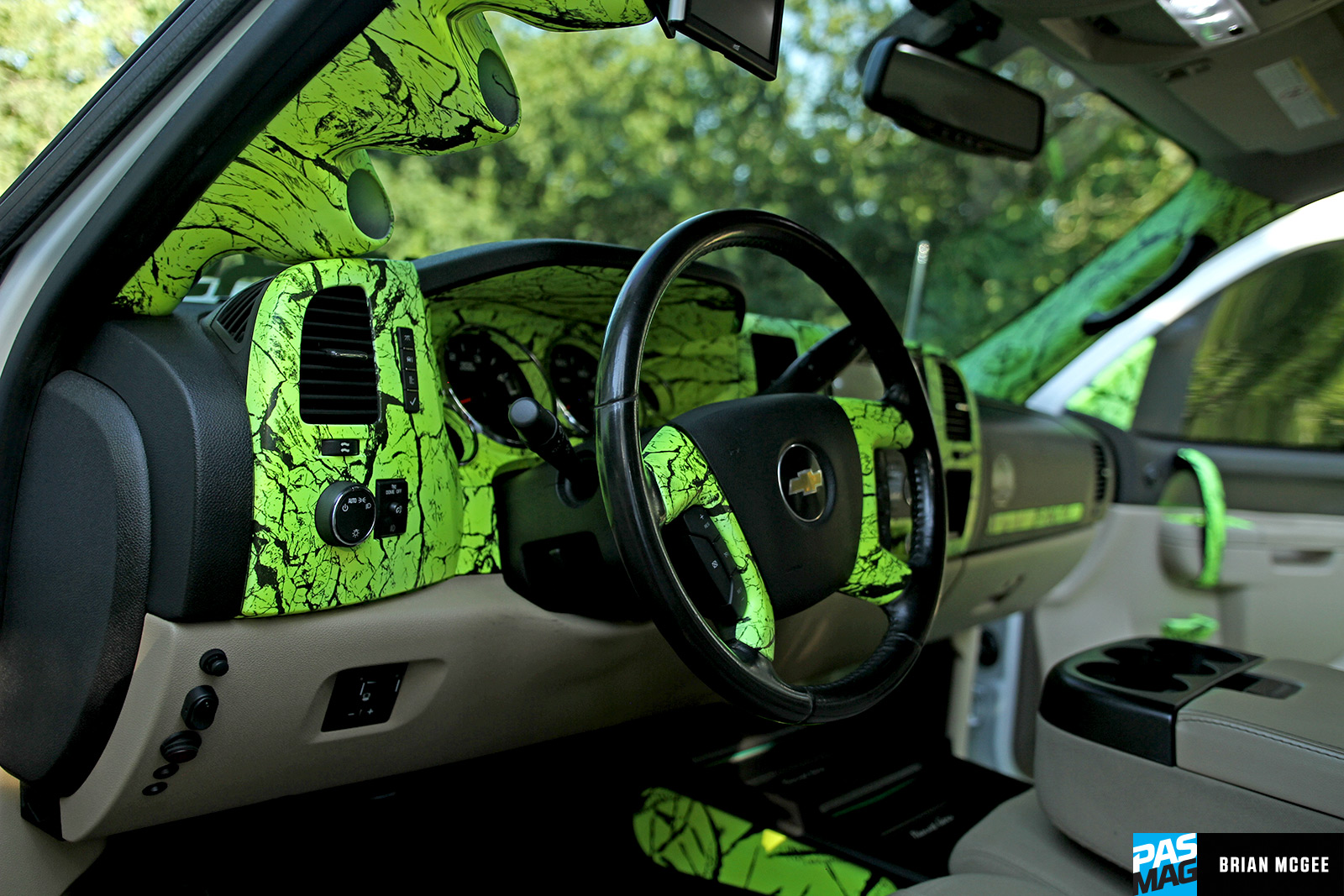 Inside, Young can keep an eye on the output and power being put down by his Insight Cts2 digital gauge, all while lounging in his reupholstered Roadwire leather interior. The interior panels and parts of the dash have been hydro-dipped in the same bright shoelace shade as the suspension to tie it all back together. The neon door panels house Phoenix Gold door speakers and tweeters, four each to a side, while a custom enclosure in the back rumbles with two 10-inch subs of the same make.
After everything that's been done, Young's favorite aspect of the truck is that he was able to achieve his goal of having his truck built by his friend Billy at Showoff Motorsports, a true originator and innovator of the CenCal style.
"I saw these three iconic trucks out in Pismo a long time ago, and ever since I saw those trucks, I was like, 'I'm going to build one!'" says Young, grinning. "Almost 10 years down the road later, I have my own that's been built exactly the way I wanted it to. Everything I wanted to do to the build is done. To me, if I envisioned it, it became reality."
Keith Young acted on that moment of inspiration all those years ago, and even though it's been a long, winding road, he's achieved his goal and entrenched himself in the Central Californian truck scene he loves so much. Something tells us that he's nowhere close to being done either, so we can't wait to see what he produces next from the shop that's at the heart of CenCal.