Anyone who's been into car audio for more than 30 seconds ought to know the name Rockford Fosgate. And, they should also know that much of Rockford's legendary reputation for hard-hitting powerful bass is thanks to its vast selection of subwoofers.

Rockford Fosgate builds three different series' of subwoofers: Prime, Punch and Power. In each of these lines, there are several different levels of performance and physical sizes within each series. This review takes a close look at one of Rockford's most popular woofers from the top performance level of the Punch series of woofers. The P3D412 is a dual-coil 4 ? woofer that sells for around $250 in the U.S. (it's a hundred bucks more if you live north of the 49th parallel).

FEATURES

Punch P3 woofers are designed to provide both the bass performance you expect from a Rockford Fosgate woofer, and to look great while doing it. The 22-pound woofer boasts a heavy-gauge stamped steel basket, which incorporates a proprietary "Flex-Fit" mounting system. The basket is finished in a fine black powdercoat and resembles a cast basket if you look at it quickly. From the top, the woofer is highlighted by the P3's beautifully-finished solid aluminum cone and dust cap. Designed to completely eliminate cone flex and to also act as a heatsink for the voice coil, the P3's cone assembly is in a class by itself at this price point.

Rockford's innovative "VAST" (Vertical Attach Surround Technique) Santoprene technology is used to attach the outer diameter of the cone to the basket and provides increased excursion and greater useful cone area – both essential specifications when trying to maximize woofer output. Each P3 subwoofer comes with a cast aluminum trim ring to hide the mounting screws and also retain compatibility with the optional grille.

Checking out the woofer from the business end, the large ferrite motor assembly is trimmed with a custom tooled rubber cover. The P3's pole piece is generously vented to provide maximum cooling to the 2.5-inch four-layer, copper-clad aluminum voice coils. The coils are designed for ultra-high temperatures and use a spun-laced Nomex coating to ensure reliability under extreme conditions. A pair of mirror image progressive type poly-cotton spiders keep the coils centered in the magnetic gap. Stitched into the spiders are the tinsel leads with nickel-plated horizontally-oriented spring-loaded wire terminals found on opposite side of the basket.

LISTENING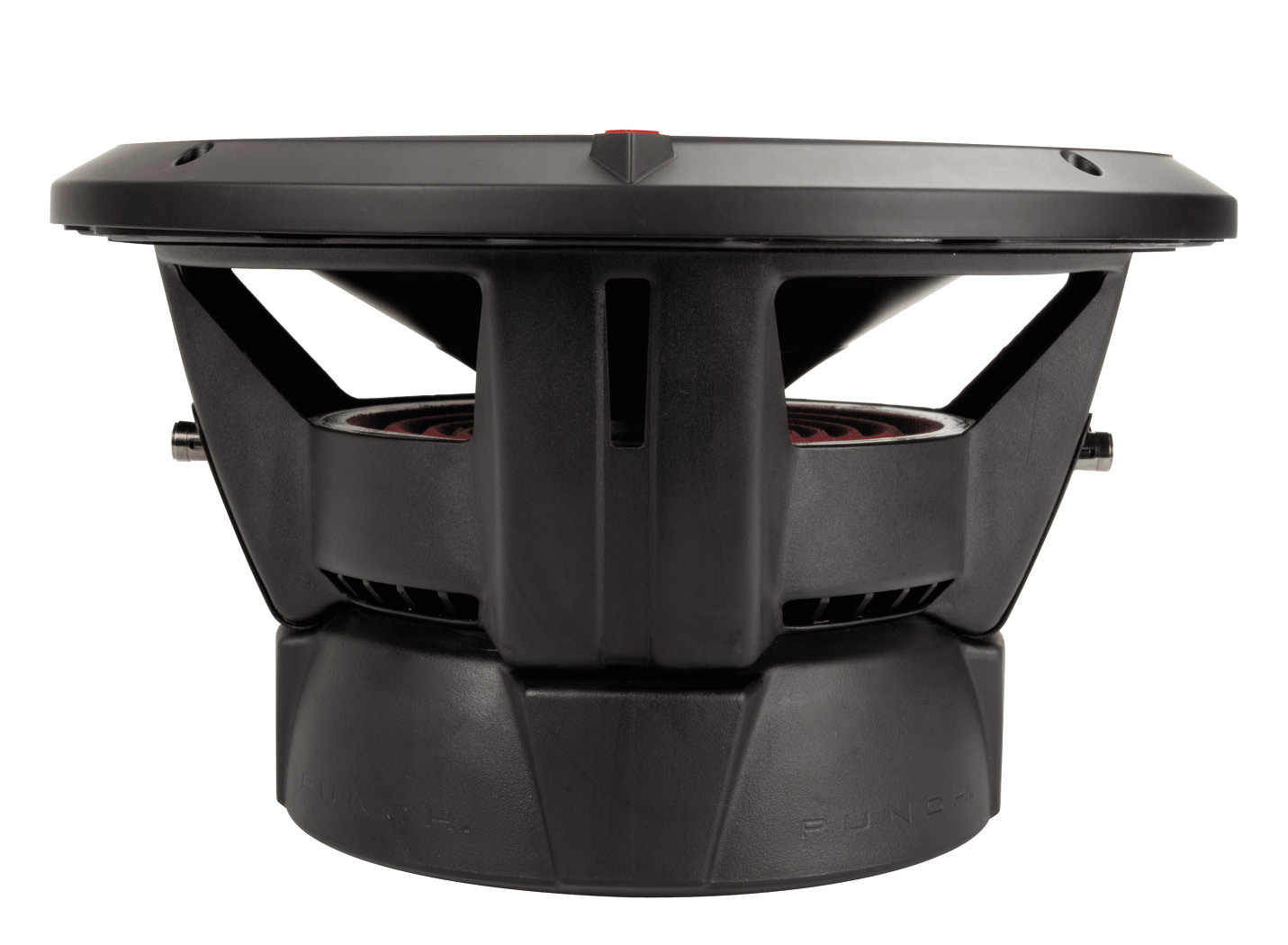 After properly exercising the woofer as per my standard procedure, I mount the supplied P3 woofer in a 1.25 cubic foot reference box, which is the largest sealed enclosure the manufacturers recommends for the P3D412. Connected to my reference system with the subwoofer amplifier crossed over at 80 Hz, 24 dB/Oct, the first thing that's immediately apparent is this has some serious output! It's necessary to reduce the level to my subwoofer amplifier to keep the woofer from drowning out my component speakers.

I begin with a few tracks that have very well recorded bass and excellent definition to the bass. I'm listening for drum timbre and trying to discern bass guitar notes and fingering. The woofer does a pretty good job but its seems like it is more about overall output than optimal sound quality. The bass is ever-so-slightly on the "tubby" side and has some ring to it – this can be typical of some larger enclosures – so, I reduce the subwoofer amp crossover frequency to 50 Hz rather than change the whole enclosure. What a world of difference that makes! The woofer now sounds more smooth and more musical albeit with slightly reduced overall output. The quality of the bass is decidedly better, however, and it proves the P3 woofer can indeed be a very musical driver with a bit of simple tweaking to really make it shine.

If I were to use this woofer in my own system (where it's all about sound quality and less about maximum output) I might opt for a slightly larger sealed enclosure – maybe 1.75 to two cubic feet. In a box that size, this woofer will indeed a sing! But, I can not fault Rockford Fosgate for recommending a smaller enclosure as many of its customers and maybe even you, dear reader, prefer the extra output at the expense of ultimate sound quality. If you really want the thing to hammer though, the P3D412 can also be used in a vented enclosure with excellent results and the usual increase in output, though with some associated tradeoffs.

PERFOMANCE / BENCH MEASUREMENTS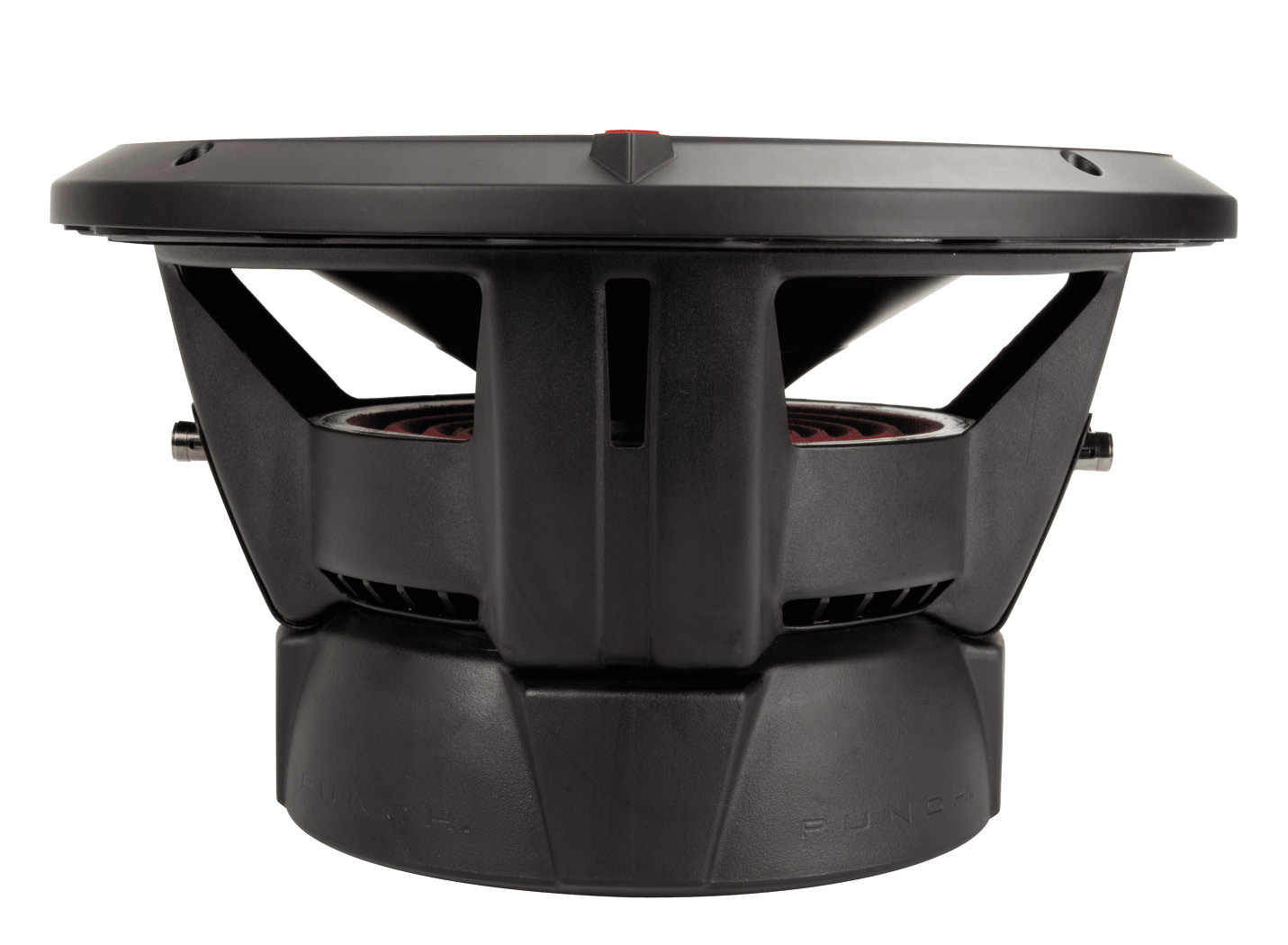 After thrashing on it in my listening room, I let the woofer cool overnight before measuring its Thiele-Small parameters and running some response curves on it. The woofer measures virtually identical to its published specifications, which is fairly uncommon and speaks highly of Rockford's quality control process. As expected, the woofer has a lot of output even in a sealed enclosure. But, when measured in a vented box, the output is staggering as the graphs show. These graphs are scaled to one watt @ one meter.

MEASURED PERFORMANCE SPECIFICATIONS
Revc = 1.750 ?
Fo = 27.679 Hz
Sd = 0.0562 M²
Vas = 58.30 Ltr (2.059 Ft³)
Cms = 130.024 uM/N
Mmd = 246.616 g
Mms = 254.277 g
BL = 11.138 T•M
Qms = 6.468
Qes = 0.624
Qts = 0.569
Levc = 0.859 mH
No = 0.192%
SPLo = 84.844 dB
EBP = 44.35

QUICK TECH SPECS
Power Handling - 600 Watts RMS
Frequency Range - 28-250 Hz
Sensitivity - 85 dB/SPL @ 1.0 W (1.414 V @ 2 ?)
Nominal Impedance - (2) 4 ? coils

CONCLUSION
With its new P3 series of woofers, Rockford Fosgate underlines why it has been one of the leading subwoofer brands for several decades. The current crop of Punch woofers continues the long-standing tradition of low, loud, in-your-face bottom end and are built to take the abuse while delivering the performance that has built Rockford Fosgate's excellent reputation. And, while its traits are exactly what most of the buyers of this woofer are looking for, it should be pointed out that with a bit of tweaking and a small increase in enclosure size, the P3 woofer will also satisfy serious sound fanatics as well. So, regardless of whether you're an SPL-pounder or an SQ-tweaker, the P3 series of woofers doesn't disappoint.

For further information, please visit www.rockfordfosgate.com.

| | |
| --- | --- |
| | |