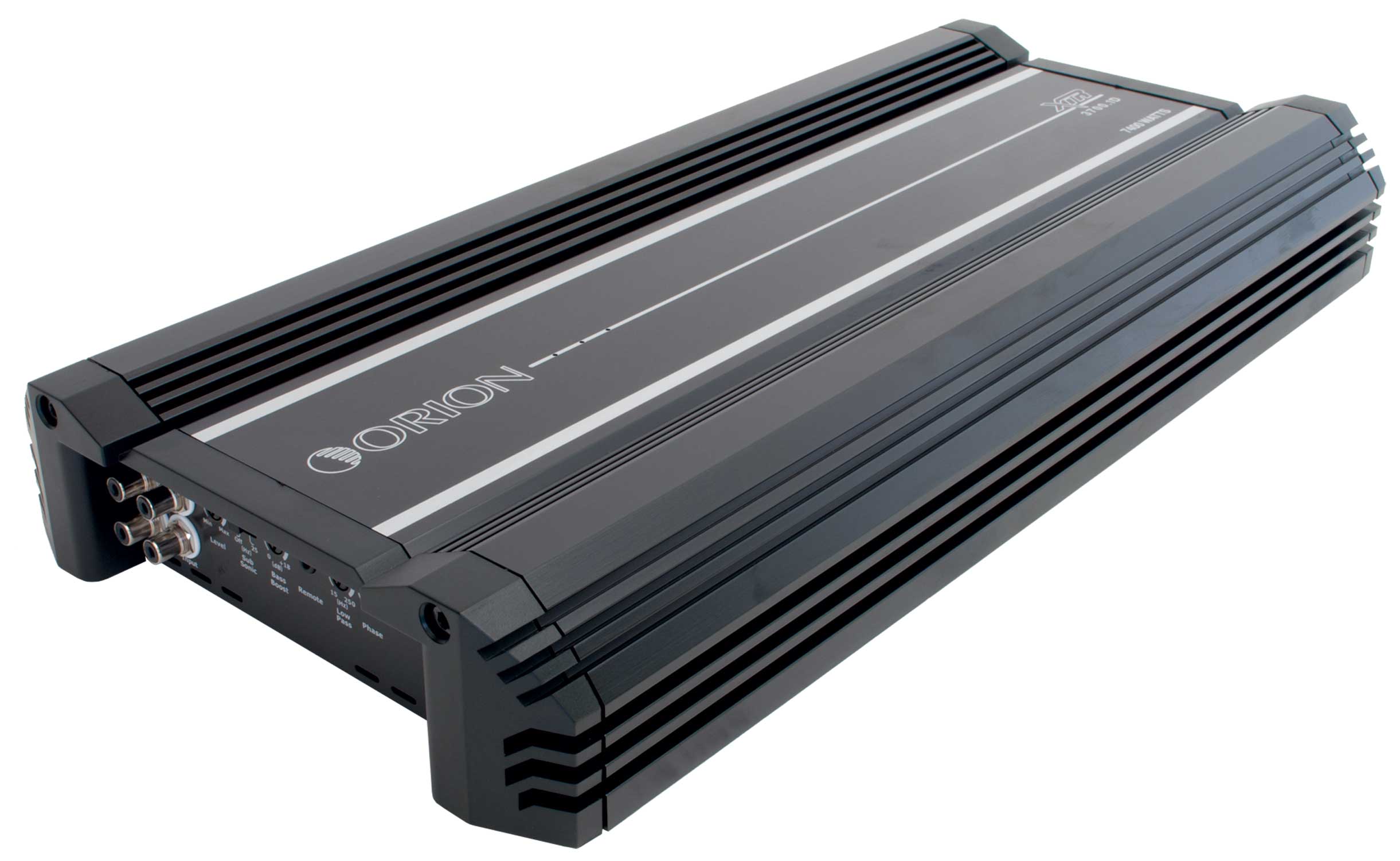 When it comes to delivering the kind of power required for truly hardcore SPL enthusiasts, few car audio marquees carry the weight of the Orion brand. And although the company has changed ownership several times in its storied history and was a bit of a wallflower for a while, things are much different now. With a new home based out of Miami, Florida, the company is excited about producing products that will bring the Orion name back to its legendary roots. Based on high performance and well-engineered power amplifiers that made them the brand to beat in SPL circles, the company is delivering new products we haven't seen from them in a while. One such amp is the powerhouse XTR3700.1D, a class-D monoblock amplifier designed to perform everywhere, from SPL contest lanes to your daily driver.
Features
The Orion XTR3700.1D looks very similar to the old school Orion amps that made the company world renowned twenty years ago. A beautiful black-anodized brushed aluminum heat sink is accented by silver logos reminiscent of the CNC-machined look of its predecessors. Trim plates hide the controls and connections and are easy to install and remove. And there is no chance of this amp being confused for a wallflower; the power output is rated at 1,500, 2,500 and 3,700 watts into four, two and one ohm, respectively. The XTR3700.1D is a fairly big and heavy amplifier, measuring 19 inches long, 9.25 inches wide, and 2.5 inches tall, tipping the scales at over 18 pounds.
As is the norm with this type of amp, the connections and controls are found on opposite ends of the extruded heat sink. One end houses the low level signal inputs and outputs as well as the controls for gain, subsonic filter, bass EQ, low pass crossover and a variable phase control.
The subsonic filter is controlled via a simple on/off switch and provides a fixed frequency filter at 25 Hz. The crossover has an adjustment range from 15 Hz to 250 Hz, with a -18 dB slope. Bass EQ is centered at 45 Hz, and there is up to 18 dB of boost available.
On the opposite end of the amp, beefy power connectors accept 1/0 gauge cable, which you will need if you plan to use this amp's full potential. The speaker terminals accept up to eight gauge cable, and with this much power available, it wouldn't be a bad idea.
Looking inside the XTR3700.1D reveals a well made product, with a clean, organized layout. Surface mount parts are used extensively in the front end, and Orion's proprietary PRS power supply incorporates six individual toroids, one for each pair of high current MOSFET power supply devices. For energy storage, the power supply section employs ten 3300µF high temperature capacitors and the secondary gets its energy reserves from a bank of eight 820µF 200V caps. From the heavy copper traces on the double-sided PCB to the TO-247 case size transistors, everything inside the amp looks like it was designed to handle a ton of current with good reliability.

Listening
In my listening room, the setup for the XTR3700.1D is fairly simple. With the amp connected to a very large power supply and a stout pair of four ohms, 15-inch woofers paralleled together and mounted in sealed enclosures, I set the crossover for about 80Hz, and leave the bass boost flat. Since I am using a sealed enclosure and woofers with very low Fs, I leave the subsonic filter off. Man, I never get tired of having a lot of power in my listening system. When you have enough power to get the volume you want - without ever getting near the amplifiers or speaker limit – listening to music can be a completely different experience.
Although the XTR3700.1D is fully capable of driving one ohm loads all day long, even with my two ohms setup I can tell you this amplifier has power to spare. Even at really loud levels I don't come close to overdriving the Orion amp, although I think my woofers have all they can handle. With a good woofer system and this much power on tap, you can simply sit back and enjoy any music, at pretty much any volume. The bass is nice and tight, with good definition and control. Kick drum beats have the sort of impact you expect at a concert, and with what seems like an unlimited supply of clean power available, the listening experience is almost intoxicating. I can see this amplifier having a lot of appeal for folks who like to drive their car daily while still contending in SPL wars on the weekends. One note of caution however: this kind of serious power comes with equally serious current requirements, so be prepared to add some high performance charging capability to your ride.
On the Bench

After my listening session is complete, I move the amp to my test bench to measure the actual performance specs. I'm happy to report that the Orion amp easily exceeds all of its published power ratings when tested at 14.4 V. Power efficiency is about average for this big an amplifier and as I suspect, the current draw at full chat into one ohm is a very meaningful 413 amperes. Now you know why I strongly suggest a high output alternator and a pair of batteries to get the maximum performance, especially if you are planning to run a one ohm load. By comparison, the amp will deliver over 1,700 watts into four ohms, only drawing 138 amps.

Conclusion

I'm fairly impressed with this new Orion effort, which is the first one I've seen in a couple of years. It's nice to see the company's philosophy is a return to their roots, and the high performance products that were responsible for creating the legend in the first place. The XTR3700.1D is a well-made, solid-built subwoofer amplifier that if properly supplied with the current it wants, will provide you with years of great sound – and maybe even a shelf full of SPL trophies. Check out the entire lineup of Orion products online at www.orioncaraudio.com.
Technical Data

The following power measurements were obtained using industry standard methods. (1 kHZ @ 1.0 % THD+N - Battery voltages shown +/- 0.2 V)
Measures Performance Specifications

Manufacturers Rated Power | Actual Measured Power @ 1.0 % THD+N and @ 12.6 V Battery | Actual Measured Power @ 1.0 % THD+N and @ 14.4 V Battery

1500 x 1 @ 4 Ohms | 1310 x 1 @ 4 Ohms | 1703 x 1 @ 4 Ohms
2500 x 1 @ 2 Ohms | 2205 x 1 @ 2 Ohms | 2857 x 1 @ 2 Ohms
3700 x 1 @ 1 Ohms | 3192 x 1 @ 1 Ohms | 4090 x 1 @ 1 Ohms
Signal to Noise Ratio referenced to 2 V output (CEA-2006A) (1 watt @ 4 ohms): -64.6 dBA

Signal to Noise Ratio referenced to full output: -96.9 dBA

THD+N at rated power: 0.17 %

Maximum Efficiency at full 2 ohms power per ch.: 79.0 %

Idle Current: 3.2 A

Input Sensitivity: 196 mV- 9.0 V

Maximum Current @ full power, lowest rated impedance: 413.6 A

Frequency Response (-3 dB): 10 Hz – 264 Hz

High Pass Crossover (Subsonic Filter): 25 Hz -24 dB/oct

Low Pass Crossover: 15 Hz – 264 Hz -18 dB/oct

Bass EQ boost: +18 dB @ 45 Hz

Phase Adjustment (degrees of shift @ 100 Hz): 179.6°