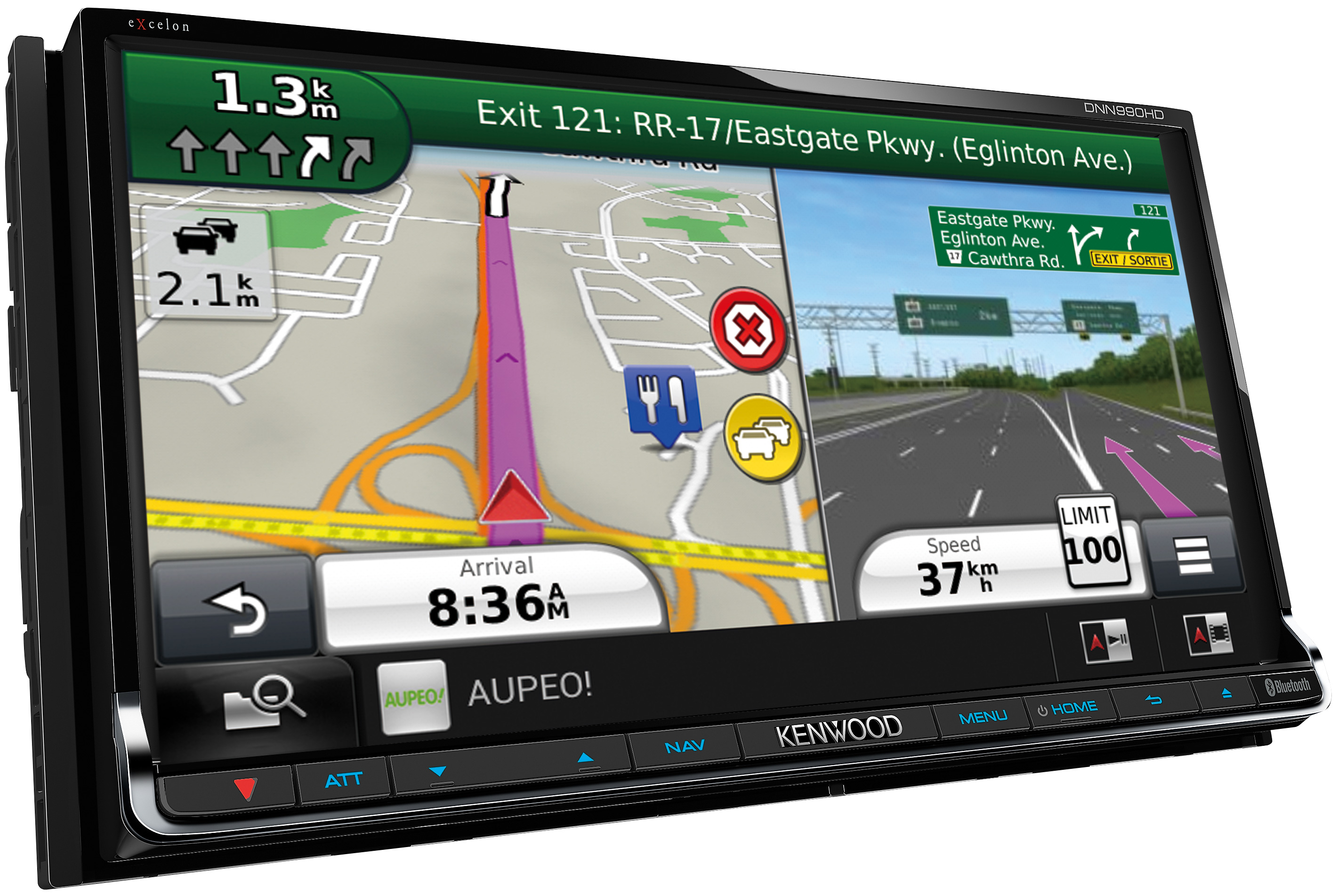 In case you haven't noticed, we are getting more and more dependent on the Internet for real time information and social networking. One survey reports that over 30% of the population uses social networking as their primary source of news, and the internet has replaced virtually all other sources of information. If you are one of those folks who simply hate to be without a constant stream of updated information and messages, Kenwood has a new, top-of-the-line navigation and multimedia receiver that you are going to love. Why? Because it is built on an Android platform and has Wi-Fi connectivity built in! Now you can stay connected to your Facebook and Twitter feeds, stream content from cloud storage, and take complete advantage of a full time internet connection in your car. While the suggested retail price of $1,799.99 may limit some newcomers, this is a game changer folks.

FEATURES
The Kenwood DNN990HD has almost every feature you could ever hope for, all in a package that's designed to provide all the entertainment and information you need. The DNN990HD is built around a 6.95-inch touchscreen with reverse tilt, providing the user with a crystal clear image regardless of the source.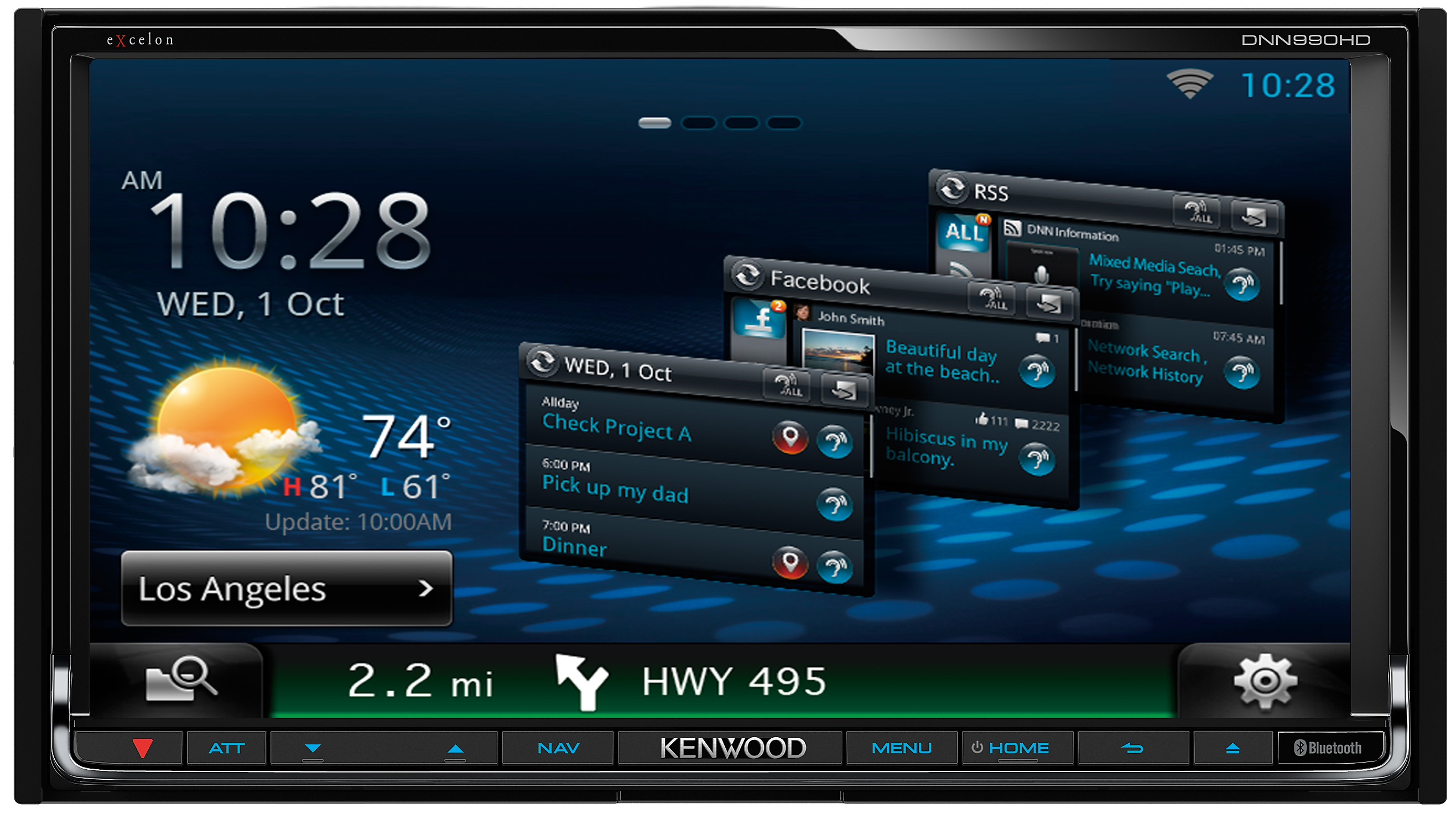 WI-FI
By far, the single most important feature of the DNN990HD is the Wi-Fi connectivity feature. The unit is designed to work with Wi-Fi hotspots, and you can create your own by tethering your smartphone or mobile hotspot device. Once setup is complete by creating an account on Kenwood's online server, you can access a vast amount of web based content – and of course – all your favorite social media feeds, RSS feeds, and any other media you have stored online. If you are a Pandora, iHeart Radio, or YouTube user, the DNN990HD has you covered as well. If you store your music in the cloud, it's all available to you in your car.
Built-in text-to-speech capability will read your Twitter, Facebook and emails to you as you drive. And if the vehicle has more than one regular driver, the unit permits up to four different accounts, remembering each user's preferences. Of course you'll need a robust data plan for your phone to avoid excessive charges. If you are an iPhone user, you can connect your phone with a cable for Pandora and advanced iPod functionality. Siri functions (including voice dialing) are done wirelessly via Bluetooth. If you are an Android or Blackberry user, cables aren't required as the Bluetooth connection is used to control Pandora on both of those platforms.

FORMATS
The Kenwood unit works with the usual AM/FM/CD/DVD/MP3 sources, and comes with an HD Radio tuner, SiriusXM, DivX video compatibility, and DTS and Dolby Digital decoding. The Bluetooth section is a high-performance unit by Parrot. There are also full Pandora controls for skipping, channel selection or rating tracks.

SAT-NAV
Navigation comes from Garmin and includes their excellent 3D mapping and Birds Eye junction view features. Millions of POIs are included, and the power of the Garmin GPS is augmented with INRIX connectivity (via Wi-Fi hotspot) – one of the best real-time traffic networks in the world. You'll not only get directions where you want to go, you'll also get there quicker and more efficiently.
If you map a route on your smartphone via Kenwood's Route Collector app, you can also save it to Kenwood's secure website and automatically send it to the DNN990HD. Once the DNN990HD is connected to Wi-Fi, the route is easily accessible in the navigation menu.
OEM Connection
Maybe you have a newer vehicle with Ford SYNC or OnStar functions. The DNN990HD can be interfaced with those services via an iDatalink Maestro RR module (sold separately). When connected to the OnStar system, all of the subscribed features like steering wheel controls, chimes, and OnStar service is integrated. Ford's SYNC users also retain all of the abovementioned functions, plus additional features like tire pressure data, climate controls, and voice-controlled features.
AUDIO
All of the connectivity and functionality in the world doesn't do any good without high performance audio performance, and that area certainly does not get neglected. A built-in four channel MOSFET amplifier, rated at 22 watts per channel, is ready to drive your existing speakers. Or you can take full advantage of the front, rear and sub RCA outputs with 5 volts of output. A powerful DSP processor provides controls for various soundstage setups and includes a 13-band equalizer, internal crossovers for high-pass on the front and rear outputs, and low-pass crossovers on the subwoofer output. Thirteen separate frequencies are available, and you can also select from four different slopes. Channels delays can also be adjusted for distances of up to twenty feet – in increments of less than an inch!

PERIPHERAL CONNECTIONS
There are two rear-mounted USB cable connections that easily reach a glove box or console. Additionally, there are inputs for a Sirius/XM tuner, two A/V inputs, and front and rear camera inputs. Suffice to say that you should have no problem connecting almost whatever you want to the DNN990HD.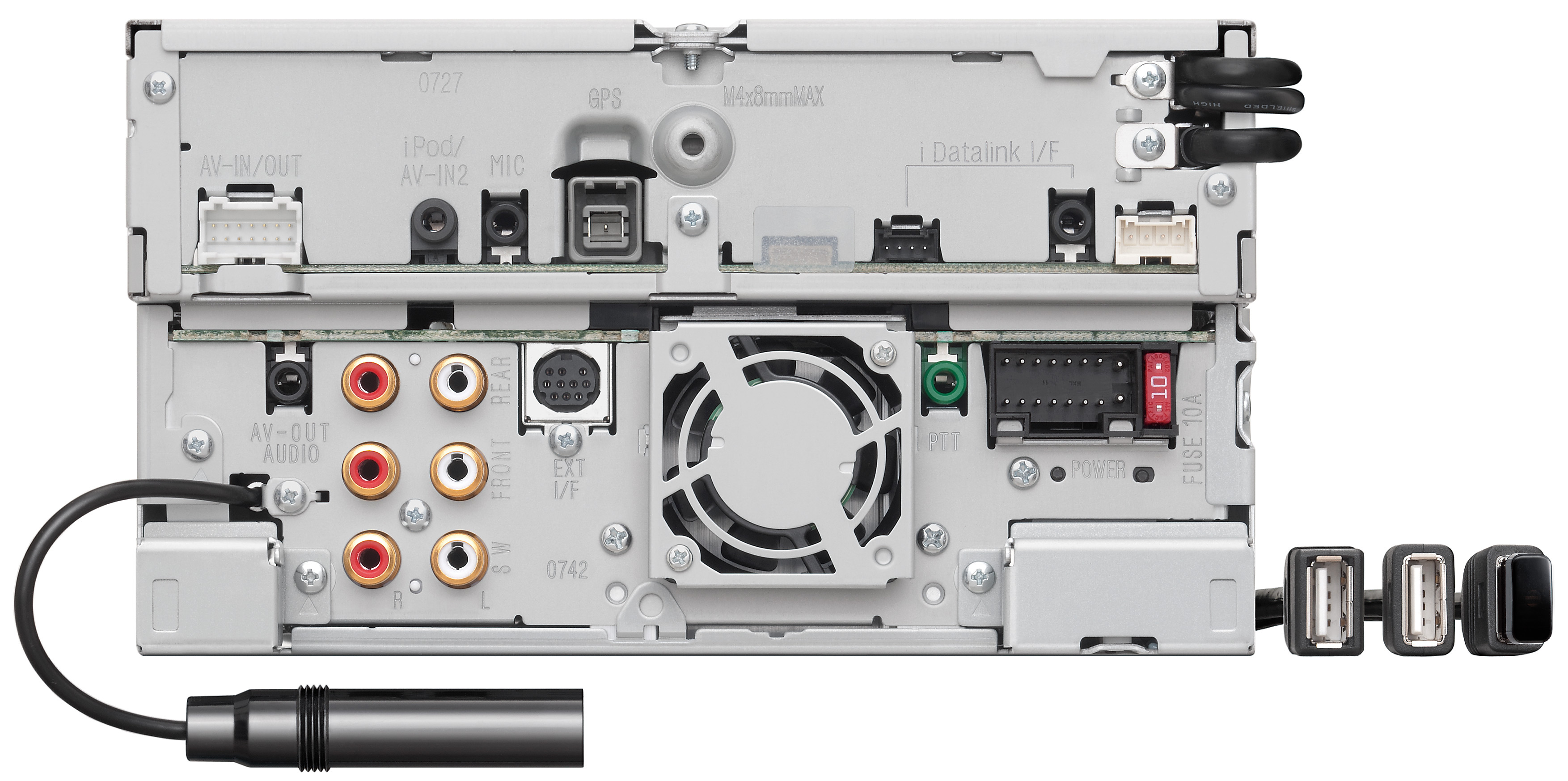 CONTROLS
With such an incredible array of features and capabilities, you might expect the DNN990HD to be complicated to use. Actually, it's quite simple, thanks to a very good GUI and easy-to-understand controls and functions. Commonly used functions are readily available, and the touch screen is very responsive and easy to navigate. Other less-used functions tend to get buried in a few layers of menus, but generally speaking, I can use and navigate the menus without much drama.
Having said that, the unit is not without a few issues. This is essentially a computer in your dashboard – something you are reminded of when you start the vehicle and wait nearly a full minute to fully boot up. Touching on-screen icons will show that the command is received, but it can take several seconds for anything to actually happen. This is mainly during the boot cycle: while GPS signal is being acquired, the phone book is downloading and Wi-Fi is connecting. There are also occasional glitches that occur when using various functions, like when I try to go from B to T in my iPod. The unit froze for a few seconds and was briefly unresponsive. The problem only lasts for a couple of seconds, but minor annoyances like that occurred several times during my testing. Switching between a source and the navigation can also test your patience if you are in a hurry.
To be fair, this is easily the most powerful head unit I have ever tested in terms of features and functions, so it stands to reason things will be a bit complex, especially at first. The owner's manual is clearly translated from Japanese, which can lend its own layer of mysticism to learning things. The initial setup is a bit painful; you need to go to Kenwood's website and create your account, then respond to an email, then finish the connectivity to the unit. The good news is that the Android platform firmware can be improved and updated regularly, which should take care of many of these issues. Once it's working there is an amazing amount of information and entertainment that makes it all worthwhile.

LISTENING
Since the first thing I usually do with any product I review is listen to it, I unpack the unit, and begin the process of hooking it up in my reference system. The process takes a bit longer than usual, since the DNN990HD requires a few extra steps that aren't normally required – like connecting it to the WPA secured Wi-Fi in the lab so I can test how it streams media from the cloud.
Once it is fully booted, and I have the initial setup done (which takes almost 30 minutes) I begin to familiarize myself with the various menus and controls. I set the unit for flat response and turn the DSP off to begin my listening. In short order I know the audio section is quite good, and I spend some time fooling around with the features and functions that a powerful on-board DSP can provide. Controlling my iPod is simple, albeit sometimes slower than I'm used to. I also stream music from my Pandora stations and check out the thumb swiping controls. I watch part of a Terminator movie and listen to the tuner, checking it for sensitivity and the reception of local HD Radio stations. Everything works as intended. Overall the player proves to be a very good sounding source, with good musicality and enough control for a knowledgeable tuner to make all the vehicle/system-specific adjustments required for great sound.

ON THE BENCH
On the test bench, the Kenwood unit lives up to its measured specifications, exhibiting a nice flat response curve, good stereo separation, and respectable output impedance.

CONCLUSION
The Kenwood DNN990HD completely changes the thinking behind head units in our dashboard. By bringing all of the information and entertainment from the Internet to our vehicles, it opens doors to all sorts of possibilities. Yes, it's not perfect, and clearly it has a few technical glitches that you expect to be solved based on the asking price, but then again, I remember when VCRs cost $1,200 and would only record four hours of marginal quality video. Products that reshape our world are almost always imperfect and expensive, and for a great many of us, that's exactly what we're looking for.