We all want a great-sounding, hard-hitting woofer system in our ride, but if you're not sure what you're doing, building or even selecting a pre-made box and then choosing the right woofers can be a hit or miss affair. And, that's precisely why the experts at JL Audio are now offering several custom-designed, expertly-engineered and constructed subwoofer systems complete with the appropriate woofers.

No longer is this guesswork for you! In this review, I look at and listen to JL Audio's CP210-W0v3 system and show you why a ready-to-rock system like this may be the better route for your ride.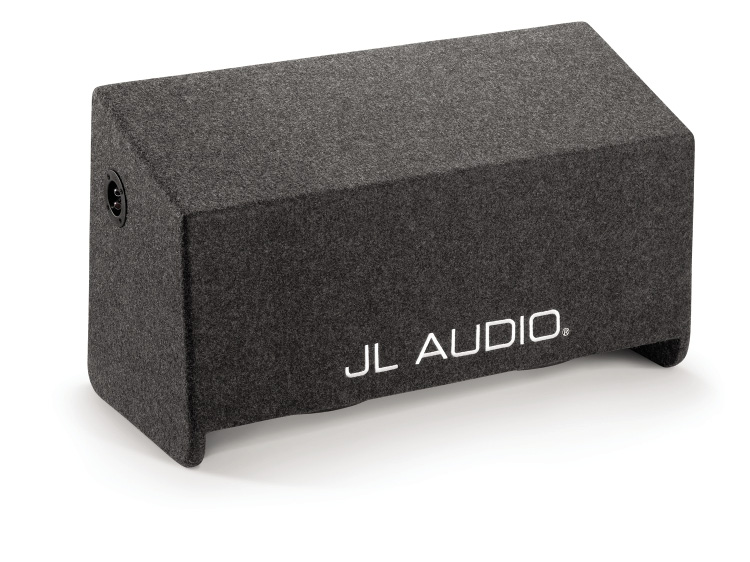 FEATURES
When the JL Audio team set out to design the CP series of subwoofer systems, the goal was to create a ready-to-install system with great output and fantastic sound quality, but was also still very affordable. And, with a suggested retail price of $379, the system is indeed a very good value.

To achieve those goals, the woofer of choice is the W0v3 and, for this particular system, there are two 10-inch W0v3 woofers in an ingeniously-designed slot port-style enclosure. Its exterior dimensions are 29.63 x 13.81 x 17.44 inches and it weighs about 50 pounds, including the woofers.

What makes this relatively small enclosure so clever is the fact that, thanks to extended side panels on the front of the box, it can be placed in a wide variety of orientations that allow the best possible method (firing forward, rearward or downward) and performance for your particular vehicle.

The enclosure is an impressive bit of construction with a full-width slot-style port that provides plenty of port area to eliminate port noise. The enclosure uses 5/8-inch MDF material throughout and, with the slot port components contributing to internal bracing, the box is rock solid. Nicely-done white embroidery enhances the look of the high-quality medium gray automotive carpet that's been used to upholster the enclosure. Wire connections are made via spring-loaded terminals. Inside the box, good quality 12-gauge copper wire is used to connect the terminals to the woofers.

The woofers are JL Audio's standard W0v3 10-inch sub – the only difference being these do not come with the decorative rubber bumpers over the rear motor assembly. These woofers do feature JL's high-excursion DMA-optimized motor structures and its patented elevated frame cooling technology for maximum power handling and reliability. As with all W0v3 woofers, the baskets are constructed using stamped steel with a silver powdercoat, the tinsel leads are woven into the spider and the cone material is JL's traditional mineral-filled polypropylene.

Each woofer is a 4 ? design and the system comes wired in parallel for a net impedance of just over 2 ?. Each and every assembly is finished by hand and inspected at JL Audio's facility in Florida to ensure it delivers a quality system backed by a full two-year warranty.

LISTENING
Upon firing up the CR210-W0v3 system in my listening room, my immediate impression is, wow, this thing can haul the mail! As I've come to expect from JL Audio, it has a prodigious amount of output and the sound quality is first class. Designed for a younger consumer and very capable of reproducing the high-energy bass needed for today's full range of highly-dynamic music recordings, the JL system hits the mark.

While I'm neither young nor do I listen to a lot of hip-hop or rap, I'm still very enthused with the sonic performance it exudes with more familiar classical, jazz and rock genre recordings. With a bit lower crossover point and the output level reduced a bit, I find the dual 10-inch system is perfectly suited to playback any type of music really and listening to the system is a pleasure. Make no mistake, if you're looking for an affordable system that will play loud and proud all night long, the CP210-W0v3 won't let you down.

PERFORMANCE / BENCH MEASUREMENTS
I measure the nearfield SPL and system impedance curves of the system and confirm my suspicions from my earlier listening session. The woofer system has fantastic output from basically about 35 Hz on up to the peak output around the 50 to 60 Hz region. The vent in the enclosure is tuned to approximately 32 Hz.

QUICK TECH SPECS
Power Handling - 600 Watts RMS
Frequency Range - 25-250 Hz
Sensitivity - 84 dB/SPL @ 1.0 W (1.414 V @ 2 ?)
Nominal Impedance - (2) 4 ? coils

CONCLUSION
I've been around the audio business long enough to know there is no substitute for good engineering. And, that's exactly what I find when I putting this JL Audio system through its paces. It's good engineering by people that understand not only how the product will be used and how to maximize its performance, but they also obviously understand its customers needs and expectations.

If I was going to use this system in a vehicle, I'd set the subsonic filter to between 30 and 35 Hz and the low pass crossover in the 60 to 80 Hz range. You could easily raise the crossover point to 100 or even 120 Hz if even greater output is desired.

I believe the CR210-W0v3 will easily surpass the expectations of most. You will too if you stop by your neighborhood JL Audio dealer and audition this system for yourself.