Not long ago, I reviewed the Axxera AXD430 digital media receiver. It proved to be a competent unit at a very affordable price. This time we are looking at the step-up model, logically called the AXD530, which is Axxera's top-of-the-line CD receiver. The differences between the two are significant and more than justify the twenty dollar price bump to $139.99, which is still an amazing value for a product with this feature set and performance.
Features
Like its previously tested sibling, the AXD530 is a single-DIN receiver with a fold down removable faceplate and a variety of source options. Standard features include an AM/FM tuner, CD, MP3 and WMA playback. You also get dual auxiliary inputs with your choice of a 3.5 mm jack on the front for occasional use, and a pair of RCA inputs on the rear of the chassis for more permanently installed auxiliary sources. There is also a USB port hiding behind a hinged, back-lit door on the front panel to connect and charge your iPod or iPhone.
One of the step-up features of the AXD530 is built-in Bluetooth functionality. With the AXD530, you can make hands-free calls with the touch of one button on the faceplate. The unit also stores recent calls and allows you to redial any number from your recent calls list. In addition, you can also stream audio from your Bluetooth-enabled smartphone. Once the music is playing, you can control track selection and play and pause functions from the AXD530 faceplate.
If you are an iOS user, you can connect to your Pandora internet radio channels, and have control of the usual thumbs up or down commands, as well as bookmarking a song for purchase later. During Pandora playback, you can also play, pause or select the next song and switch between any of your personalized stations.
In terms of sound, the AXD530 has everything a serious audiophile is looking for. There are three sets of pre-outs, with 4 volts of signal and a built-in CEA 2006B-rated 18 W per channel amplifier. A low-pass crossover with an all-pass setting or three selectable frequencies (80, 120, 160 Hz) provide signal control for the bass output and a separate adjustable level control handles the subwoofer output. A DSP-powered three-band parametric equalizer is provided for more precise tuning, and individual gain settings for each source allow level matching between the various available sources.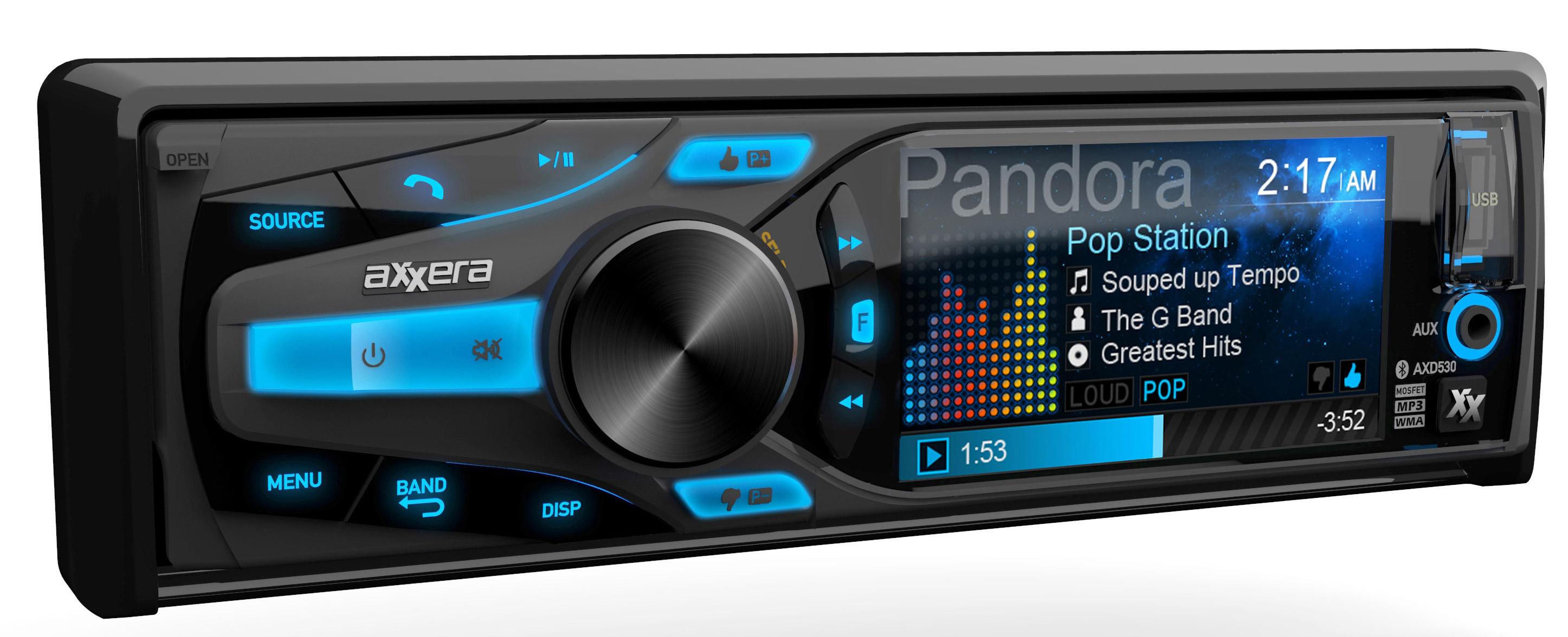 Like its little brother, the AXD530 has a lot of cosmetic flair, with blue button illumination and a 3-inch, full color TFT LCD with a screen resolution of 320x240. The display provides good definition for album art and overall readability. Also included is a wireless infrared remote control, while an input jack for steering wheel control adapter is sold separately.

Controls
From an ergonomics standpoint, the AXD530 has its high points and not-so-high points. For example, I really like the tactile feel and smoothness of the rotary volume control; the buttons also have good feedback when pressed. However, I tend to use the track up and down buttons often, and on this unit these buttons are small and difficult to find by feel. When you do access them, they require a very determined press to activate. On the other hand, the buttons for Pandora's thumbs up and down are prominent and easy to find – but I believe these will be used far less often.
To select sources, repeatedly press the source button. After a slight delay, the available sources scroll in the display. Once the source you want is highlighted, you must also press the volume knob to enter your selection. I'm not sure why the designers feel two steps are a good idea. It would be much simpler to press the button until you have the source you want, and then after a short timeout, the source would be automatically selected. While they're at it, they could eliminate unused sources from the scrolling menu, so I don't have to scroll over things I never use. The iPod controls are thankfully much simpler and faster, making accessing your artists, songs and playlists on your iOS device fast and simple.
If you frequently remove and replace the faceplate of your radio, you'll appreciate the easy-to-operate disconnect and connect mechanism. It is simple and easy to use.

Listening
From a sonic perspective, the Axxera AXD530 stands tall. It has very good audio performance from a frequency response standpoint and good stereo separation. Noise is low, but not as good as a much more expensive unit. The RCA outputs provide a clean strong signal for your amplifiers and the equalization and crossover functions operate exactly as intended. The Bluetooth audio streaming quality is also quite good, bettered only by a few players that cost several times the price of the AXD530. AM/FM tuner performance was fine, with good sensitivity and very acceptable audio quality.

On the Bench
As always, I connect the AXD530 to my test bench to verify the measured specifications of the unit. As I expect, the audio specifications proves to be very good – surprisingly good in fact – for a $139.99 head unit. The internal amplifier met all of its published specs and the pre-amp output section delivered 4.3 volts of clean output signal. Output impedance was average at just over 200 ohms. The equalization and crossover frequencies also prove accurate. Disc loading times are average, with a brief delay in loading the disc each time you changed sources.
Conclusion
In general, the Axxera headunits provide a fantastic value for features and audio performance. The product sounds great and has measured specifications that should satisfy even serious listeners. My only qualms relate to the source selection and button placement. I suppose to most folks those are very minor gripes, but those things are also fairly easy to improve and would make the unit much easier to live with, so I have to wonder why they're built this way.
For more information on this and other Axxera products, visit them online at www.axxera.dualav.com.

Measured Specifications

CEA-2006A Power per channel (all channels driven @ 4 ohms)
18.3 W/ch x4
A Wtd S/N Ratio (ref to V/1 W @ 4 ohms) Amplified output

-75.1 dBA (CD)

-77.3 dBA (aux)

THD+N @ 2 V/1 W @ 4 ohms 1 kHz
0.31%
Frequency Response (-3.0 db)

20 Hz - 20 kHz (CD)

20 Hz - 20 kHz (aux)

Preamp Section

Max Usable Output Voltage
4.3 Vrms
A Wtd S/N Ratio ref to full output voltage

-81.1 dBA (CD)

-85.7 dBA (aux)

Output Impedance
221 ohms
Frequency Response (-3.0 dB)

20 Hz - 20 kHz (CD)

20 Hz - 20 kHz (aux)